IMF upgrades outlook for the global economy in 2023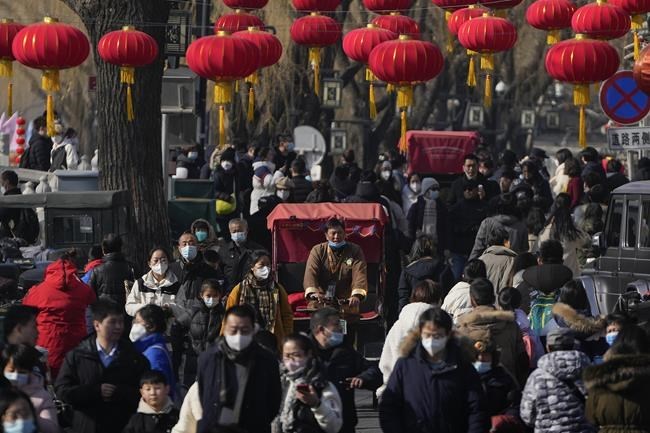 WASHINGTON (AP) — The outlook for the global economy is growing slightly brighter as China eases its zero-COVID policies and the world shows surprising resilience in the face of high inflation, elevated interest rates and Russia's ongoing war against Ukraine.
That's the view of the International Monetary Fund, which now expects the world economy to grow 2.9% this year. That forecast is better than the 2.7% expansion for 2023 that the IMF predicted in October, though down from the estimated 3.4% growth in 2022.
The IMF, a 190-country lending organization, foresees inflation easing this year, a result of aggressive interest rate hikes by the Federal Reserve and other major central banks. Those rate hikes are expected to slow the consumer demand that has driven prices higher. Globally, the IMF expects consumer inflation to fall from 8.8% last year to 6.6% in 2023 and 4.3% in 2024.
"Global conditions have improved as inflation pressures started to abate," the IMF chief economist, Pierre-Olivier Gourinchas, said at a news conference in Singapore. "The road back to a full recovery with sustainable growth, stable prices and progress for all has only started."
A big factor in the upgrade to global growth was China's decision late last year to lift anti-virus controls that had kept millions of people at home. The IMF said China's "recent reopening has paved the way for a faster-than-expected recovery.''
The IMF now expects China's economy — the world's second-biggest, after the United States — to grow 5.2% this year, up from its October forecast of 4.4%. Beijing's economy eked out growth of just 3% in 2022 — the first year in more than 40, the IMF noted, that China has expanded more slowly than the world as a whole. But the end of virus restrictions is expected to revive activity in 2023.
Together, China and India should account for half of this year's global growth, while the United States and Europe contribute 10%, according to Gourinchas.
"China's reopening is certainly a favorable factor that's going to lead to more activity," Gourinchas said. "But this is in the context in which the global economy itself is slowing down."
The IMF's 2023 growth outlook improved for the United States (forecast to grow 1.4%) as well as for the 19 countries that share the euro currency (0.7%). Europe, though suffering from energy shortages and higher prices resulting from Russia's invasion of Ukraine, proved "more resilient than expected,'' the IMF said. The European economy benefited from a warmer-than-expected winter, which held down demand for natural gas,
Russia's economy, hit by sanctions after its invasion of Ukraine, has proved sturdier than expected, too: The IMF's forecast foresees Russia registering 0.3% growth this year. That would mark an improvement from a contraction of 2.2% in 2022. And it's well above the 2.3% contraction for 2023 that the IMF had forecast for Russia in October.
The United Kingdom is a striking exception to the IMF's brighter outlook for 2023. It has forecast its economy will shrink 0.6% in 2023; in October, the IMF had expected growth of 0.3%. Higher interest rates and tighter government budgets are squeezing the British economy.
"These figures confirm we are not immune to the pressures hitting nearly all advanced economies,'' Chancellor of the Exchequer Jeremy Hunt said in response to the IMF forecast. "Short-term challenges should not obscure our long-term prospects — the U.K. outperformed many forecasts last year, and if we stick to our plan to halve inflation, the U.K. is still predicted to grow faster than Germany and Japan over the coming years."
The IMF noted that the world economy still faces serous risks. They include the possibility that Russia's war against Ukraine war will escalate, that China will suffer a sharp increase in COVID cases and that high interest rates will cause a financial crisis in debt-laden countries.
Asked about the impact of U.S. efforts to limit Chinese access to advanced processor chip technology due to security concerns, Gourinchas cautioned that curbs on semiconductor trade and government pressure to pull back industries to within their own borders and limit reliance on foreign partners "potentially could be harmful to the global economy."
"Diversification of supply chains is much more important in trying to improve resilience, improve growth, improve standards of living, rather than moving toward re-shoring or 'friend shoring,'" Gourinchas said.
The global outlook has been shrouded in uncertainty since the coronavirus pandemic struck in early 2020. Forecasters have been repeatedly confounded by events: A severe if brief recession in early 2020; an expectedly strong recovery triggered by vast government stimulus aid; then a surge in inflation, worsened when Russia's invasion of Ukraine nearly a year ago disrupted world trade in energy and food.
Three weeks ago, the IMF's sister agency, the World Bank, issued a more downbeat outlook for the global economy. The World Bank slashed its forecast for international growth this year by nearly half — to 1.7% — and warned that the global economy would come "perilously close'' to recession.
___
AP Business Writer Joe McDonald in Beijing and AP Writer Danica Kirka in London contributed to this report.
Paul Wiseman, The Associated Press
US revises down last quarter's economic growth to 2.6% rate – ABC News
WASHINGTON — The U.S. economy maintained its resilience from October through December despite rising interest rates, growing at a 2.6% annual pace, the government said Thursday in a slight downgrade from its previous estimate. But consumer spending, which drives most of the economy's growth, was revised sharply down.
The government had previously estimated that the economy expanded at a 2.7% annual rate last quarter.
The rise in the gross domestic product — the economy's total output of goods and services — for the October-December quarter was down from the 3.2% growth rate from July through September. For all of 2022, the U.S. economy expanded 2.1%, down significantly from a robust 5.9% in 2021.
The report suggested that the economy was losing momentum at the end of 2022.
Consumer spending rose at a 1% annual rate last quarter, downgraded from a 1.4% increase in the government's previous estimate. It was the weakest quarterly gain in consumer spending since COVID-19 slammed the economy in the spring of 2020. Spending on physical goods, like appliances and furniture, which had initially surged as the economy rebounded from the pandemic recession, fell for a fourth straight quarter.
More than half of last quarter's growth came from businesses restocking their inventories, not an indication of underlying economic strength.
Most economists say they think growth is slowing sharply in the current January-March quarter, in part because the Federal Reserve has steadily raised interest rates in its drive to curb inflation.
The resulting surge in borrowing costs has walloped the housing industry and made it more expensive for consumers and businesses to spend and invest in major purchases. As a consequence, the economy is widely expected to slide into a recession later this year.
The central bank has raised its benchmark interest rate nine times over the past year. The Fed's policymakers are betting that they can stick a so-called soft landing — slowing growth just enough to tame inflation without tipping the world's biggest economy into recession.
Yet as higher loan costs spread through the economy, analysts are generally skeptical that the United States can avoid a downturn. The main point of debate is whether a recession will prove mild, with only minor damage to hiring and growth, or severe, with waves of layoffs.
The financial conditions that led to the collapse of Silicon Valley Bank on March 10 and Signature Bank two days later — the second- and third-biggest bank failures in U.S. history — are also expected to slow the economy. Banks are likely to impose stricter conditions on loans, which help fuel economic growth, to conserve cash to meet withdrawals from jittery depositors.
"The economy ended 2022 with marginally less momentum," Oren Klachkin and Ryan Sweet of Oxford Economics wrote in a research note. "Looking ahead, the economy will face the full brunt of tighter credit conditions and Fed policy this year, and inflation is set to stay above its historical trend."
They added: "We expect a recession to hit in the second half of 2023."
In the meantime, the job market remains robust and has exerted upward pressure on wages, which feed into inflation. The pace of hiring is still healthy, and the unemployment rate is near a half-century low. The confidence and spending of consumers remain relatively solid.
Thursday's report from the Commerce Department was its third and final estimate of GDP for the fourth quarter of 2022. On April 27, the department will issue its initial estimate of growth in the current first quarter. Forecasters surveyed by the data firm FactSet have estimated that growth in the January-March quarter is decelerating to a 1.4% annual rate.
Zimbabwe Becomes Second African Nation to Cut Rates Twice in 2023 – Bloomberg
[unable to retrieve full-text content]
Zimbabwe Becomes Second African Nation to Cut Rates Twice in 2023 Bloomberg




Source link
Anomalies abound in today's economy. Can artificial intelligence know what's going on? – The Globe and Mail
All the fuss today is about machine learning and ChatGPT. The algorithms associated with them work well if the future is similar to the past. But what if we are at an inflection point in economic and political conditions and the future is different from the past? Will record profit margins, inflated asset prices and low inflation and interest rates of the past 30 years be an accurate reflection of the future? Is this time different?
Maybe we're already there. Things do not seem to make sense anymore. Have you noticed that economic indicators seem to have stopped working as well and as predictably as they have in the past?
Here are some examples of the puzzling behaviour of economic statistics of recent months.
An inverted yield curve has historically been a good indicator of recessions. For several months now the yield curve has been inverted and yet the U.S. economy has been adding millions of jobs, leading to an historic low unemployment rate. Employment is booming while the economy at large is not.
Consumer sentiment, as reflected in the University of Michigan surveys, and consumer spending have tended historically to move together. But this time around, while consumer sentiment took a nosedive, consumer spending and credit card balances keep growing, reaching record highs.
Construction employment and homebuilder stocks are rising while housing permits and housing starts are falling. Normally, homebuilder stock prices would reflect the collective wisdom of financial markets about housing activity. Not this time.
Bond markets are expecting inflation to recede to the Fed's target rate of 2 per cent. In this case, the real interest rate, implicit in the 10-year treasuries yield of between 3.5-4 per cent, is 1.5-2 per cent, which is close to historical averages. But prior to the Silicon Valley Bank debacle, some surveys pegged expected inflation to about 3 per cent going forward. Assuming the real rate is the same, this implied a 10-year treasuries yield of between 4.5-5 per cent. Either the bond market was out of line or forecasters' inflation models do not work as well as in the past.
And oil prices are around US$70 a barrel despite the recent banking crisis and at a time when the economy is slowing down and believed to be entering a recession. Based on past experience at this point in the business cycle oil prices should be at US$50 or less. But they are not. Which begs the question: What will happen to oil prices when the economy enters a growth phase, especially with the opening of China after the COVID-19 lockups?
And the list of puzzling contradictions goes on. Having said that, someone may argue that the labour statistics, for example, are a lagging indicator and show where the economy was, not where it is going. While this is true, the magnitude of divergence between labour statistics and economic activity is so much higher than they've been historically. That makes one wonder what is going on.
It could be that many of these puzzling statistics are the result of "survey fatigue," as Bloomberg Businessweek calls it. The publication reports that there has been a decline in response rates for many surveys government agencies use to collect economic data.
For example, employer response to the Current Employment Statistics survey, according to the publication, which collects payroll and wage data each month, has declined to under 45 per cent by September, 2022, from about 60 per cent at the end of 2019. The issue here is the non-response bias: that people who are not responding to the survey are systematically different from those who do, and this skews results. Could weakening trust in institutions and governments be behind the decline in response rates in recent years? If this is the case, the problem is serious and difficult to reverse or eliminate.
As a result, machine learning algorithms that need massive and good quality data about the past and assume that the future will look pretty much like the past may not work. Then what? Should we re-examine our old models? Or will human intervention always be required? Machine learning will not be able to replace investor insight and "between the lines" reading of nuanced economic numbers.
George Athanassakos is a professor of finance and holds the Ben Graham Chair in Value Investing at the Ivey Business School, University of Western Ontario.
Be smart with your money. Get the latest investing insights delivered right to your inbox three times a week, with the Globe Investor newsletter. Sign up today.