India enjoyed a free and vibrant media. Narendra Modi's brazen attacks are a catastrophe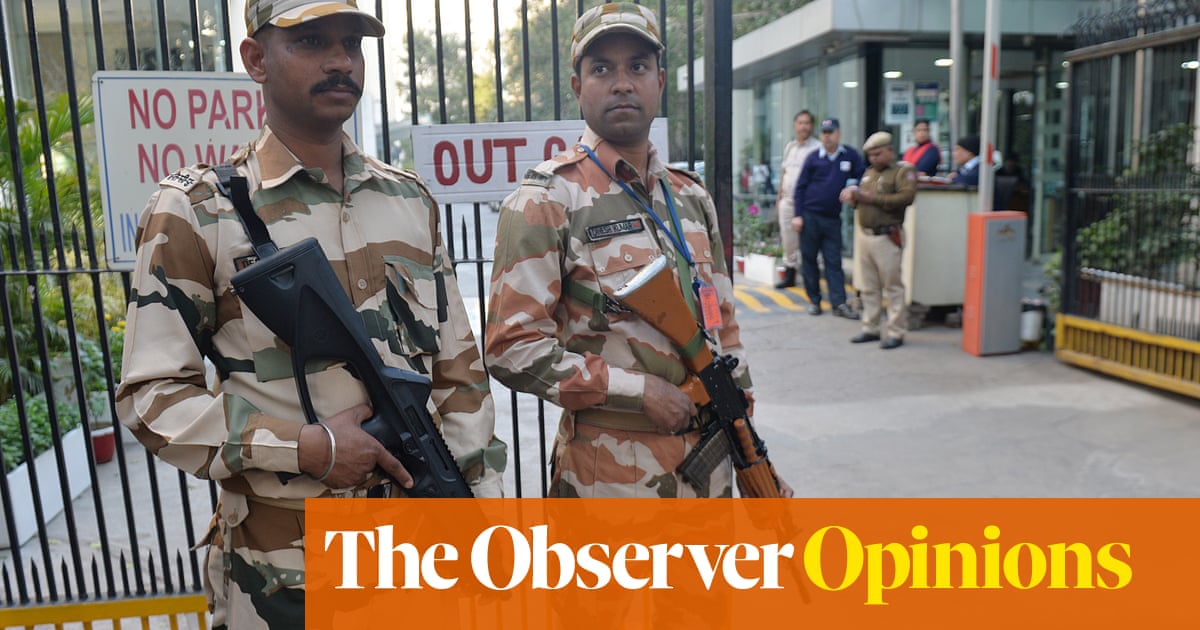 In January, the BBC broadcast a two-part series, India: The Modi Question, which looked forensically at the role of Narendra Modi in fomenting the Gujarat anti-Muslim riots of 2002 in which at least 1,000 people were killed. Now the prime minister of India, Modi was then the chief minister of Gujarat.
The response in India was swift. Kanchan Gupta, an adviser to the ministry of information and broadcasting, called the documentary "propaganda and anti-India garbage" that "reflects BBC's colonial mindset". The BJP government invoked emergency laws to ban the documentary and any online links to clips. When students at the Jawaharlal Nehru University tried to screen the documentary, the university authorities cut off electricity to the whole campus.
Then, last week, the authorities raided BBC offices in India, supposedly to investigate "tax evasion" by the corporation's Indian operation. On Friday, the government claimed to have discovered "evidence of tax irregularities". Most local journalists are deeply cynical. The raid on the BBC, the Press Club of India observed, was "a clear cut case of vendetta".
The cynicism about Delhi's motives is well earned. Since Modi and his Hindu nationalist BJP party came to power in 2014, he has pursued a relentless campaign to curb the independence of India's media. "Criticise us and we'll come after you," is the banner under which the government operates. As the Editors Guild of India put it, the BBC raids (which the government, in BJP Newspeak, calls not "raids" but "surveys") are part of a well-established "trend of using government agencies to intimidate and harass press organisations that are critical of government policies or the ruling establishment". The government – and many BJP-controlled state administrations – have also sought to intimidate journalists through the use of sedition and national security laws. In 2020, Siddique Kappan, a journalist from Kerala, reporting a story of a 19-year-old Dalit woman who died after being allegedly gang-raped by four men, was charged by police in BJP-controlled Uttar Pradesh with sedition, promoting enmity between groups, outraging religious feelings, committing unlawful activities and money laundering. Still awaiting trial, he was finally released on bail this month after two years in jail.
That same year, Dhaval Patel, editor of a Gujarati news website, was charged with sedition for writing an article critical of the state government's Covid policy. In 2021, the journalist Kishorechandra Wangkhem was charged under the National Security Act by the BJP-led Manipur government for writing that cow dung does not cure Covid; he spent nearly two months in jail before being released by the courts.
India's ministry of information and broadcasting blocked the television channel Media One for 48 hours because it had covered mob attacks on Muslims in Delhi in 2020 "in a way that seemed critical toward Delhi police and RSS". The RSS is a paramilitary Hindu-nationalist movement with close ties to Modi and the BJP.
In 2021, as Delhi was rocked by huge farmers' protests against new agricultural laws, prominent journalists, including Siddharth Varadarajan, editor of the digital website The Wire, and Vinod Jose, Anant Nath and Paresh Nath, editors and publishers of Caravan magazine, were charged with sedition for reporting on the death of one of the protesters. As Hartosh Singh Bal, Caravan's political editor, observed, the targets were not surprising: the farmers' protest was the biggest challenge to the BJP since it came to power, while The Wire and Caravan are "among the few media organisations willing to look at the ruling government critically".
These are just a handful of the cases that Indian journalists have faced in recent years. Charging someone with sedition has become the weapon of choice, especially for BJP politicians and administrations when faced with criticism.
Journalists, especially female journalists, and those critical of Hindu nationalism, have not just been censored, they have been assaulted, even killed. Journalists like Gauri Lankesh, shot dead by three assailants in Bangalore in 2017. In 2021, Reporters Sans Frontières (RSF) named India as one of the five most dangerous countries for a journalist.
Many media bosses have been only too happy to comply with government strictures. In 2020, during the Covid pandemic, hours before he announced the world's largest coronavirus lockdown, Modi met senior news executives and urged them to publish only "inspiring and positive stories" about the government's efforts. As Caravan noted, Modi's intervention ensured little critical coverage of the government's Covid failures. The supreme court, however, denied the government's request for prior censorship of news stories, ordering the media to "publish the official version" of pandemic developments. Unsurprisingly, India has plummeted in the global press freedom rankings compiled by RSF. In 2002, India stood 80th in the world. Today it stands at 150th out of 180 countries, below nations such as Turkey, Libya and Zimbabwe.
Repressive censorship did not originate with the BJP. India has long had a vibrant media culture; it has also long had a culture of censorship and repression. The most despotic moment came with the imposition of the Emergency between 1975-77, when prime minister Indira Gandhi cancelled elections, suspended civil liberties, rounded up political opponents and muzzled the media. She expelled the BBC from India after it refused to sign a censorship agreement.
Nevertheless, the BJP under Modi has helped remake the relationship between the media and the state, and, outside of the Emergency, has imposed the tightest leash on the press.
While many media owners and big-name editors have toed the government line, smaller fiercely independent outlets and individual journalists have pushed back against the climate of censorship and borne the brunt of the repression. What many now fear is that the geopolitical importance of India, especially as a counterweight to China, is muting the western response, particularly after the assault on the BBC. While western governments lecturing other nations about freedom and liberty is often an unedifying sight, many fear the silence of London and Washington "could pave the way for more 'brazen' action… by the Modi government".
As rightwing populists do in many other nations, the BJP presents its battering of the media as a challenge to the "elite". It is, in reality, an attack on any criticism of the elite. The slow strangulation of a free and independent media is a catastrophe for India. But not just for India. It is a development that should trouble all of us.
Kenan Malik is an Observer columnist
Media Keep Stifling the Covid Debate – WSJ – The Wall Street Journal
Resume Subscription
We are delighted that you'd like to resume your subscription.
You will be charged
$ + tax
(if applicable) for The Wall Street Journal.
You may change your billing preferences at any time in the Customer Center or call
Customer Service.
You will be notified in advance of any changes in rate or terms.
You may cancel your subscription at anytime by calling
Customer Service.
Please click confirm to resume now.
Facebook users consume more fake news than users of Twitter, other social media sites: Study – CTV News
When it comes to election misinformation on social media, Facebook takes the cake, according to a new study which found heavy Facebook users were far more likely to consume fake news than Twitter or other social media sites.
The study, published earlier this month in the peer-reviewed journal Government Information Quarterly, found Facebook users read the most fake news about the 2020 U.S. presidential election and reported the most concern about votes not being counted properly.
They also found the biggest factor in whether a person reported being suspicious about the election results was their level of fake news consumption, not their method of casting their vote.
According to the study, a big part of the problem with relying on social media for news is that these sites have algorithms designed to keep you scrolling and engaged, meaning that they're likely to keep serving you the same content you're engaging with and make it harder to climb out of a disinformation hole once you are in it.
"What we saw in this study is that if you aren't careful, the bias that you bring into your news consumption can be absolutely confirmed and supported if you are in a place like Facebook where the algorithms feed into that," Robert Crossler, study co-author and an associate professor in the WSU Carson College of Business, said in a press release.
Those who got their news about the 2020 election primarily by navigating directly on a news website were less likely to consume fake news, the study found, and were more likely to believe that the election had unfolded the way it did.
U.S. President Joe Biden's win in 2020 was accompanied with unproven allegations pushed by former U.S. President Donald Trump that the election had been stolen from him and that many votes for him had gone uncounted. Allegations of voter fraud with mail-in ballots and with Dominion voting machines were spread after the election, but none of these claims stood up in court, and few legal experts supported this position.
However, the lack of factual support didn't stop the story from spreading widely on social media.
It's not new that Facebook and other social media sites can be drivers of disinformation and fake news, but it's trickier to measure how consuming fake news affects a person's perception of reality.
In order to get a better understanding of this, the Washington State University-led study designed three surveys relating to how political alignment, fake news consumption and voting method each individually impacted a person's perception of the election.
In the study, "fake news" was defined as articles and sites spreading disinformation that was provably incorrect, not articles or sites with information perceived to be false from a partisan standpoint.
The first two surveys were given to different groups of voters prior to the election, both containing hypothetical scenarios for participants to react to.
The first posited a scenario where the participant would either be voting in-person, through the mail or online. Once the participant had read the scenario of their voting method, they were asked questions about how concerned they were about votes being counted properly, and how much news they got from various news organizations.
The second survey gave the scenario of all voters needing to use mail-in ballots that would be counted either by a government official, a neutral party or by a voting machine. They were then asked again about their concerns regarding votes being counted and their news sources.
The third survey was presented to a group of actual voters after the election. Participants filled out what their voting method had been, and then answered the same questions presented in the previous two surveys. They then reported what percentage of their news they got from direct navigation, Twitter, Facebook, or other social media sites.
Researchers were surprised to find the voting method — whether people voted by mail or in-person — had no measurable impact on how likely participants were to be worried about votes not being counted properly.
Instead, the more a person reported receiving their news from social media, particularly Facebook, the more likely they were to be heavily concerned about votes not being counted.
This suggested to researchers that Facebook, more so than other social media sites, was elevating sources spreading these fears.
"I don't think that Facebook is deliberately directing people towards fake news but something about how their algorithm is designed compared to other algorithms is actually moving people towards that type of content," Stachofsky said. "It was surprising how hard it was to find the websites Facebook was directing people to when we looked for them in a web browser. The research shows that not all social media platforms are created equal when it comes to propagating intentionally misleading information."
The study also found there was no age group more likely to read fake news, which is different from other studies, suggesting that there could be a higher proportion of younger adults consuming fake news than had been previously thought.
Authors noted that more research needs to be done to understand how disinformation spreads and how it can be combatted, particularly in a political climate where the partisan divide in the U.S. is increasing the distrust in mainstream media. They're hoping that this study could spur social media sites to think more about how their algorithms impact their users.
"This supports the argument that people need to be encouraged to be information or news literate," Crossler said. "Right now, we are talking about the elections, but there are a lot of other issues, such as the war in Ukraine, that directing people to misinformation is not only misleading but also potentially dangerous."
2023 Media Layoff Tracker: Rough Year For Journalism Marked By Increasing Layoffs
Topline
Board members of the Texas Democracy Foundation reportedly voted to put the progressive Texas Observer on hiatus and lay off its 17-person staff following prolonged economic woes and shrinking readership, marking the latest in a brutal series of closures and layoffs rocking the media industry in 2023.
Timeline