'Misquoted and vilified': Nicola Bulley's family attack media as body identified
The family of Nicola Bulley have said they would never comprehend "what Nikki had gone through in her last moments", but excoriated the media and members of the public for vilifying her family and friends, after a body found in a river was identified as hers.
Her body was discovered on Sunday morning in the River Wyre in Lancashire, more than three weeks on from when she disappeared while walking her dog on 27 January.
In a statement read by police after they had confirmed the body belonged to the 45-year-old mortgage adviser, her family criticised the media and the sections of the public who had accused her partner of wrongdoing and "misquoted and vilified friends and family".
"This is absolutely appalling, they have to be held accountable this cannot happen to another family," they said.
The case has received vast attention from the press and across social media, attracting armchair detectives and conspiracy theorists.
Shortly after Bulley's disappearance, police were forced to put in place a dispersal order after TikTok and YouTube influencers arrived on the scene, intimidating local people and causing a nuisance to police.
Hundreds of people have since traipsed through the beauty spot, taking photographs for social media, and other visitors broke into buildings and went through local people's gardens at night in the hope of finding her.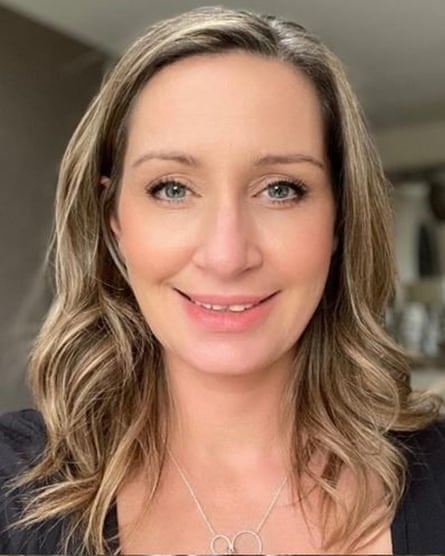 Bulley's partner, Paul Ansell, and close friends have been interviewed numerous times on television in the weeks since she was reported missing, including participating in an hour-long Channel 5 documentary earlier in the month, in which they spoke emotionally about Bulley, who had two daughters aged six and nine, and made an appeal for the public to help find her.
A statement was read out on behalf of Bulley's family, which was predominantly an excoriating assessment of the media response to her disappearance.
"Our family liaison officers have had to confirm our worst fears today.
"We will never be able to comprehend what Nikki had gone through in her last moments and that will never leave us.
"We will never forget Nikki, how could we, she was the centre of our world, she was the one who made our lives so special and nothing will cast a shadow over that.
"Our girls will get the support they need from the people who love them the most," the statement said.
"And it saddens us to think that one day we will have to explain to them that the press and members of the public accused their dad of wrongdoing; misquoted and vilified friends and family. This is absolutely appalling, they have to be held accountable, this cannot happen to another family."
The family singled out ITV and Sky News, who were the first to interview Ansell, for making contact with them directly on Sunday night after police confirmed a body had been found, adding they had asked for privacy.
The statement continued: "They again have taken it upon themselves to run stories about us to sell papers and increase their own profits. It is shameful they have acted in this way. Leave us alone now.
"Do the press and other media channels and so-called professionals not know when to stop? These are our lives and our children's lives."
The statement concluded: "Finally, Nikki, you are no longer a missing person, you have been found, we can let you rest now. We love you, always have and always will, we'll take it from here."
Lancashire constabulary said they had identified her after a body was found by two members of the public in undergrowth near the village of St Michael's on Wyre on Sunday.
Bulley, who went missing 24 days ago, was discovered less than a mile from where she was last seen walking her dog after dropping off her two young daughters at school.
Lancashire constabulary said the case was now in the hands of the coroner.
Police have faced intense criticism for their communication during the case, having been labelled "sexist" by MPs and campaigners for revealing Bulley suffered from alcoholism as a result of struggles with the menopause.
Speaking at a press conference on Monday, the assistant chief constable, Peter Lawson, said: "Sadly, we are now able to confirm that yesterday we recovered Nicola Bulley from the River Wyre.
"Nicola's family have been informed and are of course devastated. Our thoughts are with them at this time as well as with all her loved ones and the wider community.
"We recognise the huge impact that Nicola's disappearance has had on her family and friends, but also on the people of St Michael's. We would like to thank all of those who have helped during what has been a hugely complex and highly emotional investigation.
"Today's development is not the outcome any of us would have wanted, but we hope that it can at least start to provide some answers for Nicola's loved ones, who remain foremost in our thoughts."
Wyre council said it was "devastated" to hear of Bulley's death and it would be lowering the union flag at the civic centre to half mast as a mark of respect.
Michael Vincent, the leader of Wyre council, said: "We are deeply saddened by the news today and our sincerest sympathies go out to Nicola Bulley's family, friends, the communities of Inskip and St Michael's and everyone who knew and loved her.
"We would ask that Nicola's family are allowed to grieve in private and that the public remain respectful at this extremely difficult time.
Media Keep Stifling the Covid Debate – WSJ – The Wall Street Journal
Resume Subscription
We are delighted that you'd like to resume your subscription.
You will be charged
$ + tax
(if applicable) for The Wall Street Journal.
You may change your billing preferences at any time in the Customer Center or call
Customer Service.
You will be notified in advance of any changes in rate or terms.
You may cancel your subscription at anytime by calling
Customer Service.
Please click confirm to resume now.
Facebook users consume more fake news than users of Twitter, other social media sites: Study – CTV News
When it comes to election misinformation on social media, Facebook takes the cake, according to a new study which found heavy Facebook users were far more likely to consume fake news than Twitter or other social media sites.
The study, published earlier this month in the peer-reviewed journal Government Information Quarterly, found Facebook users read the most fake news about the 2020 U.S. presidential election and reported the most concern about votes not being counted properly.
They also found the biggest factor in whether a person reported being suspicious about the election results was their level of fake news consumption, not their method of casting their vote.
According to the study, a big part of the problem with relying on social media for news is that these sites have algorithms designed to keep you scrolling and engaged, meaning that they're likely to keep serving you the same content you're engaging with and make it harder to climb out of a disinformation hole once you are in it.
"What we saw in this study is that if you aren't careful, the bias that you bring into your news consumption can be absolutely confirmed and supported if you are in a place like Facebook where the algorithms feed into that," Robert Crossler, study co-author and an associate professor in the WSU Carson College of Business, said in a press release.
Those who got their news about the 2020 election primarily by navigating directly on a news website were less likely to consume fake news, the study found, and were more likely to believe that the election had unfolded the way it did.
U.S. President Joe Biden's win in 2020 was accompanied with unproven allegations pushed by former U.S. President Donald Trump that the election had been stolen from him and that many votes for him had gone uncounted. Allegations of voter fraud with mail-in ballots and with Dominion voting machines were spread after the election, but none of these claims stood up in court, and few legal experts supported this position.
However, the lack of factual support didn't stop the story from spreading widely on social media.
It's not new that Facebook and other social media sites can be drivers of disinformation and fake news, but it's trickier to measure how consuming fake news affects a person's perception of reality.
In order to get a better understanding of this, the Washington State University-led study designed three surveys relating to how political alignment, fake news consumption and voting method each individually impacted a person's perception of the election.
In the study, "fake news" was defined as articles and sites spreading disinformation that was provably incorrect, not articles or sites with information perceived to be false from a partisan standpoint.
The first two surveys were given to different groups of voters prior to the election, both containing hypothetical scenarios for participants to react to.
The first posited a scenario where the participant would either be voting in-person, through the mail or online. Once the participant had read the scenario of their voting method, they were asked questions about how concerned they were about votes being counted properly, and how much news they got from various news organizations.
The second survey gave the scenario of all voters needing to use mail-in ballots that would be counted either by a government official, a neutral party or by a voting machine. They were then asked again about their concerns regarding votes being counted and their news sources.
The third survey was presented to a group of actual voters after the election. Participants filled out what their voting method had been, and then answered the same questions presented in the previous two surveys. They then reported what percentage of their news they got from direct navigation, Twitter, Facebook, or other social media sites.
Researchers were surprised to find the voting method — whether people voted by mail or in-person — had no measurable impact on how likely participants were to be worried about votes not being counted properly.
Instead, the more a person reported receiving their news from social media, particularly Facebook, the more likely they were to be heavily concerned about votes not being counted.
This suggested to researchers that Facebook, more so than other social media sites, was elevating sources spreading these fears.
"I don't think that Facebook is deliberately directing people towards fake news but something about how their algorithm is designed compared to other algorithms is actually moving people towards that type of content," Stachofsky said. "It was surprising how hard it was to find the websites Facebook was directing people to when we looked for them in a web browser. The research shows that not all social media platforms are created equal when it comes to propagating intentionally misleading information."
The study also found there was no age group more likely to read fake news, which is different from other studies, suggesting that there could be a higher proportion of younger adults consuming fake news than had been previously thought.
Authors noted that more research needs to be done to understand how disinformation spreads and how it can be combatted, particularly in a political climate where the partisan divide in the U.S. is increasing the distrust in mainstream media. They're hoping that this study could spur social media sites to think more about how their algorithms impact their users.
"This supports the argument that people need to be encouraged to be information or news literate," Crossler said. "Right now, we are talking about the elections, but there are a lot of other issues, such as the war in Ukraine, that directing people to misinformation is not only misleading but also potentially dangerous."
2023 Media Layoff Tracker: Rough Year For Journalism Marked By Increasing Layoffs
Topline
Board members of the Texas Democracy Foundation reportedly voted to put the progressive Texas Observer on hiatus and lay off its 17-person staff following prolonged economic woes and shrinking readership, marking the latest in a brutal series of closures and layoffs rocking the media industry in 2023.
Timeline