Indian journalists say BBC raid part of drive to intimidate media
"Did BBC Take Cash From China For Propaganda?" ran the opening title on the primetime news debate. As the flashy graphics of Republic TV, India's hardline and overwhelmingly popular news channel, faded and its presenter Arnab Goswami appeared on the screen, he addressed millions of viewers across the country directly. "Ladies and gentlemen, our worst suspicions have been proved absolutely correct," he said. "The BBC is funded by China."
Two weeks later, on Tuesday, more than 50 officers from the income tax department descended on the Delhi and Mumbai offices of the BBC. Over the course of three days, officials went through documents, searched emails and cloned phones and laptops, according to BBC employees who were inside the building. At least 10 BBC employees, including five senior editors, were kept there for three nights until the "tax survey" was finally completed on Friday.
The government insisted it was simply carrying out routine checks. "There is absolutely no correlation between what the BBC has put out and what the income tax authorities in India have done," said Kanchan Gupta, an adviser at the ministry of information and broadcasting.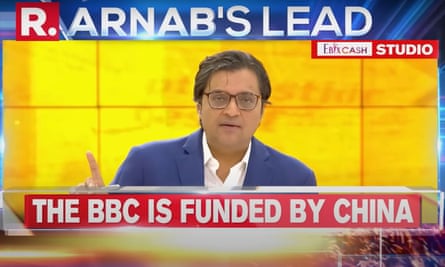 "This is not a raid or a seizure, it is a scrutiny process. From what I understand, at least 10 notices were sent to the BBC to come clean on certain issues before the documentary. The BBC did not respond to those notices, and that prompted the action." A statement from the Central Board of Direct Taxes on Friday said the survey had detected "several irregularities and discrepancies". The BBC has said it is cooperating with the investigation.
Yet the timing of the raids raised eyebrows, and was cited by many observers as an escalation of threats to press freedom and authoritarianism in India under the prime minister, Narendra Modi.
In January, the BBC had broadcast a documentary about Modi in the UK that the Indian government had evidently loathed. The two-part series, called India: the Modi Question, examined rising tensions between Modi's Hindu nationalist government and the minority Muslim population.
Most controversially, it revisited allegations that as chief minister of Gujarat, Modi had been complicit in the deaths of hundreds of Muslims during religious riots that broke out in 2002. Although the documentary cited previously unreported UK diplomatic cables, the allegations were not new, and had followed Modi for years. In 2012, he was cleared of all charges relating to the riots by India's supreme court.
The documentary was not released in India but the government went full throttle in condemning it, calling it "colonial propaganda", "hostile garbage" and evidence of western powers trying to undermine India's rise to a global superpower. Emergency laws were swiftly invoked to ban any clips or footage of the documentary being shared online.
A hate campaign portraying the BBC as corrupt circulated among rightwing social media users. In particular, the allegation that the broadcaster was being funded by India's foe China began to take hold, based on a 2022 report in the Spectator magazine that the BBC had accepted advertising revenue from the Chinese company Huawei. Not long after, several of India's biggest news channels began alleging China was paying the BBC to create anti-India propaganda and it became the topic of multiple television debates, often featuring members of the ruling Bharatiya Janata party (BJP).
"It was a pattern we've seen so many times before," said Raqib Hameed Naik, an Indian journalist who runs Hindutva Watch, a website monitoring hate speech and disinformation on Hindu nationalist social media, from the safety of the US. "These fake allegations are first pushed by rightwing IT cells on Twitter, then they make it onto primetime television debates and eventually they end up with raids by government agencies."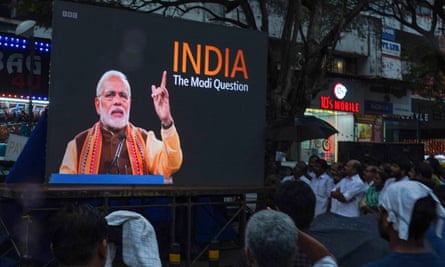 "The aim is always the same," he added. "To silence critics of the government. They're trying to create this single echo chamber, where only their message resonates and all the critical media is silenced."
India has a chequered history of freedom of expression and press freedoms, mostly notably during the "Emergency" years in the 1970s when the then prime minister, Indira Gandhi, suspended the constitution and jailed and expelled journalists.
Since Modi came to power in 2014, some journalists and other media workers have alleged that a systematic silencing of critical reporting has taken place and that journalists have been targeted as "anti-national" threats to the state. In this year's World Press Freedom Index, India dropped down to 150 out of 180 countries, its lowest ranking on record.
Gupta denied there was a government crackdown on media. "This is not on the government's agenda," he said. "I really do not see the media cowing in fear, sitting quietly in a corner. But media houses are not above scrutiny, the tax laws apply equally to them."
A large number of newspapers, magazines, digital media and television news channels still exist in India, creating what can appear to be a vibrant media landscape. However, many in the sector describe an environment where mainstream news publications and channels, largely owned by figures who have corporate interests tied into the government, refuse to publish stories that criticise Modi, the BJP or those close to the ruling establishment.
"You have a landscape in India where the legacy media news organisations and channels are so compromised they have just become cheerleaders of the government," said Abhinandan Sekhri, the CEO of Newslaundry, a digital news organisation.
Critics accuse the government of escalating its crackdown by introducing draconian legislation regulating digital media – including laws giving the government the power to decide what is fake news – and more news organisations have found themselves the subject of government investigations. While numerous Indian publications have been targeted, the BBC raids this week were a first for an international news organisation, though foreign correspondents based in India have faced increasing difficulties over visas and access to sensitive areas of the country.
As the raids took place, figures from the BJP doubled down on the BBC. Its spokesperson Gaurav Bhatia called the BBC the "most corrupt organisation in the world" while the vice-president Jagdeep Dhankhar, a BJP member, said that "sinister designs" who wanted to undermine the country should be "boldly neutralised".
The BBC raid came as little surprise to Sekhri. Newslaundry – part of a small but defiant pool of digital media organisations which have refused to toe the government line – faced the same "survey" by income tax officers twice in 2021. "Whenever this government is displeased with the kind of coverage they've got in the news, their response is use the agencies for intimidation," he said.
The harassment of Newslaundry did not stop after the raids. Failed attempts were made to file criminal charges against Sekhri and he still receives notices from the income tax department every two months or so, demanding documents. "I don't even know what they are investigating us for," he said. "It's a drain on resources but it won't change what we report."
A very real fear now also exists among journalists that they will be prosecuted under stringent laws for producing critical work. Digital websites such as The Wire and magazines such as Caravan have faced raids and lawsuits for their reporting, while last year the journalist and fact-checker Mohammad Zubair was arrested and detained, following a sustained campaign against him on social media.
This month, the Keralan journalist Siddique Kappan was released from prison after more than two years, having been detained under terrorism laws as he was on his way to report on a high-profile gang-rape case. He has still not faced trial for the charges he says were politically motivated; among them, the accusation of stirring up religious hatred through his reports and laundering 5,000 rupees (the equivalent of £50).
"I was targeted because I have written pieces that have been critical of the ruling BJP and the government policies," said Kappan. "The situation for independent journalists is dangerous in India and is deteriorating quickly. What happened to me was meant as a warning to others."
Nowhere has the Modi government's media crackdown been more visible and more effective than in Kashmir. Since 2019, when the government unilaterally stripped the troubled, Muslim-majority state of the autonomy it had enjoyed for decades – and subsequently imposed an internet blackout for 18 months – the media landscape has effectively been suppressed almost to the point of extinction.
Three Kashmiri journalists are still detained under draconian terrorism laws, while others who still attempted to report have been detained, beaten, faced constant harassment and interrogation by police and authorities and placed on an arbitrary no-fly list which bars them from leaving the country. Last year, the state's press club was shut down.
"We had problems before 2019 but it was never this bad," said Anuradha Bhasin, the executive editor of the Kashmir Times. "There's been a systematic crushing of journalists and an overwhelming climate of fear so you won't find a single critical story in the local papers anymore, the front pages just look like a publicity pamphlet for the government. It's censorship by default now."
Those in the region say the tactics increasingly being used against journalists elsewhere in India – heavy regulation, harassment by authorities, prosecution under terrorism and sedition laws – are straight out of the playbook that has effectively shut any independent media in Kashmir.
"Kashmir was an experimental laboratory where the Indian government managed to successfully silence the media," said Bhasin. "That is now being extended to the rest of India in ways that are very brazen and very worrying."
Social media is devastating teens' mental health. Here's what parents can do.
If we are serious about addressing the alarming worsening of teens' mental health, we must reduce their social media use.
The connection is well-established. Abundant research has linked depression and self-harm to frequency of social media use. And a new study from the American Psychological Association shows that cutting back helps teens feel better. Companies are aware of this; Facebook executive-turned-whistleblower Frances Haugen revealed that the company's own research found that use of their platforms was linked to anxiety, depression and body image issues in teens.
Federal health data highlight why this is so crucial. In 2021, 42 percent of high school students reported feeling so sad or hopeless almost every day for at least two weeks that they stopped doing their usual activities. The crisis is particularly pronounced in girls; nearly 3 in 5 teen girls reported persistent feelings of sadness, an increase of over 60 percent since 2011.
Indeed, social media is creating a "perfect storm" for girls, Jelena Kecmanovic, a psychotherapist and adjunct psychology professor at Georgetown University, told me. "Their tendency to be perfectionist and hard on themselves during their tween and teen years gets magnified thousands of times in the online culture of comparison," she said.
The trouble with online interactions is also what they are replacing. A 2022 survey found that average daily screen use increased further during the pandemic and is now more than 5½ hours among children ages 8 to 12 and a whopping 8 hours and 39 minutes for teens ages 13 to 18. That's time that previously was spent engaging in-person relationships and on healthier activities such as playing outside, sports and sleep.
Pediatrician Michael Rich, who co-founded and directs the Clinic for Interactive Media and Internet Disorders at Boston Children's Hospital, explained to me that he treats teens who "struggle with physical, mental and social health issues" from excessive social media use. He has seen straight-A students' grades plummet and young adults struggle to forge relationships after entering college.
Given the magnitude of the problem, solving it might seem daunting for parents. Nevertheless, here are four steps they can take:
Create spaces free from screens.
Kecmanovic suggests establishing guardrails, such as taking away screens during meals and before bedtime. Parents can also limit their kids' social media use to the shared family space, "not behind locked doors, and definitely not until 2 a.m. in their bedroom" when they should be sleeping.
Given the ubiquity of technology and its use in school curriculums, it might be hard to enforce a screen time limit. Instead, Rich advises setting a minimum time without screens. "That becomes a more practical way to offer our kids a rich and diverse menu of experiences, which can include screens but shouldn't be dominated by them or become the default behavior," he said.
The media scene in Mauritius is divided in two, with a highly politicised media, including the national broadcaster, and elsewhere media outlets which can be outspoken but sometimes veer towards sensationalism, says Reporters Without Borders (RSF).
US-based NGO Freedom House says that the media regulatory agency lacks independence and disproportionately targets opposition media.
Under 2018 changes to the law, journalists can face prison sentences for content that causes "inconvenience, distress, or anxiety".
Television is the most popular medium. State-owned Mauritius Broadcasting Corporation (MBC) radio and TV generally reflect government thinking. MBC is funded by advertising and a TV licence fee.
Two media groups – Le Mauricien Ltd and La Sentinelle Ltd – dominate the press scene.
BBC World Service is available via a mediumwave (AM) relay (1575 kHz). Radio France Internationale is relayed on FM.
There were 919,000 internet users by December 2021, comprising 72% of the population (Internetworldstats.com).
Home Office delays Windrush grants amid row over social media posts
The Home Office has decided not to award £150,000-worth of grants to Windrush community organisations, amid internal disagreement about whether funds should be given to groups that have expressed criticism of the government on social media.
In December, civil servants approved applications from 15 organisations to receive about £10,000 of funding each from the Windrush community engagement fund, a grant established in the wake of the 2018 citizenship scandal.
However, their decision was blocked by the home secretary's private office, because advisers were concerned that two of the groups approved for funding had retweeted posts expressing criticism of the Home Office.
The Windrush National Organisation, the UK's largest Windrush community organisation, and the University of Leicester Pro Bono clinic, working with the Highfields community centre, both had their grant approval questioned.
Discussions over whether or not they could be removed from the recommended list caused a long delay to the grant process, and eventually the department had decided to scrap the allocation of the fund for 2022-23, a Home Office source said.
The source said there was nothing abusive in the contentious tweets, which consisted of retweeted articles from the Guardian and the Independent covering government immigration policy and pieces highlighting issues around race.
The Windrush community engagement fund was set up to support community groups to raise awareness of the government's compensation and documentation scheme, and of the Home Office's other initiatives to support those affected by the department's Windrush errors, which led to thousands of legal UK residents being mistakenly classified as immigration offenders.
Applicants to the cancelled fund received letters from the Home Office stating: "We are writing to inform you that we are unfortunately withdrawing the competition for this financial year and no funding will be awarded.
"Unfortunately, we have experienced delays with our internal assessment of the latest community engagement fund (CEF) bids leaving successful applicants very little time to spend money before the end of the financial year."
The letter added: "We will relaunch the competition next financial year. We know this is disappointing news."
Asked at a public meeting last week about the decision not to distribute £150,000-worth of grants, Angela Wilson, a Home Office civil servant and head of the Windrush external engagement team, said: "This was to do with internal problems with our assessment criteria."
Applicants to the fund responded with frustration at the time wasted in submitting applications for small grant allocations that were then not distributed.
The source said the eligibility criteria were likely to be rewritten for next year, to request that applicants be prepared to "work constructively" with the Home Office.
Bishop Desmond Jaddoo, the chair of the Windrush National Organisation, was unaware of the context behind the cancellation of the 2022-23 grants. He said his organisation had had a constructive working relationship with the Home Office to date.
"Community-led engagement is intrinsic to righting the wrongs of the Windrush scandal and any available community engagement fund must be timely and commensurate to support the much-needed engagement requirements across the affected diverse communities in the UK and abroad," he said.
Laura Bee, from the Leicester University Pro Bono clinic, which assists people to make applications to the Windrush compensation scheme, said she had not been told anything about the background to the "disappointing" decision to cancel the fund allocations for last year.
Her organisation had not put anything on social media about Windrush, but the Highfields community centre, where they were planning to hold events, and with whom they had submitted a joint application, had occasionally retweeted articles about Home Office policy.
"Our clinic is well-placed to raise awareness about the compensation scheme and help potential claimants to access the scheme. Our student advisers really value the opportunity to carry out this important work," she said.
A Home Office spokesperson said the decision to withdraw the fund had been taken due to "internal delays", and that the scheme would be relaunched in the new financial year. "We continue to provide comprehensive engagement and information to organisations to enable them to support affected individuals," the spokesperson said.