Social media restricted in Suriname amid cost of living protests
Network data confirm the restriction of social media and messaging platforms Facebook, WhatsApp, Instagram and Messenger in Suriname from Friday evening 17 February 2023 local time. The incident came amid protests over the rising cost of living as protesters stormed the National Assembly. Access was restored on Saturday morning.
⚠️ Confirmed: Live metrics show Facebook, Instagram, WhatsApp and Messenger have been restricted in #Suriname on government-owned internet operator Telesur amid protests over the cost of living and the storming of parliament in Paramaribo

📰 Report: https://t.co/XS6gwLwERT pic.twitter.com/hiJ1Au1svP

— NetBlocks (@netblocks) February 18, 2023
Real-time NetBlocks metrics show that Facebook, WhatsApp, Instagram and Messenger frontends and backends have been restricted from late Friday — all platforms operated by Meta — on government owned telecommunications network Telesur (AS27775). Findings are drawn from an initial sampling of 100 metrics from ten vantage points in the country. This class of disruption can be worked around using VPN services (we recommend Surfshark), which can circumvent government internet censorship measures.
What's happening in Suriname?
Clashes over austerity measures in Suriname have turned violent, as police respond with tear gas and rubber bullets. On Friday demonstrators stormed the National Assembly, Suriname's parliament, in the capital city Paramaribo. A weak currency and worsening economic crisis have driven citizens to the streets. The government released a statement condemning Friday's incident and said it had set up a task force to manage the situation.
The Republic of Suriname does not have a significant track record of internet censorship and the measure is considered exceptional for the South American nation. NetBlocks recommends against the use of social media restrictions due to their disproportionate impact on the public's right to freely access and impart knowledge.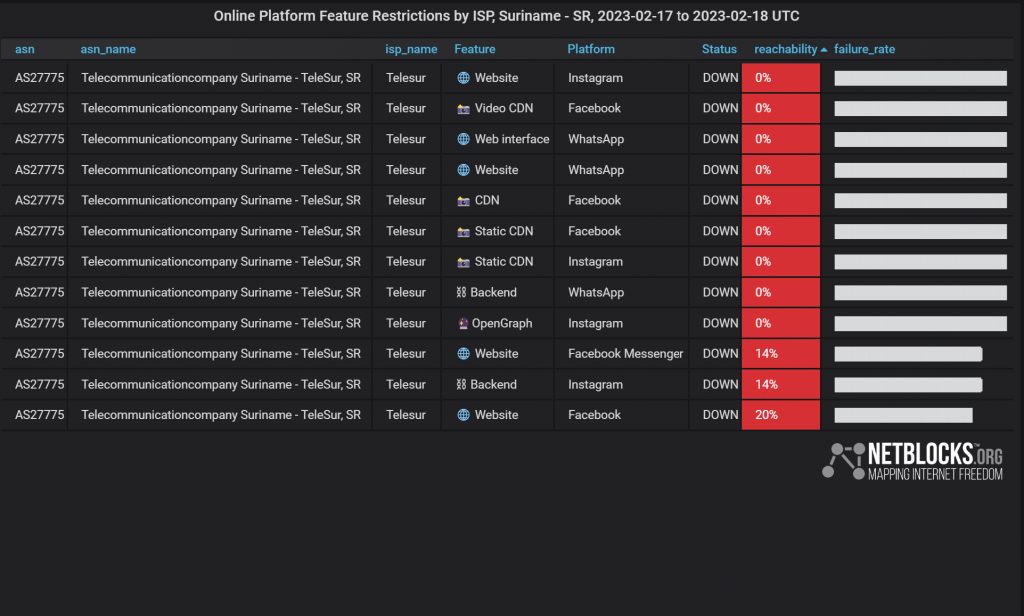 ---
Methodology
Internet performance and service reachability are determined via NetBlocks web probe privacy-preserving analytics. Each measurement consists of latency round trip time, outage type and autonomous system number aggregated in real-time to assess service availability and latency in a given country. Network providers and locations are enumerated as vantage point pairs. The root cause of a service outage may be additionally corroborated by means of traffic analysis and manual testing as detailed in the report.
---
4 Ways Social Media Normalizes Unhealthy Spending And How To Break Out Of The Cycle – BuzzFeed
Though money actually can buy happiness, that really only works up to a certain point. Like, more money can definitely make you happier if you're struggling to make ends meet, but if you're already comfortable, the positive effects of making more drop off fast. And the same goes for our spending.
As Paige explains it, "We tend to think that there is a linear relationship between how much we buy and how much we spend and how happy we are going to be, and it's simply not the case. So, don't buy into the lie that social media is feeding us that more is better."
Media mogul Rupert Murdoch, 92, engaged to Ann Lesley Smith – The Globe and Mail
Fox Corp Chairman Rupert Murdoch is engaged to former San Francisco police chaplain Ann Lesley Smith, his spokesperson confirmed on Monday, which will mark the fifth marriage for the 92-year-old media mogul.
Murdoch finalized his divorce from actress and model Jerry Hall in August.
Murdoch and Smith, 66, first met in September at his vineyard Moraga in Bel Air, California, and he called her two weeks later, Murdoch told the News Corp-owned NY Post, which broke the news of the engagement. Smith is a widow whose late husband was Chester Smith, a country singer, radio and TV executive.
On March 17 in New York, Murdoch presented Smith with an Asscher-cut diamond solitaire ring, according to the Post. They will be married in late summer.
"I was very nervous. I dreaded falling in love but I knew this would be my last. It better be. I'm happy," Murdoch told the Post
Murdoch's nuptials are unlikely to change the ownership structure of businesses in which he holds stakes, including Fox Corp, the parent company of Fox News Channel, and News Corp. Murdoch controls News Corp and Fox Corp through a Reno, Nevada-based family trust that holds roughly a 40% stake in voting shares of each company.
Fox is currently defending itself in a $1.6 billion defamation lawsuit from Dominion Voting Systems.
Dominion has accused the cable TV network of amplifying debunked claims that Dominion voting machines were used to rig the election against Republican Donald Trump and in favor of his rival Joe Biden, who won the election.
Fox has defended its coverage, arguing claims by Trump and his lawyers were inherently newsworthy and protected by the First Amendment of the U.S. Constitution.
Japan media guide – Yahoo News Canada
Japan's broadcasting scene is technologically advanced and lively, with public and commercial media in keen competition. Traditional media are more influential than news websites.
Five TV companies, including public NHK, run national terrestrial networks. Most of NHK's funding comes from licence fees. Many millions of viewers subscribe to satellite and cable pay TV.
News, drama, variety shows and sport – especially baseball – have big audiences. Imported TV shows are not widely shown, but Western influences are apparent in domestic TV fare.
Newspapers are influential and highly trusted. National dailies sell in their millions, boosted by afternoon and evening editions. Some charge for online access.
Reporters Without Borders (RSF) says that "tradition and business interests often prevent journalists from completely fulfilling their role as watchdogs".
Under the traditional kisha kurabu (press club) system, institutions such as government ministries and corporate organizations have restricted the release of news to journalists and media outlets with membership in their clubs, says NGO Freedom House.
But it notes that in recent years online media and weekly news magazines have challenged the daily papers' dominance with more aggressive reporting.
Line, co-developed by Japan and Korea, is by far the leading social and messaging application with over 94 million users. YouTube, Twitter, Facebook and Instagram are widely used.
There were 118.6 million internet users by July 2022, comprising 93% of the population (Internetworldstats.com).