Inflation: January gas prices may cause setback
OTTAWA –
Canada's annual inflation rate has been slowing since the summer, but economists are predicting that higher fuel prices in January may have hindered that trend.
Economists have been encouraged by recent month-to-month trends, which have shown prices have been rising at a slower pace.
However, TD is forecasting price growth accelerated between December and January.
"January is … looking like it's going to be a little bit of a setback," said TD director of economics James Orlando, also noting that a one-month uptick "doesn't mean that February won't go back down to trend."
Statistics Canada is expected to release its consumer price index for January on Tuesday. The report will include last month's headline inflation rate, which compares prices to the same time last year.
Canada's annual headline inflation rate has fallen from its peak of 8.1 per cent seen in June to 6.3 per cent in December as gas prices have fallen, supply chain woes ease, and interest rates weigh on spending.
While TD is forecasting price growth accelerated between December and January, it is anticipating the annual inflation rate for January to come in at 6.2 per cent. CIBC is forecasting a slight increase to 6.4 per cent.
Although inflation has eased in recent months, less progress has been made when it comes to food prices. In December, grocery prices were 11 per cent higher than a year ago.
Orlando said food inflation may have eased last month because of falling diesel prices, which affects transportation costs.
"It's probably not coming down as fast as most Canadians want but (food) has been one of the real slow moving pieces of inflation," Orlando said.
Looking ahead, most economists remain confident that inflation will fall significantly this year.
That's in part due to how inflation is calculated. Given most of the acceleration in price growth happened last spring and early summer, the annual rate is expected to fall significantly in the coming months.
"When the big price increases that we saw last year fall out of the calculation later this spring, it will lead the overall number to fall quite a bit," said Karyne Charbonneau, CIBC's executive director of economics.
The Bank of Canada is forecasting the annual inflation rate to fall to about three per cent in mid-2023 and back to its two per cent target next year.
Last month, the Bank of Canada hiked its key interest rate for the eighth consecutive time since March 2022, bringing it from near zero to 4.5 per cent. That's the highest it's been since 2007. At the time, the central bank said it would take a "conditional" pause to assess the effects of higher interest rates on the economy.
Economists note interest rate hikes can take up to two years to fully work their way through the economy.
However, if inflation doesn't come down as expected and the economy stays hot, the central bank has made it clear it is ready to jump back in and raise rates further.
Orlando said a slight acceleration in prices during one month won't sway the Bank of Canada to raise interest rates, noting the bar for further rate hikes is now higher.
He said the Bank of Canada knows it's "raised rates to a level that should slow the economy down and bring inflation down."
What should be more concerning to the central bank right now is January's strong jobs report, Orlando said.
Statistics Canada reported earlier this month that the economy added 150,000 jobs last month. With more Canadians looking for or having work, the unemployment rate was five per cent, hovering around record-lows.
On Thursday, Macklem said the economy is still in excess demand and the labour market is too tight.
For inflation to get back to two per cent, Macklem said "the tightness in the labour market needs to ease 1/8and 3/8 wage growth needs to moderate."
If things don't go as planned, the governor said the Bank of Canada is "fully prepared to increase interest rates further."
This report by The Canadian Press was first published Feb. 17, 2023
Shoppers Drug Mart moves away from medical cannabis, will send patients to Avicanna – CTV News
TORONTO –
Shoppers Drug Mart Inc. is moving away from its medical cannabis distribution business and preparing to transfer patients to a platform run by biopharmaceutical company Avicanna Inc.
The pharmacy chain owned by Loblaw Companies Ltd. announced the shift Tuesday, but did not say what prompted the change or how much money Toronto-based Avicanna is paying for Shoppers to refer patients to its MyMedi.ca platform.
"We are grateful for the trust placed in us by our medical cannabis patients over the past few years, and are confident we've found the right partner in Avicanna to continue to support them," said Jeff Leger, Shoppers' president, in a statement.
His company will start to send customers to Avicanna's platform in early May, with all of the patients set to be off-loaded from Shoppers' medical pot service by the end of July. Customers will be able to place orders on Shoppers' website through the transition period.
Avicanna said it will offer a similar range of products including various formats, brands and "competitive pricing." Like Shoppers, its online medical portal will strive to educate customers around harm reduction and provide specialty services for distinct patient groups like veterans.
Shoppers first launched its medical cannabis business in Ontario in January 2019, months after recreational pot was legalized in Canada (medical pot was legalized in Canada in 2001) at a time when many predicted the weed sector would be booming in the coming years.
The sector has instead struggled with profitability and as high numbers of recreational cannabis shops cluster in several cities, many retailers and licensed producers have had to drop their prices to stay competitive.
However, Shoppers said it racked up tens of thousands of patients in its four years of existence, providing them with access to cannabis from more than 30 brands including Aphria Inc., Hexo Corp.'s Redecan and the Green Organic Dutchman.
Shoppers' medical cannabis patients were required to obtain a prescription from a licensed health care provider such as a doctor to begin ordering pot from the company, which shipped orders to their homes.
But the company was unhappy with how medical pot regulations limited its model. Shoppers claimed Tuesday that medical cannabis remains the only medication that is not dispensed in pharmacies.
"As we move away from medical cannabis distribution, we remain firm in our belief that this medication should be dispensed in pharmacies like all others and will continue our advocacy to that end," said Leger.
Avicanna's statement did not outline its feelings on the matters, but its chief executive said it was "motivated" to "put our full efforts toward advancing medical cannabis and its incorporation into the standard of care."
"We are thankful to be selected as the partner for this transition and look forward to introducing MyMedi.ca, supporting patients and providing them with continuity of care," said Avicanna chief executive Aras Azadian in a statement.
This report by The Canadian Press was first published March 28, 2023
US charges Sam Bankman-Fried with bribing Chinese officials – The Guardian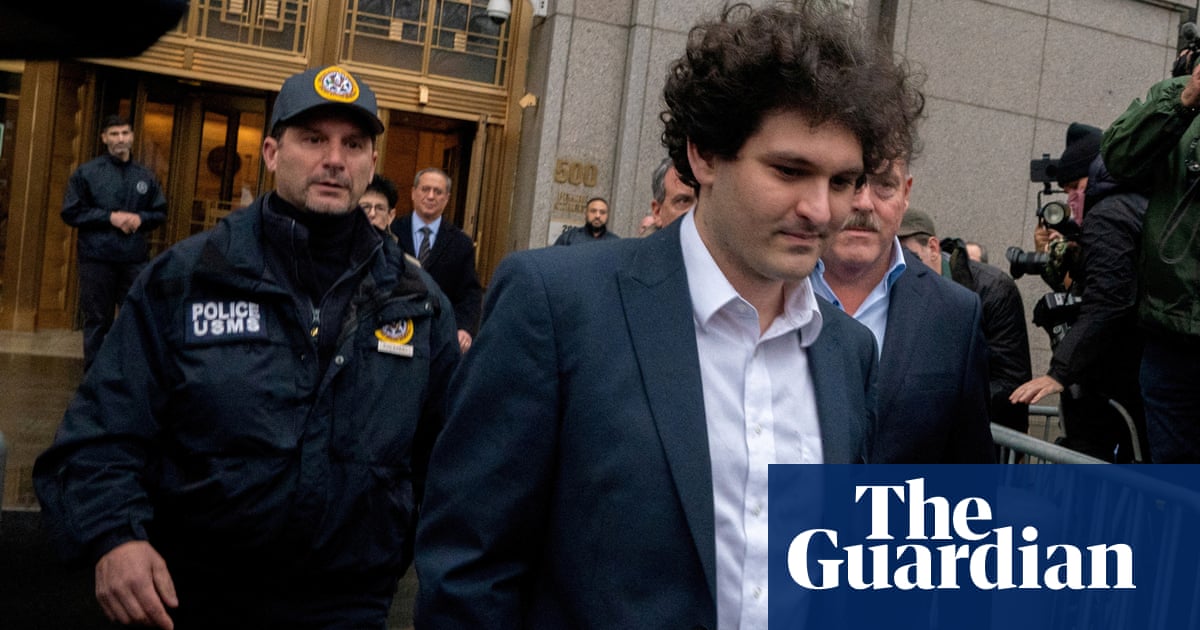 US prosecutors on Tuesday unveiled a new indictment against Sam Bankman-Fried, accusing the founder of now-bankrupt FTX cryptocurrency exchange of conspiring to bribe Chinese government officials with $40m worth of payments.
Federal prosecutors in Manhattan charged Bankman-Fried with directing the payment in order to unfreeze accounts belonging to his hedge fund, Alameda Research, that Chinese authorities had frozen. The accounts held more than $1bn of cryptocurrency, US prosecutors said.
The accounts were unfrozen after the bribe payment was transferred around November 2021 from Alameda's main trading account to a private cryptocurrency wallet, according to the new indictment.
After the accounts were unfrozen, Bankman-Fried authorized a transfer of tens of millions of dollars of additional cryptocurrency to complete the bribe, prosecutors said.
The new charge increases the pressure on the 31-year-old former billionaire, who had previously pleaded not guilty to eight counts over the collapse of FTX. Prosecutors say Bankman-Fried stole billions of dollars in customer funds to plug Alameda losses.
Lawyers for Bankman-Fried did not immediately respond to a request for comment. Bankman-Fried has acknowledged inadequate risk management at FTX, but has denied stealing money.
China's foreign ministry could not immediately be reached after normal business hours in Beijing.
District judge Lewis Kaplan scheduled a court hearing for Thursday after prosecutors asked for Bankman-Fried to be arraigned on the new 13-count indictment.
Prosecutors last month unveiled four new counts against Bankman-Fried, accusing him of orchestrating an illegal campaign donation scheme to buy influence in Washington DC. He has not yet been arraigned on the new charges.
The new count accuses Bankman-Fried of conspiring to violate the Foreign Corrupt Practices Act (FCPA), which makes it illegal for US citizens to bribe foreign government officials to win business.
Bankman-Fried is currently confined to his parents' Palo Alto, California, home on $250m bond ahead of his 2 October trial.
On Monday, his lawyers and prosecutors reached a new agreement on revised bail conditions, after Kaplan raised the prospect of sending Bankman-Fried to jail pending trial. That came after prosecutors raised concerns he may have been tampering with witnesses.
'People are going to be shocked': NSLC hikes prices ahead of federal tax increase
Regular shoppers at Nova Scotia liquor stores faced significant price hikes Monday on beer, wine and spirits.
Retiree John McCracken was picking up his usual bottle of wine when he spoke to CTV News outside the NSLC store on Joseph Howe Drive in Halifax.
"I bought last week, the same bottle was $2 less," said McCracken. "We're talking like $15, $16 bottle of wine. So not high-end wine."
"If you go into that liquor store right now, people are going to be shocked."
Workers were replacing pricing signs in all stores on Monday, but officials insist the overall increase only amounts to about 3 per cent.
"It has to do with overall costs to our supplier community. So that could be anything from freight, transportation, commodities costs, things like glass or aluminum, or other commodities like barley — all of those things are seeing an increase in price, and that's what factoring in to the overall price increase," said Allison Himmelman, a spokesperson for the Nova Scotia Liquor Corporation (NSLC).
She says the increase is below the cost of inflation.
Last month, the corporation reported a healthy earnings increase of 6.6 per cent.
On April 1, federal excise taxes are set to increase another 6.3 per cent — the biggest increase in 40 years. 
"The excise tax is actually just one factor that goes into our overall prices here at the NSLC," said Himmelman.
"And it's actually a very small factor because not all suppliers choose to pass on that excise tax to their retail product prices."
Still, some local bars and restaurants say the hikes will have to be passed on to customers, which will hurt business.
"There's no doubt, yeah, we can't absorb it," said Dimo Georgakakos, owner of the iconic Gus' Pub & Grill in Halifax's north end.
"We've been absorbing so many things, and in the bar business we're a stoic bunch, and we just sort of put our heads down and keep doing it. And now, they just sort of do that and we've got to pass it on and it's going to make customers come here less," said Georgakakos, son of the bar's founder.
He and others are still recovering from lost business in the pandemic, and worry many customers have gotten used to staying home.
"In general, things are not going to get back to the way they were," said Georgakakos. "It's going to be different."
NSLC notes that increased revenue from price adjustments is also shared with producers, including Nova Scotia wineries, brewers and distillers.