iOS 14 Photos and Camera: QuickTake Shortcut, Photo Captions, Mirrored Selfies, and More – Mac Rumors
iOS 14's biggest changes focus on the Home Screen, the App Library, redesigned compact interface for phone calls and Siri, Picture in Picture, the Translate app, and updated privacy protections, but Apple also improved many of its existing apps to add new features and functionality.

The Photos and Camera apps didn't get new designs, but received some notable changes like captions, navigation improvements, new shortcuts for capturing images, and more, with all of the new additions to the two apps outlined in the guide below.
Camera Performance and Shooting Speed
Apple in ‌iOS 14‌ added speed and efficiency improvements to the Camera app. You can capture photos up to 90 percent faster, at up to four frames per second. The time it takes to get your first shot after opening the app is now 25 percent faster, and capturing portraits is 15 percent faster shot to shot.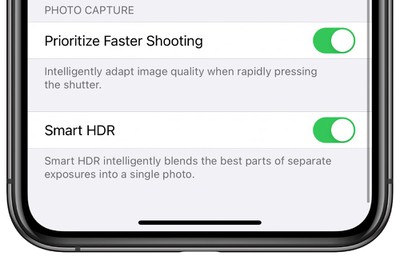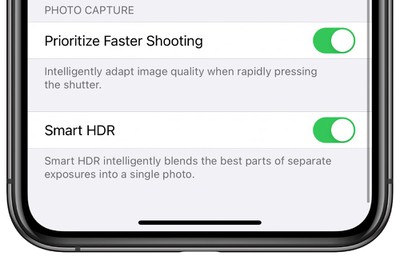 There's also a new "Prioritize Faster Shooting" toggle in the Camera section of the Settings app that adapts image quality when rapidly pressing the shutter so you can make sure you're not missing a shot due to processing times.
Expanded QuickTake Video Support
QuickTake in ‌iOS 14‌ is now available on the iPhone XR, XS, and XS Max. Previously, it was limited to the iPhone 11, 11 Pro, 11 Pro Max, and SE (2020). QuickTake lets you hold down on the shutter button when in photo mode to capture a video without having to swipe over to video mode.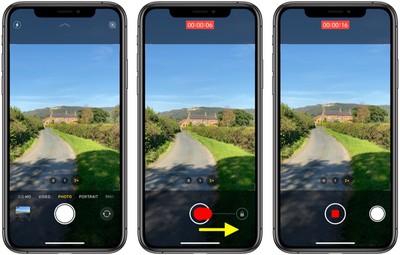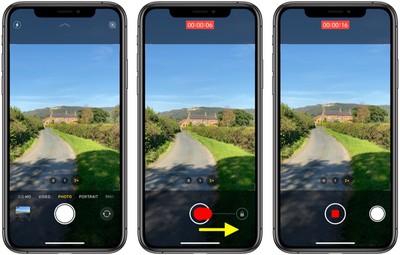 Volume Up/Down Burst Mode and QuickTake
It's long been possible to press the volume buttons to snap a photo when the Camera app is open, but this shortcut functionality is expanded in ‌iOS 14‌. If you long press on the Volume Up button you can take a series of photos in quick succession, which is known as Burst Mode.
If you press and hold the Volume Down button you can activate QuickTake to capture video without having to take the time to go into video mode.
Video Mode Toggles
In the upper right corner of the Camera app, there are details on video quality and frames per second when in video mode. In ‌iOS 14‌, you can tap in that corner to change the video mode rather than having to open up the Settings app to do so. This works in video mode and Slo-Mo mode.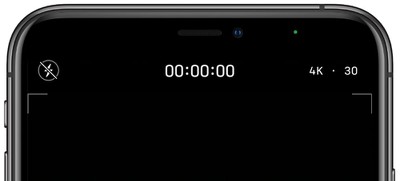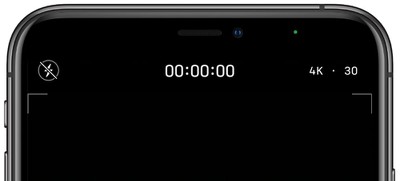 Exposure Adjustment and Night Mode Improvements
In the Camera section of the Settings app, if you tap on "Preserve Settings," you'll find a new toggle for "Exposure Adjustment." Exposure Adjustment preserves any tweaks you've made to exposure rather than resetting it from shot to shot so you can continue to take photos with your preferred exposure settings.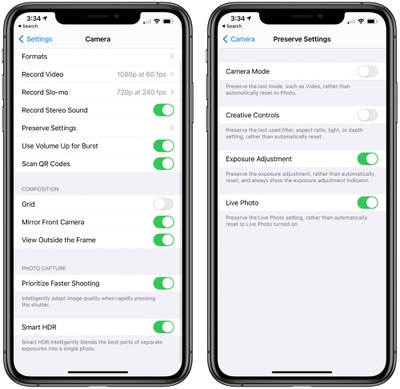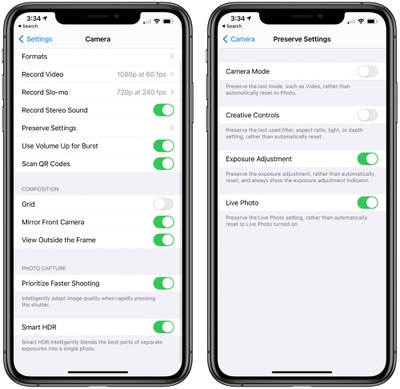 Toggling on Exposure Adjustment also ensures that the exposure adjustment indicator remains visible.
Selfie Mirroring
When taking a selfie with an iPhone using the Camera app, it flips the image so that it's the opposite of the mirror image that's shown in the preview, which can be confusing. Because most social networking apps use mirrored selfies, many people are more accustomed to mirroring functionality than the flipped selfies that the ‌‌iPhone‌‌ uses.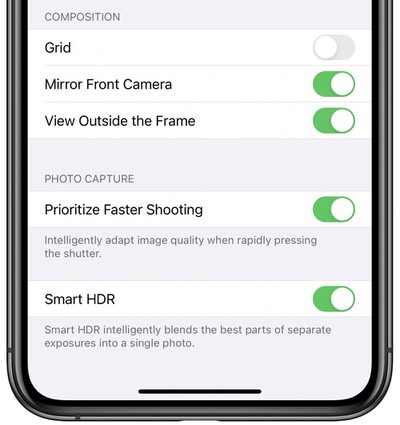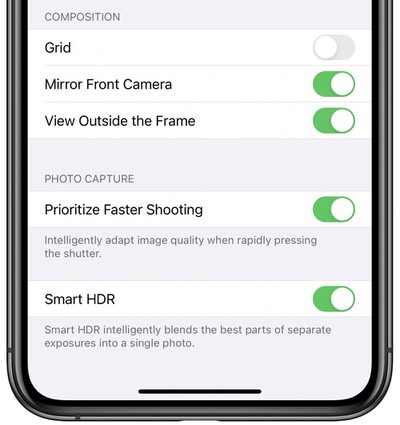 In ‌iOS 14‌, you can use the new "Mirror Front Camera" toggle to cause the Camera app to take mirror image selfies where the finished product looks like the image preview. To enable the feature, open up the Settings app, select Camera, and toggle on "Mirror Front Camera."
Photo Captions and Filtering
The ‌Photos‌ app in ‌iOS 14‌ supports captions so you can add additional context to your photos with the information you add synced across iOS and Mac.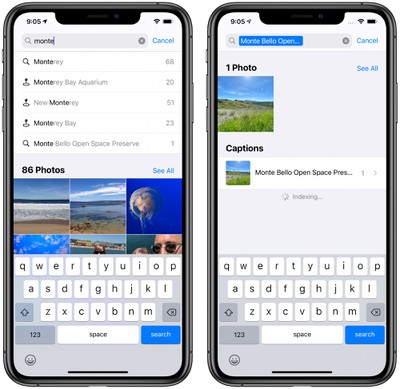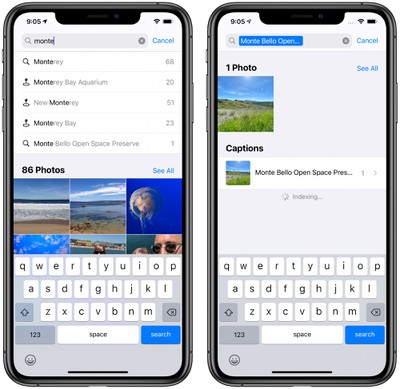 To add a caption to an image in the ‌Photos‌ app, just swipe up on any single photo you're looking at to see additional details and then tap on "Add a Caption" and type in whatever you want.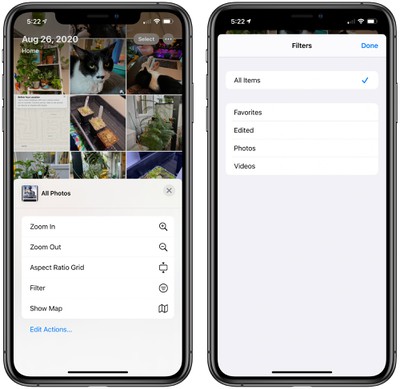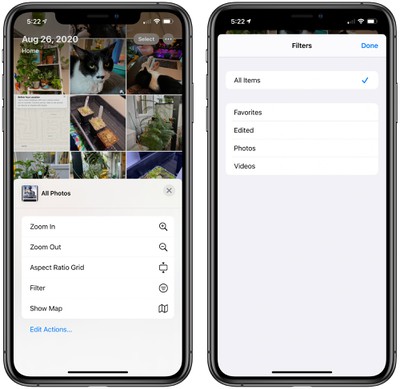 In the "All ‌Photos‌" view, there's a "Filter" option where you can choose to display favorite photos, edited photos, all photos, or all videos. To get to the Filter options, tap the three dots in the upper right corner and select "Filter." You can also choose to change the Aspect Ratio Grid to show the photo sizes or stick with the square version.
In any album in the ‌Photos‌ app, you can tap the three dots in the right hand corner of the display to get to sorting and filtering options. Filter options work like above, but the sort option lets you sort by oldest photos or newest photos to make it easier to find what you're looking for.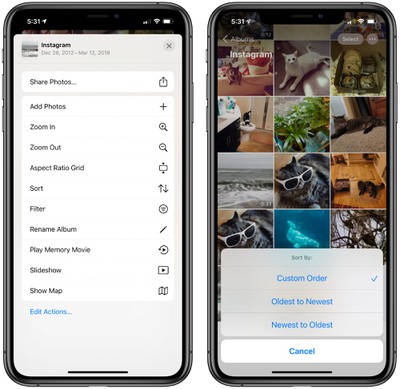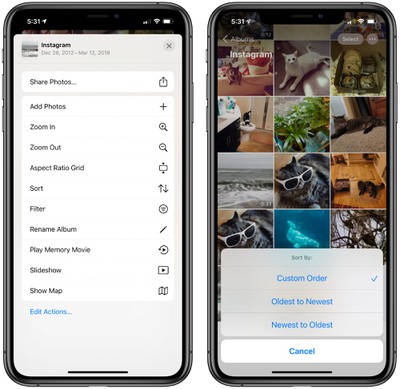 As for the Hidden album, there's a new option to hide it from the Albums list. In the ‌Photos‌ section of the Settings app, toggle on "Hidden Album." The album won't be available in the ‌Photos‌ app, but you'll still see it when you use the image picker in other apps.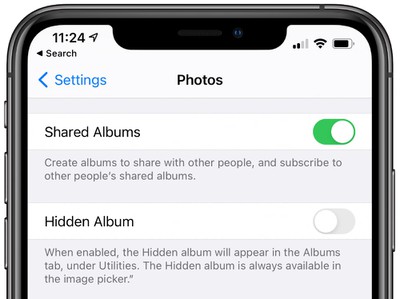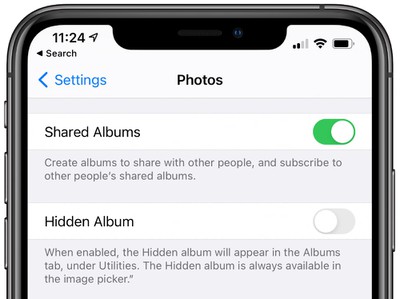 Pinch gestures to zoom in and out now work in the Albums, Favorites, Media Types, and Shared Albums sections of the ‌Photos‌ app, so you can easily zoom in and out to see everything in a given location. In iOS 13, the pinch zoom gesture to see more photos or photos that are larger was limited to the main ‌Photos‌ section.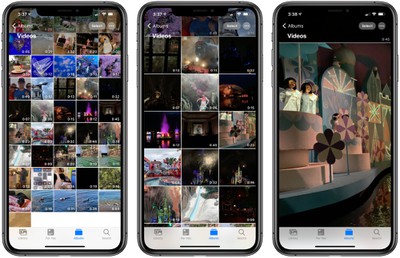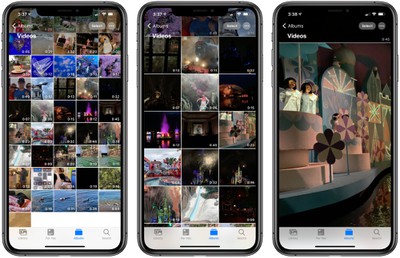 Memories and Live Photos Improvements
Apple in ‌iOS 14‌ improved the Memories feature to show more relevant photos and videos, and there are a greater number of music tracks available to watch with photo slideshows. Apple says that the framing has also been improved when switching between horizontal and portrait orientations for better transitions.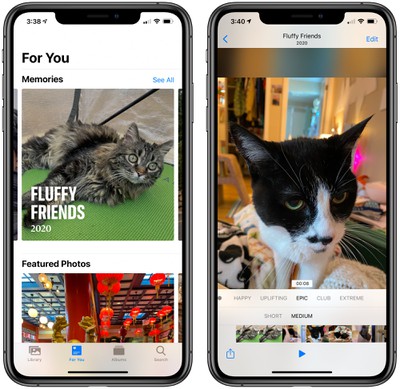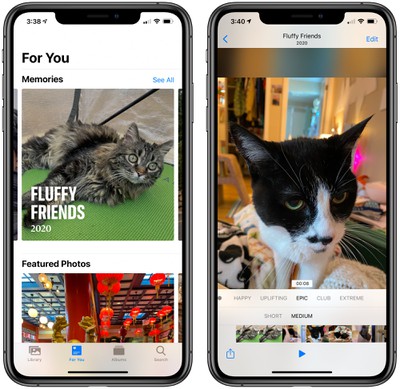 Redesigned Image Picker
Throughout ‌iOS 14‌, there's a new image picker wherever you use iOS to insert a photo into another app. The new version lets you select from albums or search for people, places, or photo contents, which makes it easier to find the exact photo you want to use.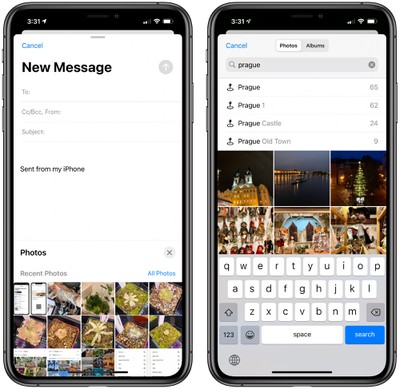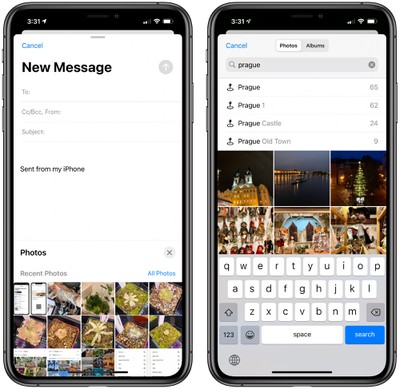 Better Zoom
In ‌iOS 14‌ you can use the pinch to zoom feature to zoom much further into photos than was possible in ‌iOS 13‌, so you can see more of the detail in a photo.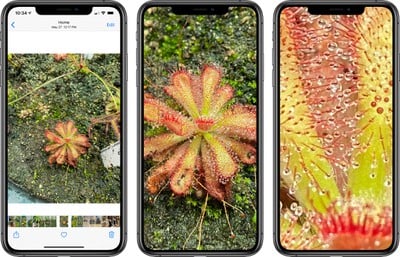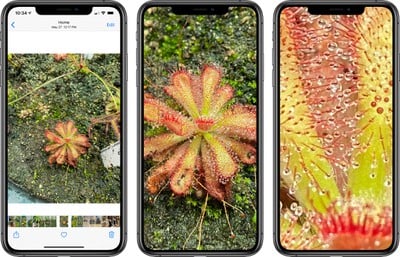 Limited Photos Permissions
Apps that ask permission to access photos can now be provided with access to a limited number of images if you don't want to give blanket permission for an app to access your entire camera roll.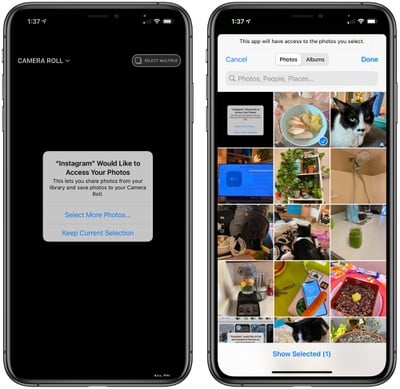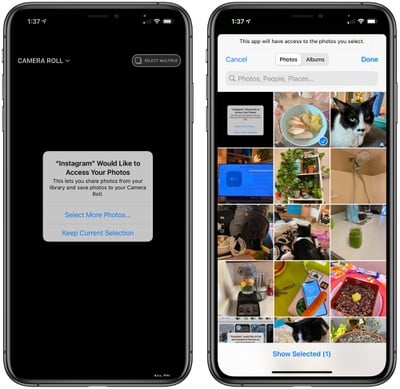 With the limited photos option, you can continually update the photos that are shared with the app, selecting just a couple at a time that you want to upload or edit.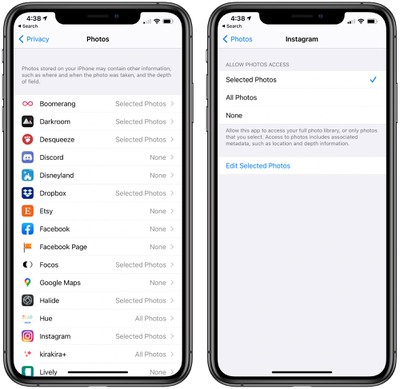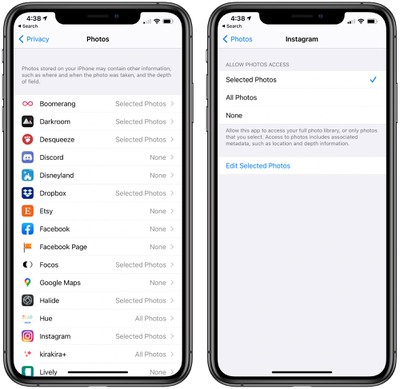 You will be asked about limited photos access whenever an app wants permission to use photos, and you can control which apps have access to all of your photos, limited photos, or no photos in the Privacy section of the Settings app under "‌Photos‌."
Guide Feedback
Have questions about the Camera and ‌Photos‌ features in ‌iOS 14‌, know of something we left out, or or want to offer feedback on this guide? Send us an email here. If you want to know more about what's coming in ‌iOS 14‌, make sure to check out our iOS 14 roundup.
Apple's smaller rivals unite to fight iPhone app store rules – Vancouver Courier
WASHINGTON — Spotify and the makers of Fortnite and Tinder are taking on Apple and Google as part of a newly formed coalition calling for "fair treatment" in the way the tech giants run their app stores.
The Coalition for App Fairness, a Washington-based non-profit, launched Thursday and will advocate for legal and regulatory changes, such as measures that could block Apple and Google from favouring their own apps in the iPhone and Android operating systems they control. The activism from smaller rivals adds to scrutiny the tech giants are facing from U.S. and European regulators and lawmakers.
The group aims to be the "voice of app and game developers in the effort to protect consumer choice and create a level playing field for all," said a statement from Horacio Gutierrez, head of global affairs and chief legal officer for music-streaming pioneer Spotify.
Apple is the group's main target, though Google's app store policies are also on its radar. Both companies this summer dropped the popular game Fortnite from their app stores after the game's developer introduced a direct payment plan that bypasses their platforms.
Apple and Google both take a 30% cut from in-app revenue purchases, which has long been a sore spot with developers.
Fortnite's developer, Epic Games, responded by suing the companies over what it sees as anti-competitive behaviour. Epic is backing the new coalition along with Spotify, online dating app maker Match Group, and other members including Tile, Basecamp, ProtonMail and European media industry associations.
In addition to the app stores, Big Tech is facing fresh scrutiny from antitrust regulators. As the Trump administration moves toward antitrust action against search giant Google, it's campaigning to enlist support from sympathetic state attorneys general across the country.
The anticipated lawsuit against Google by the Justice Department could be the government's biggest legal offensive to protect competition since the ground-breaking case against Microsoft almost 20 years ago.
Lawmakers and consumer advocates accuse Google of abusing its dominance in online search and advertising to stifle competition and boost its profits.
Xbox Series X's expansion card costs $219.99 – Polygon
The officially licensed Storage Expansion Card for the Xbox Series X and Series S costs $219.99, according to a product listing at Best Buy.
Seagate makes the solid-state drive, which Microsoft announced but gave no price for in March. It's pitched as "the only available expansion card that replicates the Xbox Velocity Architecture," which is what delivers "faster load times, richer environments, and more immersive gameplay" on the next-generation Xbox consoles.
Microsoft has promised that all the accessories you use on your Xbox One will work on the Xbox Series X. This goes for external hard drives, too, with USB 3.1 or 3.2 connectivity. However, all Xbox Series X games must be installed to the console's internal SSD or the Seagate card — USB external hard drives are far slower than these NVMe SSDs, which use the new PCIe 4.0 standard. (Series X games can be backed up to a USB external drive, but can't be played from one.)
Backward-compatible Xbox One, Xbox 360, and Xbox games can still be played on the Xbox Series X if they're installed on a USB external drive. And if you have one piled up with installed games for your Xbox One right now, it will be plug-and-play compatible with the new console launching Nov. 10. But Xbox One games that are "optimized for Xbox Series X," like Gears 5 will be, can't be played off a USB drive if users want "optimal performance," says Microsoft.
For comparison, a Seagate-made 2 TB external hard drive that's designed for Xbox One is currently available for $89.99. The $219.99 cost for the Xbox Series X Storage Expansion Card may be a fair price for the cutting-edge technology in the device, although it's hard to say; very few PCIe 4.0 NVMe SSDs are on the market, and even so, this is a custom-built SSD that's designed to plug directly into the back of an Xbox Series X or Series S.
Unlike Microsoft with the Xbox Series X and Series S, Sony will not require a proprietary storage expansion solution for the PlayStation 5. PS5 owners will be able to upgrade the console's 825 GB internal storage with an off-the-shelf PCIe 4.0 NVMe SSD, although Sony will have to certify specific drives as compatible with the console. (For reference, Samsung announced its Evo 980 Pro SSD this week, and the 1 TB model will retail for $229.99.) It's worth noting that stand-alone PCIe 4.0 NVMe SSDs will get cheaper over time, but a proprietary product like the Seagate-branded Xbox Series X card may not.
While NVMe SSDs are the state of the art for storage, 1 TB is not a lot of space for any PC or console currently available. The Xbox Series X itself has a 1 TB internal NVMe SSD, so $219.99 only doubles that capacity. The Xbox Series S has only 512 GB of internal storage — just above the amount of storage in launch Xbox One consoles seven years ago. (Next-gen games will at least take up less space on the Series S than on the Series X, because the smaller console is designed for gaming at 1440p resolution rather than 4K.)
Assuming an average of 50 GB per game — and that may be on the low side for next-gen games — you could store at most 20 games on a 1 TB card, despite a Best Buy listing that promises gamers can "collect thousands of games across four generations of Xbox without sacrificing performance."
Apple responds to antitrust pressure with App Store PR blitz – 9to5Mac
Apple is today responding to increasing antitrust pressure with an App Store PR blitz. This includes a complete revamp of its main App Store page, a new page promoting the benefits of the App Store to developers, new messaging, and a new program for developers of streaming video apps.
The response begins on Apple's homepage, with a large banner at the top pointing visitors to the new App Store page. The headline message is 'The apps you love from a place you can trust' …
The new page again stresses the consumer benefits of a curated app store.
For over a decade, the App Store has proved to be a safe and trusted place to discover and download apps. But the App Store is more than just a storefront — it's an innovative destination focused on bringing you amazing experiences. And a big part of those experiences is ensuring that the apps we offer are held to the highest standards for privacy, security, and content. Because we offer nearly two million apps — and we want you to feel good about using every single one of them.
The new page for developers is headed 'Together we turn apps into opportunities.'
Apple is committed to helping developers turn their brightest ideas into apps that change the world. That's why the App Store helps you from start to finish — to build, test, market, and distribute your products and grow your business. Our marketplace is secure, trusted, and accessible — connecting you to over 1.5 billion devices in 175 regions. The App Store and you. Together every step of the way.
This again stresses the privacy and security message.
Over a decade of trust and success. In 12 years, the App Store has grown from 500 apps to 1.8 million — all reviewed to comply with our rigorous standards for privacy, security, and content. All along the way, we've provided developers with the cutting‑edge tools and end‑to‑end support they need. So they can keep making the apps that change how people work, play, meet, learn, travel, and live their lives.
The pages contain some new facts and figures, the most notable of which is that more than a million apps have been rejected for objectionable content, with more than 150,000 apps rejected last year alone for failing to adhere to Apple's privacy requirements.
One of the antitrust accusations leveled against Apple is that it doesn't live up to its claim to treat all developers equally. There is evidence of Apple offering special deals for large developers whose apps the company wants to have on its platform.
We learned in July that Amazon Prime Video pays half the usual App Store commission, in a special deal agreed between Jeff Bezos and Eddy Cue.
Apple is also accused of creating arbitrary rules to allow it to appease companies like Netflix. It claims that it has since 2016 offered a program open to all video streaming apps, but has for the first time formalized and promoted this in the form of a new webpage for the Apple Video Partner Program.
This program is designed for apps that deliver premium subscription video entertainment services. Participating apps are required to integrate with a number of Apple technologies, such as Universal Search, Siri, AirPlay, and single sign-on or zero sign-on, to ensure a seamless experience for customers.

As a result of this integration, these apps are featured on the Apple TV app and throughout tvOS, and their content is discoverable through Universal Search and Siri.

As a program member, you earn 85% of sales from customers who sign up using Apple's in-app purchase system. You may also allow customers who subscribe using your payment method outside of the app to use that payment method for additional video transactions within the app. You must enable in-app purchase to enjoy these economic benefits.
Apple's response comes as a number of big developers banded together to form a coalition intended to coordinate antitrust battles over the App Store.
I argued back in July that Apple's antitrust woes aren't going anywhere, and it needs to address them head-on. The company seems to be getting halfway there with the PR blitz offering better messaging, together with a more formal and consistent approach to its exceptions, but it still seems determined to resist any move likely to reduce its income from developers.
FTC: We use income earning auto affiliate links. More.
Check out 9to5Mac on YouTube for more Apple news:
[embedded content]