iOS 15 beta on iPhone: 3 things you absolutely need to know before you install – CNET
This story is part of WWDC 2021. All the latest coverage from Apple's annual developers conference.
The first public beta of iOS 15 and iPadOS 15 is here. This is the software that will run on millions of iPhones and iPads when Apple releases the final version this fall. But you don't have to wait that long to sign up for the iOS 15 beta and install it. Yes, that will give you an early look at new features like Live Text, FaceTime on Android and new privacy features. But if you're on the fence, let me offer you some advice: Wait.
Yes, the installation process only takes a few taps on your iPhone's screen. And, yes, you can go back to iOS 14 at any time, but before you jump on the iOS 15 beta train, there are some important things to know — especially if you have "only" one iPhone or iPad.
Here's what gives me pause: Bugs. Poor battery life. Potentially broken apps. You're going to experience one or more of those factors while the beta program runs its course. If you're determined to install iOS 15 on your primary Apple device, here's what you absolutely need to know.
Some iOS 15 bugs will be too much to deal with
A beta is called that because it's not finished and there are bound to be issues. For example, the second beta of iOS 14.7 includes an issue that causes some iPhones to not recognize the SIM card inside the phone. Without a SIM card, your phone may as well be an iPod Touch.
Bugs and issues just like that will surely crop up in iOS 15 and iPadOS 15. And even if they don't completely stop you from using your iPhone or iPad, the bugs will still be annoying and could mean the difference between getting work done and reliably sending messages, and having a paperweight.
It's inevitable: Some apps won't work
Whenever Apple makes major changes to the operating system and the underlying APIs that developers use to build new features and services, it typically means that older developer tools are removed or how it works gets changed. Even a slight change can cause an app to no longer work, at all.
A couple of years ago, I was testing an iOS beta and I couldn't use my bank's app. It would open and then immediately force quit. Thankfully, the developers were able to release an update that took care of the issue, but that's not always the case.
And just because during beta 1 all of your apps work fine, that doesn't mean that beta 3 won't break them. If there are apps you rely on daily, it's better to wait until closer to the official release before joining the beta.
Battery life almost always suffers
Even if you're fortunate enough to not have any apps that won't run on the beta or missed out on a show-stopping error like the iOS 14.7 SIM bug, almost no one is immune from the hit that battery life takes during the iOS beta season.
One of the last things Apple does during beta programs is optimize the apps, features and services for battery efficiency. Or at least that's how it feels. In previous beta programs, I've often found myself looking for a charger halfway through the day, even with minimal use. And the same has been true with the first couple of iOS 15 betas. I've had to leave my phone on a charger whenever I'm at my desk in order to get through the evening. Battery life always suffers.
Thankfully in the past Apple has released a battery case for its current-generation iPhones that have helped, but this year the company has yet to release anything for the iPhone 12 lineup.
If you do install the iOS 15 beta, be ready to carry around a wall adapter and cable. You're going to need it.
My advice? Wait until August, when we're typically about a month away from the official release of iOS 15 and iPadOS 15. By that time, the developer beta and the public beta will have been out for a couple of months and a lot of the bugs and issues will be resolved. And that's usually when you start to see battery life slowly improve.
If you decide you're going to give iOS 15 a try, here's what you need to know about installing it. Joining the beta isn't a permanent decision. You can go back, but it'll take some work. Make sure to check out our WWDC roundup for an easy way to find everything else Apple announced at WWDC 21.
It's official: Xiaomi 12S series with Leica-tuned cameras is coming on July 4 – GSMArena.com news – GSMArena.com
The Xiaomi 12S that leaked last month will be officially unveiled next week – on July 4. This revelation comes from Xiaomi, which also said that the 12S will be joined by the 12S Pro and 12S Ultra at the event.
Xiaomi also confirmed its partnership with Leica for the cameras on the 12S series and gave us a glimpse of the three smartphones.
Judging by the leaked image of the 12S, we believe the smartphone with the white-colored back panel is the 12S, while the one in the center might be the 12S Pro, and the smartphone on the left might be the 12S Ultra. It has a golden metal frame with a green-colored leather panel.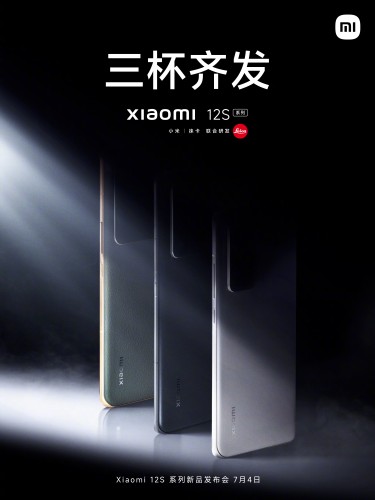 Xiaomi hasn't detailed the specs sheets of the 12S series smartphones yet, but the company said the 12S is a small-sized high-end flagship, whereas the 12S Pro is 2022's new flagship standard. The 12S Ultra is touted as the "new height of mobile imaging flagship."
You can expect Xiaomi to share more information about the 12S lineup in the lead-up to the event next Monday.
Source 1, Source 2 (both in Chinese)
Apple MacBook Pro M2 SSD performance falls short of its M1 predecessor – XDA Developers
Apple's recently announced MacBook Pro 13 (2022) hit retail shelves this past week, which means it not only got into the hands of eager customers but also got into the hands of more reviewers. This latter part is important because apparently, testing of the base model has revealed what could be a major drawback for some.
YouTube creators Max Tech and Created Tech ran tests on the latest Apple MacBook Pro 13 and found that the storage speeds of the new base M2 model were slower when compared to the older M1 MacBook Pro 13. Now, this wouldn't be a huge deal if it was a small difference, but according to Max Tech, the difference is pretty major. Running the test numerous times using Blackmagic's Disk Speed Test app, he was able to find that the write speed of the M1 MacBook Pro was 2,215, while the M2 MacBook Pro scored 1,463. On read speed, the former scored 2,900, while the latter scored 1,446.
Apple's latest isn't its greatest when SSDs are involved.
Max Tech took things a step further by opening up both laptops and checking the physical differences in hardware. They spotted an immediate difference with regards to the SSD count. In the older M1 MacBook Pro 13, there are two soldered SSDs, while the newer M2 MacBook Pro 13 has just one SSD. Max Tech explains that having two chips working in tandem is much more efficient than having just one SSD chip shouldering the load. This is probably not what many would expect, but it is something to consider when purchasing the newer model.
These tests were performed on the base model, and reports have shown that higher models have better and faster SSD scores. What will be interesting is to see how well the upcoming MacBook Air 13 (2022) will perform when it is released. Be sure to check out our full review of the MacBook Pro 13 (2022).
---
Source: Max Tech and Created Tech (YouTube)
Via: MacRumors
OnePlus 10RT camera specs leaked: New value flagship from OnePlus? – Android Authority
Dhruv Bhutani / Android Authority
TL;DR
A reliable tipster has outed the camera specs of the OnePlus 10RT.
The phone may feature an identical setup as the OnePlus 10R.
This is the fourth rumored OnePlus 10 series phone.
The OnePlus 9RT launched last year as a value flagship and upgrade to the OnePlus 9R. Now, it looks like the OnePlus 10R will be followed by the OnePlus 10RT.
Leaker Yogesh Brar has outed the alleged camera specs of the OnePlus 10RT. While we haven't heard any other leaks and rumors about the phone, this latest tip suggests that the device could launch in the next few months.
Nevertheless, the camera setup on the so-called OnePlus 10RT is expected to feature a primary 50MP IMX 766 sensor with Optical Image Stabilization (OIS). This is the same camera sensor used on the OnePlus 10R and OnePlus 9RT. It also served as the ultrawide sensor on the OnePlus 9.
The other two rear camera sensors on the phone are also expected to be the same as those found on the OnePlus 10R. This means you may get an 8MP ultrawide sensor and a 2MP macro shooter.
The selfie snapper is tipped to be a 16MP sensor, albeit from Samsung, not Sony, as is the case on the 10R.
OnePlus 10RT (CPH2413) Camera Specs

✓Rear

– 50MP (Sony IMX766), OIS, (f/1.88) (84.4°)
– 8MP Ultra-wide (ƒ/2.25) (119.7°)
– 2MP Macro (f/2.4) (88.8°)

✓Front

16MP (Samsung S5K3P9) (f/2.45) (82.3°), EIS
There's no word on when OnePlus would launch the 10RT. If the company sticks to its previous timeline, we may see the device in October. The device could also be available in select markets, just like its predecessor and the OnePlus 10R. That means it might not launch in the US.
For now, OnePlus's next big launch is shaping up to be the OnePlus 10T. Although, the device might end up being called the OnePlus 10. There's also talk of a OnePlus 10 Ultra on the horizon. Of course, we don't have confirmation about any of this since all the information about the possible OnePlus 10 series variants is based on leaks.