Island Voices: Ecological crises deserve better media coverage – Times Colonist
I was 14 when North Korea invaded South Korea in 1950. As an adolescent, I was more preoccupied with puberty-related personal issues than politics. But when Canada sent military personnel as part of a UN effort, I religiously followed the battle lines. Every day, the local paper's front page reported how troops were doing, with a map showing enemy and allied movements.
Now we face an even greater challenge, but it's not always reflected in headlines.
In October 2018, the Intergovernmental Panel on Climate Change released a terrifying report on humanity's impact on the chemistry of the atmosphere — the source of air, weather, climate and seasons. Our emissions have increased average global temperatures by at least 1 C since pre-industrial times, causing ice sheets and glaciers to melt, and wildfires, hurricanes, floods and droughts to become more widespread and intense.
At the 2015 Paris climate conference, all nations committed to reduce greenhouse gas emissions so temperatures wouldn't rise by more than 2 C by 2100. The IPCC report concluded a rise above 1.5 C will cause climate chaos. We're on a trajectory to reach 3 C or more! The report gave a glimmer of hope that we could escape catastrophic climatic consequences by reducing emissions by 45 per cent by 2030 and completely by 2050.
The IPCC study didn't garner the same kinds of headlines or urgent stories as the Korean War. Soon after its release, Canada legalized cannabis, which pushed everything else to the media sidelines. The IPCC target of cutting emissions in half within a decade and completely in three decades is a narrow window, with enormous ecological, economic and political repercussions, yet the urgent call to action was a one-day, low-key media event.
Last May, the UN released a major global biodiversity study showing humanity has caused species loss comparable with mega-extinctions in which up to 90 per cent of plants and animals disappeared. It's not just whales, tigers and penguins that are endangered; insects, the most abundant, diverse and important animals, have been devastated by decades of poisons pumped into air, water and soil.
Now, up to a million plant and animal species are in imminent danger of vanishing. As Earth's top predator, we depend on nature's productivity and services — exchanging carbon dioxide with oxygen, filtering water in the hydrologic cycle, creating soil, capturing sunlight, renewing protoplasm, etc. Climate change and large-scale extinction are intimately related consequences of human activity with enormous repercussions for us, yet when Prince Harry and Meghan had a baby last May, media coverage of species extinction disappeared.
Our great evolutionary advantage — intelligence — has served us well. But we've become such a powerful presence that our collective impact is driving changes in the physical, chemical and biological properties of the planet on a geological scale — leading some to call this the Anthropocene epoch.
Confronting climate and extinction challenges with the urgency they deserve must dominate our thoughts and priorities. Every day, media report on Dow Jones averages, the S&P index, the value of the loonie, the price of a barrel of oil, the current status of companies such as Google, Amazon, Apple, Exxon and Toyota, and celebrity and sports news.
But what about the real things that matter to us? How many tonnes of pesticides were spread around the globe or plastic into the ocean? How many species have vanished? How many plastic microbeads, hormone mimics and carcinogens have we consumed? How many hectares of land have become desert? How much carbon dioxide have we added to the air? How many tonnes must be reduced to keep temperature from rising above 1.5 C? So many numbers are of far greater importance for our species' future than stock market values, yet media often ignore them.
We've frittered away two of the 12 years we have to halve our greenhouse gas emissions. Where is the daily discussion about concrete ways to reduce them? What about job opportunities acting on ecological crises will create?
It's said that Nero fiddled while Rome burned. What are we doing while the planet is burning? So blinded by our success as a species, we're preoccupied by our own amusement, comfort, hyperconsumption, businesses and politics.
We proceed down this path at our peril.
David Suzuki is a scientist, broadcaster, author and co-founder of the David Suzuki Foundation.
Did Coronavirus Originate in America? Chinese Media Pushes Conspiracy – CCN.com
Chinese state-run media has reported that many Chinese believe Wuhan coronavirus originated in the U.S.
The report claims that the disease is being mistaken for influenza – which has already killed 16,000 this season.
The conspiracy may be part of an intensifying information war between competing governments.
Since the beginning of the Wuhan coronavirus outbreak, which has now grown to infect 79,000 and kill over 2,000, Chinese authorities have attempted to deflect attention away from the crisis by comparing it to the American flu season. Some claim that influenza, which has killed over 16,000 people this year, is more deadly than the coronavirus.
Now, new conspiracy theories claim that it may actually be the coronavirus.
According to Chinese state-run media, some Chinese speculate that Americans who died of the flu may have unknowingly become infected with the deadly Covid-19 – which they claim is spreading undetected in the United States.
Some even speculate that infected Americans brought the illness to China.
This comes at a time when U.S. authorities have begun testing individuals with influenza-like symptoms for coronavirus. Currently, the United States has tested 414 people for Wuhan coronavirus with only 14 confirmed to be infected.
Coronavirus May be Spreading Out of Control
Some analysts believe the scale of the coronavirus outbreak may be wider than currently reported. This is because cases are cropping up with no direct link to mainland China. In addition to the roughly 77,600 cases confirmed in China, the disease has grown to infect 602 in South Korea, 155 in Italy and 43 in Iran.
The cases in Iran are particularly troubling because the death toll doesn't seem to match the number of confirmed cases.
Despite only 43 confirmed cases in Iran, eight Iranians have already died from the Wuhan Coronavirus. In comparison, there are 1,343 confirmed infections in Guangdong province, China, but only six have died. The high death rate in Iran suggests the coronavirus could already be spreading uncontrollably in the country.
Some Chinese netizens believe the coronavirus could also be spreading uncontrollably in the U.S. Their wild theories assert that Americans could be mistaking the disease for influenza.
Chinese State Media Promotes a Shocking Conspiracy
According to the Global Times, a report from Japan's TV Asahi Corporation claims that some of the 16,000 Americans who died of influenza during the flu season may have unknowingly contracted the Wuhan coronavirus. They argue that the United States misrecorded these deaths as influenza while they were actually Covid-19.
Chinese netizens took the story and ran with it. Global Times reports their commentary:
Perhaps the US delegates brought the coronavirus to Wuhan, and some mutation occurred to the virus, making it more deadly and contagious, and causing a widespread outbreak this year.
These reports build upon earlier conspiracies in Russian media that outrightly suggest the U.S. government may have intentionally created the Wuhan coronavirus to wage economic warfare on China.
The theories are, apparently, so widespread in Russia that several Russian political leaders speak about them openly.
Comparing Coronavirus to Influenza
While many are quick to compare Covid-19 with influenza, the two diseases are not very similar.
Influenza kills a huge number of people each year, but its fatality rate has been around 0.05% so far this season. In comparison, Covid-19 has reached death rates as high as 2.9% in Hubei province, the epicenter of the outbreak. The new disease seems to overwhelm hospital infrastructure because of the severity of its symptoms.
According to data, Covid-19 puts around 20% of patients in critical condition, with many going on to develop pneumonia.
Even though most Covid-19 patients survive, their symptoms are severe enough to send them to the ICU. In comparison, most influenza patients have symptoms mild enough that they can recover at home.
Needless to say, if the United States were dealing with an uncontrolled coronavirus outbreak, authorities would have noticed it by now.
Information War Intensifying
This comes at a time when the online information war is heating up. Governments are increasingly using online media to promote national agendas and damage the reputations of their adversaries.
Recently, the United States forced several Chinese news organizations to register as agents of the Chinese government under the Foreign Agents Registration Act. China has also expelled several Wall Street Journal reporters from Beijing, accusing the outlet of racist reporting in its coverage of the deadly coronavirus outbreak.
The Global Times report looks to be the latest in an escalating tit-for-tat between competing governments. But it should encourage Americans to be more vigilant about the new and deadly Covid-19.
Disclaimer: The opinions expressed in this article do not necessarily reflect the views of CCN.com.
This article was edited by Sam Bourgi.
India's media is failing in its democratic duty – Al Jazeera English
The protests in India against the Citizenship Amendment Act (CAA), which grants a fast track to citizenship for certain religious-minority immigrants, have underlined the importance of not just the democratic process, which includes the right to peaceful protest, but also the role of the media in covering the government's response to the protesters.
I work as a journalist in India and am happy and proud to be part of what I regard as a free press in the country. The website I helped found four years ago, The Wire, shines a critical light – a pretty harsh one – on the government, on politics and on big business. And there are others like us.
Sure, the politicians and ministers and captains of industry do not like what we do and have made their displeasure known in various ways; but show me a democracy where the government loves the media and chances are the media is not doing its job.
So why is it then that India – a country with a free press and an independent judiciary – does so badly on global indices measuring media freedom? In 2019, the country slipped two places down to 140 out of 180 in the World Press Freedom index compiled by Reporters Without Borders. How do we reconcile the fact that there is a constitution, laws guaranteeing press freedom, and media platforms fiercely doing their job, with India's falling rank?
What has happened over the past few years is that a major section of the media has crossed over to the dark side.
Without being formally censored or compelled by other means to comply with official diktats, these media houses have simply stopped doing their job. They have stopped asking difficult questions about the government and its policies. They are in awe of Prime Minister Narendra Modi and his senior ministers and are reluctant to be critical of them.
Many, sadly, have become mouthpieces of official propaganda. Some do not think twice about promoting religious polarisation and even hatred in pursuit of the political agenda of the ruling Bharatiya Janata Party (BJP).
There is also a major section of the media which is reluctant to be seen rocking the boat mainly because their proprietors have business interests that could be jeopardised. It is commonplace for governments at the central and state level to use official advertising as a lever of influence on the media. But there is also a darker side: With most investigative agencies functioning at the beck and call of ruling politicians, proprietors fear becoming the target of a vendetta if their reporters are seen as taking on the establishment.
For those of us still willing to do our job, there are indirect financial pressures, of course, but also legal tactics aimed at silencing critical coverage. Defamation laws are misused to embroil editors and reporters in frivolous cases that can take us years to shake off. At one time, The Wire was facing 14 defamation suits filed by governing party politicians and their family members, businessmen and even a godman – a high-profile guru – known to be close to the establishment. Total damages currently being sought in these bogus cases against us run to over one billion dollars.
In the past few months, the government has sought new ways to get a grip on the country's scrappy digital media. It has announced new restrictions on foreign investment in digital media, including approval on a case-by-case basis, and is also proposing to introduce a compulsory registration process for news and current affairs websites.
A new tactic, which affects not just media freedom but the freedom of speech and communication of ordinary citizens, is the imposition of bans on the usage of the internet and social media. In Jammu and Kashmir, a "temporary" ban on social media has lasted more than 200 days now.
Broadband internet remains banned and limited data internet access was permitted after a two-month hiatus but only for low-speed access to "whitelisted" sites.
The latest assault on freedom of speech is the government's decision to charge Kashmiris who access the internet via VPNs under the draconian Unlawful Activities (Prevention) Act. Given the growing interface between social media and news media, this clampdown can only have a further chilling effect on press freedom.
While the media in India has always had to contend with unfriendly politicians in the past, they could, with the exception of the 1975-1977 Emergency, at least count on the support of the country's judges if the going got tough. What makes the current phase so dangerous is both the Modi government's level of intolerance and the reluctance of the courts to defend free speech and press freedom.
The press freedom we have in India should no longer be taken for granted. And it is only if we use our freedom – fiercely and fearlessly – that we can stave off future assaults on it.
The views expressed in this article are the author's own and do not necessarily reflect Al Jazeera's editorial stance
Sanders campaign prods media outlets: 'What are they missing about Bernie's appeal?' – CNN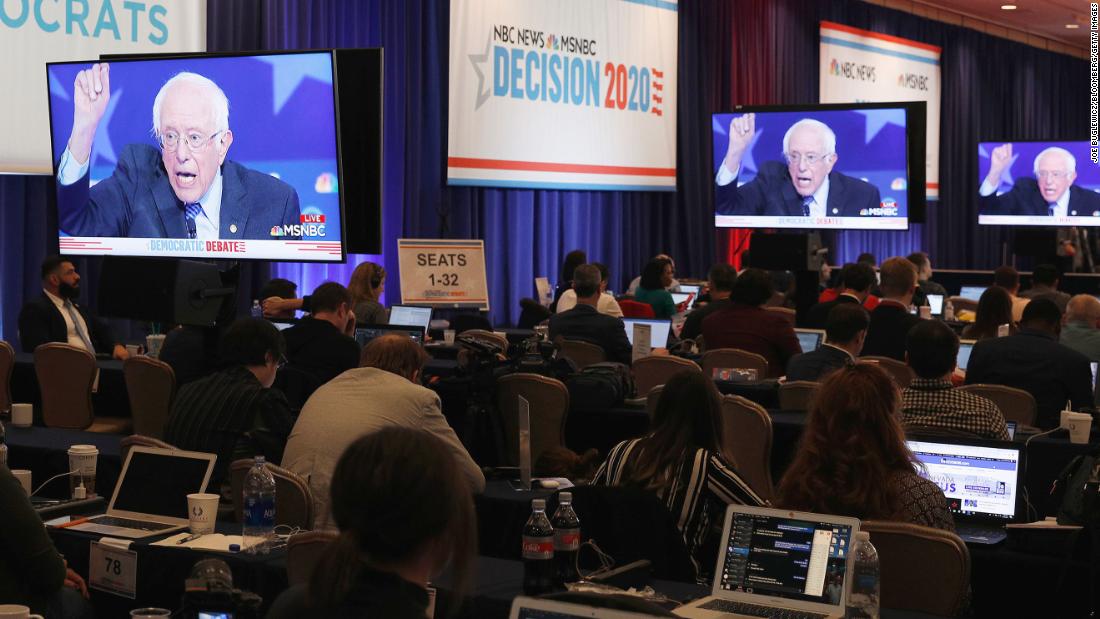 Bernie Sanders' big win in Nevada over the weekend highlighted the hostility between his campaign and MSNBC, the network with a progressive brand but an establishment bent.
The campaign continued to criticize the network over the weekend — in response to highly controversial remarks by Chris Matthews and others. One MSNBC regular, Anand Giridharadas, called out Matthews on the air and said "something is happening in America right now that actually does not fit our mental models. It certainly doesn't fit the mental models of a lot of people on TV."
So I'm wondering: Is this the big media story of the 2020 race?
In 2016, all roads led to Trump, who frequently sparred with Fox News despite all of the natural overlaps between the Fox audience and the Trump base. Something similar, though not the same, is happening now with Sanders and MSNBC. Page Six
reported
Friday night that Sanders loudly criticized NBC and MSNBC officials before last week's Dem debate.
According to the story
, Sanders approached MSNBC president Phil Griffin and said "Phil, your network has not been playing a fair role in this campaign. I am upset. Is anything going to change?"
What Matthews said
When Sanders took an early lead in Saturday's NV caucuses, Matthews likened it "to the shock of France falling to Germany during WWII," as The Daily Beast
wrote here
. This analogy placed Sanders in the shoes of Nazi soldiers. Sanders comms director Mike Casca tweeted
this
in response: "Never thought part of my job would be pleading with a national news network to stop likening the campaign of a Jewish presidential candidate whose family was wiped out by the Nazis to the Third Reich."
What Giridharadas said
Sanders' wins are a "wake-up moment for the American power establishment," he said
on "AM Joy"
Sunday morning. "For Michael Bloomberg, to those of us in the media, to Democratic Party, to donors, to CEOs. Many in this establishment are behaving, in my view, as they face the prospect of a Bernie Sanders nomination, like out-of-touch aristocrats in a dying aristocracy." Instead, he said, they should be asking "Why is this happening? What is going on in the lives of my fellow citizens that they may be voting for something I find so hard to understand?"
Giridharadas, a paid contributor to NBC and MSNBC, then
asked
, "Why is Chris Matthews on this air talking about the victory of Bernie Sanders, who had kin murdered in the Holocaust, analogizing it to the Nazi conquest of France? The people who are stuck in an old way of thinking, in 20th century frameworks, in gulag thinking, are missing what is going on." MSNBC declined to comment…
→ Marie Harf
said on Fox
that Matthews should "personally apologize to Bernie Sanders…"
The view from Sanders HQ
"I think one of the big questions is how and whether news outlets reassess whether they got it right on Bernie," campaign manager Faiz Shakir told me Sunday. "And if not, how does that change coverage going forward? What are they missing about Bernie's appeal?"
Shakir has called out MSNBC by name and challenged print outlets that, in his view, have been exceedingly negative. The more delegates Sanders gains, the more of a megaphone Shakir has regarding this subject…
FOR THE RECORD
— CNN's David Chalian explaining the delegate math that favors Sanders: "It's getting late early…" (
Mediaite
)
— "Meet the Press" moderator Chuck Todd: "If nobody drops out before Super Tuesday, is it even possible to stop Bernie Sanders?" Dan Pfeiffer: "I do not believe it is." (
MTP
)
— During CNN's coverage on Saturday, Van Jones cited Latino and youth support for Sanders: "You got a new generation stepping up. They're not scared of any of these ideas and they're tired of hearing Republicans calling everything we say socialist. They ruined the word socialist…" (
Beast
)
— Coming up: "Sanders plans to be up on the air with commercials in every South Carolina media market this week, and his staff is scrambling to add new rallies to his schedule as they take aim at their next big target:" overtaking Joe Biden… (
NYT
)
Sanders cites CBS polls
Per CNN's Annie Grayer, Sanders did something on Sunday that's unusual for him: He read poll numbers aloud at a rally. "Some of the folks in the corporate media are getting a little bit nervous," he told supporters in Houston. "They say, you know, Bernie can't beat Trump. So let's look at some of the polls out today."
Sanders read results from Sunday morning's new CBS/YouGov poll that showed him beating Trump in a general election match-up and in key battleground states…
The view from Jacobin
Jacobin, the leading socialist magazine in the US,
published
a piece after the Nevada "blowout" that said "face it, establishment Democrats —
it's his party now.
"
Jacobin has been allied with Sanders for years. The mag's publisher Bhaskar Sunkara told me, "I think the key is that the Never Bernie wave won't materialize. Most Dems like him and his lead is growing. They'll reconcile themselves to him just like Republican media to Trump." Sunkara's prediction: "Bernie will be just a regular Dem candidate which fits his actual profile — not radical but someone who's been in Washington for a long time and who proposes popular economic and social reforms."
Sunkara said web traffic to Jacobin "is up year over year around 60 percent." Print subscriptions are up 40 percent year over year. "People are really dialed in right now," he said…