James Webb Space Telescope leaves scientists starry-eyed
EDMONTON –
It's as if they were using a telescope not just to peer into space, but also into time.
Canadian scientists are already using spectacular data and images from the recently launched James Webb Space Telescope to look backward into some of the oldest stars ever studied and forward into how new stars and planets are born.
"One of the holy grails of astronomy is to find stars that are the first stars to have formed after the Big Bang," said Ghassan Sarrouh of York University, a co-author of a study on star clusters that's already been published using James Webb data. "That's what we think these are — the earliest stars."
On the other end of time, Western University's Els Peeters is looking into the future by studying hot young stars in the constellation Orion and their influence on the interstellar material around them.
"In that material is where the next generation of stars will be born," she said.
Don't forget the planets. A group at University of Montreal is looking at exoplanets — especially Earth-sized ones with water and other essential elements in their atmosphere that just might host life.
"We've already had a first result," said Nathalie Oullette. "About a month ago was the first detection of carbon dioxide in an exoplanet."
The James Webb is the result of $13 billion and more than two decades of work. The successor to the Hubble Space Telescope, Webb orbits much deeper in space and is anywhere from a hundred to a million times more sensitive.
Two of its major components — one machine that aims the telescope with stunning precision and another that analyzes light far beyond the visible spectrum — were designed and built in Canada. That has given Canadian researchers the right to claim five per cent of the telescope's observation time.
Scientists are almost giddy over the quality of what they're getting back.
"Astounding," said Erik Rosolowsky of the University of Alberta, who's using Webb's infrared capabilities to study how black holes create voids in interstellar dust, the spawning grounds for new stars. "It's like someone's given us a set of X-ray specs."
Oullette said before Webb, astronomers could spend days going through murky data, separating signal from noise.
"It is quite remarkable how clean (Webb's) data is." she said. "With Webb, there's no having to dig through the data to find the signal."
Sarrouh puts Webb images side-by-side with those from Hubble.
"You can just see one set of images is really blurred and fuzzy. The other is full of all these really sharp points that just sparkle."
The results are pouring in. Rosolowsky and his team already have 21 papers in the works.
And already, scientists are feeling their mental star maps shift.
It looks, for example, that things may have started up much sooner after the Big Bang than previously thought, said Oullette.
"Maybe structure started earlier than we had thought and galaxies started forming earlier than we thought."
Rosolowsky has confirmed the existence of black holes so large they leave great holes in the centre of galaxies where stars would normally be created.
"We can see straight through and say this black hole is ripping apart all these proto-stars before they get going."
Peeters calls it a new era in astronomy.
"It's only operational for three months and already we've learned so much."
Sarrouh said it's a good time to be a Canadian astronomer.
"It will allow us to see into a time we've never seen into before. You can almost think of the James Webb as a time machine."
This report by The Canadian Press was first published Oct. 10, 2022.
After lunar flyby, NASA's Orion spacecraft is set to splashdown on Sunday – Ars Technica
The Orion spacecraft swung by the Moon on Monday, flying to within 130 km of that world's surface as it set course for a return to Earth this weekend.
In making this "powered flyby burn" to move away from the Moon, Orion's service module performed its longest main engine firing to date, lasting 3 minutes and 27 seconds. After successful completion of the maneuver, NASA's mission management team gave the "go" to send recovery teams out into the Pacific Ocean, where Orion is due to splashdown on Sunday, during the middle of the day.
By getting into an orbit around the Moon, and back out of it again during its deep space mission, Orion has now completed four main propulsive burns. This completes a big test of the spacecraft and its propulsive service module, which was built by the European Space Agency. Although a boilerplate version of Orion made a flight in 2014, it did so without a service module.
As part of this Artemis I mission, NASA is now three weeks into a 25.5-day test flight of the Orion spacecraft. The goal is to validate the spacecraft's capabilities ahead of a human flight of the vehicle in about two years' time, the Artemis II mission.
Orion has met most of its main objectives to date, with only the entry, descent, and splashdown part of its mission ahead of it. The spacecraft's heat shield must demonstrate its ability to survive reentry at a velocity of 39,400 kph. This big test will come Sunday during a fiery reentry into Earth's atmosphere.
A minor power issue
So far, Orion's test flight has gone remarkably well. Typically, with new spacecraft, there are issues with thrusters, navigation, or onboard avionics and more. However, Orion has had no major issues. The only real troubleshooting has involved a problem with power systems on the vehicle.
The issue has occurred with four "latching current limiters" that help route power to propulsion and heating systems on Orion. For some reason, automated controllers on Orion commanded the four current limiters to "open" when no such command was supposed to be sent. "We're not exactly sure on the root cause of the problem, but teams are doing tests on the ground," said Debbie Korth, the Orion Program deputy manager, during a briefing on Monday evening at Johnson Space Center in Houston.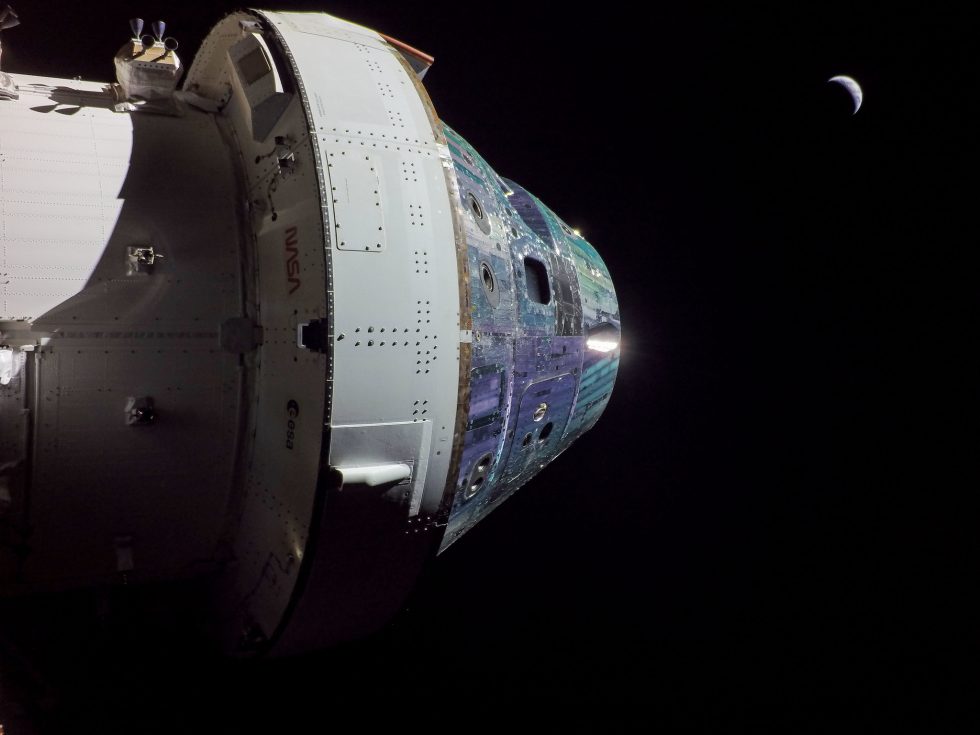 This system is somewhat like a circuit breaker box in a home, and for some reason four of the breakers were opened when they were not supposed to be. This did not pose a threat to Orion, as there are backup power systems. Had a crew been on board it would have required a minor procedure to account for the problem.
In an interview after the news briefing, Korth said she did not think the glitch would have an impact on the service module that will be used for the Artemis II mission. This hardware is already built and being tested in the United States.
"I think it's probably too early to say for sure, but ideally we will not want to perturb the Artemis II service module," she said. "This may very well be something we can handle with software."
Artemis 1 Orion spacecraft aced its test flight but still hasn't tested life support – Space.com
The Europe-built service module powering the Orion spaceship during the Artemis 1 mission is nailing its debut lunar round trip, but a key system for keeping future human crews alive is not being tested during the flight.
The Orion capsule, which commenced the return leg of its groundbreaking journey on Thursday (Dec. 1), is currently not filled with breathable air, European aerospace giant Airbus told Space.com. According to Airbus, which built Orion's service module, the capsule's life support system will only be fully put through its paces in ground-based labs before the first flight with astronauts in 2024.
The Europe-built service module, responsible for propulsion and navigation, is the part of the spacecraft that sustains livable conditions inside Orion's crew compartment. The service module carries water the astronauts will need during the flight and generates breathable air by mixing oxygen and nitrogen that are stored in separate tanks.
Related: NASA's Artemis 1 moon mission: Live updates
During the Artemis 1 mission, however, engineers are only testing the nitrogen delivery system, but fortunately, neither Shaun the Sheep, the plush toy sent for the mission by the European Space Agency (ESA), nor the three dummies occupying the Orion cockpit, mind this fact.
"The oxygen and nitrogen delivery systems are very similar," Airbus spokesperson Ralph Heinrich told Space.com in an email. "We carry nitrogen on board Artemis 1 and will be testing the nitrogen delivery system during the flight that's ongoing at the moment. As the oxygen and nitrogen systems carry the same components, the test on the nitrogen distribution system will cover by similarity the oxygen delivery system. Furthermore, the oxygen system is being tested extensively on ground."
For Airbus, the Artemis 1 mission represents a major victory. The company was awarded a contract to develop the service module, a key component of the Orion spacecraft, by ESA, based on their previous experience building the Automated Transfer Vehicle, a cargo spacecraft which used to supply the International Space Station between 2008 and 2014. During its lunar sorties in the late 1960s and early 1970s, NASA built all of the required technology at home in the United States and didn't include any international partners.
The Artemis 1 service module is a culmination of ten years of work, and the Airbus team is delighted to see the craft performing with flying colors. So far, the service module has completed all of its key tasks flawlessly, including three engine burns, which first helped Orion to enter orbit around the moon, and then to subsequently leave lunar orbit to head back to Earth.
In a post-launch press conference, NASA admitted it detected 13 anomalies during the early phase of Orion's flight, including erratic readings from star trackers that the space capsule uses to navigate.
"Engineers will be looking into the data that's coming back from Orion so that every single system, every single component on board of the spacecraft can be tested in one way or another before the next mission," Sian Cleaver, the European Service module project manager at Airbus told Space.com in an interview. "So far, everything is going well. Of course, there'll be things that can be improved or changed. There were a few things that didn't work exactly as planned, but none of them were major issues."
Airbus engineers are receiving a stream of data from the spacecraft including "pressure, temperature, valve position data and currents and voltages" to monitor its health, Airbus wrote in an email.
"We look at all the data throughout the whole mission, and especially during major events, like main engine firings," Airbus wrote. "[We] make sure the system is operated within its expected and qualified range. The data is also being stored continuously, to allow post flight analyses and prepare for the next Artemis missions."
Airbus has already delivered the next service module to NASA for testing and mating with the crew compartment for the Artemis 2 mission,which will take humans to orbit around the moon for the first time since the final Apollo flight in 1972. That mission is expected to launch no earlier than 2024, if all goes according to plan. The company has also nearly completed the assembly of the third service module, which will power the Artemis 3 mission that is expected to involve a lunar landing no earlier than 2025.
The bones of the fourth service module have also been put together and plans are in place to begin work on the fifth specimen later this month. These service modules will cover Artemis missions 4 and 5, which are expected to take off to the moon toward the end of this decade. By that time, the Lunar Gateway space station will be put together in orbit around the moon, opening a new era of regular human visits to Earth's companion.
"It really feels like a bit of a production line going on now at our facility," Cleaver said. "It's really exciting. The program is really, really moving now. We have a plan for the next 10 years, and there are also clear messages from NASA and ESA that the moon is only the first step and that the technology will be used to eventually go to Mars."
Airbus is under contract to build the service module number six and is currently negotiating another batch of three. The service modules are single-use only and will detach from the crew capsule before it enters Earth's atmosphere during its return.
The Artemis 1 mission lifted off from NASA's Kennedy Space Center in Florida on Nov. 16. The mission was a debut not only for Orion, but also for the Space Launch System mega rocket that lofted it into space. During the mission, Orion passed only 80 miles (130 kilometers) above the moon's surface, and also broke a record for the greatest distance from Earth ever achieved by a human-rated spacecraft. By getting as far as 270,000 miles (435,000 km) from the planet, Orion surpassed the previous maximum held by the Apollo 13 mission. That mission, however, only got that far as part of a rescue operation designed to bring it back home after an onboard explosion crippled the spacecraft.
Follow Tereza Pultarova on Twitter @TerezaPultarova. Follow us on Twitter @Spacedotcom and on Facebook.
NASA capsule flies over Apollo landing sites, heads home – World News – Castanet.net
Photo: The Canadian Press
NASA's Orion spacecraft beamed back close-up photos of the moon and Earth on Monday, Dec. 5, 2022. The crew capsule and its test dummies will aim for a Pacific Ocean splashdown on Sunday, Dec. 11, 2022, off the coast of San Diego after a three-week test flight, setting the stage for astronauts on the next flight in a couple years. (NASA via AP)
NASA's Orion capsule and its test dummies swooped one last time around the moon Monday, flying over a couple Apollo landing sites before heading home.
Orion will aim for a Pacific splashdown Sunday off San Diego, setting the stage for astronauts on the next flight in a couple years.
The capsule passed within 80 miles (130 kilometers) of the far side of the moon, using the lunar gravity as a slingshot for the 237,000-mile (380,000-kilometer) ride back to Earth. It spent a week in a wide, sweeping lunar orbit.
Once emerging from behind the moon and regaining communication with flight controllers in Houston, Orion beamed back photos of a close-up moon and a crescent Earth — Earthrise — in the distance.
"Orion now has its sights set on home," said Mission Control commentator Sandra Jones.
The capsule also passed over the landing sites of Apollo 12 and 14. But at 6,000 miles (9,600 kilometers) up, it was too high to make out the descent stages of the lunar landers or anything else left behind by astronauts more than a half-century ago. During a similar flyover two weeks ago, it was too dark for pictures. This time, it was daylight.
Deputy chief flight director Zebulon Scoville said nearby craters and other geologic features would be visible in any pictures, but little else.
"It will be more of a tip of the hat and a historical nod to the past," Scoville told reporters last week.
The three-week test flight has exceeded expectations so far, according to officials. But the biggest challenge still lies ahead: hitting the atmosphere at more than 30 times the speed of sound and surviving the fiery reentry.
Orion blasted off Nov. 16 on the debut flight of NASA's most powerful rocket ever, the Space Launch System or SLS.
The next flight — as early as 2024 — will attempt to carry four astronauts around the moon. The third mission, targeted for 2025, will feature the first lunar landing by astronauts since the Apollo moon program ended 50 years ago this month.
Apollo 17 rocketed away Dec. 7, 1972, from NASA's Kennedy Space Center, carrying Eugene Cernan, Harrison Schmitt and Ron Evans. Cernan and Schmitt spent three days on the lunar surface, the longest stay of the Apollo era, while Evans orbited the moon. Only Schmitt is still alive.