Japan's economy seen rebounding in third quarter, but coronavirus crisis weighs: Reuters poll – TheChronicleHerald.ca
By Kaori Kaneko
TOKYO (Reuters) – Japan's economy likely rebounded in the third quarter as global demand picked up, a Reuters poll showed, but the effects of the coronavirus crisis persisted and it could take some time to return to pre-pandemic levels.
Gross domestic product (GDP) is forecast to have grown an annualised 18.9% in July-September, the poll of 18 economists showed, the fastest pace of growth on record since comparable data became available in 1980.
On a quarter-on-quarter basis, GDP is expected to have expanded 4.4% in the third quarter after it contracted 7.9% in the previous three months, the poll showed.
A return to growth would pull the world's third-largest economy out of its worst postwar recession, but analysts say a rapid recovery like that seen in China is unlikely.
"The economy likely rebounded sharply in July-September thanks to a steady pickup in exports and consumer spending recovery after the government lifted emergency status," said Shinichiro Kobayashi, senior economist at Mitsubishi UFJ Research and Consulting.
"Although the economy has escaped from the worst period, the pace of recovery is slow as the economic activity remained low and capital spending continued to be weak."
Private consumption, which accounts for more than half of Japan's economy, was seen rising 5.1% for the quarter, the poll showed, after it fell 7.9% in April-June.
External demand – or exports minus imports – likely contributed 2.6 percentage point to GDP growth for the quarter, as global economic activity started to pick up with the easing of coronavirus lockdowns.
But capital spending was expected to have fallen 3.0% in the third quarter after a 4.7% drop in the previous quarter, according to the poll.
The Cabinet Office will announce GDP at 8:50 a.m. on Monday, Nov. 16 (2350 GMT, Sunday).
Core machinery orders, a highly volatile data series regarded as an indicator of capital spending in the coming six to nine months, likely fell 0.7% in September from the previous month, the poll found.
That would be the first fall in three months as firms kept their caution over business spending due to the pandemic.
The Cabinet Office will publish the machinery orders on Nov. 12.
Data on Friday showed Japan's household spending slumped in September from a year earlier and real wages slid for the seventh straight month.
(Reporting by Kaori Kaneko; Editing by Kim Coghill)
No-deal Brexit would be worse for the UK economy than Covid-19, says Bank of England governor – CNN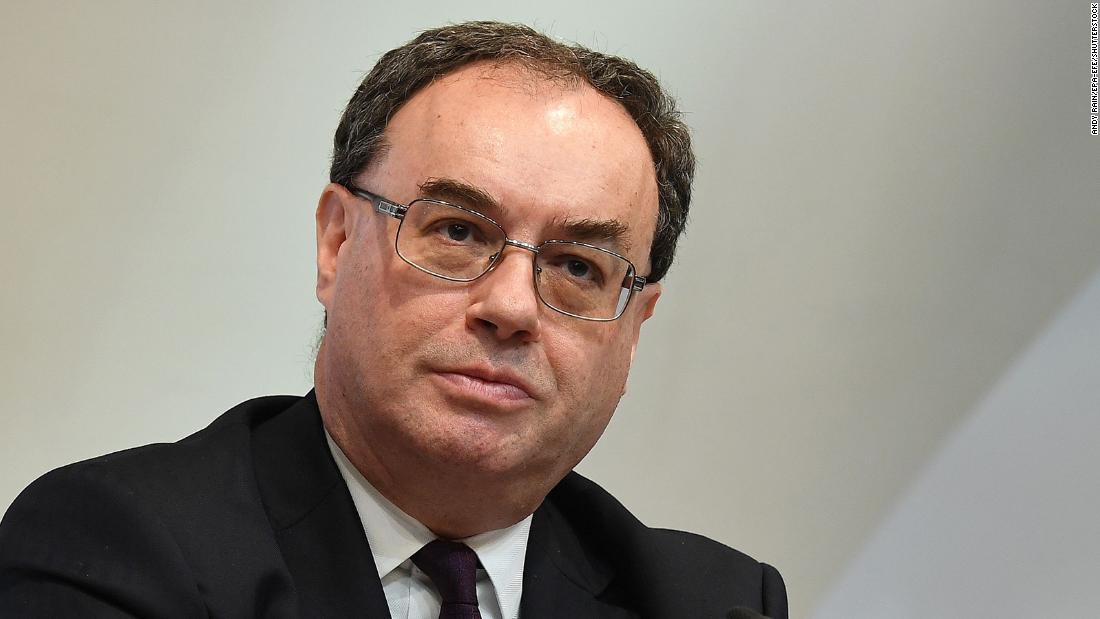 "I think the long-term effects … would be larger than the long-term effects of Covid," Bailey said Monday in response to a question from a lawmaker on what would happen if the UK government does not complete a deal before the December 31 deadline.
"It takes a much longer period of time for what I call the real side of the economy to adjust to the change in openness and to the change in profile in trade," Bailey added in testimony before parliament's Treasury committee.
The United Kingdom left the European Union in January. But the £670 billion ($895 billion) trade relationship has been largely unaffected so far because of a transition period that expires at the end of this year. Negotiators have been trying to hammer out a deal that will allow for tariff-free trade to continue. But progress has been slow, and chief EU negotiator Michel Barnier warned on Monday that "fundamental differences" still need to be resolved.
UK business groups are pushing Prime Minister Boris Johnson to secure a deal, saying that many companies have been stretched to the breaking point by the coronavirus and another round of lockdowns. Without an EU deal, UK-based firms face hefty tariffs, quotas and other barriers to doing business with the country's biggest export market starting on January 1.
The Bank of England forecast earlier this month that the UK economy will shrink by 11% in 2020. Economists are worried about "scarring" caused by coronavirus, but Bailey said on Monday that he was optimistic about the economy's ability to recover relatively quickly from the pandemic.
A change in the terms of trade with the European Union would produce more lasting upheaval, he suggested, comparing that outcome with modeling the central bank did decades ago showing it would have taken the UK economy between 30 and 40 years to adjust if policymakers had decided to drop the British pound and switch to the euro.
The UK government and the Bank of England have unleashed hundreds of billions of pounds worth of stimulus to help cushion the blow to business and workers from the pandemic.
Earlier this month, the central bank said it would increase its purchases of UK government bonds by £150 billion ($195 billion) to £875 billion ($1.1 trillion), and finance minister Rishi Sunak extended a furlough program through March 2021. The government will pay 80% of the wages of employees of businesses forced to close, capped at £2,500 ($3,270) per month.
Sunak said on Sunday that the economic situation in the country presents "a very difficult picture."
"The economy is experiencing significant stress," he told the BBC. "We've seen that particularly in the labor market, with people's jobs. We know that three quarters of a million people have tragically already lost their jobs with forecasts of more to come. Borrowing … is at record peacetime levels and more stress to come."
Sunak will deliver an update on the economic situation on Wednesday and sketch out his plans for borrowing and spending after the pandemic.
German economy grew by 8.5% in third quarter – TheChronicleHerald.ca
BERLIN (Reuters) – Germany's gross domestic product grew by a record 8.5% in the third quarter as Europe's largest economy partly recovered from an unprecedented plunge caused by the first wave of the COVID-19 pandemic in spring, the statistics office said on Tuesday.
The stronger-than expected rebound was mainly driven by higher household spending and soaring exports, the office said.
"This enabled the German economy to make up for a large part of the massive decline in gross domestic product caused by the coronavirus pandemic in the second quarter of 2020," it added.
The reading marked an upward revision to an earlier flash estimate of 8.2% growth, and followed a 9.8% plunge in the second quarter.
The outlook is clouded by a second wave of coronavirus infections and a partial lockdown to slow the spread of the disease. Restaurants, bars, hotels and entertainment venues have been closed since Nov. 2, but shops and schools remain open.
Chancellor Angela Merkel and regional state premiers are planning to extend the "lockdown-light" on Wednesday until Dec. 20, according to a draft prepared for their meeting.
A contraction in the service sector is expected to weigh heavily on gross domestic product in the fourth quarter, while lockdown measures in other countries are likely to hit export-oriented manufacturers as well.
DIW economist Claus Michelsen said a decline in economic output was therefore on the cards, with initial estimates indicating a GDP drop of around 1% in the final quarter.
"Germany and many important trading partners are likely to slide back into recession," Michelsen said.
(Reporting by Michael Nienaber and Rene Wagner; Editing by Riham Alkousaa and EKevin Liffey)
ROGER TAYLOR: Box maker, Maritime Paper, bets on post-pandemic economy – The Journal Pioneer
Roger Taylor
All Dailies
[email protected]
@thisrogertaylor
Packaging company, Maritime Paper Products Limited Partnership in Dartmouth has purchased some new technology, which will "reduce its manual operations with increased automation."Despite that, Sheldon Gouthro president and CEO of Maritime Paper, says it will not reduce the size of the workforce at the company.
Currently there about 150 people at the company's operation in Dartmouth and when combined with operations in St. John's, N.L. and in Moncton, N.B., he says, the company's total compliment of employees is about 250 people.
The equipment purchased from Fremont, Calif.-based Electronics For Imaging (EFI) Inc. is expected to improve productivity, cut waste and reduce Maritime Paper's carbon footprint.
Gouthro wouldn't say how much the new equipment cost, except to say it is a significant investment. The plan is for the equipment to be installed at the main plant in Burnside Industrial Park by the end of the first quarter next year.
He admitted concern about the break down of the Atlantic Bubble, which may make it difficult to bring in technicians to complete the installation of the new equipment on time.
"Our number-one goal is to reduce waste, not just in paper but in overall operational efficiency," Gouthro stated in the EFI news release. "We estimate our waste reduction with Escada (control systems technology) will be more than 10 per cent.
"With better process control we can increase speed and push up time on our corrugator and run a more sustainable operation with benefits that trickle down to every area of the company," he said. "It's like having cruise control on your car. I doesn't mean there isn't someone there still driving the machine."
Maritime Paper produces more than 150 cardboard packaging combinations, says Gouthro.
"Each one has a unique recipe requiring specific run speeds, so this technology will give us the best efficiency and quality of our combined board while making rapid, automatic adjustments without comprising the quality of our board," he said.
Maritime Paper, has been an independent corrugated manufacturer and printer for more than 90 years. It is one of six operating companies controlled by Scotia Investments Ltd. based in Bedford. Scotia Investments was incorporated in 1927, as part of the ongoing legacy of the late Nova Scotia industrialist Roy Jodrey.
The company started planning to purchase the EFI Escada Corrugator Control system during the last part of 2019, before anyone heard of COVID-19 and what it would mean, says Gouthro.
The new Escada system being installed in Dartmouth gives Maritime Paper a competitive advantage with the ability to produce higher-quality graphics on superior combined board manufactured.
While there was concern about what would happen at the beginning of the pandemic, Gouthro says there was a small downturn in the beginning but business picked up as it became apparent that there was increased need for packaging due growth in e-commerce.
"We were fortunate enough to be designated an essential service, because of the increased need for packaging during," he says.
While there were plenty of concern about making this type of investment during a medical and economic crisis, Maritime Paper's decision to proceed with its plan, means the company is focused greater efficiency which should serve the company well once the pandemic comes to an end.
The Escada system purchased from EFI is designed to produce the highest-quality boards at optimum speeds and with repetitive consistency. The other EFI product purchased is the Escada Syncro 7, which is designed to manage the corrugator control functions automatically, thus achieving maximum output.
Although the new system is being installed in Dartmouth, it is expected to also create greater efficiencies at the company's plants in St. John's and Moncton.
With the growth in demand for packaging, driven by increased home deliveries across all sectors of the economy, Gouthro says, achieving high-quality graphics is a competitive advantage when dealing with clients, particularly in the food and beverage industries.