Job openings rise, layoffs fall as pandemic economy mends – Alaska Highway News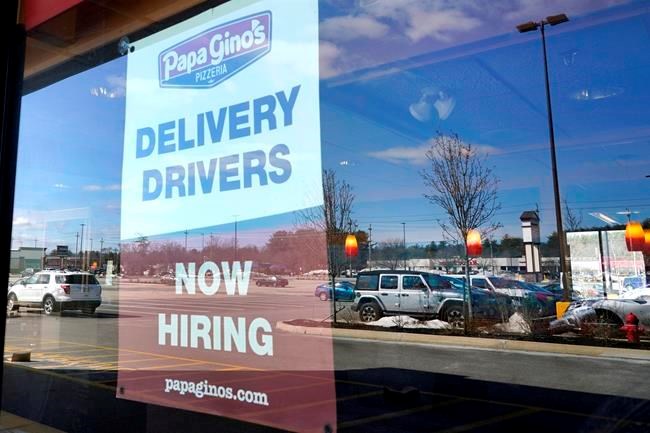 WASHINGTON — Companies posted more open jobs in January while layoffs decreased as the economy heals slowly from the pandemic.
There were 6.9 million jobs available on the last day in January, up from 6.7 million in December, the Labor Department said Thursday. That suggests employers are getting ready to hire in the coming months.
Hiring actually began to pick up in February, according to last Friday's jobs report, which showed that employers added 379,000 jobs, the most since October, while the unemployment rate fell to 6.2%, from 6.3%. While the economy still has 9.5 million fewer jobs than before the pandemic, February's job gain was much higher than January's and came after a sharp job loss in December, suggesting the economy, after stalling out late last year, is mending.
Thursday's report tracks gross job gains and losses, while last week's figure is a net change in total jobs. The data released Thursday also showed that layoffs fell to just under 1.7 million in January, the same pace of job cuts that was occurring before the pandemic.
Those data contrast with the number of people seeking unemployment benefits, which fell last week but remain at a very elevated level of 712,000, according to a separate report Thursday. That suggests an unusually high number of Americans are still losing jobs. The figures may vary for several reasons. The government has broadened the eligibility for unemployment benefits during the pandemic, for example by allowing those who have refused to take jobs they felt were unsafe to claim aid.
Many recipients of unemployment aid also report having to apply multiple times to get through overwhelmed state systems, potentially lifting the number of jobless claims.
Christopher Rugaber, The Associated Press
Canadian retail sales slide in April, May as COVID-19 shutdown bites
Canadian retail sales plunged in April and May, as shops and other businesses were shuttered amid a third wave of COVID-19 infections, Statistics Canada data showed on Wednesday.
Retail trade fell 5.7% in April, the sharpest decline in a year, missing analyst forecasts of a 5.0% drop. In a preliminary estimate, Statscan said May retail sales likely fell by 3.2% as store closures dragged on.
"April showers brought no May flowers for Canadian retailers this year," Royce Mendes, senior economist at CIBC Capital Markets, said in a note.
Statscan said that 5.0% of retailers were closed at some point in April. The average length of the closure was one day, it said, citing respondent feedback.
Sales decreased in nine of the 11 subsectors, while core sales, which exclude gasoline stations and motor vehicles, were down 7.6% in April.
Clothing and accessory store sales fell 28.6%, with sales at building material and garden equipment stores falling for the first time in nine months, by 10.4%.
"These results continue to suggest that the Bank of Canada is too optimistic on the growth outlook for the second quarter, even if there is a solid rebound occurring now in June," Mendes said.
The central bank said in April that it expects Canada's economy to grow 6.5% in 2021 and signaled interest rates could begin to rise in the second half of 2022.
The Canadian dollar held on to earlier gains after the data, trading up 0.3% at 1.2271 to the greenback, or 81.49 U.S. cents.
(Reporting by Julie Gordon in Ottawa, additional reporting by Fergal Smith in Toronto, editing by Alexander Smith)
Canadian dollar notches a 6-day high
The Canadian dollar strengthened for a third day against its U.S. counterpart on Wednesday, as oil prices rose and Federal Reserve Chair Jerome Powell reassured markets that the central bank is not rushing to hike rates.
Markets were rattled last week when the Fed shifted to more hawkish guidance. But Powell on Tuesday said the economic recovery required more time before any tapering of stimulus and higher borrowing costs are appropriate, helping Wall Street recoup last week's decline.
Canada is a major producer of commodities, including oil, so its economy is highly geared to the economic cycle.
Brent crude rose above $75 a barrel, reaching its highest since late 2018, after an industry report on U.S. crude inventories reinforced views of a tightening market as travel picks up in Europe and North America.
The Canadian dollar was trading 0.3% higher at 1.2271 to the greenback, or 81.49 U.S. cents, after touching its strongest level since last Thursday at 1.2265.
The currency also gained ground on Monday and Tuesday, clawing back some of its decline from last week.
Canadian retail sales fell by 5.7% in April from March as provincial governments put in place restrictions to tackle a third wave of the COVID-19 pandemic, Statistics Canada said. A flash estimate showed sales down 3.2% in May.
Still, the Bank of Canada expects consumer spending to lead a strong rebound in the domestic economy as vaccinations climb and containment measures ease.
Canadian government bond yields were mixed across a steeper curve, with the 10-year up nearly 1 basis point at 1.416%. Last Friday, it touched a 3-1/2-month low at 1.364%.
(Reporting by Fergal Smith; editing by Jonathan Oatis)
Toronto Stock Exchange higher at open as energy stocks gain
Toronto Stock Exchange edged higher at open on Wednesday as heavyweight energy stocks advanced, while data showing a plunge in domestic retail sales in April and May capped the gains.
* At 9:30 a.m. ET (13:30 GMT), the Toronto Stock Exchange's S&P/TSX composite index was up 16.77 points, or 0.08%, at 20,217.42.
(Reporting by Amal S in Bengaluru; Editing by Sriraj Kalluvila)