Joint Russian-European Mars mission postponed by two years over coronavirus outbreak in Europe – Firstpost
ReutersMar 16, 2020 09:23:53 IST
A joint Russian-European mission to send a rover to Mars has been postponed by two years because its final phase has been compromised by the coronavirus outbreak in Europe, the European and Russian space agencies said on Thursday.
The launch of the second ExoMars mission was initially planned for July or August of this year. But the two space agencies said they were now postponing its launch until a date between August and October 2022.
"…The parties had to recognise that the final phase of ExoMars activities are compromised by the general aggravation of the epidemiological situation in European countries," Roscosmos, the Russian space agency, said in a statement.
(Also read: Coronavirus outbreak: Number of cases rises to 107 nationwide as Uttarakhand reports first infection; Modi pitches for SAARC emergency fund)
The mission plans to place a rover vehicle, the Rosalind Franklin, on the surface of the red planet to help scour it for signs of past life.
The agencies said the decision to postpone had been a tough one, but had been motivated by the need for extra time to carry out essential tests.
Dmitry Rogozin, director general of Roscosmos, said engineers were struggling to travel to manufacturing locations involved in the project due to travel restrictions introduced to try to stop the spread of the coronavirus.
Find latest and upcoming tech gadgets online on Tech2 Gadgets. Get technology news, gadgets reviews & ratings. Popular gadgets including laptop, tablet and mobile specifications, features, prices, comparison.
Comet Neowise – Wawa-news.com

Post Views:
264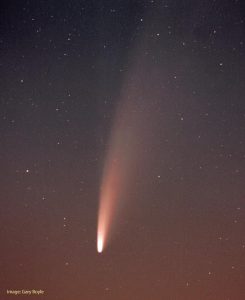 A bright comet is now in the evening sky and you can see it without a telescope. Comet F3 (NEOWISE) has been a fantastic object in the early morning pre-dawn sky but will be well placed below the Big Dipper to see and photograph over the next couple of weeks and hopefully into August. I have been following and imaging this comet since the first week of July and could see it even without binoculars (naked eye).
The comet was discovered on March 27, 2020, by the NEOWISE space telescope as it looks for near-earth objects that could potentially impact our planet. Measuring a little more than half the height of Mount Everest, this object falls into the category of a "once in a decade comet".
Every year astronomers both amateur and professional observe 5 to 10 comets with telescopes. In most cases, they show a green nucleus from the sublimation of frozen chemicals such as ammonia and others. The extremely faint tail is seen when photographed but all comets are different in composition and appearance as Neowise does not appear green. The last bright comet that was visible to the naked eye for the whole world to see was Comet Hale-Bopp in 1997. And like Neowise, it too had a blue ion or gas tail and a fan-shaped dust tail created when comets round the sun as this one did on July 3 at a close distance of 43 million kilometres.
Neowise will be closest to earth on its way out of the solar system on July 22 at a safe distance of 103 million kilometres and will be starting to fade with a shortening tail as it retreats from the sun's heat and back to the icy depths of space. Comet Neowise originates from the Oort Cloud, where long-period comets reside and will return close to 6,800 years from now. Halley's Comet is a short period comet originating from the Kuiper Belt. Along with this chart of the comet's path, many smartphone astronomy apps will also guide you to our celestial visitor.
Enjoy this spectacular comet every chance you can as you never know when the next bright will come to visit.
Is Planet 9 Actually A Primordial Black Hole? – Forbes
Conventional theory has it that Planet 9 —- our outer solar system's hypothetical 9th planet —- is merely a heretofore undetected planet, likely captured by our solar system at some point over its 4.6 billion year history.
But Harvard University astronomers now raise the possibility that orbital evidence for Planet 9 could possibly be the result of a missing link in the decades-long puzzle of dark matter. That is, a hypothetical primordial black hole (PBH) with a horizon size no larger than a grapefruit, and with a mass 5 to 10 times that of Earth.
How might it be detected?
In a paper accepted for publication in The Astrophysical Journal Letters, the co-authors argue that observed clustering of extreme trans-Neptunian objects suggest some sort of massive super-earth type body lying on the outer fringes of our solar system. Perhaps as much as 800 astronomical units (Earth-Sun distances) out.
So, the authors propose that a unique wide-field survey telescope, now under construction in Chile, will soon allow them to set new limits on the possibility that Planet 9 may indeed be a PBH instead of just an ordinary planet. If they exist, such PBHs would require new physics and go a long way towards solving the mystery of the universe's missing mass, or dark matter.
Our paper shows that if Planet 9 is a black hole, then comets residing in the outskirts of the Solar system (in the "Oort cloud") would impact it, Avi Loeb, Chair of Harvard University's Dept. of Astronomy and the paper's co-author, told me. They would then be destroyed by its strong gravitational tide and within a second of accreting onto the black hole would produce a visible flare, he says.
For large enough comets, this flare of light would be detectable by the LSST's 8.4-meter optical telescope.
The idea is that once in the vicinity of a black hole, small cometary bodies would melt as a result of Heating from the background accretion of gas from the interstellar medium onto the black hole, Amir Siraj, the paper's first author and an Harvard University undergraduate, noted in a statement.
The authors calculate that they would be capable of detecting the first such accretion flare within a few months of the LSST's operation which is now slated for first light in 2021.
Why the LSST?
The LSST will be unique in its ability to survey the entire sky about twice per week at a remarkable level of sensitivity, Siraj told me. We calculated that the flares from the accretion of a small body onto a Planet 9 black hole would be brightest near the optical band, where LSST operates, he says. And since Planet 9's position is unknown, Siraj notes the fact that LSST surveys the sky so quickly maximizes its chance of catching a flare.
The authors say that such brief accretion flares would be detected at a rate of at least a few per year out to a distance of some 105 AU. And they expect to be able to rule out or confirm Planet 9 as a primordial black hole within the first two years of the LSST's operation.
Why would our own solar system harbor such an exotic primordial black hole?
Simply by their sheer numbers in the cosmos. The authors estimate that it might be somewhat likely that our solar system gravitationally-captured at least once such primordial black hole over the eons.
What would the detection of such an exotic black hole mean for physics?
Loeb says that the formation of primordial black holes would definitely represent new physics. The process that made them in the early universe is not predicted by the Standard Model of particle physics and cosmology, he says.
If Planet 9 is a primordial black hole, are there likely to be others within the galaxy?
If it is a black hole, there should be fifty quadrillions like it in the Milky Way alone, says Loeb.
Loeb says there's nothing to lose in using the LSST to look for such primordial black hole relics. Over the past four decades, lab searches for dark matter searches consumed tens of millions of dollars, he says.
"Our paper proposes to use LSST as a dark matter experiment, searching for primordial black holes at no extra cost," said Loeb.
The South Pole Wall: 100 Million Billion Stars Are Found Hiding in the Milky Way – haveeruonline
Astronomers recently uncovered Nyx, a dwarf galaxy discovered building its way toward the center of the Milky Way, revealing a history of merging stellar bodies. Researchers are now report hidden new galaxies hiding in the Milky Way recognized as the South Pole Wall.
(Photo : Downloaded From South Pole Wall official internet site )
The Milky Way Galaxy is centered on our star the Sunshine wherever planets, dust, and other room objects are bound collectively by way of gravitational forces. The spiral galaxy is composed of up to 100 billion stars.
Missions this kind of as the World Astrometric Interferometer for Astrophysics (Gaia) by the European House Agency has been managing for more than 6 many years to create a specific a few-dimensional map of the complete Milky Way. Present-day technologies makes it possible for experts to notice bodies in house up to tens of billions of gentle-a long time away from Earth.
Observing the galaxy has been doable with missions like Gaia, NASA's Hubble Room Telescope, the Wisconsin H-Alpha Mapper (WHAM) in Chile, and lots of other individuals. Astronomers are highly anticipating the start of the James Webb Area Telescope into space wherever it will 'hunt for the unobserved formation of the 1st galaxies, as perfectly as seem within dust could where stars and planetary methods are forming today,' according to NASA.
On July 10, cosmographers revealed a report in The Astrophysical Journal of a new concealed selection of galaxies discovered in the Milky Way called the South Pole Wall. They identified the huge stellar assembly as cosmographers made new methods to detect and map astral bodies not noticed instantly.
The South Pole Wall measures about 1.4 billion light-many years throughout the total assortment of stars and planets that remained in hiding until finally now. The huge wall is noticed to be coincidental with Earth's south celestial pole which the workforce compared 'to the Sloan Terrific Wall at fifty percent the distance' and lies opposite of the Shapley Supercluster.
https://www.youtube.com/view?v=2GWIzAoFGMs
Hidden in the Milky Way
The discovery was made by Daniel Pomarède from Paris-Saclay College along with R. Brent Tully and a crew from the University of Hawaii. Pomarède shared, 'One might speculate how these a significant and not-so-distant composition remained unnoticed.'
'This is due to its area in a area of the sky that has not been fully surveyed, and exactly where direct observations are hindered by foreground patches of galactic dust and clouds,' Pomarède continued. 'We have observed it many thanks to its gravitational affect, imprinted in the velocities of a sample of galaxies.'
Just one hindrance to their observations the South Pole Wall's locale at the rear of the Chamaeleon cloud complex. The star-forming location incorporates Chamaeleon I, II, and II dim clouds or absorption nebulas that are dense sufficient to maintain the stellar gentle of the new collection of galaxies hidden in the Milky Way.
Go through Also: Proof of Stars Born Elsewhere Suddenly Merged With the Milky Way
100 Million Billion Stars
To map what the cosmographers could not see, they gathered information from former surveys, measured their motion absent from Earth and all the surrounding gravitational forces, then produced a 2D and 3D map. Their consequence was a colossal structure of full galaxies grouped alongside one another amounting to about 100 million billion stars.
It continues to be a mystery what the South Pole Wall would seem like if the dark clouds ended up eliminated in front of it or what all that special issue in fact has. The best educated guess the group produced is hundreds of countless numbers of galaxies comprehensive of stars and planets still to be discovered.
Read Also: NASA Hubble Area Telescope Detects Galaxy Relocating Absent From Earth at 3 Million Miles Per Hour
©2017 ScienceTimes.com All legal rights reserved. Do not reproduce without the need of permission. The window to the globe of
science times
.