Kapwani Kiwanga To Represent Canada At The 60th International Art Exhibition Of La Biennale di Venezia
OTTAWA, ON, Jan. 26, 2023 /CNW/ – The National Gallery of Canada (NGC) announced today that Kapwani Kiwanga will represent Canada at the 60th International Art Exhibition—La Biennale di Venezia from April 20th to November 24th, 2024. Kiwanga is recognized as one of the country's most acclaimed contemporary artists whose research-driven work is instigated by marginalized or forgotten histories, and articulated across a range of mediums including sculpture, installation, video, and performance. Her presentation in Venice will be curated by Gaëtane Verna, Executive Director, Wexner Center for the Arts.
Angela Cassie, Interim Director & CEO of the National Gallery of Canada, commissioner of the Canada Pavilion in Venice, said: "The NGC is proud to present Kapwani Kiwanga's work for Canada at the 60th International Art Exhibition—La Biennale di Venezia. Widely recognized for her singular approach, Kiwanga's work presents rigorous research in imaginative ways to enable historically excluded narratives to flourish. I would like to congratulate our national jury members in choosing such a timely and provocative voice to represent the vital role and place of Canada in international contemporary art."
The artist was selected by experts in contemporary Canadian art comprised of Daisy Desrosiers, Director and Chief Curator, Gund Gallery at Kenyon College; Heather Igloliorte, Concordia University Research Chair and Co-Director, Indigenous Futures Research Centre; Michelle Jacques, Head of Exhibitions and Collections/Chief Curator, Remai Modern; Adelina Vlas, Head of Curatorial Affairs, The Power Plant Contemporary Art Gallery; and Tania Willard, Assistant Professor of Creative Studies and Visual Arts, University of British Columbia, Okanagan.
The co-chairs for this year's artist selection committee—NGC's Michelle LaVallee, Director, Indigenous Ways and Decolonization, and Jonathan Shaughnessy, Director, Curatorial Initiatives—said: "Kiwanga's interdisciplinary approach to art making has received international attention for its eye-opening investigations into the structures, systems, and narratives underlying today's power asymmetries. The treatment of space for Kiwanga is an artistic gesture. Working across sculpture, mixed-media installation and performance, her projects often pay close attention to the sites in and on which they are exhibited."
Canada Pavilion Curator Gaëtane Verna, Executive Director, Wexner Center for the Arts, added: "Kapwani Kiwanga delves into the archives of the world and conducts in-depth research that is woven elegantly throughout her artworks. She is interested in the role of art as a catalyst for revealing and addressing alternative and often silenced, marginalized socio-political narratives that are part of our shared histories. It is an honour for me to have been invited to curate the Canada Pavilion, in continuous conversation with Kiwanga, and I look forward to supporting her in every aspect of this momentous project in which she will undoubtedly transcend the materials that she will choose to use to transform our own understandings of the world."
The International Art Exhibition of La Biennale di Venezia is the largest and most prestigious contemporary art exhibition in the world with more than 80 participating countries. The exhibitions on view at the Canada Pavilion are commissioned by the National Gallery of Canada and produced in partnership with the Canada Council for the Arts. The Canadian representation in 2024 is made possible through the National Gallery of Canada Foundation.
For more than 60 years, the Canada Pavilion, situated in the Giardini in Venice, has featured the work of the most accomplished Canadian artists, curated by the country's most renowned curators. Canada's representation at the international exhibition has played a part in shaping the role and place of Canadian contemporary art within international circles, helping to launch or elevate the international careers of many of the country's most celebrated artists including Jean-Paul Riopelle, Michael Snow, Geneviève Cadieux, Janet Cardiff & George Bures Miller, Rebecca Belmore, David Altmejd, Shary Boyle, BGL, Geoffrey Farmer, Isuma, and, in 2022, Stan Douglas.
Social Media
Facebook: @nationalgallerycanada
Twitter: @NatGalleryCan | #BiennaleArte2024 | #CanadaPavilion
Instagram: @NatGalleryCan | #CanadaPavilion
About Kapwani Kiwanga

Kapwani Kiwanga (b. 1978, Canada) is a Canadian and French artist based in Paris. Kiwanga studied Anthropology and Comparative Religion at McGill University in Montreal, Art at l'école des Beaux-Arts de Paris and at Le Fresnoy—Studio national des arts contemporains in Tourcoing. In 2022, Kiwanga received the Zurich Art Prize (CH). She was also the winner of the Marcel Duchamp Prize (FR) in 2020, Frieze Artist Award (USA) and the Sobey Art Award (CA) in 2018. Solo exhibitions include Museum Haus Konstruktiv, Zurich (CH); New Museum, New York (USA); State of Concept, Athens (GR); Moody Center for the Arts, Houston (USA); Haus der Kunst, Munich (DE); Kunsthaus Pasquart, Biel/Bienne (CHE); MIT List Visual Arts Center, Cambridge (USA); Esker Foundation, Calgary (CA); Power Plant, Toronto (CA); Logan Center for the Arts, Chicago (USA); South London Gallery, London (UK) and Jeu de Paume, Paris (FR) among others.
About the National Gallery of Canada
Ankosé — Everything is Connected — Tout est relié

The National Gallery of Canada is dedicated to amplifying voices through art and extending the reach and breadth of its collection, exhibitions program, and public activities to represent all Canadians, while centring Indigenous ways of knowing and being. Ankosé—an Anishinaabemowin word that means Everything is Connected—reflects the Gallery's mission to create dynamic experiences that open hearts and minds, and allow for new ways of seeing ourselves, one another, and our diverse histories, through the visual arts. The NGC is home to a rich contemporary Indigenous international art collection, as well as important collections of historical and contemporary Canadian and European Art from the 14th to 21st centuries. Founded in 1880, the National Gallery of Canada has played a key role in Canadian culture for more than a century.
To find out more about the Gallery's programming and activities visit gallery.ca and follow us on Twitter, Facebook, YouTube and Instagram. #Ankose #EverythingIsConnected #ToutEstRelié.
About the National Gallery of Canada Foundation

The National Gallery of Canada Foundation is dedicated to supporting the National Gallery of Canada in fulfilling its mandate. By fostering strong philanthropic partnerships, the Foundation provides the Gallery with the additional financial support required to lead Canada's visual arts community locally, nationally and internationally. The blend of public support and private philanthropy empowers the Gallery to preserve and interpret Canada's visual arts heritage. The Foundation welcomes present and deferred gifts for special projects and endowments. To learn more about the National Gallery of Canada Foundation, visit ngcfoundation.ca and follow us on LinkedIn.
About the Canada Council for the Arts

The Canada Council for the Arts is Canada's public arts funder. The mandate of the Canada Council is to "foster and promote the study and enjoyment of, and the production of works in, the arts." The investments made by the Canada Council contribute to greater engagement in the arts among international audiences and within Canada.
Rubbish fashion: street art costumes of Kinshasa – in pictures – The Guardian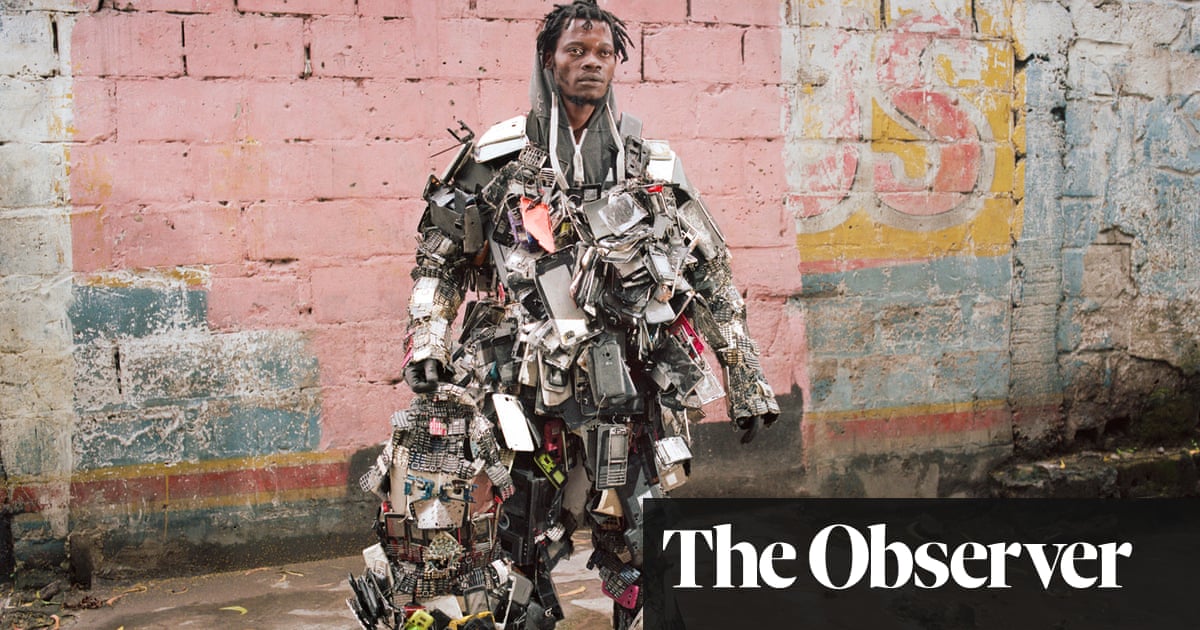 Falonne Mambu posing in her electric wires costume in Limete district, Kinshasa. As a performing artist, she raises issues about social development in her own country. The Democratic Republic of the Congo is potentially the biggest electricity provider in sub-Saharan Africa. Unfortunately, decay and corruption have crippled the national Inga dam, which only works to the minimum of its capacity. Nowadays, only 19% of Congolese people have access to electricity.
Montreal artist won't change puppet that community groups say looks like blackface
MONTREAL — A theatre performance for children featuring a puppet that has been described as racist is continuing in the Montreal area.
Several Black community organizations have criticized the puppet as being reminiscent of blackface minstrel shows — racist performances during which white people portrayed exaggerated stereotypes of Black people for laughs.
But the show's creator — Franck Sylvestre, who is Black — has no plans to change the puppet, which he said is a caricature of his own features. Sylvestre said in an interview he can't accept the idea that he's not allowed to create a caricature of someone who is Black because racists created caricatures of Black people in the past.
"That's unheard of for an artist," he said.
The play, called L'incroyable secret de barbe noire — French for The Incredible Secret of Blackbeard — first drew controversy in February.
A performance at a municipal theatre in the Montreal suburb of Beaconsfield, Que., was cancelled after complaints by Black community organizations. The neighbouring community of Pointe-Claire, meanwhile, removed the play from its official Black History Month programming but allowed the performance to go ahead.
Sylvestre, who wrote the one-man show in 2009 aimed at kids aged five to nine years old, said he had never received a complaint about his show before February.
A series of performances of the play, which combines theatre, storytelling, masks and puppetry, begins Sunday in Laval, Que., he said, before he takes it to France for 30 performances.
Sylvestre said the play tells the story of a young man who travels from Montreal to Martinique — the Caribbean island where Sylvestre's parents are from — at the request of his dying grandfather, who is haunted by his discovery of a mysterious wooden chest with a connection to the pirate Blackbeard.
Max Stanley Bazin, president of the Black Coalition of Quebec, describes the puppet's appearance as "very, very, very ugly" and said he worries that seeing a Black person presented in such a way could cause emotional damage to young audiences.
"It will have an impact on them, it will have an impact on the mind of the young people who see this puppet, and that's what we should think about," he said in an interview.
People are more likely to speak out about racism now than they were in 2009, Bazin said, adding that he thinks Sylvestre should listen to community members and replace the puppet with a less controversial creation.
"If there are people in society who have said this isn't right, you have to react," he said.
Philip Howard, a professor in the department of integrated studies in education at McGill University, said he's not sure the puppet is an example of blackface — but he said that's beside the point.
"There is still very much the matter of representation and the potential use of monstrous and grotesque representations of Black people as a source of entertainment and even humour," said Howard, who has studied contemporary blackface.
Howard said the intentions of the artist are less important than the impact of the performance on an audience.
"Here we have, in this particular instance, a whole community of folks that are responding and saying, 'Wait a minute, we don't love this, we don't think this is OK and we're particularly disturbed about it during Black History Month,'" he said.
Dismissing the opinions of Black people who have a problem with the performance demonstrates anti-Black racism, he said.
Sylvestre said he thinks much of the criticism comes from people who haven't seen the play.
"It's the job of the community to see what purpose these caricatures serve; are they, like blackface, denigrating Black people, or, as in my case, are they being elevated?" he said. "This character, he's a strong character for me personally, and when I made it, I was inspired by myself."
He said the puppet, named Max, is "like a great sage," whose interventions lead to the play's happy ending.
"Max, he was the voice of reason, he was the one who advised us, who mocked me when I made a bad decision, who was above me," he said.
Prof. Cheryl Thompson, who teaches performance at Toronto Metropolitan University, said she didn't like the puppet when she viewed a trailer for the play.
"I was extremely shocked," she said. "I just couldn't believe what I was seeing."
While blackface minstrel shows are primarily associated with the United States, Thompson's research has shown that blackface performances took place in Canada, with shows in Montreal as recently as the 1950s.
Even though blackface originated with white performers, Black actors in the 1800s would also don the exaggerated makeup and participate in the racist performances for white audiences.
"It actually didn't matter if it was a white actor in blackface or a Black actor in blackface, it was the caricature that audiences thought was funny," she said.
Thompson said there's room for theatre performances to be provocative. But performers, she said, need to engage with audiences and be willing to discuss artistic choices — especially when artists are performing for audiences whose histories might be different than their own.
"Why wouldn't this person at least try to hear the voices of people who maybe have a different experience to him?" she said.
She said she wouldn't take a child to see the show, especially during Black History Month.
"I just don't see the uplifting messaging," Thompson said. "I don't see the messaging of 'you matter,' I just don't see that celebration of life. I just see something that is steeped in a history of racial caricature and mimicry."
This report by The Canadian Press was first published March 25, 2023.
Jacob Serebrin, The Canadian Press
Vancouver to remove unsanctioned spider art creeping-out transit riders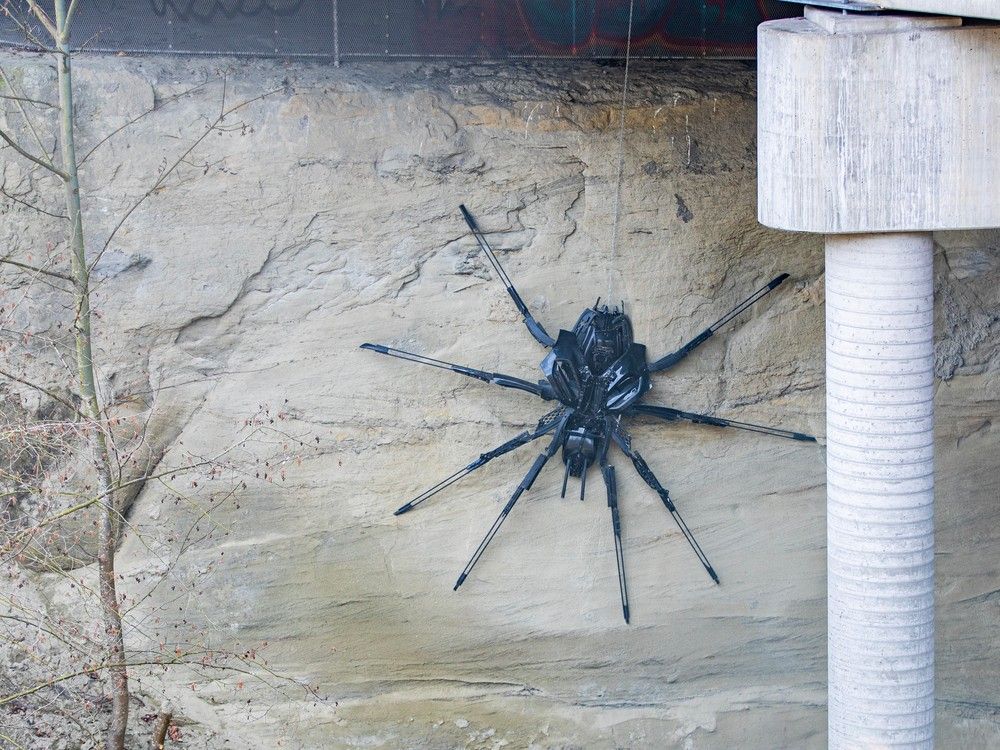 City staff are looking into how to remove a large metallic spider from under a high-traffic bridge on Commercial Drive in Vancouver.
The artwork, which startled some arachnophobic SkyTrain riders when it was installed earlier this month, was created by pop artist Junko Playtime.
In an email to Postmedia News on Friday, city staff say they were made aware of the unsanctioned spider artwork located in a corridor for SkyTrain and CN/BNSF Rail.
The installation wasn't done in consultation with the city or the rail corridor partners, city staff said. They're trying to figure out the best way to remove the artwork so there is no damage to the bridge structure or rail lines.
Staff said the artist will have the ability to claim the work through the city's impoundment process.
According to Playtime's Instagram page, the eight-foot-diameter spider was installed at night recently on the north bank below the bridge between North Grandview Highway and Broadway.
Playtime, from Montreal, has gained a reputation over the past two years for installing very large and far-out insect like futuristic sculptures from scrap metal and household items.
The artist called this latest spider creation "Phobia 2023. Time to face our fears."
— With files from David Carrigg