KFConsole Is KFC's Finger-Licking Good NUC-Powered Gaming PC With A Tasty Chicken Chamber – Hot Hardware
What we initially thought to be a rather elaborate and quite funny joke has turned out to be real. We're of course talking about KFC's KFConsole, which is a small-form factor gaming PC that was initially designed to thumb its nose at the incredibly hyped Sony PlayStation 5 and Microsoft Xbox Series X.
But it appears that KFC is having the last laugh, as the company has partnered with some big names in the enthusiast industry to make the KFConsole a reality. First announced back in June, the KFConsole features a custom NC100 case designed and built by Cooler Master.
Inside you'll find an Intel NUC 9 Extreme Compute Element, which is Intel's take on modular computing. Although KFC doesn't give us any specs for the compute element, a Core i9-9980HK version can be found in the new Razer Tomahawk Modular Gaming PC. The KFConsole is also equipped with a generous 32GB of RAM and a 1TB Seagate Barracuda NVMe SSD.
There's an ASUS GeForce RTX graphics card onboard as well, likely a Turing-based offering due to the inclusion of what looks to be a DVI port, along with dual fans. But perhaps the most over-the-top feature of the KFConsole is the hilarious Chicken Chamber.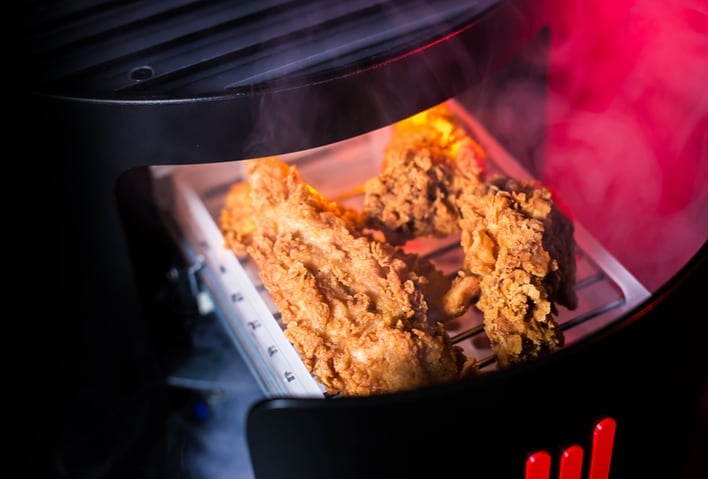 Given that modern computers generate a lot of heat — especially when equipped with a Core i9 processor and a GeForce RTX-class GPU in a small chassis — KFC is taking the opportunity to include a pull-out tray that can hold a couple small pieces of tasty chicken. So, while you're gaming away, your chicken can stay hot and at arm's length for retrieval when you need an extra jolt of greasy, crispy yumminess in your stomach.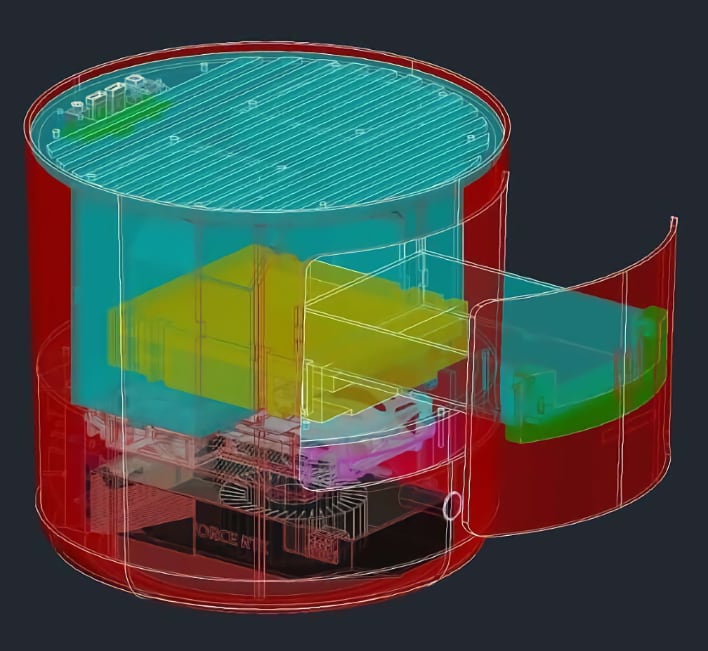 "Never risk letting your chicken go cold again thanks to the patented Chicken Chamber," writes Cooler Master. "Utilizing the systems natural heat and airflow system you can now focus on your gameplay and enjoy hot, crispy chicken between rounds."
Unfortunately, we don't yet have a price for the KFConsole an on-sale date, but we can't wait to get a "whiff" of these 11 herbs and spices.
New report details Cyberpunk 2077's development troubles, crunch and "almost entirely fake" E3 demo – Eurogamer.net
A new report has shed fresh light on Cyberpunk 2077's troubled development.
According to Bloomberg's development sources (paywall), Cyberpunk 2077 suffered from a raft of technical problems and unrealistic deadlines set by CD Projekt management.
Cyberpunk 2077's disastrous December 2020 launch, which revealed serious technical issues with the game on consoles, and glitches, bugs and cut content across all platforms, resulted in its removal from the PlayStation Store and a warning label on the Microsoft Store about the performance of the game on Xbox One.
This week, CD Projekt co-founder Marcin Iwiński addressed the events leading up to the botched launch of Cyberpunk 2077 in an attempt to explain how the game's widely lambasted Xbox One and PlayStation 4 versions were released in such a poor state.
According to Iwiński, problems with the console release stemmed from Cyperpunk's "huge" scope – specifically the "multitude of custom objects, interacting systems, and mechanics" all condensed into a single big city and "in a relatively loading-free environment".
Despite the significant hardware gap, the studio believed "things did not look super difficult at first", but Iwiński conceded "time has proven that we've underestimated the task".
That proof, of course, came on launch day, when considerable criticism was immediately levied at Cyberpunk's prominent bugs and awful performance, particularly on base consoles. However, Iwiński insisted the studio's testing "did not show a big part of the issues you experienced", and that the developer saw "significant improvements each and every day" as it got closer to release and "really believed we'd deliver in the final day zero update".
However, according to Bloomberg, CD Projekt's own developers said many common problems were discovered, but the staff didn't have time to fix them before launch. According to Bloomberg's sources, CD Projekt's management dismissed concerns raised by engineers that Cyberpunk 2077 was too complex to run well on the ageing last-gen consoles.
The report also revealed that while Cyberpunk 2077 was announced in 2012, full development began in 2016 when studio head Adam Badowski took over as director and overhauled the game, including shifting it from third-person to first-person.
Bloomberg reports Cyberpunk 2077's eye-catching E3 2018 demo "was almost entirely fake". "CD Projekt hadn't yet finalised and coded the underlying gameplay systems, which is why so many features, such as car ambushes, were missing from the final product," Bloomberg said. "Developers said they felt like the demo was a waste of months that should have gone toward making the game."
Jason Schreier, author of the report, took to Twitter to reveal more, saying features originally planned for Cyberpunk 2077, such as wall-running, flying cars and ambushes were all cut during the process of development.
CD Projekt addressed the removal of the wall-running feature – shown off in gameplay demos prior to launch – in a July 2020 interview. Speaking to GameReactor, level designer Max Pears said wall-running was removed "due to design reasons".
Previous gameplay had shown player-character V using Mantis Blades to perch in hard-to-reach spots before leaping down to assassinate enemies. This never made it into the final version of the game.
Schreier also tweeted to comment on Cyberpunk 2077's disappointing police system, which "was all done at the last minute".
"As is evident by the final product, it was unclear to some of the team why they were trying to make both an RPG and a GTA with a fraction of Rockstar's staff," Schreier said.
– And if you're wondering why the police system in Cyberpunk 2077 is so janky: well, it was all done at the last minute. As is evident by the final product, it was unclear to some of the team why they were trying to make both an RPG and a GTA with a fraction of Rockstar's staff

— Jason Schreier (@jasonschreier) January 16, 2021
This content is hosted on an external platform, which will only display it if you accept targeting cookies. Please enable cookies to view.

CD Projekt's approach to crunch has come under fire in recent years. In September 2020, CD Projekt told employees it would require them to work six-day weeks until the game's November launch (it was subsequently delayed to December), breaking a previous promise not to force compulsory overtime to finish the project.
This new, compulsory overtime was paid, as is required by Polish law, but came after many employees were reportedly working long hours already.
At the time, Badowski tweeted to say: "This is one of the hardest decisions I've had to make, but everyone is well compensated for every extra hour they put in. And, like in recent years, 10 per cent of the annual profit our company generates in 2020 will be split directly among the team."
When CD Projekt delayed Cyberpunk a final time to December, it said it was struggling to ship the large number of different versions of the game it needed to have ready this year – including current and next-gen consoles, PC and Google Stadia.
Bloomberg reveals the extent of the crunch that occurred at the studio over the years, with some staff saying they felt pressured to put in extra hours by their managers or coworkers.
– A few non-Polish staffers shared stories about coworkers using Polish in front of them, which violated company rules. Made them feel ostracized, they said… were their coworkers talking shit about them? Combined with crunch and low salaries, this led quite a few expats to quit

— Jason Schreier (@jasonschreier) January 16, 2021
This content is hosted on an external platform, which will only display it if you accept targeting cookies. Please enable cookies to view.

Thoughts now turn to CD Projekt's ongoing attempt to turn Cyberpunk 2077 around. The studio plans to release variably sized patches – intended to fix bugs and improve the experience across all platforms – "on a regular basis". The first of these is due next week, with another more significant patch to follow in the coming weeks.
But will Cyberpunk 2077 patches be enough to restore CD Projekt's reputation in the eyes of fans and investors?
Samsung Galaxy S21 Ultra 5G First Look: No SD, Insane Zoom – Forbes
The biggest takeaway from my last 24 hours with Samsung's new Galaxy S21 Ultra 5G is that it feels like the 'ultra' phone Samsung should've released in 2020. In almost every area, Samsung has listened and remedied some of the major complaints from last year's expensive predecessor, including the price. The S21 Ultra is $200 cheaper than the S20 Ultra despite the upgrades, although it's not exactly a steal at $1199.
Read More:
To get the price down, Samsung removed the micro-SD slot—a feature the Korean company resolutely stuck with when others ditched it years ago. The charging brick has also disappeared supposedly in the name of environmentalism.
But the S21 Ultra isn't a story of loss. There are fresh upgrades that feel appropriate for the "ultra" moniker. There are four camera sensors on the back, including a 12MP ultra wide, 108MP wide, 10MP periscope telephoto with 10x optical zoom and a 10MP telephoto with 3x optical zoom.
The star of the show appears to be the 10x optical zoom, which elicited a bona fide "wow" from me when I first tried it out. Check out the side-by-side below, which shows how powerful the optical zoom is. The compression doesn't quite do the image justice because you can read the street sign clearly in the full quality picture, but you get the idea. As much as technology has improved, optical zooms are, and will continue to be, unbeaten. Hats off to Samsung.
The 100x Space Zoom tech returns with apparent improved focusing and clarity, and as amazing as it sounds, we'll have to see how it fares in testing. There are a lot of neat new features too, like 8K video recording—which now lets users take high resolution stills from footage—improved night mode with better noise reduction, and a 'zoom lock' feature that steadies zoomed-in images and reduces camera shake.
On the video side, the S21 Ultra achieves a first by offering 4K recording at 60 frames per second across all lenses. Around the front, the 40MP sensor dials up the detail for selfies. There's also a new "director's view" feature that captures dual video on both the front and back cameras for reaction shots.
The design has improved too. Gone is the shiny frame from the S20 Ultra, instead there's now a flat matte finish that feels more premium to touch. It is, however, still a huge phone. The 6.8-inch screen is very much a matter of taste. Personally, I'd like to see Samsung cram all of this tech into a 6-inch body.
However, Samsung has attempted to fix the top-heavy issue of the S20 Ultra. The weight distribution is more even in the new phone, which I'm grateful for. There is an upside of a giant screen: seeing Samsung's Dynamic AMOLED 2x QHD tech in all of its glory, which looks outstanding, as do all Samsung flagship displays. I'm looking forward to testing it out with Game Pass Ultimate.
Elsewhere, the S21 Ultra has a 25% brighter display (1500nits) than the S20 Ultra, now supports the S Pen and has a 1.7x larger in-screen fingerprint reader. I still prefer the physical fingerprint reader on the back of the Pixel 5, which feels faster and more responsive.
I have concerns around lasting power because the 5000mAh battery has a lot of work to do powering this giant display and everything under it. I suspect the promise of a 50% charge in 30 minutes will be important, as will the automatic display refresh rate (which fluctuates between a range of 10Hz and 120Hz to save power).
The S21 Ultra appears to have fixed the mistakes of past and delivered the Ultra phone Samsung should've released in February 2020. If you were wise enough to hold off on buying the S20 Ultra last year, this appears to be much more worthy of your money. But I'm still boggled by the sheer size of the device and I can't help but feel like the same tech in a 6-inch body would be a game changer. I'll know more in my upcoming full review, so stay tuned for that.
Inside Cyberpunk 2077's Disastrous Rollout – Bloomberg
CD Projekt SA Chief Executive Officer Marcin Iwiński made a public mea culpa this week about the disastrous rollout of the video game Cyberpunk 2077 in December. He took personal responsibility and asked fans not to blame the team.
In a somber five-minute video address and accompanying blog post, Iwiński acknowledged the game "did not meet the quality standard we wanted to meet. I and the entire leadership team are deeply sorry for this."

Iwiński's apology, the second within a month, was an attempt to restore the Polish company's reputation with scores of fans – and investors – who had waited eight years for the game, only to discover it was riddled with bugs and performance issues when it was finally released. Uproar over the botched debut caused a 30% drop in CD Projekt's shares from Dec. 10 through mid-January.
Interviews with more than 20 current and former CD Projekt staff, most of whom requested anonymity so as not to risk their careers, depict a development process marred by unchecked ambition, poor planning and technical shortcomings. Employees, discussing the game's creation for the first time, described a company that focused on marketing at the expense of development, and an unrealistic timeline that pressured some into working extensive overtime long before the final push. CD Projekt declined to comment on the process or provide interviews for this story.
The Polish company will spend the next few months working on fixes to Cyberpunk 2077 instead of planning expansions to the game or getting started on the next installment of its other popular franchise, The Witcher. The first new update will be released toward the end of January and a second "in the weeks after," Iwiński said.
This wasn't how the development team envisioned starting 2021. Now, instead of celebrating a successful release, they will aim to turn Cyberpunk 2077 into a redemption story. It will be an uphill battle. Unlike competitors such as Electronic Arts Inc. and Ubisoft Entertainment SA, CD Projekt only releases one major game every few years, so the company was relying on Cyberpunk 2077 to be a significant hit.
Cyberpunk 2077, a role-playing game set in a sci-fi dystopia, had a lot going for it. Warsaw-based CD Projekt already was well-known for an earlier blockbuster title, The Witcher 3, and Cyberpunk benefitted from a massive ad blitz and a leading role from actor Keanu Reeves. Thanks to pre-launch hype, the game sold 13 million copies at $60 apiece in the first 10 days after its release. CD Projekt was, for a while, the most valuable company in Poland.

Early reviews were generally good, but once players got the game in their hands, they realized it had problems on PCs and was almost unplayable on consoles. It performed so poorly that Sony Corp. removed the game from the PlayStation Store and offered refunds, an unprecedented move, while Microsoft Corp. slapped on a label warning customers that they "may experience performance issues on Xbox One until the game is updated." CD Projekt is facing an investor lawsuit on claims they were misled.
In his message, Iwiński concedes that the company "underestimated the task." He said that because the game's city was "so packed and the disk bandwidth of old-gen consoles is what it is, it constantly challenged us." While the company extensively tested before the game's release, Iwiński said it didn't show many of the issues players experienced. Developers who worked on the game argued otherwise, saying that many common problems were discovered. The staff just didn't have time to fix them.
Cyberpunk 2077 was an ambitious project by any standard. CD Projekt's previous success, The Witcher, was set in a medieval fantasy world full of swords and spells. But everything in Cyberpunk was a departure from that framework. Cyberpunk was sci-fi rather than fantasy. Instead of a third-person camera in which the player's character appeared on screen, Cyberpunk used a first-person view. Making Cyberpunk would require CD Projekt to invest in new technology, new staff and new techniques they hadn't explored before.
Another indication of how CD Projekt stretched things too far was that it tried to develop the engine technology behind Cyberpunk 2077, most of which was brand new, simultaneously with the game, which slowed down production. One member of the team compared the process to trying to drive a train while the tracks are being laid in front of you at the same time. It might have gone more smoothly if the track-layers had a few months head start.

Adrian Jakubiak, a former audio programmer for CD Projekt, said one of his colleagues asked during a meeting how the company thought it would be able to pull off a technically more challenging project in the same timeframe as The Witcher. "Someone answered: 'We'll figure it out along the way,'" he said.
For years, CD Projekt had thrived on that mentality. But this time, the company wasn't able to pull it off. "I knew it wasn't going to go well," said Jakubiak. "I just didn't know how disastrous it would be."
Part of the fans' disappointment is proportional to the amount of time they spent waiting for the game. Although Cyberpunk was announced in 2012, the company was then still mainly focused on its last title and full development didn't start until late 2016, employees said. That was when CD Projekt essentially hit the reset button, according to people familiar with the project.
Studio head Adam Badowski took over as director, demanding overhauls to Cyberpunk's gameplay and story. For the next year, everything was changing, including fundamental elements like the game-play perspective. Top staff who had worked on The Witcher 3 had strong opinions on how Cyberpunk should be made, which clashed with Badowski and lead to the eventual departure of several top developers.
Much of CD Projekt's focus, according to several people who worked on Cyberpunk 2077, was on impressing the outside world. A slice of gameplay was showcased at E3, the industry's main trade event, in 2018. It showed the main character embarking on a mission, giving players a grand tour of the seedy, crime-ridden Night City.

Fans and journalists were wowed by Cyberpunk 2077's ambition and scale. What they didn't know was that the demo was almost entirely fake. CD Projekt hadn't yet finalized and coded the underlying gameplay systems, which is why so many features, such as car ambushes, were missing from the final product. Developers said they felt like the demo was a waste of months that should have gone toward making the game.
Employees were working long hours, even though Iwiński told staff that overtime wouldn't be mandatory on Cyberpunk 2077. More than a dozen workers said they felt pressured to put in extra hours by their managers or coworkers anyway.
"There were times when I would crunch up to 13 hours a day — a little bit over that was my record probably — and I would do five days a week working like that," said Jakubiak, the former audio programmer, adding that he quit the company after getting married. "I have some friends who lost their families because of these sort of shenanigans."
The overtime didn't make development of the game any faster. At E3 in June 2019, CD Projekt announced that the game would come out on April 16, 2020. Fans were elated, but internally, some members of the team could only scratch their heads, wondering how they could possibly finish the game by then. One person said they thought the date was a joke. Based on the team's progress, they expected the game to be ready in 2022. Developers created memes about the game getting delayed, making bets on when it would happen.
Canceling features and scaling down the size of Cyberpunk's metropolis helped, but the team's growth hampered some departments, developers said.
While The Witcher 3 was created by roughly 240 in-house staff, according to the company, Cyberpunk's credits show that the game had well over 500 internal developers. But because CD Projekt wasn't accustomed to such a size, people who worked on the game said their teams often felt siloed and unorganized.
At the same time, CD Projekt remained understaffed. Games like Grand Theft Auto V and Red Dead Redemption II, often held up as examples of the quality the company wanted to uphold, were made by dozens of offices and thousands of people.
There were also cultural barriers brought about by hiring expats from the U.S. and Western Europe. The studio mandated everyone speak English during meetings with non-Polish speakers, but not everyone followed the rules.
Even as the timeline looked increasingly unrealistic, management said delaying wasn't an option. Their goal was to release Cyberpunk 2077 before new consoles from Microsoft and Sony, expected in the fall of 2020, were even announced. That way, the company could launch the game on existing PlayStation 4, Xbox One, and PC, then "double dip" by releasing versions down the road for the next generation consoles. People who bought the old console versions would receive free upgrades when the new ones were available. Some engineers realized that Cyberpunk was too complex of a game to run well on the seven-year-old consoles, with its city full of bustling crowds and hulking buildings. They said management dismissed their concerns, however, citing their success in pulling off The Witcher 3.
But by the end of 2019, management finally acknowledged that Cyberpunk needed to be delayed. Last January, the company pushed the game's release to September. In March, as the pandemic began ravaging the globe and forcing people to stay inside, CD Projekt staff had to complete the game from their homes. Without access to the office's console development kits, most developers would play builds of the game on their home computers, so it wasn't clear to everyone how Cyberpunk might run on PS4 and Xbox One. External tests, however, showed clear performance issues.
Iwiński also said that communication issues resulting from teams working at home amid Covid-19 restrictions meant "a lot of the dynamics we normally take for granted" got lost over video calls or emails. The game's debut slipped again, to November.
As the launch date drew closer, everyone at the studio knew the game was in rough shape and needed more time, according to several people familiar with the development. Chunks of dialogue were missing. Some actions didn't work properly. When management announced in October that the game had "gone gold" — that it was ready to be pressed to discs — there were still major bugs being discovered. The game was delayed another three weeks as exhausted programmers scrambled to fix as much as they could.
When Cyberpunk 2077 finally launched on Dec. 10, the backlash was swift and furious. Players shared videos of screens overrun with tiny trees or characters gallivanting around without pants, and compiled lists of features that had been promised but were not in the final product.
Many of the glitches and graphical issues can be fixed, developers say, though it's not clear what it will take to regain a spot in the PlayStation store. Winning back fans may be difficult, but there's precedent in the video game world. Games like No Man's Sky, a space simulator; Final Fantasy XIV, an online roleplaying game; and Destiny, a multiplayer shooter, recovered from rocky launches and earned critical acclaim by gradually improving after they released. And the market seems to be hopeful. CD Projekt shares rose 6%, the most in six weeks, after Iwiński's message.