Lagging US, Europe speeds up help for virus-hit economy – The Tri-City News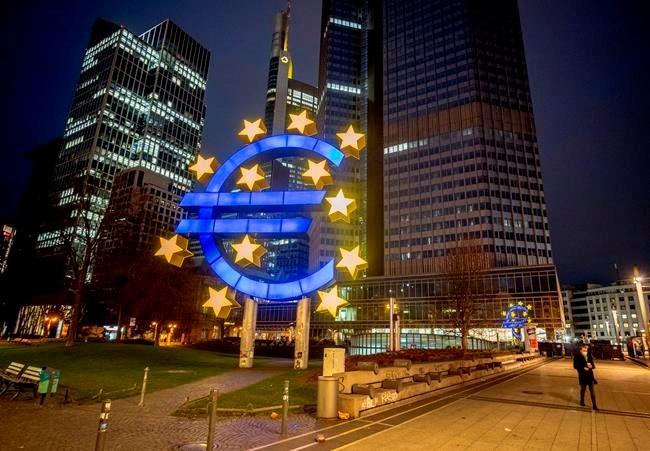 FRANKFURT — The European Central Bank said it would step up its bond-purchase stimulus to support an economy whose recovery is expected to lag a year behind the rebound in the U.S., held back by slow vaccine rollouts and less relief spending by governments.
The central bank for the 19 countries that use the euro said Thursday that over the next quarter the purchases would be conducted "at a significantly higher pace than during the first months of the year."
The move is aimed at preventing a premature rise in borrowing costs while businesses are still struggling with coronavirus restrictions like curfews and shutdowns. Yields on long-term government bonds have risen by about 0.3% since the start of the year in the eurozone. That is not much, and rates remain low. But economists say it is too early for the eurozone to withstand higher rates, usually associated with recovering growth and inflation.
The rise in longer-term borrowing rates is regarded as a spillover from the U.S., where the economic recovery is expected to be faster. The eurozone is still in a double-dip recession and is seen by economists as not ready for rising rates. Output shrank 0.6% in the last three months of 2020 and probably declined again in the first quarter of this year, say economists.
China was the only major economy to grow last year, and the U.S. is expected to reach pre-pandemic levels of output by the middle of this year.
By contrast, the eurozone economy is not expected to recover until mid-2022, held back by a slow vaccine rollout and lower levels of government relief spending compared with the U.S. The U.S. Congress on Wednesday approved a wide-ranging $1.9 trillion relief package pushed by new President Joe Biden, coming on top of previous relief legislation under predecessor Donald Trump.
ECB President Christine Lagarde told a news conference that the rise in market borrowing rates, "if left unchecked, could translate into a premature tightening of financial conditions for all sectors of the economy. This is undesirable."
Lagarde urged European leaders to promptly implement the European Union's 750 billion-euro recovery fund which is aimed at supporting government spending over the next several years. She said that the "massive" $1.9 trillion relief package passed Wednesday in the U.S., a key trade partner, would boost demand from outside the eurozone.
The bond purchases have the effect of pushing down bond yields, which are used as benchmarks for borrowing across the region. So the ECB's move would in theory help keep credit cheap for companies who need to invest or borrow to get through the pandemic. Businesses are reeling from the economic impact of government restrictions on public life.
Lagarde didn't specify an amount for the accelerated bond purchases. The ECB bought 59.9 billion euros worth of bonds in February and 53 billion euros in January. The purchases ran as high as 120 billion in June 2020.
The purchases will come out of the total of 1.85 trillion-euro set aside for the program; almost 1 trillion euros of that has yet to be used. The ECB says it will continue the purchases until at least the end of March 2022, and in any case until it judges that the pandemic crisis phase is over.
The ECB's decision to step up its stimulus caused an immediate reaction in financial markets, with bond yields sliding and stock markets rising in Europe.
The ECB is the monetary authority for the 19 of 27 European Union member countries that have joined the common currency. It plays a role analogous to that of the U.S. Federal Reserve, the Bank of Japan or the Bank of England in the U.K. It can steer market interest rates in ways best for the economy, using short-term benchmarks such as its weekly lending to bank or intervening in the bond market to affect longer-term rates.
David McHugh, The Associated Press
Canada's budget to include pandemic and childcare supports, luxury tax
By Steve Scherer
OTTAWA (Reuters) – Canada will present a budget on Monday with billions of dollars for pandemic recovery measures as COVID-19 infections skyrocket, C$2 billion ($1.6 billion) toward national childcare, and new taxes on luxury goods.
Liberal Prime Minister Justin Trudeau's first budget in two years will also set aside C$12 billion ($9.6 billion) to extend wage and rent subsidy programs to the autumn, the Toronto Star reported on Sunday.
Finance Minister Chrystia Freeland is due to present the budget at about 4 p.m. (2000 GMT).
The document promises in excess of C$2 billion as a "starting point" for a national childcare program, the Canadian Broadcasting Corp said, adding that the 2020-2021 federal deficit had come in under C$400 billion.
In November, the government forecast a deficit of C$381.6 billion, which would be its highest level since World War Two. [https://tmsnrt.rs/3wSJPcm]
The budget will also include a luxury tax effective from 2022 on new cars and private aircraft valued at more than C$100,000 ($79,970), and boats worth over C$250,000, government sources familiar with the document told Reuters.
There will be a sales tax for online platforms and e-commerce warehouses from July, and a digital services tax for Web giants like Alphabet Inc's Google and Facebook Inc from 2022.
Freeland promised in November up to C$100 billion in stimulus over three years to "jump-start" an economic recovery during what is likely to be an election year, and the government so far not backed away from that commitment.
Environment Minister Jonathan Wilkinson, speaking to the CBC, confirmed that the budget would be "ambitious" and that the government would "invest for jobs and growth to rebuild this economy," although he added there would be "fiscal guardrails" to put spending on a "sustainable track."
Amid a spiking third wave of infections, Ontario, Canada's most-populous province, announced new public health restrictions on Friday, including closing the province's borders to non-essential domestic travel.
Canada has been ramping up its vaccination campaign but still has a smaller percentage of its population inoculated than dozens of other countries, including the United States and Britain.
($1 = 1.2514 Canadian dollars)
(Reporting by Steve Scherer; Editing by Nick Zieminski and Peter Cooney)
TSX extends gains as gold prices rise, set to rise for third week
(Reuters) -Canada's main stock index extended its rise on Friday after hitting a record high a day earlier as gold prices advanced, and was set to gain for a third straight week.
* At 9:40 a.m. ET (13:38 GMT), the Toronto Stock Exchange's S&P/TSX composite index was up 24.24 points, or 0.1%, at 19,326.16.
* The Canadian economy is likely to grow at a slower pace in this quarter and the next than previously expected, but tighter lockdown restrictions from another wave of coronavirus were unlikely to derail the economic recovery, a Reuters poll showed.
* The energy sector climbed 0.6% even as U.S. crude prices slipped 0.1% a barrel. Brent crude added 0.1%. [O/R]
* The materials sector, which includes precious and base metals miners and fertilizer companies, added 0.3% as gold futures rose 0.7% to $1,777.9 an ounce. [GOL/] [MET/L]
* The financials sector gained 0.2%. The industrials sector rose 0.1%.
* On the TSX, 117 issues advanced, while 102 issues declined in a 1.15-to-1 ratio favoring gainers, with 14.26 million shares traded.
* The largest percentage gainers on the TSX were Cascades Inc, which jumped 4.2%, and Ballard Power Systems, which rose 2.9%.
* Lghtspeed POS fell 5.6%, the most on the TSX, while the second biggest decliner was goeasy, down 4.9%.
* The most heavily traded shares by volume were Zenabis Global Inc, Bombardier and Royal Bank of Canada.
* The TSX posted 23 new 52-week highs and no new low.
* Across Canadian issues, there were 160 new 52-week highs and 12 new lows, with total volume of 29.68 million shares.
(Reporting by Shashank Nayar in Bengaluru;Editing by Vinay Dwivedi)
Canadian economy likely to slow, but COVID-19 threat to growth low
By Indradip Ghosh and Mumal Rathore
BENGALURU (Reuters) – The Canadian economy is likely to grow at a slower pace this quarter and next than previously expected, but tighter lockdown restrictions from another wave of coronavirus were unlikely to derail the economic recovery, a Reuters poll showed.
Restrictions have been renewed in some provinces as they struggle with a rapid spread of the virus, which has already infected over 1 million people in the country.
After an expected 5.6% growth in the first quarter, the economy was forecast to expand 3.6% this quarter, a sharp downgrade from 6.7% predicted in January.
It was then forecast to grow 6.0% in the third quarter and 5.5% in the fourth, compared with 6.8% and 5.0% forecast previously.
But over three-quarters of economists, or 16 of 21, in response to an additional question said tighter curbs from another COVID-19 wave were unlikely to derail the economic recovery, including one respondent who said "very unlikely".
"Canada is undergoing a third wave of the virus and while case loads are accelerating, the resiliency the economy has shown in the face of the second wave suggests it can ride out the third wave as well, without considerable economic consequences," said Sri Thanabalasingam, senior economist at TD Economics.
The April 12-16 poll of 40 economists forecast the commodity-driven economy would grow on average 5.8% this year, the fastest pace of annual expansion in 13 years and the highest prediction since polling began in April 2019.
For next year, the consensus was upgraded to 4.0% from 3.6% growth predicted in January.
What is likely to help is the promise of a fiscal package by Prime Minister Justin Trudeau late last year, which the Canadian government was expected to outline, at least partly, in its first federal budget in two years, on April 19.
When asked what impact that would have, over half, or 11 of 20 economists, said it would boost the economy significantly. Eight respondents said it would have little impact and one said it would have an adverse impact.
"The economic impact of the federal government's promised C$100 billion fiscal stimulus will depend most importantly on its make up," said Tony Stillo, director of Canada economics at Oxford Economics.
"A stimulus package that enhances the economy's potential could provide a material boost to growth without stoking price pressures."
All but two of 17 economists expected the Bank of Canada to announce a taper to the amount of its weekly bond purchases at its April 21 meeting. The consensus showed interest rates left unchanged at 0.25% until 2023 at least.
"The BoC is set to cut the pace of its asset purchases next week," noted Stephen Brown, senior Canada economist at Capital Economics.
"While it will also upgrade its GDP forecasts, we expect it to make an offsetting change to its estimate of the economy's potential, implying the Bank will not materially alter its assessment of when interest rates need to rise."
(Reporting and polling by Indradip Ghosh and Mumal Rathore; editing by Rahul Karunakar, Larry King)