Lake Country art collector shares collection in art exhibition
Brian Gervais says the painting he is hanging on the walls of an old church in preparation for an art show saved his life.
The Lake Country local says that when he was going through a hard time in his life, he turned to art to get him through.
"That really helped me and helped me get through a really dark period," said Gervais. "I found it was a bit of medicine for me."
In return, he risked his life to protect his collection when the Okanagan Centre wildfire tore through his Lake Country neighbourhood in 2017.
"It was black and it was growing quickly and it was probably two or three kilometres from our house, and everyone in the neighbourhood was getting worried, packed up their cars and got ready to go. Police were at the end of the street [and were going house to house to ensure] we got to get out of here."
Gervais said he tried to pack his art collection into his truck, but was unable to fit every piece he owns into it. That's when he decided he would stay behind with his collection.
"The police actually came and tried to get me to leave but I told them I'm willing to risk it," said Gervais. "I couldn't risk having this destroyed or stolen, so that's why I stayed behind and I'm glad I did."
Luckily his house was saved from the flames, and so was his art.
Six years later, Gervais wants to share some of his collection with his community. So he's planned a weekend-long art show to share more than 70 pieces of art created by a dozen artists from around the world.
"A lot of these artists, they don't make copies. If you buy from them that's it. You're the only one that gets to have it," said Gervais.
"In a way it felt selfish to be the only person that gets to enjoy this kind of thing and so I wanted to do a show so I can introduce other people to the style of art and let them see something that I've enjoyed for so many years."
The Apple Chapel Art Exhibition takes place May 26 and May 27 from 11 a.m. until 9 p.m. on both days. Admission is free and all are welcome. The address of the exhibit is 11212 Lodge Road in Lake Country, B.C.
Revealing show cleverly pairs two female Impressionists – The Globe and Mail
In a new Impressionism show at the Art Gallery of Ontario in Toronto, there's a moment parents will recognize. In an 1897 painting, by the American expat artist Mary Cassatt, a mother lies in bed with a baby. Front and centre, the plump toddler sits upright, rosy-cheeked and bright-eyed, while the mother gazes sleepily up from her pillow. There's a tea cup nearby and the child seems to be holding some bread: The title, Breakfast in Bed, is saccharine enough to suggest a tender maternal scene of the kind prized by Victorian audiences. Look closer at the mother's expression, however, and you'll perceive her reality: a 6 a.m. wake-up when she would rather sleep.
This clever exhibition is stuffed with such telling moments, achieved by juxtaposing Cassatt's work with that of the Canadian Impressionist Helen McNicoll. On the surface, the combo, entitled Cassatt – McNicoll: Impressionists Between Worlds, might seem opportunistic or merely convenient. Cassatt was an American living in France and part of the original circle dubbed Impressionist; McNicoll, 35 years younger, was a Canadian working in England under the general influence of the new styles. Throw together two female artists who belong to different generations and never met, and see if some of Cassatt's wider fame can rub off on McNicoll's work, not particularly well known even to Canadians. However, the execution, by AGO curator Caroline Shields, offers so many smart observations drawn from this pairing that the show swiftly banishes these doubts.
Shields argues that Cassatt and McNicoll, who both criss-crossed the Atlantic in the age of the steam liner, were figures who inhabited liminal spaces as they travelled between Europe and North America and negotiated professional restrictions placed on women. They could not venture unaccompanied into the city streets or cabarets so beloved by the French Impressionists, and convention encouraged them to concentrate on domestic subjects, although both were unmarried and childless.
Shields makes this point with two paintings near the start: Cassatt's Young Girl at a Window shows a woman looking inwardly rather than out at a Parisian view; McNicoll's The Open Door shows a country woman in an interior, perhaps seeking light to tie a knot in her sewing, but with her back turned to the great outdoors. So, both women are placed at the threshold of places where they do not venture.
Next, the exhibition matches Cassatt's Woman Bathing of 1890-91, one of her familiar drypoint prints heavily influenced by Japanese ukiyo-e, with Interior (1910) by McNicoll, a view of an empty bedroom. By placing the familiar image of a woman at her toilette beside Interior, Fields makes the point that McNicoll has deliberately removed a nude from her scene.
The AGO has also provided a brief video in which the painting is animated as though we were watching the room through the day in time-lapse photography, revealing McNicoll's use of a shaft of light to enliven her composition. Compared to the pointless animation in the so-called immersive shows devoted to such artists as Vincent Van Gogh or Claude Monet, this small educational intervention by AGO interpretive planner Gillian McIntryre is an astute way of asking viewers to stop and look closer.
Looking closer and thinking again is what this show is all about. Cassatt's pictures of women and babies are often ambivalent – Maternal Caress and The Child's Caress seem to show women suffering babies batting at their faces – while McNicoll painted children alone, without mothers supervising them.
One exception is In the Shadow of the Tree from 1910, which shows a young caregiver on a summer day reading a book with a pram beside her, one hand touching it as if to rock the baby. That painting, along with several showing women under parasols or tents at a beach, are testament to McNicoll's masterful painting of light. Dappled or filtered light on a summer day is perhaps her most magnificent subject.
McNicoll was primarily known for outdoor scenes but around 1913, she began a series of ambitious canvases featuring women in interiors, including two of a figure wearing a massive white crinoline. As the drive to women's suffrage reached its peak, these confining dresses were now seen as outmoded: McNicoll calls both paintings The Victorian Dress. What would have happened next? McNicoll died of diabetes at age 35 in 1915, so sadly we will never know.
It's not a contest, but she often comes across as the stronger artist here, her brushwork more impressive in its impressionistic effects; her figures more graceful. In a section about labour, Cassatt is represented by Young Women Picking Fruit, an oddly emphatic painting from 1891 in which a well-dressed receiver looks adoringly up at the picker, as a symbol of women passing knowledge to each other. About 20 years later, McNicoll is painting working class women picking apples or carrying hay in more convincing depictions of empowerment.
This weighting probably has more to do with available loans than the reality of the two careers. The AGO has assembled 27 of McNicoll's paintings from its own collection (which also includes all her sketchbooks, many on display) and from museums in Ontario, Quebec and New Brunswick, as well as private collections. Cassatt is represented by only 13 paintings and her best known pieces, works such as The Child's Bath at the Art Institute of Chicago, are not included. Instead, Chicago has lent the more fussy female figure On a Balcony. The biggest hits are a pair of deliciously sophisticated female portraits, Portrait of Madame J from the Maryland State Archives and The Cup of Tea from New York's Metropolitan Museum.
There are no Cassatt paintings in Canadian collections, but luckily the National Gallery of Canada does hold an edition of the 10 drypoint prints devoted to women at their toilette, riding a bus or bathing children. It's impressive to see the full series at the AGO, to recognize Cassatt's meticulous printmaking and her commitment to making women seen in art rather than merely objectified.
More than a century separates us from Cassatt and McNicoll and it's easy to assume that all is sweetness and light in their paintings of elegant ladies, chubby babies and vigorous farm girls. By pairing the two, Cassatt – McNicoll slyly reveals the many subtleties in the work of two female artists carving out careers in what was, in their day, a man's profession.
Cassatt/McNicoll continues to Sept. 2023 at the Art Gallery of Ontario in Toronto.
Hannah Gadsby's Picasso exhibit roasted by art critics – The A.V. Club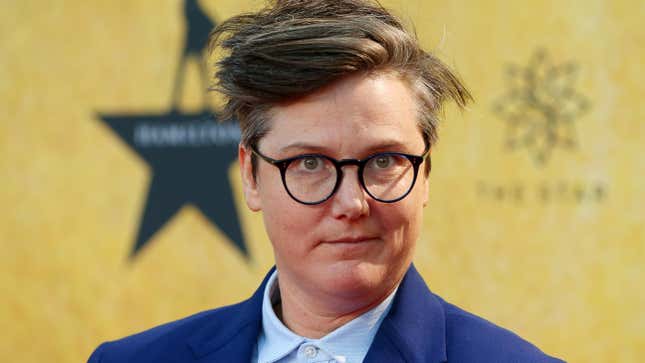 "It's Pablo-matic: Picasso According to Hannah Gadsby" has been Pablo-matic from the start. The comedian was criticized for launching an exhibit at the Brooklyn Museum, where Elizabeth A. Sackler (of Purdue Pharma infamy) apparently sits on the board of trustees. "Doesn't matter what cultural institution you work with in America, you're going to be working with billionaires and there's not a billionaire on this planet that is not fucked up. It is just morally reprehensible," Gadsby lamented to Variety, nevertheless moving forward with the exhibit.
John Hughes says the director called his Ferris Bueller performance "boring"
After having criticized Picasso in their lauded Netflix special Nanette, Gadsby was tapped to co-curate an exhibition to mark the 50th anniversary of the artist's death. The show examines Picasso's "complicated legacy through a critical, contemporary, and feminist lens, even as it acknowledges his work's transformative power and lasting influence." The exhibit consists of Picasso's work with the work of female artists, with the addition of Gadsby's commentary.
Reviews of the show (which opens on Friday) are, shall we say, not kind. Gadsby's quips tacked to Picasso's art "function a bit like bathroom graffiti, or maybe Instagram captions," writes New York Times reviewer Jason Farago, who dismisses Gadsby's commentary as "juvenile." ARTnews' Alex Greenberger observes that Gadsby's quotes are "larded with the language of Twitter," highlighting the label above a minotaur print: "Don't you hate it when you look like you belong in a Dickens novel but end up in a mosh pit at Burning Man? #MeToo."
There is no debate about Picasso's misogyny or any of the more unsavory (and well-documented) aspects of his character. Instead, it's the apparently facile way Gadsby (with co-curators Catherine Morris and Lisa Small) has chosen to frame the show. The female artists featured do not include female Cubists, women inspired by Picasso, or the female artists Picasso was actually involved with in his life. Instead, their work "[seems] to have been selected more or less at random" writes Farago, while Greenberger notes that many of these pieces from female artists "have almost nothing in common, beside the fact that they are all owned by the Brooklyn Museum."
The scathing criticism of the exhibit has been met with some schadenfreude online, particularly with the subset of folks for whom Nanette didn't land. "Still thinking about that perfect @jsf piece on Hannah Gadsby's Picasso show. Such a sharp evisceration of the corrosive effect a certain strain of meme-y social justice has had on culture and criticism. If people's receptiveness means we can finally move past that, I'm thrilled," The New Republic's Natalie Shure wrote on Twitter. And of course, some people just like a good, well-written take down: "So so so happy that Hannah Gadsby made the Pablo-matic (lmfao) exhibit because the reviews of it have been the best most fun culture writing in a while imo!!!!!," tweeted writer Sophia Benoit.
Agree or disagree (and perhaps you'll have to visit the Brooklyn Museum to decide), the criticism of Gadsby's criticism is lethally sharp. "Not long ago, it would have been embarrassing for adults to admit that they found avant-garde painting too difficult and preferred the comforts of story time. What Gadsby did was give the audience permission—moral permission—to turn their backs on what challenged them, and to ennoble a preference for comfort and kitsch," Farago writes of Nanette, later adding, "The function of a public museum (or at least it should be) is to present to all of us these women's full aesthetic achievements; there is also room for story hour, in the children's wing." You can read the full piece here.
Crochet Heart Bomb Project comes together June 3
Handmade hearts will line the chain link fences between the Autumn Grove Seniors Lodge and the hospital in Innisfail, Alta., on Saturday.
It's called the Crochet Heart Bomb Project.
Local entrepreneur and artist Karen Scarlett started working on the initiative this past January, in partnership with the Innisfail Welcoming and Inclusive Community Committee as well as the Innisfail Art Club.
"Wouldn't it be nice if a few people joined in on sharing some love and joy with the seniors at the Autumn Grove Lodge and hospital?" Scarlett said was her line of thinking at the time.
The community is welcome to swing by and lend a hand. Also, to help care for the hearts after they're up.
Turns out she wasn't alone — others thought it would indeed be nice.
"Our free pattern has been downloaded hundreds of times from locations around the globe and now thousands of hearts are arriving in time for our install party," said Wilma Watson, Innisfail Art Club president.
A release to media explains the hearts "consist of handcrafted crochet, knit, quilted, macramé and all manner of hand-stitched items," and "will be installed on June 3 from 10 a.m. to 3 p.m."
The community is welcome to swing by and lend a hand.
Also, to help care for the hearts after they're up.
Local entrepreneur and artist Karen Scarlett started working on the initiative this past January.
"I will be leaning on the community to help," Scarlett said.
"If the community keeps an eye out for damaged hearts and continues to care for the fence and ask for new hearts to be made, we may have a love-filled fence for years — maybe decades — to come."
She says she's doing this for Grandma.
Ethel Scarlett was a founding member of the original art club and toward the end of her life, a resident at the original seniors lodge where she was still known for a creative endeavour or two.
"I feel like she would be pretty thrilled with this project," Karen Scarlett said.
More information is available at innisfailartclub.org/crochet.
A release to media explains the hearts 'consist of handcrafted crochet, knit, quilted, macramé and all manner of hand-stitched items,' and 'will be installed on June 3 from 10 a.m. to 3 p.m.'