Langley's Green Art show winners used sustainable, recycled materials – Langley Advance Times – Langley Advance Times
Winners of the Green Art exhibition at the Langley Centennial Museum were announced at the exhibition closing event on May 21.
The month-long exhibit began on Saturday, April 16, and the museum invited artists every Saturday until the final week to showcase art made of natural and reused materials.
Green Art: Sharing Sustainable Approaches and Practices Demonstrations and Discussion, celebrated both the environment and creativity.
"Selecting winners was challenging for the adjudicators, given the variety of amazing, greenspiring works in the show," said museum curator Lindsay Foreman. "The featured works helped us all think before we toss things and pursue green ways of creating and sharing."
The exhibition closing included a panel discussion on art and sustainable materials with Arnt and Valerie Arntzen, Laurel Dahill, Alex Stewart, and Natasha Vanderzwan, moderated by Peter Tulumello, the Township's director of arts, culture, and community initiatives.
READ ALSO: Saturdays dedicated to art and environment at Langley museum
READ ALSO: Fundraiser set for Mark Warawa legacy fund
The winners were:
• Clothing – Linda Siemens (Big Pink Hug); David Kimura (Messenger Bag) – Honourable Mention
• Fibre Art – Sonja Dimopoulos (Hearthside); Suzanne Northcott (Muse) – Honourable Mention
• Sculpture – Gwenyth Chao (Plasticity); Sylvie Roussel-Janssens (Mend #15) – Honourable Mention
• Scenery – Debra Wright (The Museum of Everyday Life); William Frymire (Close before Striking) – Honourable Mention
• Utilitarian – Karlie McChesney (Brown Bag It); Nozomi Kuwabara (Big/Little Sweater Monster) – Honourable Mention
• Youth – Ranuki Krisothorubadu (Recycled Denim Patchwork Jacket); Elizabeth Gelderman, Brenna Hansma, Annika Vandergugten, Carys Roukema and Robyn Huttema (His Architecture) – Honourable Mention
• Visitor's Choice – Tanya Bub (Half Horse)
• Director's Choice – Diane Roy (Woman of War)
Art exhibition with references to famous movies coming to Strathcona County – FortSaskOnline.com
This summer, Strathcona County will have an art exhibition saturated with popular culture references.
Red Deer artist Jason Frizzell will be showcasing his miniature sculpture pieces called "We'll Build a Palace Upon the Ruins" at Gallery@501, Strathcona County's only public art gallery.
From July 8 to Aug. 20, the exhibition will be on display for all to enjoy.
It will showcase close to 60 small-scale sculptures that continue a thematic exploration of transition, identity, denial and discovery. It will also take viewers through different time periods and eras as they explore the showcase.
"Jason has created a really interesting journey of discovery for our visitors when they enter the gallery space," said Kris Miller, the curator for Gallery@501.
Some pop culture references viewers will see include Mad Max, The Wizard of Oz, Planet of the Apes, The Flintstones and Stephen King.
To go along with the art itself, Gallery@501 also partially recreated Frizzell's studio space within the gallery.
"Being that he is working in a miniature format, it is really interesting to see these sculptural pieces. The content, stories, narratives that he is sharing with us for this artwork really struck a chord for us."
Gallery@501 is also adding a sensory-friendly feature to the exhibition so the art can be explored through touch and iPads for larger viewing.
The public is also invited to an opening reception and exhibition walk-through with Jason Frizzell on July 14 at 7 p.m.
Gallery@501 is located at #120, 501 Festival Avenue, Sherwood Park. It is always free to visit.
Idea Exchange welcomes new Cambridge Art Galleries director – CambridgeToday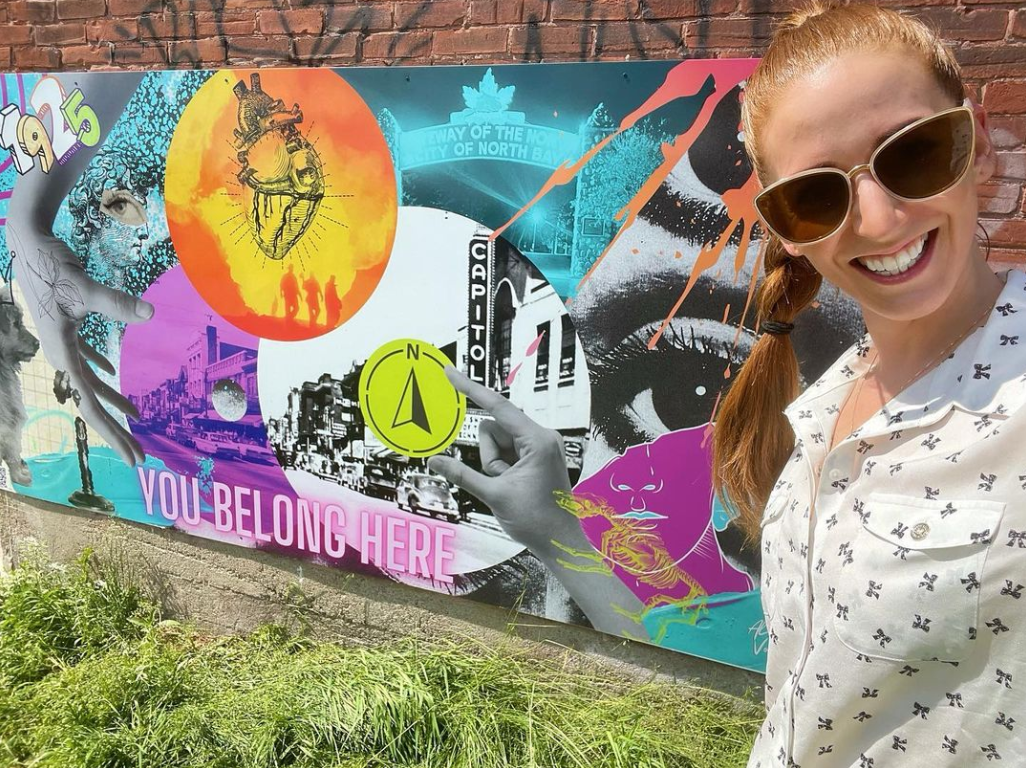 The Idea Exchange is ready to welcome Alix Voz as the new Gallery Director/Curator of Cambridge Art Galleries. Alix will be starting in the position Wednesday, says a release from the city.
"We are thrilled to have Alix joining us in Cambridge," said Idea Exchange CEO Helen Kelly in a press release. "Her enthusiasm for presenting art exhibitions that are engaging and accessible for the broader community is infectious. We look forward to many dynamic public art projects and programs under her leadership."
For the past four years, Vos has been working as the director/curator at the WKP Kennedy Gallery in North Bay.
She holds a master of arts in interdisciplinary Studies with a specialization in Art History and Fine Arts, Geography, Communication and Culture, from York University and a Bachelor of Fine Arts from Nipissing University, says the release. She is an adjunct faculty member at Nipissing University where she teaches art courses in the Bachelor of Fine Arts Program. She is also an instructor in the Visual and Creative Arts Advanced Program at Sheridan College.
An active community member, Vos served as the vice-chair of the public art policy committee for the City of North Bay.
Vos has her own contemporary art practice and has had her work exhibited at the Art Gallery of Sudbury, the Living Arts Centre in Mississauga, and the Red Head Gallery in Toronto. Her artistic practice includes drawing, having recently published her illustrations in a children's book. She is currently working on an art-history-inspired children's illustration book series.
With a love of literature and a passion for art, Vos says she's excited about the opportunities for community engagement at Idea Exchange.
The community will have an opportunity to meet the new curator/director during the virtual opening reception of Fibreworks 2022 on July 21 at 7 p.m., registration is required to attend.
Okanagan art exhibits challenge viewers to reinterpret definition of trash – Global News
The Art for Change summer art exhibit in Kelowna is made entirely from found materials and trash.
There are five separate exhibits in the city – four are in the Rotary Centre for the Arts and one is at the Okanagan Heritage Museum.
"The point that I am trying to make with all this is that trash is a commodity. We have to get rid of our ideas of throwing away things and (instead find) ways to use it," said Hanna Karin, Art for Change creative director.
The Beauty In The Beast exhibit has taken over the Alex Fong Galleria at the R.C.A. featuring the work of Kelowna's Daren Williams and Summerland's Becky Ten Veen, as well as Marion Tetler from Ontario, Lesley Leong from Yukon and Zala Virendrasinh from India.
"Beauty In The Beast demonstrates the aesthetic appeal of metal, paper, computer parts and plastic," states a press release from Art for Change.
Think Big is an outdoor exhibit at the R.C.A. "featuring community artists and organizations that use mural art to rejuvenate neighbourhoods and promote unity," the release says.
The exhibit Language of Art at the R.C.A. shows people how art can be another form of communication in addition to therapy and more.
"The Language of Art is about the power of art in bridging language barriers, evoking emotion and engaging social change," according to the release.
The Beauty What exhibit features the costumes from "Beauty WAD and second-hand/recycled clothing ensembles demonstrating how to look good without further harming the planet," the release says.
At the Okanagan Heritage Museum is the Jenga Jenga exhibit that "promotes the viability of post-consumer waste as building blocks for construction and product development."
Three events will complement the art exhibits.
The Beauty Wearable Art and Design Competition takes place in the Mary Irwin Theatre at the R.C.A. where designers showcase the costumes they created from discarded materials July 22.
A two-day film festival at the Mary Irwin Theatre called the Beast International Film Festival showcases documentaries, short films and live presentations on the fashion industry, activism and environmental solutions July 23 and July 24.
There will also be a Zydeco concert July 23. A press release describes Zydeco as "a jammy bluesy music that mixes Cajun Acadian with Black rhythm and blues." The show Teenaree Gowdy and Nuvo Zydeco takes place July 23.
For more information visit www.atutu.ca
© 2022 Global News, a division of Corus Entertainment Inc.