Large-scale Covid-19 vaccination campaign kicks off in Moscow – RT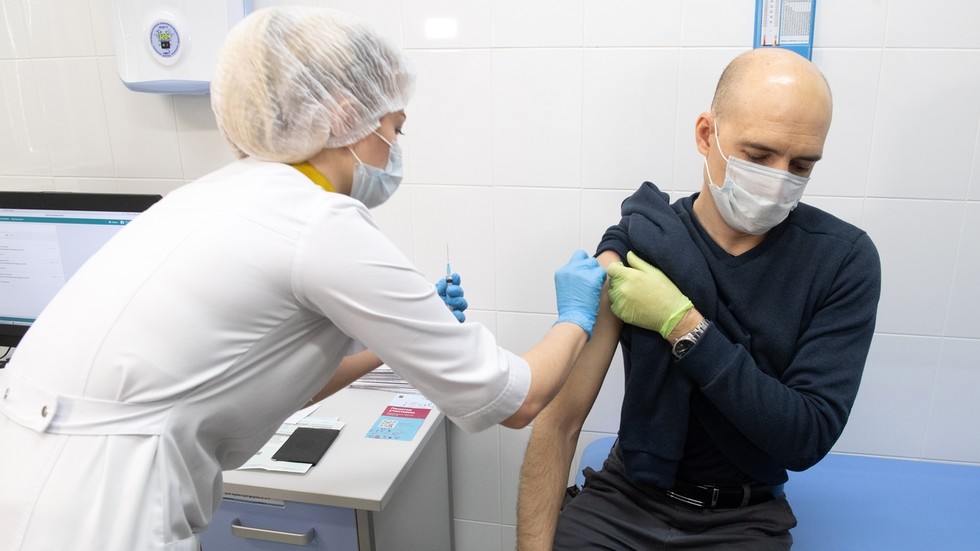 A wide-ranging anti-coronavirus vaccination campaign began in Moscow on Saturday, with thousands signing up for shots online, in the Russian capital. Frontline workers were given first priority, as previous indicated.
Those wishing to participate have to sign up online before receiving their initial dose of Sputnik V at one of the city's 70 specialist clinics. The vaccine consists of two separate injections, the second jab must be administered 21 days after the first one. The whole procedure, which includes the time needed to cool down the formula after it's removed from the freezer, takes less than an hour, officials said.
Injections are administered to people aged between 18 and 60 that present no chronic health conditions. Those who have had respiratory infections, like flu or common cold, less than two weeks ago, are not eligible. Pregnant women and breastfeeding mothers are also barred, for now.
On Friday, Moscow Mayor Sergey Sobyanin wrote on his blog that 5,000 people had signed up for the vaccine in five hours after online registration was launched. He said they were doctors, care workers, and teachers, who were "risking their health and lives the most."



Also on rt.com
Half the world could get Russian Sputnik V Covid-19 vaccine, say creators, as Moscow starts distributing doses en masse




Vaccination is free for Russian citizens. Senior health official Alexey Kuznetsov announced that Sputnik V's maximum commercial price will be 1,942 rubles ($26) for both injections.
President Vladimir Putin authorized the start of a large-scale vaccination campaign on Wednesday. Deputy Prime Minister Tatyana Golikova said all of Russia's regions would roll out their campaigns next week. Meanwhile, select groups of doctors and nurses had already been getting the vaccine, with the priority given to those on the frontline against Covid-19. The vaccination began in some army units as well.
[embedded content]
Sputnik V was created by the Moscow-based Gamaleya Research Institute. Kirill Dmitriev, the head of the Russian Direct Investment Fund which funded the development of the drug, told the BBC on Friday the plan is to vaccinate two million people in December. He added that he expected foreign regulators to approve Sputnik V in December and January.
Another Russian-made vaccine, EpiVacCorona, will be available for wider circulation on December 10, according to its developer, the Siberian-based Vector Institute.
Think your friends would be interested? Share this story!
Alberta adds 12 COVID-19 deaths, falls under 10K active cases for first time since mid-November – CTV Edmonton
EDMONTON —
Alberta's active COVID-19 case count fell below 10,000 on Friday for the first time in more than two months as the province reported 643 new cases and 12 more deaths.
The deaths bring the number of coronavirus fatalities to 1,512. Active cases total 9,987, the lowest count since November 14.
Hospitalizations continue a general downward trend as the number of COVID-19 patients fell by 40, to 691. The number of patients in intensive care units fell by four to 115. It's the first time the province has had fewer than 700 coronavirus patients in hospital since Dec. 7.
The province administered 13,019 tests with a 4.97 per cent positivity rate.
More than 97,000 doses of COVID-19 vaccine have been given to Albertans.
Alberta's Chief Medical Officer of Health, Dr. Deena Hinshaw, will return for an in-person update on Monday.
COVID-19 Bulletin #322 – news.gov.mb.ca
Need More Info?
Public information, contact Manitoba Government Inquiry: 1-866-626-4862 or 204-945-3744.
Media requests for general information, contact Communications Services Manitoba: 204-945-3765.
Media requests for ministerial comment, contact Communications and Stakeholder Relations: 204-794-0732.
Twitter Feed
Quick Links
B.C. looking into possibility of mixing and matching, further delaying COVID-19 vaccine doses – CTV News Vancouver
VANCOUVER —
B.C. announced its full COVID-19 vaccine distribution plan through September on Friday, and while it relies on regular shipments of both Pfizer and Moderna vaccines, officials are looking into the safety of mixing doses between the two.
Dr. Bonnie Henry explained during a morning news conference about vaccine rollout that discussions have been ongoing across the country, especially after a recent delay in Pfizer shipments.
The top doctor said Canadian health officials are in contact with their counterparts in the U.K., where some second doses of the vaccine are being delayed by as much as three months.
"We're trying to understand the impact that has on effectiveness of the vaccine," she said.
Henry said there has been "some permissive language" around using the same type of vaccine. In other words, she explained, because both Moderna and Pfizer are mRNA vaccines, there's a better chance they could be interchangeable.
"But that is a last resort. It's only if the original vaccine is not available," she said. "We're still looking at the best advice on that and whether it's better to delay the second dose for longer or to provide the second dose with the alternate product."
One example scenario Henry gave is if an individual is at the 42-day mark after receiving their first Pfizer dose but there is no longer any Pfizer vaccine available, health officials are discussing what they would do in that instance.
"We would have to make a decision about whether we use available doses of Moderna or whether we extend and wait for Pfizer to become available. So that's the situation we're not yet in, but that we may be facing," she said.
"Right now we don't have good information to inform one or the other of those decisions."
Henry said there is little data on the matter right now, but added there's been weekly discussions on the topic with the National Advisory Committee on Immunization, with another call planned for this weekend.