LBI Media Announces Senior Leadership Appointments – Business Wire
BURBANK, Calif.–(BUSINESS WIRE)–LBI Media, Inc. today announced two senior leadership appointments. Ivan Stoilkovich has been appointed Executive Vice President of Television Programming and Jason Hall has been appointed to Executive Vice President of Advertising Sales, both effective immediately.
In his new role, Stoilkovich will oversee all aspects of production, including its day-to-day operations. He will be responsible for all programing and content – everything from idea generation to execution – developed and produced by Estrella TV Network. Hall will be responsible for leading advertising sales and creating brand awareness of the company's multichannel platform, including its television, radio and digital assets. He will also oversee the national sales representatives in each of the company's sales offices including Los Angeles/Burbank, Dallas, Chicago, New York, Atlanta and Miami.
"Ivan and Jason have proven their leadership over the years at LBI Media and we are excited for them as they take on these elevated roles as we continue to pursue a broad range of opportunities to connect with the Hispanic community and grow our business. LBI Media's multichannel platform is well-positioned to serve distinctive programming content to the growing Hispanic consumer market, while also providing opportunities to forge new multi-media partnerships with advertisers that will help them reach and engage this coveted audience," said Peter Markham, CEO of LBI Media.
Stoilkovich was previously the head of production at LBI Media and was responsible for several first-of-its-kind shows for the network. He also co-founded his own production company called Island Media where he produced many television commercials and gained production credits in documentaries, television shows and feature films. Stoilkovich holds a Bachelor of Applied Science in Economics from the University of California, Los Angeles.
Hall was previously Senior Vice President of National Sales for LBI Media. During his career, Hall has held several positions in sales and marketing, including nearly 20 years at Univision. He holds a Bachelor of Science in Business Administration and Management from Bryant University.
About LBI Media, Inc.
LBI Media, Inc., is a leading vertically integrated, multi-platform, Spanish-language media company operating across all of the top U.S. Hispanic markets. Producing over 2,500 hours annually of original TV programming at the Empire Burbank Television Studios, the company is one of the largest U.S. producers of Spanish-language TV content. The company's Estrella TV Network is distributed through owned and operated TV stations, TV network affiliates and related digital media properties. The Estrella TV programming catalog, consisting of over 7,500 hours of original Spanish-language television programming, is one of the largest libraries of content produced in the U.S. for the U.S. Hispanic marketplace. Additionally, LBI Media is one of the most prolific developers and producers of Spanish-language radio talent and programming. The company's Don Cheto Radio Network features one of the nation's most popular radio talents and its highly-rated radio programming formats are distributed through owned and operated radio stations, affiliated stations and related digital media properties. To learn more about LBI Media and see company updates, please visit www.lbimedia.com.
Fact or Fiction: Does Trump's social media ban threaten our freedom of expression? – Global News
Its been radio silence from @realDonaldTrump's Twitter account for a while.
The former U.S. president was permanently pink-slipped by the tech giant on Jan. 8, to prevent him from inciting further violence, following the riots in Washington, D.C. on Jan. 6.
Shortly after, Facebook, Snapchat, TikTok, and more than a dozen other platforms followed suit in kicking the politician to the curb.
For some, including Twitter CEO Jack Dorsey, the move was the right thing to do. But others argue it was too little too late because, you know, the United States Capitol had already been invaded and all.
"I think he got away with a lot because of his position, because he was the president," said Amarnath Amarasingam, assistant professor at the School of Religion at Queen's University, and an expert in radicalization and terrorism. "It was a kind of protected account in many ways, regardless of the hate speech he put out there, regardless of the misinformation he put out there."
While the debate continues on whether a permanent ban was necessary (as opposed to a temporary one), one thing is for certain: this sudden move by Big Tech has unleashed a tornado of questions about what censorship means for our rights to express ourselves in Canada.
So much so that David Fraser, a privacy lawyer at McInnes Cooper, says the term "freedom of expression" is being inaccurately thrown around.
"I think [people] need to be very careful with how they use terminology like 'freedom of speech' and 'freedom of expression'… because that has a particular legal meaning," Fraser said.
"[Freedom of expression] means that the government cannot restrict what it is that individuals say, subject only to certain limitations … so we do have laws related to hate speech and laws related to defamation."
The key word here is "government."
So tech giants like Twitter — a private corporation that is very separate from the government — can legally censor whomever they wish.
"Anybody who creates an online community has the right to create rules for that community. They have the right to determine who is allowed on that community, and who is not — as long as its not discriminatory, for example, related to race, religion, things like that," said Fraser.
Fraser also notes that when you're silenced on a specific platform, you're still free to go somewhere else to express yourself.
You can download the next public engagement app or belt out your thoughts at the town square, all while remaining uninterrupted by the government, which means your freedom of expression is still intact.
But even if social media censorship doesn't infringe on our free expression, it has definitely awakened many to the power that private corporations hold over public conversations.
"There's a monopoly on that conversation," said Richard Lachman, associate professor at the RTA School of Media at Ryerson University. "So if you are Google or Apple, you can control everything that happens on our mobile devices. That's not great. "
Lachman says the terms of service laid down by these platforms seem to apply to some users, and not to others, specifically world leaders.
That inconsistency leaves room for online abusers to run amuck and spread violence without getting censored, which leads the rest of the online community to believe that the platforms are picking and choosing who gets to stay.

1:21


Trump condemns 'unprecedented assault on free speech' in wake of social media crackdown



Cue a common argument on why the platforms should no longer be allowed to set the rules for themselves.
"The problem with letting the industry regulate itself is that we know full-well over the last several years, that has not worked very well," said Fuyuki Kurasawa, York University research chair and director of the Global Digital Citizenship Lab.
"Social media corporations are very good at convincing us that they have very rigorous procedures and rules when it comes to determining who is able to be on the platform. But the reality is that they don't. They are making up the rules as they go along, for the most part," said Kurasawa.
"There's too much power in the hands of a few platforms that allow this kind of misinformation to grow and spread too quickly … and so those companies need to be broken up," said Lachman.
Broken up through government regulation.
Advocates for this say it would lay down clear, consistent guidelines for all social media platforms on what exactly can and can't be said, and what consequences would be instore for violators.
It's not a new plea, but it is one that University of Waterloo assistant professor of Communication Arts Shana MacDonald says isn't happening fast enough.
"We know that misinformation spreads six to seven times more than facts," said MacDonald. "So I really do encourage and hope to see — with the kind of damage we've seen go on — that that relationship between governments and tech giants is taken more seriously."
Some say government regulation would mean we're one step closer to a George Orwellian society. But Lachman, Amarasingam, and MacDonald all say regulation would protect users from the rampant harms of social media, such as cyberbullying and doxing. It would also show that public figures cannot get away with spreading baseless claims online. And it would also decrease misinformation — since a Cornell University study found that the biggest driver of COVID-19 misinformation during the first half of 2020 was — you guessed it — Donald Trump.

2:02


Trump slammed for suggesting disinfectant ingestion as COVID-19



"We have medical regulations. We have regulations about vaccinations and whether your kids can go to school. We accept a lot of limitations in society, for the good of society," said Lachman. "It is past time for governments to decide this is important. This is not new media anymore."
"Radio is regulated, TV is regulated, but somehow social media gets to function completely untouched," said Amarasingam.
"That is probably going to start to change."
Still, Amarasingam and Lachman say some platforms have made an effort to take accountability.
We saw it in 2019, when Mark Zuckerberg penned an opinion piece in the Washington Post. We saw it in 2015, during Twitter's fight against ISIS. And we saw it on Jan. 13, when Jack Dorsey admitted Twitter's policies and enforcement have been inconsistent.
But Kurasawa, MacDonald and Lachman say moving towards safer online communities is going to cost platforms a lot more than just admitting failure.
The real price would be loss of revenue, which they say is a big factor in why these platforms are still shying away from government regulation, despite publicly calling for it.
"[The platforms] are in the business — not so much of protecting free speech or banning people — but they are in the business of data collection, data analysis, and selling that data. In other words, they need user engagement," said Kurasawa.
"Unfortunately the things that create the most user engagement are forms of content that generate strong emotions, often controversies."
"We know that things that make us angry — things that create tense conversations online — are the things that draw us into social media and keep us there, and so they are the things that make money," said MacDonald.
Could the events from Jan. 6 speed up conversations between tech giants and government?
Lachman and Amarasingam say perhaps … but the bottom line is that the Capitol siege has shown the world that we cannot afford to wait for regulation any longer.

1:26


Trump alludes to social media ban during farewell address



© 2021 Global News, a division of Corus Entertainment Inc.
How To Harness The Hot New Social Media App Clubhouse To Build Your Brand – Forbes
At age 27, Jessica Williamson already has established a six-figure business, Ete Swimwear. While running her company, she also coaches other female e-commerce entrepreneurs on how to scale and grow their businesses. Recently, Williamson received an invitation to join Clubhouse, one of the newest social media platforms.
After learning that Clubhouse can connect you with some of the world's most prominent business and industry leaders via live voice interaction, Williamson decided to give it a try. She quickly discovered that the app indeed enabled her to speak directly with numerous movers and shakers. So, she jumped in fully. In just two days, she already had gained hundreds of new followers – not just on Clubhouse, but on other social media platforms, as well.
Here is what Williamson has learned about Clubhouse so far.
1. Clubhouse is an authentic way to interact with famous people.
Everyone is on Clubhouse to give value. When I first joined, I entered a "room" dedicated to business growth. On the "stage" were Grant Cardone, Tiffany Haddish, Jim Kwik and several USA Shark Tank investors – people with millions of followers! Then, I asked and was granted access to the "stage" with them.
Because Clubhouse links directly to your Twitter and Instagram accounts, there are no DM functions or chat functions, comments or likes. The only way to interact with people through Clubhouse is via voice. That means you get to ask questions, seek advice, and tell people exactly what you have to offer.
Within minutes on the app, I got to speak directly to famous people, and it was all completely live. It was like a normal phone call. It was insane! I was speaking with the biggest business leaders in the world. I was blown away. Hearing people's real voices definitely helps to build connection.
2. Clubhouse helps potential followers understand the value you can offer.
In order to soak up the value you can get from the platform, put yourself out there as much as you can. Because of my experience in podcasting and doing Instagram live, I'm more than comfortable putting my hand up and hoping to be invited onto the "stage." And I have been. It has proven a great opportunity to share my business insights. Just being on stage got me 60 new followers. Even Tiffany Haddish followed me! (I doubled checked; it's not a fake account.)
Since the Clubhouse app links directly to Instagram, it quickly builds your follower count. In fact, I gained 200 new Instagram followers after just two days on Clubhouse. I also got about 50 new direct messages (DMs). In the past, I'd be lucky to get one or two DMs each month from people I don't follow. DMs are usually a more meaningful way to connect with followers, as they ask serious questions and genuinely want your expertise.
3. Getting in early means more opportunities.
There's so much opportunity on this app right now because you have to be invited by someone who is already on Clubhouse. Each person currently receives only a few invites, so it's still super exclusive. However, it is growing exponentially.
As a first mover, it feels very meaningful to me to be on Clubhouse, so I am making the most of it. I'm certain that as time goes on, we may not be able to access the featured speakers as easily as we can now, because the rooms will become crowded. This will mean fewer opportunities to get on to the stage and speak to the celebrities. I've therefore been spending a lot of time on the app to make sure I'm getting the most out of it.
4. You can learn how to use Clubhouse by listening in on different "rooms."
Honestly, I had absolutely no idea what I was doing or how the app worked when I joined. However, upon jumping into a few groups and putting myself out there, I got the hang of it very quickly. In several groups, people were chatting about all the functions of the app and how Clubhouse actually works, so that was really handy.
5. Quick tips on how to use Clubhouse.
· Round table discussions work best – not a hierarchy of someone speaking. When people can join in and speak, they stick around!
· Have as many moderators as possible to create a larger room.
· Raise your hand to ask moderators to let you speak. You can leave a room any time by "peacing out."
· Your bio shows up as SEO, so it is key to communicate what value can you offer in the first three lines.
· Showing up and actually participating in groups is vital. I asked one question and gained five to ten followers.
· Co-hosting groups is critical, as well. Partner with people to host rooms on a certain topic.
· You need to reset the room a few times for all the new people that have joined.
· A good length for a program is 60 to 90 minutes.
· Ask people to DM you a word. For example, "DM me for freebie" or whatever so you can send them the link to your resources.
Bernie Sanders' inauguration meme gets social media attention from sports world – Sporting News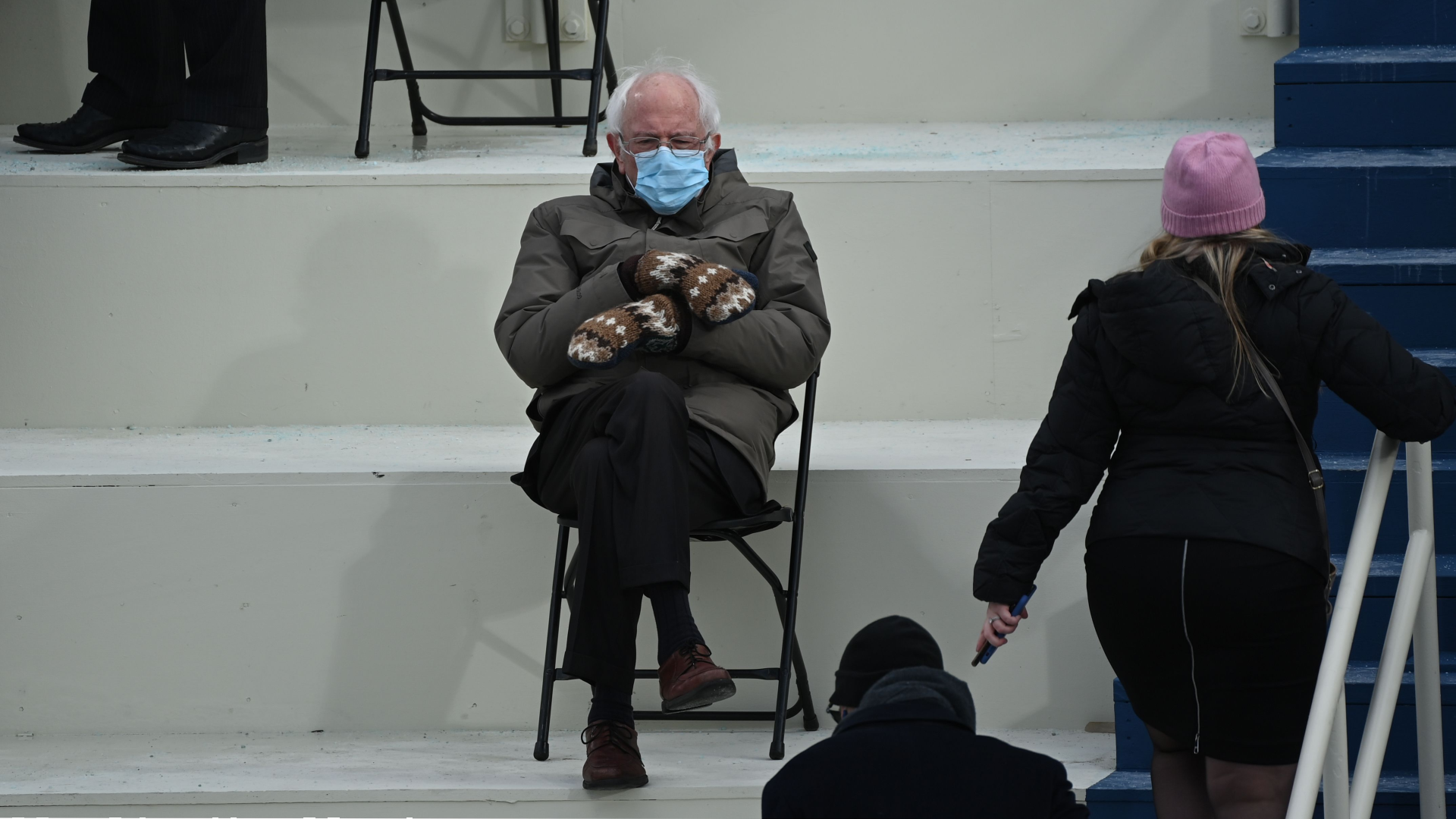 Bernie Sanders has a knack for online stardom.
The senator from Vermont is already the subject of one well-known meme — we'll get to that in a second — and on Wednesday, thanks to his inauguration outfit, socially-distanced spot and demeanor at the Capitol, he earned another one.
First off, props to Sanders who was sporting the same jacket from the original "I am once again asking" meme. If the jacket still fits and is in good shape from 2019, why not keep wearing it?
So aside from the coat, he's got a new meme thanks to a photo that popped up of the 79-year-old senator sitting in a folding chair socially distanced from everyone. He sat in said coat, with his arms crossed and warm mittens on his hands and his legs crossed — and, of course, he had on a mask.
Following COVID-19 protocols, Sanders became a social media sensation once again and the sports world was quick to follow suit as well.