LDAC's first virtual concert and art show of the year released – BC Local News – BCLocalNews
The first Lakes District Arts Council (LDAC) virtual performance and Off The Wall Art Show of the new year features photographs by the Southside's own Mike Robertson and music by the classical piano and violin duo of meagan&amy.
"Like most folks my age, I started taking photographs (very sparingly) with the family Kodak Brownie. Santa brought us a Polaroid in 1970 and then I bought my own Instamatic when I was in high school. I entered a small collection of prints and won the Best Photographer trophy at the 1980 Lakes District Fall Fair!" says Robertson.
Robertson considers himself an amateur photographer as he has never wanted to make money selling photos.
"My greatest pleasure is to give smiles and memories to others. The theme of my photography is Beyond Ordinary. I study and attempt to capture moments where different aspects of human and nature collide. I am not a 'techie' and have found photography to be kind of a free-thinking exercise and not be bound by exact rules and techniques," he says.
The second act of the virtual show is meagan&amy,a vibrant Canadian duo consisting of violinist Amy Hillis and pianist Meagan Milatz, who share an intense passion for innovative programming and fearless music-making. Praised for their energy, sensitivity, and musical maturity, they were awarded the first ever "RoadTrip!" Canadian recital tour by Jeunesses Musicales Canada, Debut Atlantic and Prairie Debut. As a result, they will tour to over 50 different Canadian cities starting in 2019 and into the future.
meagan&amy's debut album, Roots, was released in September 2019 with the generous support of the Canada Council for the Arts. Other recent highlights for the duo include recitals at Ottawa Chamberfest and the Festival International de Lanaudière as well as a national broadcast of their complete recital on CBC's In Concert in 2018. They are regularly featured on other CBC Music programs such as Tempo with Julie Nesrallah and Backstage with Ben Heppner.
To view the 23-minute concert meagan&amy prepared just for the LDAC, go to this link – https://www.youtube.com/watch?v=V2FdV2dEl6g&feature=youtu.be
Next month's show will be coming around the end of February, featuring the art work of Albert Gerow and a performance by The Montreal Guitar Trio.
In other news, coldsnap, Prince George's annual winter music festival, starts today. This year's festival is 100 per cent virtual, featuring daily live streams and pre-recorded concerts by BC performers including Rachelle van Zanten, Kelsey and Bella Rain Abraham, Saltwater Hank, Barney Bentall, Kim Gouchie and Alex Cuba.
Also, the Lakes District Museum has put out a call for proposals from local artists. For more information call Michael at the Museum, or send an e-mail to: ldmuseumsociety@gmail.com
– John and Sandra for the LDAC group of volunteers
Burns Lake Lakes District News
ARTS AROUND: Last chance to view children's exhibit at Rollin Art Centre – Alberni Valley News
This week is your last chance to view an art exhibit featuring local Port Alberni children.
"Moments in Time" is the current art exhibit at the Rollin Art Centre. It is a collaboration of children's art organized by the Early Childhood Educators of B.C. Port Alberni branch, which looks at the world through children's eyes.
The exhibit runs until May 20. The Rollin Art Centre is open Tuesday to Saturday, 11 a.m. to 4 p.m., and is located at the corner of Eighth Avenue and Argyle Street.
NEXT EXHIBIT
"SPRING – Seasonal Imagery" is the title of the next art exhibit at the Rollin Art Centre. This exhibit will reflect the gentle changes of the season and create a unique mood and feeling associated with this season based on your interpersonal reflection.
Join us in the gallery on Saturday, May 28 for refreshments and an opportunity to meet with some of the featured artists: Janice Sheehan, Mae LaBlanc, Joan Akerman, Jayant Chaudhary, Cathy Stewart, Cynthia Bonesky, Mary Ann McGrath, Cheryl Frehlich, Dodie Manifold, Patrick Larose and Karen Poirier. The exhibit open May 25.
PAINTING WORKSHOPS
Two-Day Watercolour Workshop at Rollin Art Centre — June 1 and 2 from 10 a.m. to 4 p.m. — Ionne McCauley is an accomplished artist, quilter, and author, currently living in Qualicum Beach, who has taught colour workshops for more than 25 years. Next month, she will teach the basics of colour theory and pigments during a watercolour workshop in Port Alberni. In this workshop, you will learn about value, hue, tone, shade and saturation. Explore the learnable magic of watercolour paints, how to achieve glowing colours and how to choose (and use) pigments for exciting colour combinations.
Workshop Fee is $150 and supply fee (paid to the instructor) is $20. Register at the Rollin Art Centre: 250-724-3412. Numbers are limited.
One-Day Acrylic Workshop at Rollin Art Centre — Saturday July 16 from 10 a.m. to 3 p.m. — When you think of landscapes, you might think "Oh that's too complicated." Not so! If you break it down into simple shapes, it becomes easy and fun. In this workshop, Susan Schaefer will guide you through landscapes, discussing what makes a good composition while simplifying your landscape. Schaefer has been a professional artist for the past 20 years and has taken workshops from some of Canada's finest artists. She has a fun and relaxed way of teaching, working with students at their individual level and ensuring a good learning experience for all.
Workshop Fee is $115 +GST and a supply list is available. Register at the Rollin Art Centre: 250-724-3412. Numbers are limited.
LOOKING FOR ARTISTS
The annual Solstice Arts Festival is back after a two-year hiatus due to COVID-19. Join us Saturday, June 18 from 11 a.m. to 4 p.m. at the Rollin Art Centre.
Spaces are available for artists and artisans on our terrace or in our two gardens. There is lots of room to spread out and it is a picture-perfect spot to set up an easel or demos of the artwork you create.
If you are interested in displaying at this year's free family event, call the Rollin Art Centre at 250-724-3412 for more info. Spaces are $25 for the day.
SUMMER TEAS
Teas on the Terrace events are back at the Rollin Art Centre. Tickets are now on sale at a cost of $20 for our strawberry teas and $25 for a "High Tea."
The first tea will take place July 7, with musical guest to be announced.
WHAT'S HAPPENING
June 1 and 2 – Workshop – "Watercolour – The Basics of Colour Theory and Pigments"
June 18 – Solstice Arts Festival – Spaces available for artisans
June 22 – July 22 – "Women's Work" – group exhibit – Sue Thomas, Jillian Mayne, Colleen Clancy, and Ann McIvor
July and August – Teas on the Terrace – Tickets available now
Melissa Martin is the Arts Administrator for the Community Arts Council, at the Rollin Art Centre and writes for the Alberni Valley News. Call 250-724-3412. Email: communityarts@shawcable.com.
Let's Get Digital! art exhibition at Palazzo Strozzi – The Florentine
Fort McKay artist's council art reflects reconciliation and healing hopes, but demands injustices be confronted – Fort McMurray Today
Article content
The artwork in the new council chambers at the Jubilee Centre reflects the hopes and beliefs that local First Nation and Métis peoples have for reconciliation.
Article content
But Frederick McDonald, an artist from the Fort McKay First Nation commissioned for the paintings, made sure people at an April 25 unveiling ceremony didn't forget why the artwork was made in the first place.
In a nine-minute poem, McDonald made people at the ceremony confront the legacies of the residential school system, 60s scoop and colonialism have on Indigenous peoples.
He talked about the high rates of homelessness, drug and alcohol addictions, unemployment, food insecurity and suicide found today in Indigenous communities across Canada.
His poem discussed the racism and discrimination inflicted upon Indigenous peoples by some leaders in politics, policing, health care, education, religion and business. He blasted the RCMP's role in enforcing these policies throughout the years.
Politicians from all levels and parties were skewered. Even racist depictions of Indigenous people in movies and TV shows weren't spared in his poem. If people listening to his poetry felt uncomfortable, that was his point.
"Have you heard enough? Have you had enough? Do you want to do something? Really, you still want to talk about truth and reconciliation?" he said.
"If you do, let's talk about healing. Let's talk about all our pains: there's, your's and mine. Let's talk about the drum's. Let's talk about the dance. Let's talk about celebrations and ceremony, about differences of culture, about understanding and working together. So much to do. So much to do. So let's begin."
Article content
McDonald's poem captured the rage felt by so many First Nation, Métis and Inuit people, but his three paintings in the council chambers reflects his optimism in the future. He wanted his art to acknowledge the past but not dwell on pain or anger. This was also insisted upon by an elders council.
"As Aboriginal people, we want to be able to tell our own stories, so that's what these paintings are all about," said McDonald. "It's about us sharing our stories, sharing them in a positive manner, working towards the future together—not side-by-side, not separate—but together going forward."
A fourth piece is a talking stick, which was created by Elder Shurley Arthurs of the Fort McMurray First Nation 468. It sits at the desk where guest speakers address council. All the pieces were bound by teachings of honesty, love, truth, humility, wisdom, courage and respect.
"We hope relations between all people will continue to flourish. That is my big wish. I pray for that everyday. Because with the world as it is, who knows how much short time we have?" said Arthurs. "Love the people around you. It's very important."
Council decided in 2019 that the artwork for the new chambers would be completed by Indigenous artists, following a motion made by Councillor Keith McGrath. A committee was formed that included elders, knowledge keepers and creatives from Indigenous communities in the region.
Mayor Sandy Bowman said the art will remind council of the Indigenous history of this region, which serves "as a constant reminder to unite, and foster change and understanding."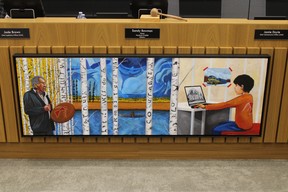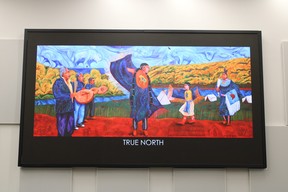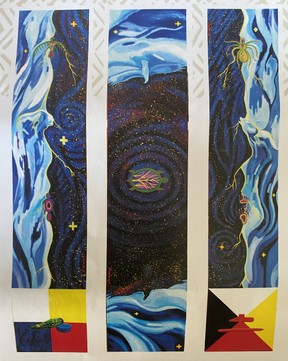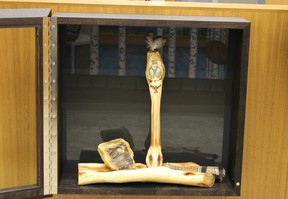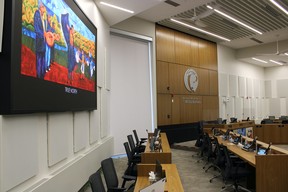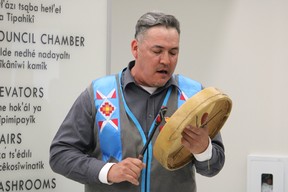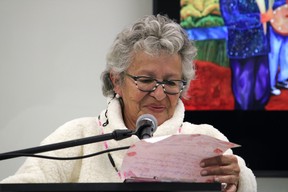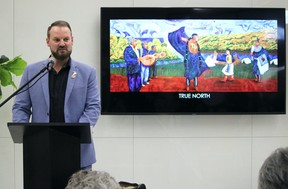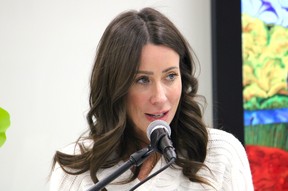 vmcdermott@postmedia.com