Learning how the coronavirus affects the body offers clues to fight COVID-19 – CBC.ca
This is an excerpt from Second Opinion, a weekly roundup of eclectic and under-the-radar health and medical science news emailed to subscribers every Saturday morning. If you haven't subscribed yet, you can do that by clicking here.
---
The devastating damage that the novel coronavirus inflicts on the human body can set off inflammatory havoc. As we learn more, doctors are gaining clues to hopefully prevent deaths and improve treatment.
Last December, COVID-19 entered the world stage as a flu-like illness causing fever, dry cough and a sore throat.
Since then, the list of how the illness can present has expanded, and expanded again, to include gastrointestinal symptoms like diarrhea, general aches, loss of taste and smell and serious blood-clotting problems, among others.
Of the more than five million infections globally so far, 2.4 million have recovered.
Most infected people have so few symptoms they are better off at home. The minority of serious infections in patients — mainly those over 65, though no age group is left unscathed — can confound health professionals caring for them.
The illness can worsen to a severe stage called Acute Respiratory Distress Syndrome, which includes severe lung inflammation and damage. These are often the patients who are admitted to intensive care units and need life support such as ventilation.
Dr. Lynora Saxinger, an infectious disease physician at the University of Alberta, co-chairs a provincial scientific advisory board reviewing how COVID-19 manifests and what it means for reducing transmission and extending treatment beyond current care measures.
"The landscape shifts really quickly," Saxinger said. "We just want to make sure that we're not missing [what] could be spreading, because that's where we're going to run into trouble."
Not typical clots
As initial anecdotes about inflammatory-like effects such as blood-clotting complications mounted into a clearer signal for caution, clinicians adapted their care while scientists worked to understand why it happens.
Now, Saxinger said there's more evidence of clotting damage in both large and small blood vessels. "This virus is doing different things in the body."
Experts say some of these inflammatory effects look to be unique to this particular coronavirus, which is known as SARS CoV-2.
Dr. Zain Chagla, an associate professor of infectious disease at McMaster University in Hamilton, Ont., said the wide extent of clotting with this virus differs from other infections, including from the deadly SARS and MERS coronaviruses. With COVID-19, the clots occur in veins in the legs and lungs, as well as in arterial ones that cause strokes and can lead surgeons to resort to amputating a patient's limbs.
Medical researchers have also found tiny clots that damaged tissue throughout the body in hospitalized patients and in autopsies.
Chagla said this means that "from a therapeutic standpoint," it might be better to give patients a low dose of heparin, an anticoagulant or blood thinner. It's often used before surgery and in a variety of medical conditions to prevent and treat clots.
Clinical trial researchers are also exploring the use of high-dose anti-coagulants in carefully selected patients, Chagla said.
This week, Health Minister Patty Hajdu announced an accelerated path for clinical trials to help find answers to urgent COVID-19 diagnosis, treatment, mitigation or prevention questions while keeping patients safe.
On Friday, Montserrat Puig of the U.S. Food and Drug Administration and her team published what they called a road map for effective treatment of COVID-19, based on both repurposing existing approved drugs as well as those still under development.
The review, published in Frontiers in Immunology, unravels factors leading to the "cytokine storm" that can rampage in people with severe COVID-19. Cytokines are small molecules released by the body's immune system to co-ordinate response against an infection or injury, ranging from a mild fever to suspected deaths in the 1918 flu pandemic.
Scientists are still working to understand the key events in cells, tissues and the body's immune system that tips the balance from a normal, protective, "hey, come help" call for reinforcements to an unnecessary, four-alarm call that leads to a life-threatening overreaction.
Puig wrote that potential drugs include those that could block the virus from entering our cells in the first place, antivirals to stop the virus from making copies of itself and therapies called monoclonal antibodies that dampen the haywire response from cytokines.
Inflammatory storm unleashed
People who develop symptoms of COVID-19 do so within 14 days, and it mostly occurs about five days after exposure.
Saxinger said when patients struggle with congested lungs and poor blood pressure control, it's often a manifestation of lung inflammation in response to the infection.
She said there's also an arc to the story of how the disease marches through the body from initial infection to damage to recovery or death.
"The initial infection triggers this body-wide response that is devastating," Saxinger said. "Then, when the infection itself might be coming under control, it's almost like you unleash this storm of immune reactivity and inflammation."
Once the storm is set off, doctors say treating the infection itself is unlikely to help much.
So, what could help? As physicians report more symptoms, scientists working in parallel are exploring why and how the virus replicates in some tissues and organs so well.
Matthew Miller, an associate professor of infectious disease and immunology at McMaster, is following the scientific advances.
The virus seems to use a receptor called ACE2 to enter human cells. Miller said many groups of researchers are working to understand what cells in our body have active proteins where the virus might be able to replicate and cause disease.
"Knowing what cells a virus is capable of infecting is really important, because it can help us anticipate what types of diseases or what types of symptoms it might cause," Miller said.
It's thought that the infectious dose a person is exposed to, as well as minute, genetic differences in the individual and whether they have underlying health conditions (like heart disease or diabetes) all play a role in how COVID-19 manifests.
Understand virus to guide reopening
For now, medical researchers are exploring how ramping up a beneficial aspect of the immune response that cells normally use to kill off a virus could be complemented with "immune modulators" to tamp down overreactions. It's a delicate balance and timing is key.
Miller said as we learn more about the unique features of SARS-CoV-2, governments and public health officials have been forced to "learn on the fly" and adapt pandemic plans built for a different respiratory infection: influenza, commonly called flu.
"One of the areas that this pandemic has really brought to light is that there's not enough focus on prevention control measures," he said.
Countries imposed and eased lockdowns without a firm grasp on what measures work best for this particular virus, leading to differences across the globe and shifting recommendations on wearing masks or physical distancing.
"I think we're all learning that we don't understand nearly as well as we should," Miller said.
WATCH | Why we should expect waves of COVID-19:
Public health basics like staying home when sick, handwashing and cough etiquette apply to all respiratory pathogens. It's the specifics that are still a work in progress.
For Saxinger, these knowledge gaps mean that understanding COVID-19 will be a long-term effort.
"It's not just going to be a one, we're done," Saxinger said. "We are all going to have to figure out the best way to manage people and try to give them the best outcomes possible."
---
To read the entire Second Opinion newsletter every Saturday morning, subscribe by clicking here.
Coronavirus (Covid-19) vaccines latest updates: Covaxin to be tested on 375 people in Phase I; Moderna delays final phase trials – The Indian Express
Coronavirus (Covid-19) Vaccine Latest Update: A volunteer receives a COVID-19 test vaccine injection developed at the University of Oxford in Britain, at the Chris Hani Baragwanath hospital in Soweto, Johannesburg. (AP)
Coronavirus (Covid-19) Vaccine Latest Update: China's Sinovac Biotech has become the latest company to start Phase III trials of its coronavirus vaccine candidate in Brazil following a fast-track approval by regulators last week.
So far, the vaccine candidates being developed by AstraZeneca-University of Oxford and China National Pharmaceutical Group (Sinopharm) are the only other jabs in late-stage trials. Moderna also plans to start its late-stage trial this month.
According to the World Health Organisation (WHO), there are 19 vaccine candidates currently in the clinical evaluation as of July 6. India's own vaccine development efforts has gained pace, with Bharat Biotech planning to complete enrollment of Phase I trial participants by July 13 for its candidate Covaxin.
However, amid the race for a Covid-19 vaccine, top US infectious disease expert Anthony Fauci has cautioned that a shot to protect against the infection won't work like the measles vaccine, which lasts throughout a person's lifetime.
"You can assume that we'll get protection at least to take us through this cycle. We may need a boost to continue the protection, but right now we don't know how long it lasts," Bloomberg quoted Fauci as saying.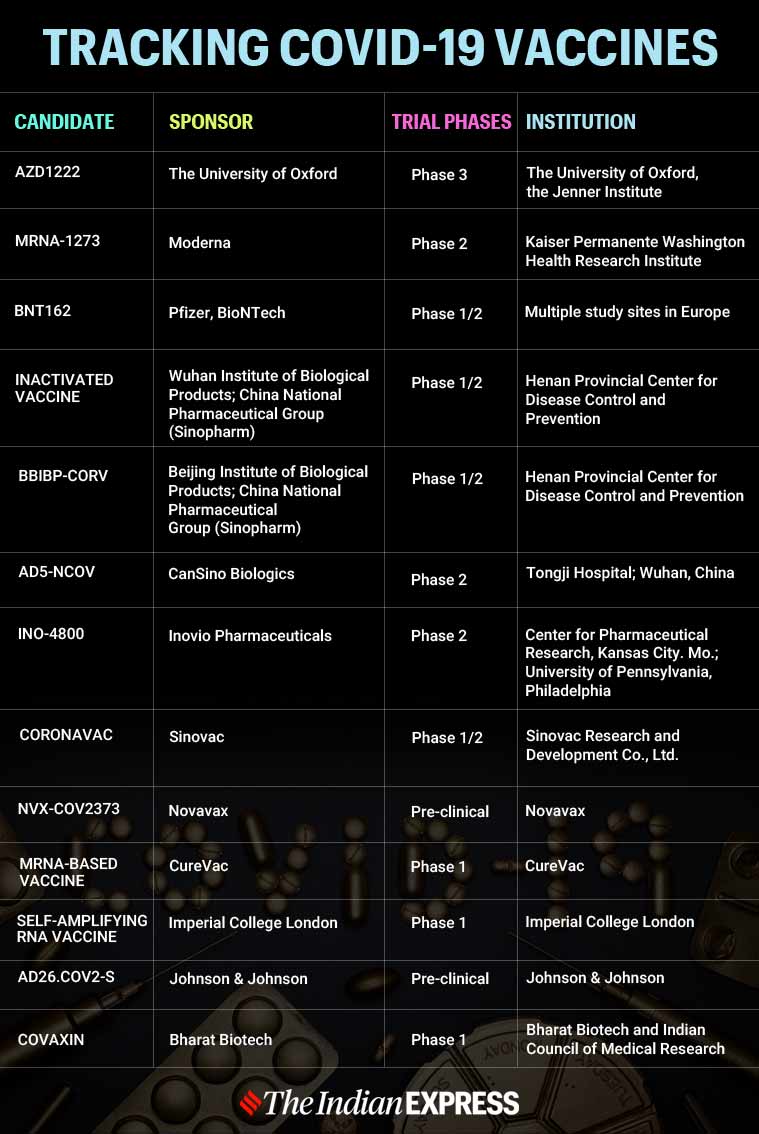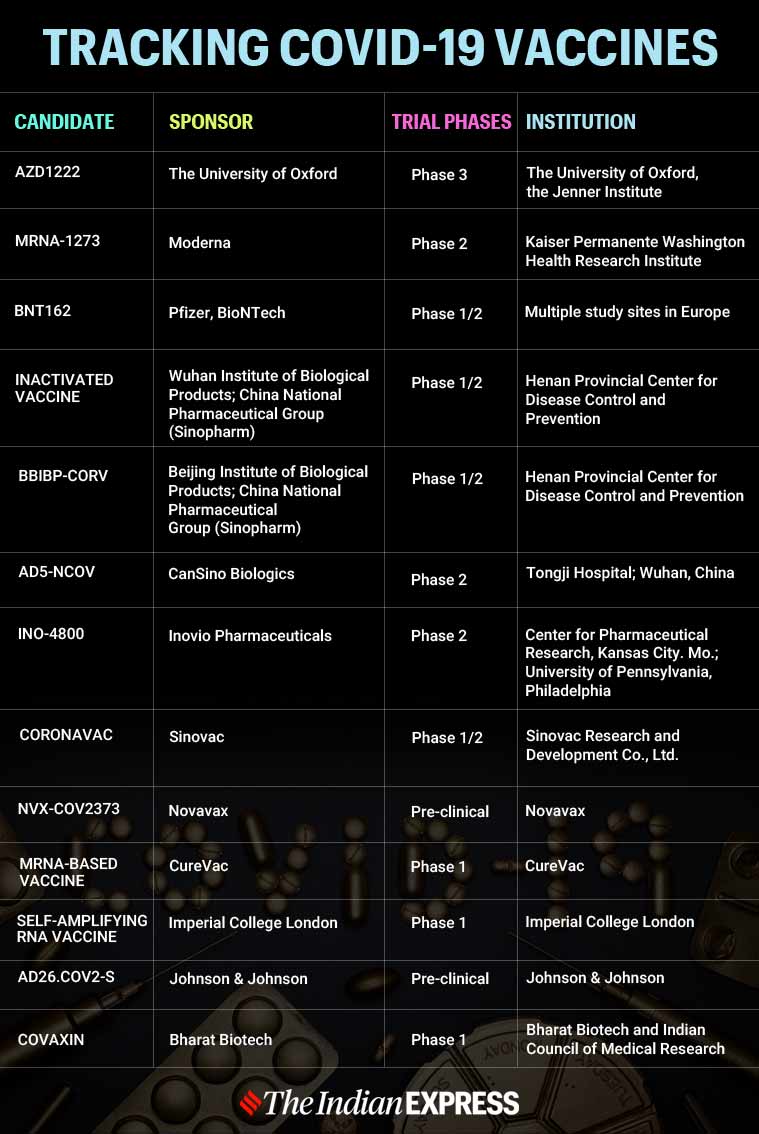 Coronavirus (Covid-19) vaccine latest updates, status check
---
💉 Sinovac Biotech coronavirus vaccine status
Nearly five months after it initiated the development of a vaccine candidate, China's Sinovac Biotech has started Phase III trials in Brazil. Sinovac will dose nearly 9,000 healthcare professionals working in Covid-19 specialised facilities, Reuters reported.
The study will be done in partnership with Brazilian vaccine producer the Instituto Butantan. Simultaneously, Sinovac is also preparing a coronavirus vaccine plant, which it hopes will be ready this year and capable of making up to 100 million shots a year.
Phase I and Phase II trials typically test the safety of a drug before it enters Phase III trials that test its efficacy.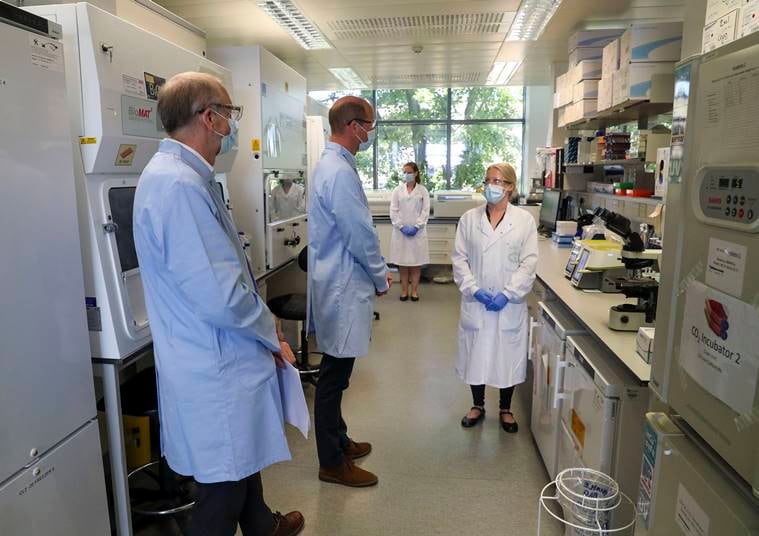 Britain's Prince William wears a mask as he meets scientists during a visit to the manufacturing laboratory where a vaccine against COVID-19 has been produced. (AP)
💉 Moderna coronavirus vaccine status
Moderna Inc, which was supposed to start phase III trials of its experimental mRNA-1273 Covid-19 vaccine on July 9, has delayed it for an indefinite period of time, a news report said.
The trial, part of the US government's Operation Warp Speed, will involve 30,000 patients. In its June update, Moderna said the primary objective of the trial was to assess the ability of the vaccine to prevent symptomatic Covid-19 disease.
A report by STAT News said Moderna was making changes to the trial's protocol, which has pushed back the expected start date. However, CEO Stephane Bancel told CNBC the drugmaker still intended to start the trial in July.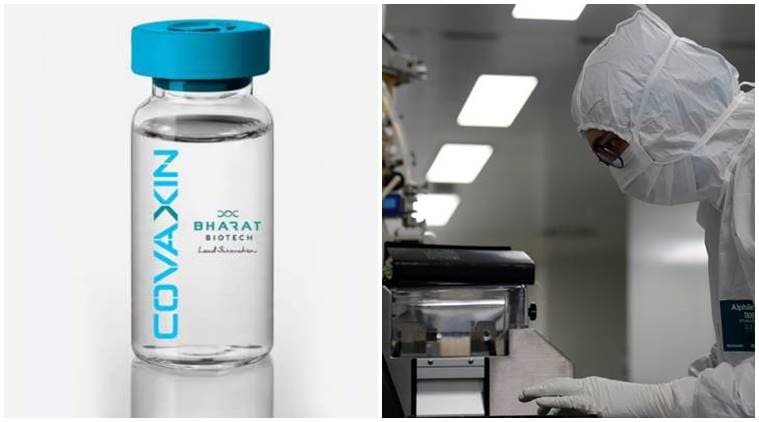 Covaxin has been cleared for Phase-I and Phase-II trials by the Drug Controller General of India. (File)
Covaxin, which has been cleared for Phase-I and Phase-II trials by the Drug Controller General of India, will be tested on more than 1,000 people in the two phases, Bloomberg reported. Jointly developed by ICMR and Bharat Biotech India Limited, Covaxin will be tested on 375 people in Phase I trial and on 750 people in the next phase. The company has set July 13 as the final date of enrollment for the trials.
Meanwhile, the process of conducting clinical trials for Covaxin began on Tuesday at the Nizams Institute of Medical Sciences (NIMS) in Hyderabad.
An investigator who is part of the trial said "immunogenicity" – the ability to provoke an immune reaction – will be the key aspect to be examined and which will decide if the trial can move from Phase I to II. Another investigator said the first phase was likely to take "at least three months".
Covaxin is an "inactivated" vaccine — one made by using particles of the SARS-CoV-2 that were killed, making them unable to infect or replicate. Injecting particular doses of these particles builds immunity by helping the body create antibodies against the dead virus.
READ | All you need to know about Bharat Biotech's Covaxin
💉 GSK-Sanofi coronavirus vaccine status
Human trials of the Covid-19 vaccine candidate being jointly developed by Sanofi and GlaxoSmithKline is set to begin in September. Sanofi is working on two possible COVID-19 vaccines, one of which uses an adjuvant made by GSK to potentially boost its efficacy.
Recently, a Reuters report said Britain was close to signing a 500 million pound ($624 million) supply deal with Sanofi and GSK for 60 million doses of its vaccine. The UK government has already landed a deal with AstraZeneca for 100 million doses of their vaccine candidate.
While Sanofi is contributing S-protein Covid-19 antigen based on its recombinant DNA technology, which is also used in its seasonal flu vaccine Flublok, GSK is offering its vaccine booster AS03 for their candidate.
📣 The Indian Express is now on Telegram. Click here to join our channel (@indianexpress) and stay updated with the latest headlines
For all the latest Coronavirus Outbreak News, download Indian Express App.
3 Reasons You Shouldn't Get Your Hopes Too High About COVID-19 Vaccines – Motley Fool
A safe and effective vaccine would be a shot in the arm for a world that's grown weary of the COVID-19 pandemic. The good news is that there's a lot of work going on to produce just such a vaccine. At least 19 novel-coronavirus vaccine candidates are now in clinical testing, according to the World Health Organization (WHO). Another 130 candidates are currently in preclinical trials.
But you shouldn't get your hopes too high for COVID-19 vaccines. Here are three reasons why.
1. The probability of success isn't as great as you might think
Many Americans assume that regulatory approval of a vaccine is right around the corner. President Donald Trump even publicly suggested that a "vaccine solution" for COVID-19 will be available "long before the end of the year." But these assumptions could be off-base.
WHO's list of COVID-19 vaccines includes only one U.S.-made candidate in phase 2 testing. Moderna (NASDAQ:MRNA) recently announced that its late-stage study of COVID-19 vaccine candidate mRNA-1273 would be delayed. The biotech still hopes to begin the trial in July, however. Meanwhile, AstraZeneca (NYSE:AZN) and its partner, the University of Oxford, are already recruiting for participants in a phase 3 study for their COVID-19 vaccine candidate.
The probability of these or other vaccines being successful isn't as great as you might think. Only around 24% of vaccines in phase 2 clinical testing go on to win approval from the Food and Drug Administration, according to a historical analysis conducted by biopharmaceutical trade group BIO. That percentage jumps to 74% for vaccines in phase 3 testing. But that's still a 1-in-4 chance of failure.
2. COVID-19 vaccines might not be as effective as you expect
Even if one or more COVID-19 vaccines win FDA approval, they might not be as effective as you'd expect. Why? The bar isn't all that high when it comes to efficacy.
Last week, the FDA issued guidelines for its review and approval process for COVID-19 vaccine candidates. To be considered effective, a vaccine only has to "prevent disease or decrease its severity in at least 50% of people who are vaccinated."
This threshold isn't unusual for the first vaccines against a virus for which no vaccines currently exist. However, it also means that there's a real possibility that among those who receive a COVID-19 vaccine, nearly half won't be effectively immunized against the novel coronavirus.
3. Many Americans will refuse to get a COVID-19 vaccine
Michael Jordan once said, "You miss 100% of the shots you don't take." He was, of course, referring to basketball. However, the idea is also relevant to COVID-19 vaccines.
A survey conducted by the Associated Press-NORC Center for Public Affairs Research in May found that only 49% of Americans said that they planned to get vaccinated if a vaccine against the novel coronavirus becomes available. That number isn't too surprising, considering that it's roughly in line with the percentage of American adults who get the flu vaccine.
It's possible that more Americans would want to be vaccinated against the novel coronavirus, though. Another 31% of the survey respondents stated that they weren't sure about getting a COVID-19 vaccine. However, if the percentage of Americans who refuse to be immunized isn't high enough, even an effective vaccine won't be enough to prevent COVID-19 from spreading.
Still a big opportunity
The probabilities for approval, efficacy, and potential immunization rates don't paint an encouraging picture. However, there's still a chance that one or more COVID-19 vaccines that are highly effective will win regulatory approval and gain widespread public acceptance.
And there's still a big opportunity for investors hoping that coronavirus-focused biotech stocks pay off in a huge way. For example, even though its shares have tripled so far this year, Moderna would almost certainly soar even higher if mRNA-1273 is successful in late-stage testing.
Any vaccine that's safe and effective enough to secure approval will help in the fight against COVID-19. COVID-19 vaccines might not be the magic bullet that many hope for. But combined with new treatments and better testing, they could be part of an overall arsenal that enables the world to move past the pandemic and return to normal.
Airborne coronavirus spread: Five things to know – Al Jazeera English
More than seven months after the new coronavirus was first detected, scientists and health experts are still trying to get a better understanding of how it spreads and how to curb the COVID-19 respiratory disease it causes.
The coronavirus is transmitted from person to person through "droplet transmission", including direct contact with someone who has been infected, indirect contact with contaminated surfaces, droplets of saliva from coughing or discharge from the nose when sneezing, according to the World Health Organization (WHO).
Airborne transmission is also possible, but its effects and risks have recently sparked a scientific debate.
What is airborne transmission?
The WHO has long said the new coronavirus spreads mainly through small droplets released from the mouth and nose that fall from the air in a short period.
But some scientists and researchers are increasingly pointing out to evidence that the virus can also be transmitted by even smaller droplets called aerosols. Usually generated when people are shouting and singing, these remain suspended in the air for longer and can travel farther.
How is it different from droplet transmission?
The respiratory droplets sneezed or coughed out are larger in size – a diameter of five to 10 micrometres – and the range of exposure is one to two metres (three to six feet).
Aerosols, however, are less than five micrometres in diameter and travel beyond two metres from the infected individual.
"The new coronavirus can survive in both droplets and aerosol for up to three hours under experimental conditions, although this depends on temperature and humidity, ultraviolet light and even the presence of other types of particles in the air," Stephanie Dancer, a consultant medical microbiologist in the UK, told Al Jazeera.
"Microscopic aerosols can project at least six metres in indoor environments, and possibly even further if dynamic air currents are operating. The distance depends upon how large the aerosol is."
Animation: How does coronavirus behave?
How is COVID-19 spreading through the air?
As in droplet transmission, aerosols can be released in several ways including, breathing, talking, laughing, sneezing, coughing, singing and shouting.
"Breathing would not offer much projectile force, but shouting, singing, coughing and sneezing project aerosol through the air with a range of different velocities," said Dancer.
"Even if one individual particle does not contain enough virus to cause infection, if you carry on breathing in these particles over time, you will acquire enough in your mouth, nose and respiratory tract to initiate infection."
Airborne transmission can also occur in certain medical procedures that involve the patient generating aerosols, putting healthcare workers particularly at risk.
"Coronavirus can be spread by aerosol under special circumstances if using nebulisers, bronchoscopy, intubation, dental and other oral procedures using suction and lavage," said Naheed Usmani, president of the Association of Physicians of Pakistani Descent of North America (APPNA).
"This is particularly dangerous for healthcare workers who should only attempt these procedures wearing proper personal protective equipment (PPE), including N95 masks," she told Al Jazeera.
Is airborne COVID-19 less contagious?
The extent to which the coronavirus can be spread by the aerosol route – as opposed to by larger droplets – remains disputed.
While the WHO has long maintained that the primary source of infection is through droplet transmission, it has acknowledged there was "emerging evidence" of airborne transmission.
"The possibility of airborne transmission in public settings – especially in very specific conditions, crowded, closed, poorly ventilated settings that have been described, cannot be ruled out," Benedetta Allegranzi, the WHO's technical lead for infection prevention and control, said in a news briefing this week.
This came after a group of 239 scientists from 32 countries and a variety of fields made the case in an open letter that there was a "real risk" of airborne transmission, especially in indoor, enclosed and crowded environments without proper ventilation.
Dancer, who was one of the signatories of the letter, said there is a lower risk of catching the virus the further you are from the source.
Jose-Luis Jimenez, a chemist at the University of Colorado, also told Al Jazeera the "virus loses infectivity over a period of an hour or so indoors".
How can you protect yourself?
Wearing face masks properly and maintaining physical distancing are recommended at all times.
Experts also recommend avoiding crowded places, especially public transport and public buildings.
In closed spaces at schools, offices and hospitals, increasing proper ventilation with outdoor air by opening windows can also mitigate the risk of infection, Jimenez said.
"For spaces where ventilation cannot be increased, we recommend portable high-efficiency particulate air (HEPA) filter air cleaners or possibly ultraviolet (UV) germicidal lights at the high end of need. We do not recommend other types of air cleaners."
Follow Saba Aziz on Twitter: @saba_aziz