Les Grandes conférences de l'iREx – Trottier Institute for Research on Exoplanets
The Grande conférence de l'iREx aim to allow a world-class researcher to visit Montreal to interact with iREx members and present their research and story to the general public.
Next Edition
Details of the next edition of la Grande conférence de l'iREx will be announced shortly!
Past Editions
We have been fortunate to host several internationally renowned researchers during past editions of  our  Grandes conférences.
2016 – David Charbonneau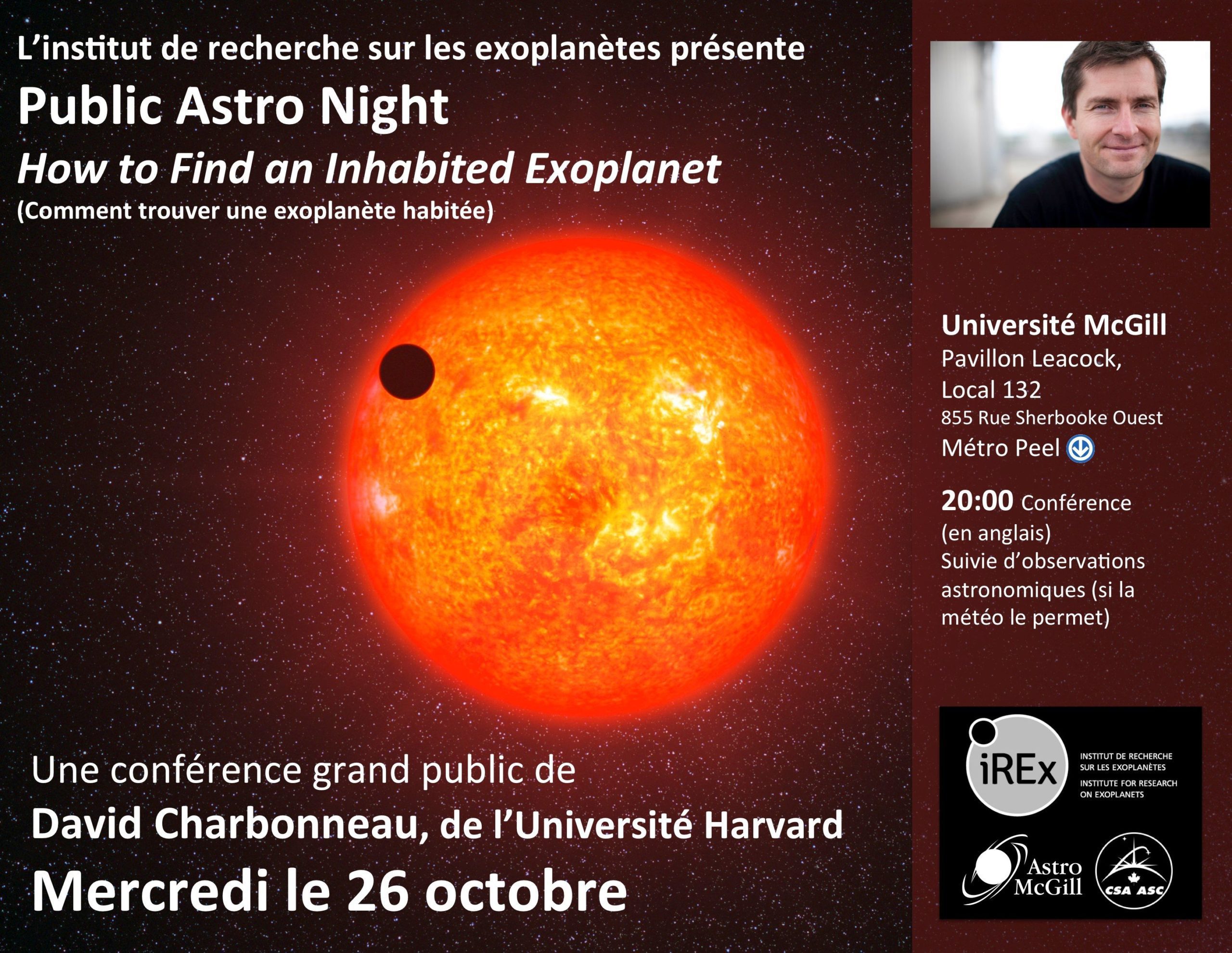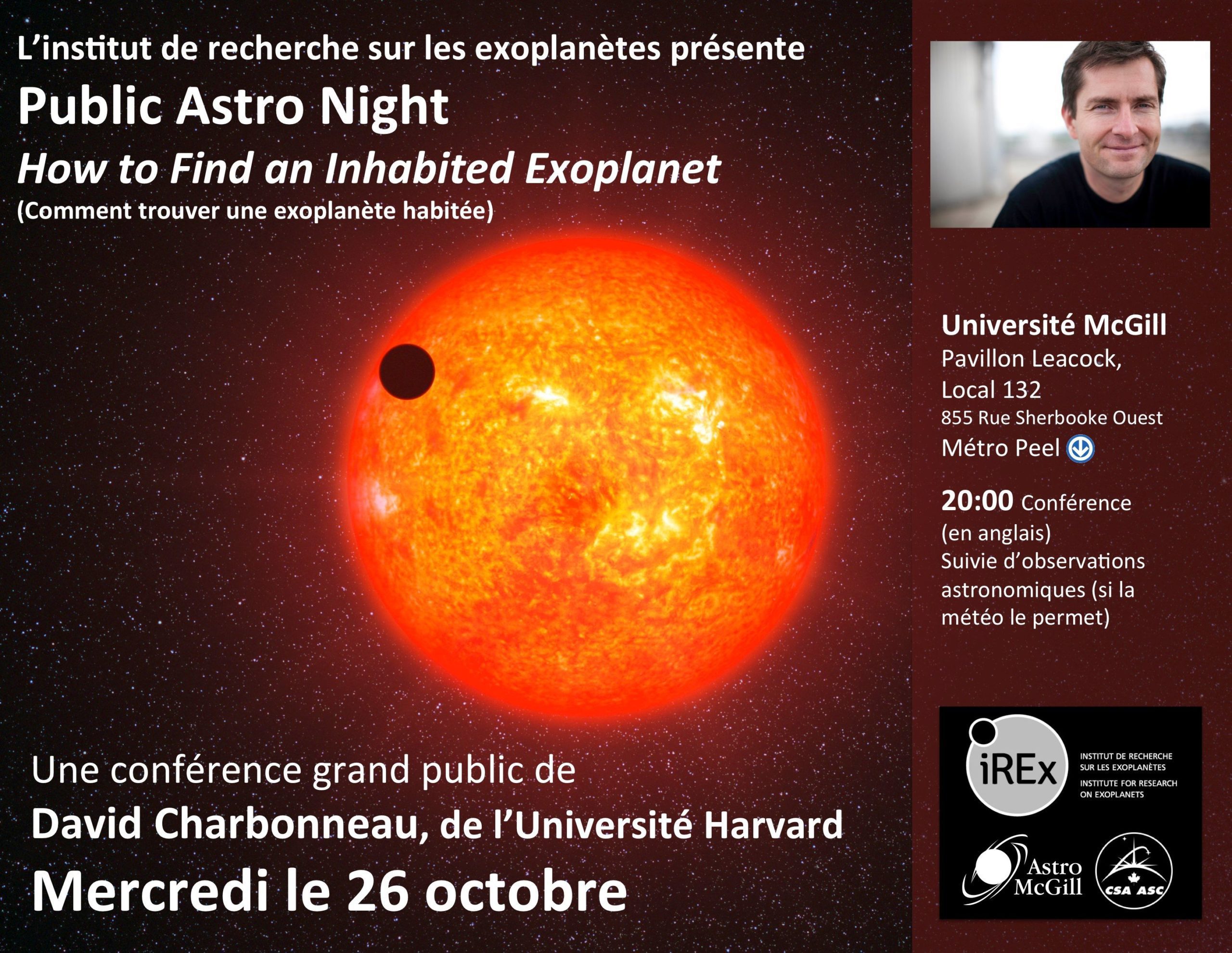 2017 – Vicky Meadows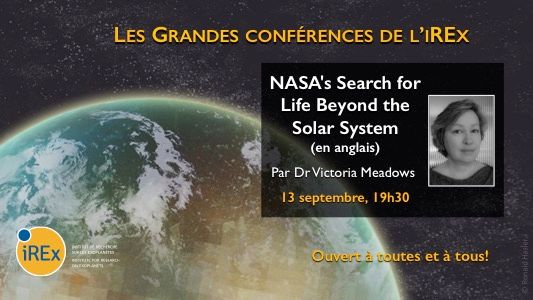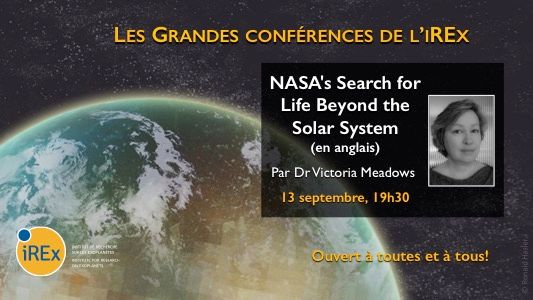 2018 – Michaël Gillon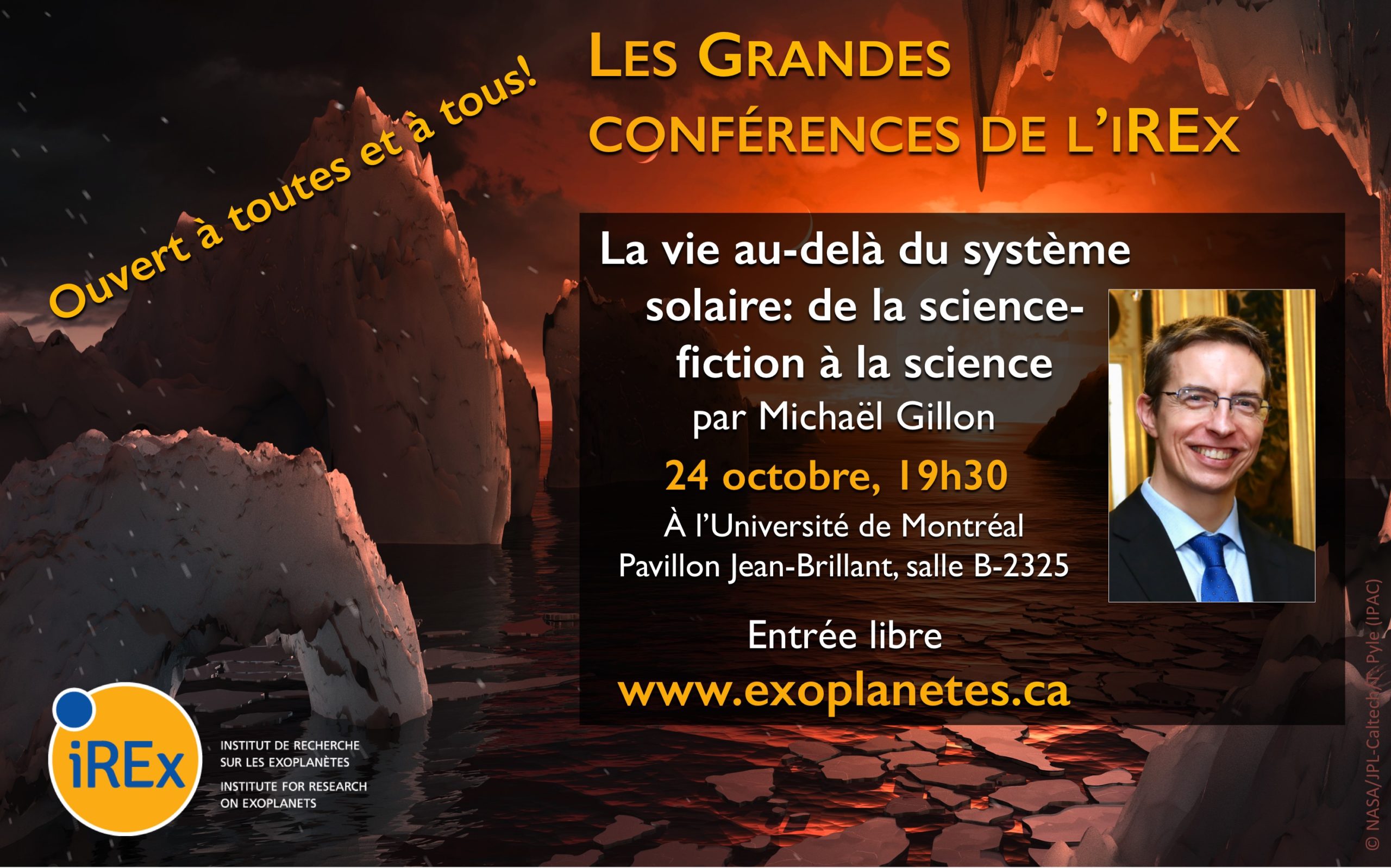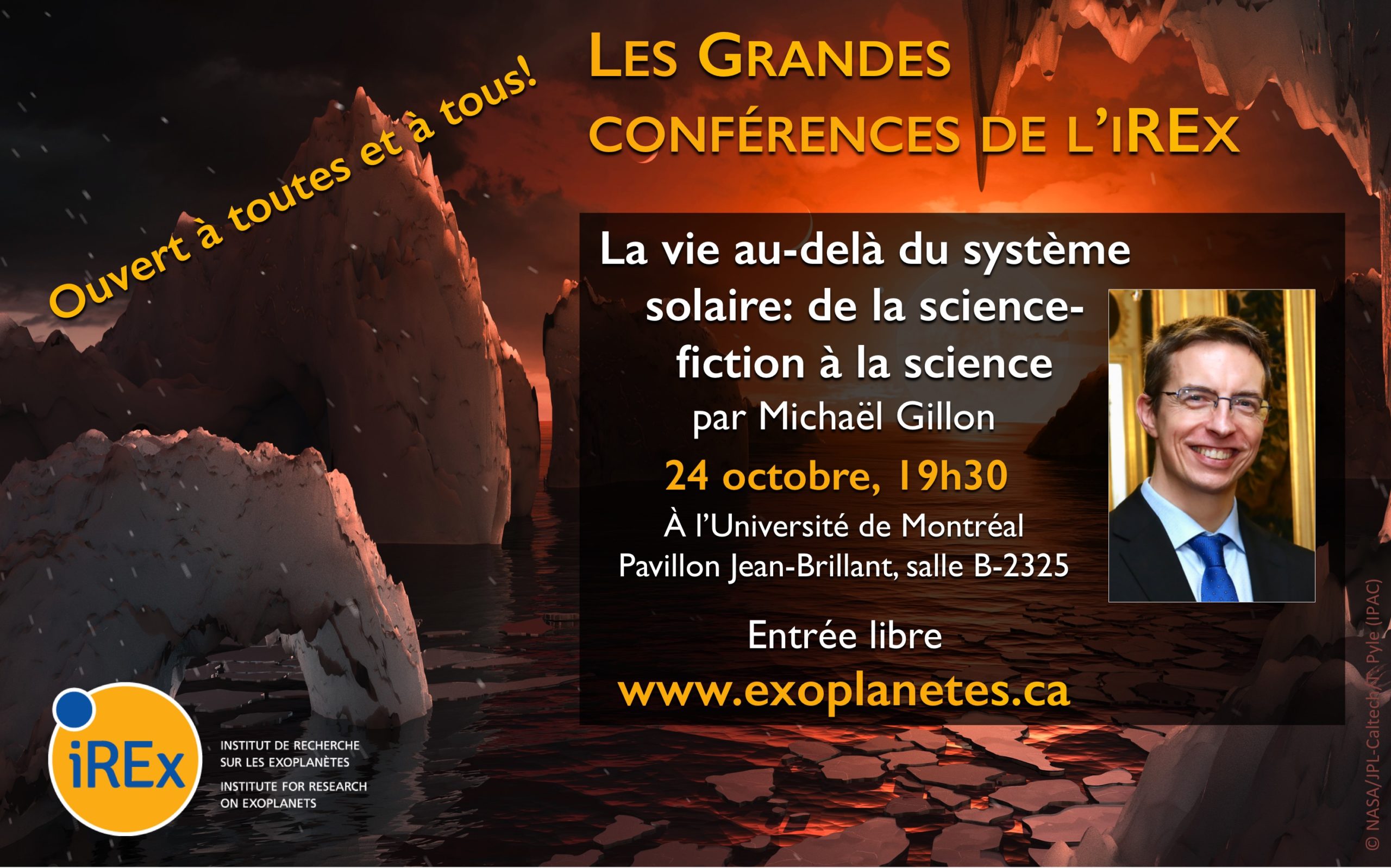 2019 – Sarah Hörst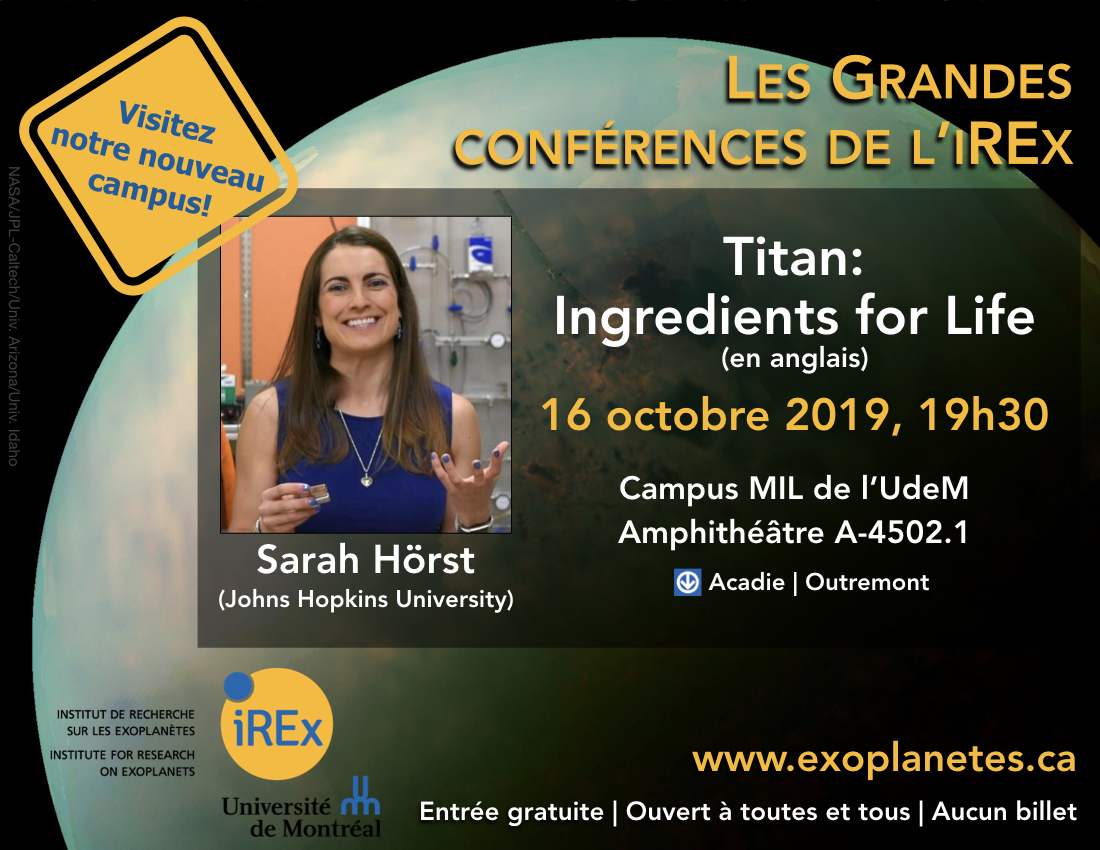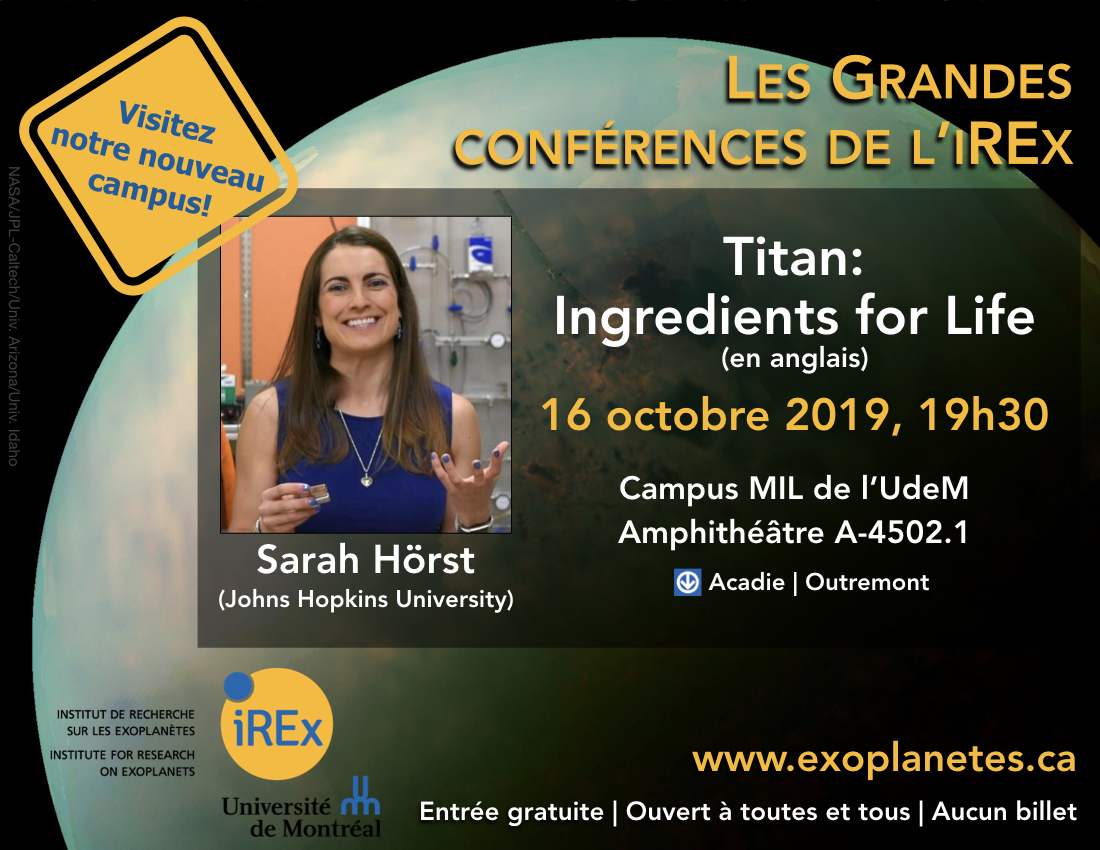 2020 – Clara Sousa-Silva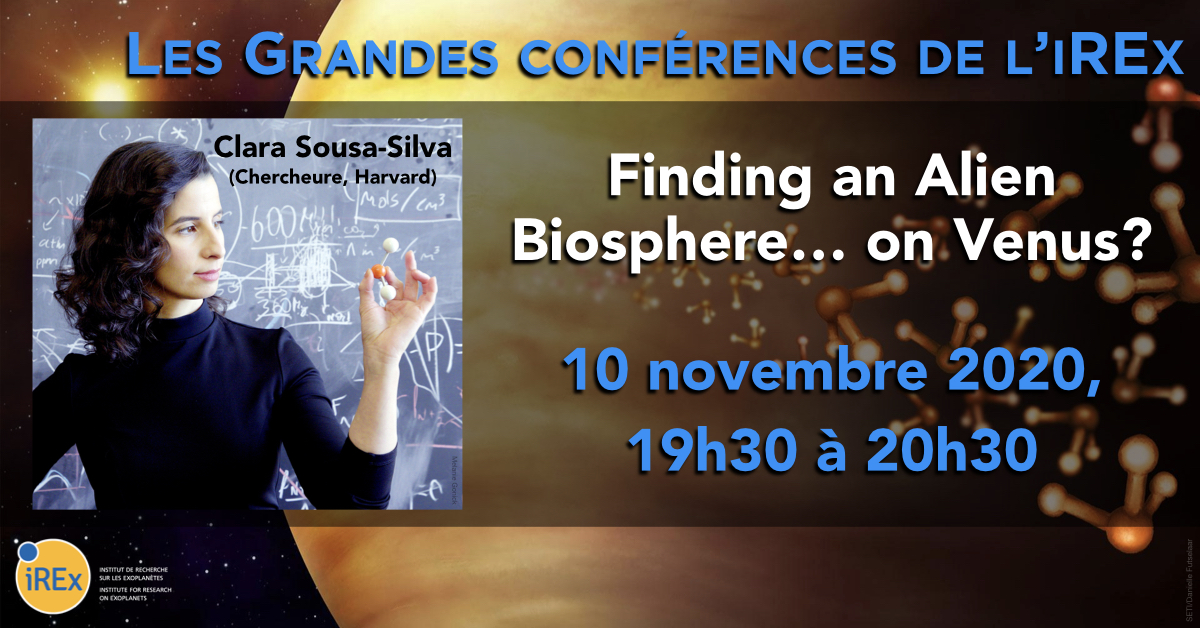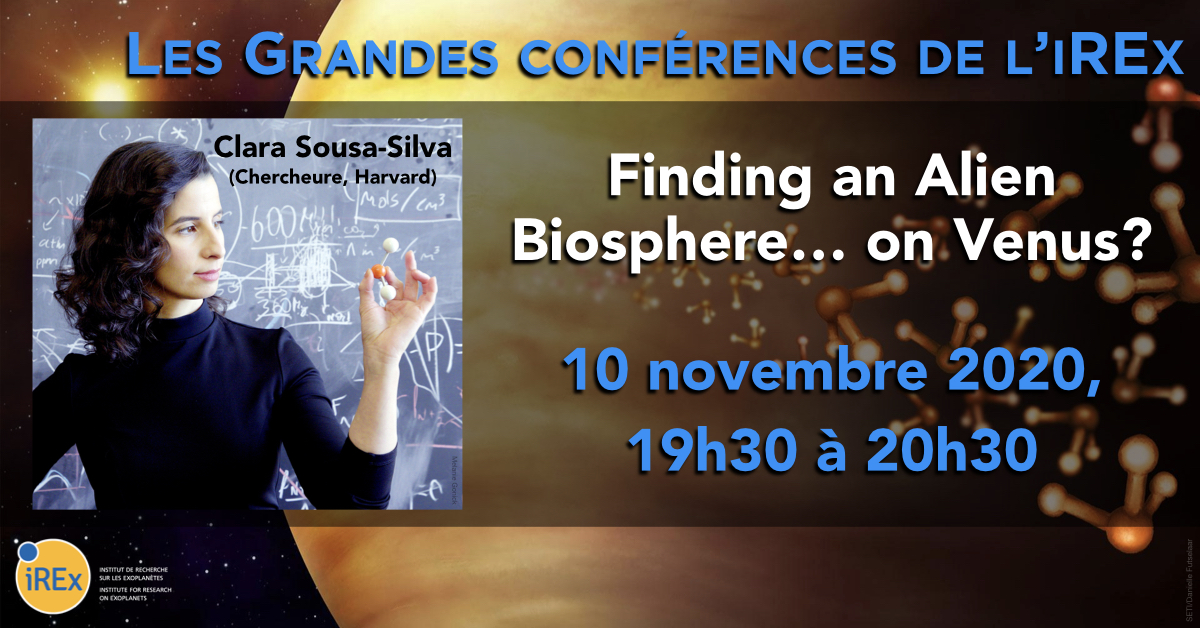 2021 – René Doyon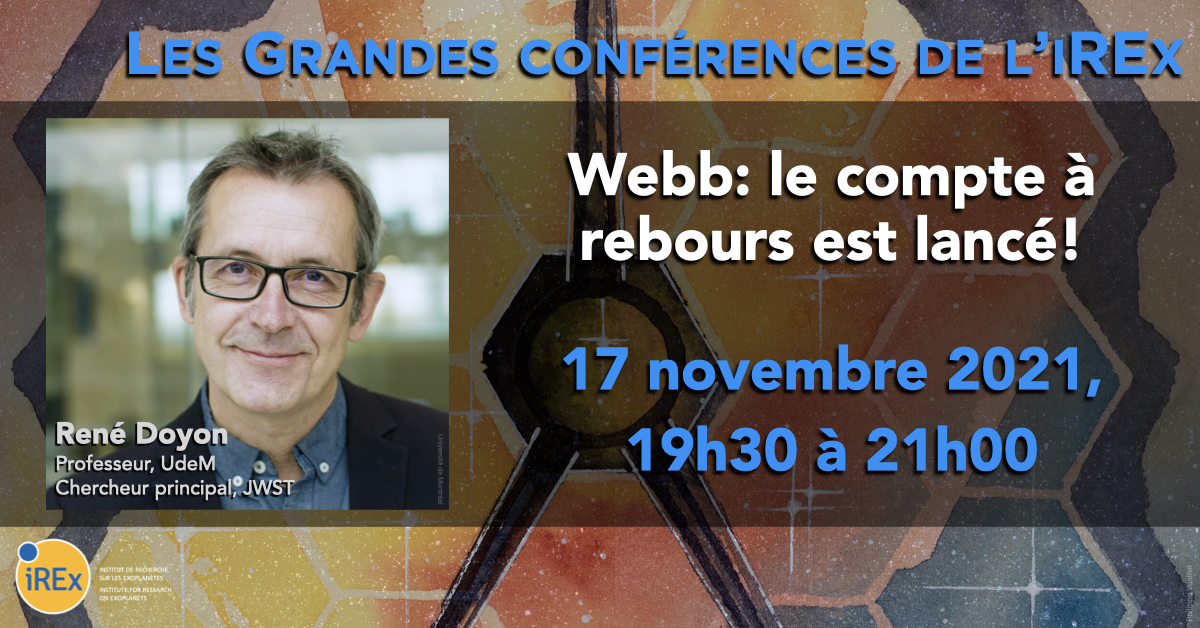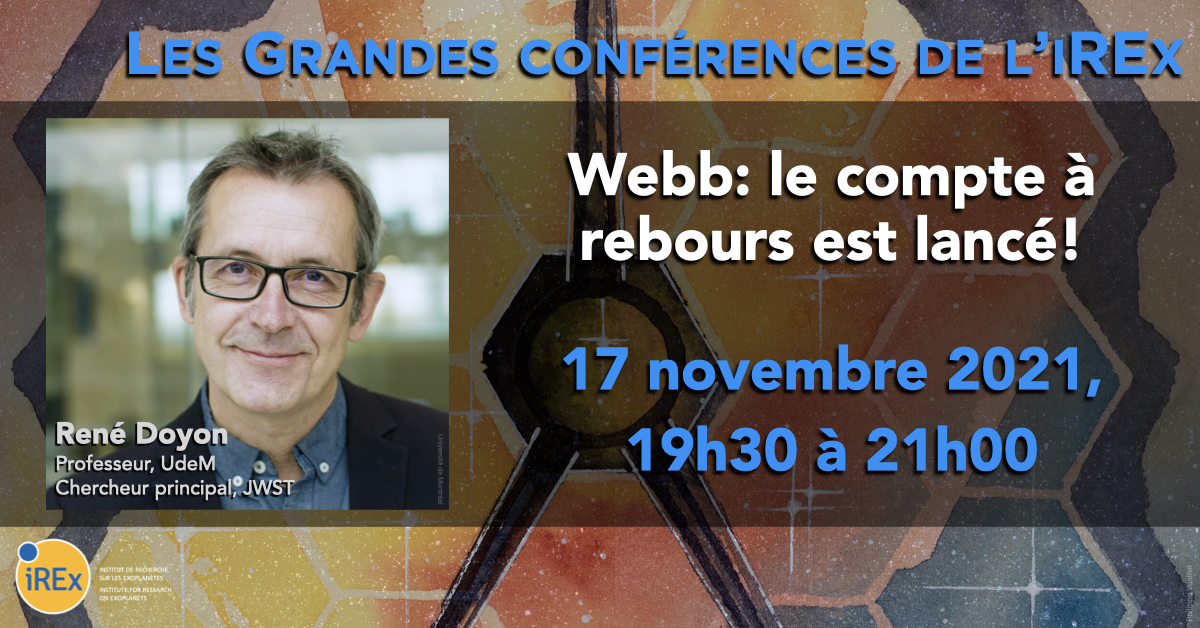 Nature's Ultra-Rare Isotopes Can't Hide from this New Particle Accelerator
A new particle accelerator at Michigan State University is producing long-awaited results. It's called the Facility for Rare Isotope Beams, and it was completed in January 2022. Researchers have published the first results from the linear accelerator in the journal Physics Review Letters.
Physicists sometimes describe isotopes as different flavours of the same element. An atom of any element always has the same number of protons in its nucleus, but the number of neutrons can vary. Atoms of the same element with different numbers of neutrons are called isotopes. Carbon, for example, always has 6 protons, and its atomic number is 6. But there are different isotopes of carbon, each with a different number of neutrons, varying from 2 to 16.
There are only two long-lived and stable isotopes of carbon: carbon-12 (12C) and carbon-13 (13C). Neither one decays, while all other carbon isotopes do. Some carbon isotopes last only a few thousand years; others exist for only the briefest moments. It's the same with isotopes of other elements. And whether an isotope lasts for trillions of years or a trillionth of a second, its existence plays a role in nature.
Isotopes are essential in understanding many things in nature, including astrophysical objects like neutron stars and the nature and history of our Solar System. Scientists compare isotope ratios in different objects to see how they might be related. Scientists sometimes call the different ratios "fingerprints" because they fulfill a similar evidentiary role. For example, scientists measured the isotope fingerprints of Earth and compared them to Apollo lunar samples to understand how the Moon formed.
Physicists have been studying and identifying isotopes for over a century. With the advent of more powerful particle accelerators, researchers have identified isotopes that exist only for nanoseconds. It takes extremely high energy levels to produce these elusive atoms and sophisticated detectors to measure them. This is where the Facility for Rare Isotope Beams (FRIB) comes into play.
Only about 250 isotopes of all types of atoms exist naturally on Earth. But theory predicts the existence of 7,000 of them, and researchers have already found about 3,000. FRIB is designed to close the gap between those numbers. Calculations predict that the accelerator will find 80% of all theorized isotopes. When its work is completed, the Chart of the Nuclides will list about 6,000 isotopes.
FRIB is made of three segments totalling 488 meters (1600 feet long), folded into a paper-clip shape. In the first stage, stable atoms of selected elements pass through a gas of electrons. The gas strips electrons from the atoms, leaving positively charged ions.
Then FRIB accelerates the positive ions to about half of the speed of light before directing them into their target. As the stream of ions strikes the target, the collision makes the ions lose or gain protons and neutrons. That makes them unstable, producing thousands of rare isotopes, some of which last for only brief moments.
Before they can decay, the isotopes pass through a series of magnets acting as separators. They filter out isotopes by momentum and electrical charge. What remains are the isotopes desired for a particular experiment, which reach FRIB's suite of instruments that measure the nature of the particles.
Researchers can't direct FRIB to produce specific isotopes. It's all based on probabilities. Scientists say that creating the rarest of isotopes in FRIB faces long odds: 1 in 1 quadrillion. But FRIB produces so many collisions and isotopes in a single run that 1 in 1 quadrillion isn't insurmountable. The mass production of collisions and isotopes led to the prediction that the accelerator could produce 80% of all theorized isotopes.
FRIB has already run two experiments. The first was run at only 25% of the accelerator's full power. It created a beam of Calcium-48 and directed it into a beryllium target. This resulted in about 40 different isotopes reaching the detectors. By measuring the time of arrival, what isotope it was, and how long it took to decay, the experiment detected five new half-lives for exotic isotopes of phosphorus, silicon, aluminum, and magnesium. Measuring these half-lives provides insights into different models of the atomic realm.
Researchers from multiple institutions took part in the first experiment. The lead spokesperson for the first experiment is Heather Crawford, a physicist at Berkeley Lab. A new paper in the Physical Review Letters presented the results.
The second experiment was directed at understanding neutron stars. Neutron stars are stellar remnants, the collapsed cores of stars that exploded as supernovae. Neutron stars are made of extraordinarily dense matter and no longer undergo fusion. There's still a lot going on in neutron stars, and there's much theorizing about how they function. Scientists know that neutron stars contain rare isotopes of scandium, calcium and potassium.
In this experiment, researchers produced a beam of selenium-28 to produce the same rare scandium, calcium, and potassium isotopes. This experiment began in June, and the results haven't been published yet. But it shows how FRIB can address fundamental questions about some of nature's most extreme objects.
FRIB can address other questions, not all related to astrophysical objects. Some of its research should shed light on more practical concerns.
In the past, research into nuclear science has produced results that have reduced suffering and shaped people's lives. Medical imaging technologies like Magnetic Resonance Imaging (MRI) and Positron Emission Tomography (PET) are the results of basic research into nuclear physics. So are smoke detectors, something so simple, effective, and inexpensive they can easily be taken for granted. It's impossible to calculate how many lives smoke detectors have saved and how much tragedy they've prevented. Same with MRI and PET.
Scientists are hopeful that research at FRIB can make similarly valuable contributions to society. History shows us that we can't always predict the practical benefits of basic research like this but that civilization would look very different without it.
When American physicist Isidor Isaac Rabi developed a way to measure sodium atoms' movement and magnetic properties, he wasn't thinking about imaging the insides of human bodies. But as his work and the work of other scientists continued, scientists understood that they could use these measurements and other advances to eventually detect cancer. This work led to the development of MRI, a commonplace medical technology in our world. (Rabi eventually won the Nobel Prize in Physics for his discovery of nuclear magnetic resonance.)
Is it too much to hope that FRIB can somehow contribute to medical science? Not at all, though there are no specifics right now. But the history of one type of cancer treatment is another case study of how research into nuclear physics has reduced suffering. It's called proton beam therapy.
Proton beam therapy allows for higher doses of radiation to be given to children and sensitive tissues like livers, eyes, and optic nerves. It can target cancer cells more precisely and avoid damaging healthy cells.
It stems directly from research at the Harvard Cyclotron Laboratory in the 1940s. In fact, the first proton beam therapy was given to patients with particle accelerators built for research, not medicine. Now proton beams are regularly used to remove eye tumours, among other things.
Will FRIP eventually treat patients? No. That's highly unlikely.
But history shows that if we want to make advances that reduce suffering, facilities like FRIP can play a significant role.
FRIP was built to learn about some of nature's most fascinating objects, like neutron stars. Our understanding of physics is incomplete, and researchers at FRIP intend to fill in some of the blanks. The rest of us get to come along for the ride, and that's a win for intellectually curious people everywhere.
And if some of what we learn is applied to our everyday lives, that's a win, too.
Gaze Slack-jawed at the Haunting Beauty of Galaxy NGC 1566, Captured by JWST
Here's an absolutely stunning new view from the James Webb Space Telescope of a dusty spiral galaxy, NGC 1566. Amateur (but expert!) image editor Judy Schmidt took the raw data from JWST's Mid-Infrared Instrument (MIRI) and teased out this eerie, spider-web-like view of this distant galaxy. The swirling and symmetrical arms are so full of dust that not many stars are visible.
The reddish areas correspond with star formation, however, Schmidt explained, which shows how the physics of star formation is intertwined with the amount of dust and gas in a galaxy. Additionally, the small central nucleus of NGC 1566 is extremely bright, which is a telltale sign of it being among the Seyfert class of galaxies. The centers of these galaxies are very active and luminous, emitting strong bursts of radiation and potentially harboring supermassive black holes that could be many millions of times the mass of the Sun.
NGC 1566 is located approximately 40 million light-years away in the constellation of Dorado. This is an intermediate spiral galaxy, which means its shape is somewhere between a barred spiral galaxy (like our Milky Way) and a regular spiral galaxy.
Schmidt said on Twitter that the muted colors in this image come from the various emission of dust.
"I had to increase the saturation tremendously to make it colorful at all. The separation is not very much otherwise," she said, adding that this all "took a bit of doing this time because the pipeline images available from the archive had a lot of alignment issues. I had to manually mosaic this."
The image comes from JWST's Early Release Program, where immediate access is available to data from specific science observations from JWST, completed within the first five months of the telescope's science operations.
Compare JWST's mid-infrared view with an earlier Hubble image taken by Hubble's Wide Field Camera 3 (WFC3) in the near-infrared part of the spectrum.
Hubble Space Telescope captures stunning bridge of stars
Stretching like a celestial bridge across space, Arp 248 — also known as Wild's Triplet — is a spectacular sight for keen-eyed astronomers.
The Hubble Space Telescope offers a new view of the mesmerizing trio in a photo released on Oct 31 that shows the dynamism of tidal tails at play, according to a statement (opens in new tab) from the European Space Agency, a partner on the mission. A tidal tail is an elongated trail of gas, dust, and stars formed by the mutual gravity of the two galaxies. In the new image, a tidal tail from one of the two foreground galaxies appears to connect the pair of galaxies, while the third galaxy in Wild's triplet is just outside of the frame of the Hubble photo.
The two foreground galaxies in Wild's Triplet are located about 200 million light-years from Earth in the constellation Virgo. The unrelated galaxy in the background is much farther away and isn't interacting with the triplet. The system was first discovered by astronomer Paul Wild in 1953 while working with Fritz Zwicky at Caltech.
Related: The best Hubble Space Telescope images of all time!
The trio is included in both "A Catalogue Of Southern Peculiar Galaxies And Associations," produced by astronomers Halton Arp and Barry Madore, and "Atlas of Peculiar Galaxies," by Arp. These collections feature unusual galaxies, including Arp 248 alongside galaxies with odd numbers of arms, peculiar structures and more.
Hubble is working its way through the galaxies included in the catalogs. The Wild's Triplet photo comes from its Advanced Camera for Surveys, which is searching for potential candidates for follow-up observation using more sophisticated instruments, like the James Webb Space Telescope and the Atacama Large Millimeter/submillimeter Array (ALMA) in Chile.
Given the overwhelming number of objects in the sky that scientists could study, projects such as Hubble's tour of Arp galaxies are helpful in narrowing down targets for more in-depth observations, since the limited amount of telescope time available to astronomers makes that time very precious. Knowing in advance that something about a target sets it apart from the rest is a great way to narrow things down and make the best use of limited resources.