Local artist Kathryn Durst to create public art mural in downtown Peterborough – kawarthaNOW.com
Peterborough artist Kathryn Durst has been chosen to create a public art mural in downtown Peterborough commissioned by the First Friday Ptbo Art Crawl.
The mural will cover the two interior walls of the alleyway of the Commerce Building, at the northwest corner of Water and Hunter streets, which is home to the studios of many of the artists who have participated in the monthly art craw (currently on hiatus due to the pandemic).
The mural project is supported by the Peterborough Downtown Business Improvement Area (DBIA) and Ashburnham Realty, which owns the Commerce Building.
Advertisement – story continues below
The First Friday Ptbo mural selection committee reviewed proposals from 20 local artists before selecting Durst's proposal for the mural.
Born in Peterborough, Durst graduated from St. Peter Secondary School and then studied animation at Sheridan College. She was an intern at Pixar Animation Studios and worked at several animation studios before launching a career as an illustrator for children's books.
She achieved international media coverage for illustrating the New York Times best-selling children's book Hey Grandude!, written by Sir Paul McCartney and published by Penguin Random House in 2019.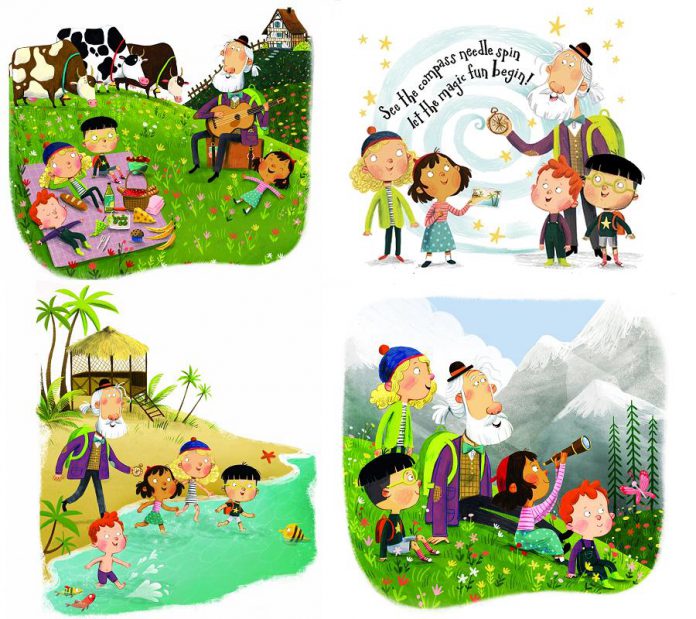 The 30-year-old Durst lives in Peterborough with her dog Chili.
To see samples of her art, visit her website at www.kathryndurst.com or her Instagram account @kathryndurst.
Durst receives a $3,000 award to create the mural, which must be completed using exterior latex paint only by the end of August.
When the mural is completed, First Friday Ptbo will be host a mural launch in September (date to be confirmed).
High end art stolen In Silver Lady Lane break-in – BayToday.ca
Not many details yet, but City Police are investigating the theft of several high-end pieces of art from a Silver Lady Lane home this morning.
Items include a 2'x3′ Jan Van Kessel painting, Limoges casket, 6″ blue/gold plate, and 6″ aventurine brush washer.
Silver Lady Lane runs off Trout Lake Road and a number of expensive and exclusive houses sit on the shores of Trout Lake.
Police are asking for the public's help.
Jan van Kessel was a Flemish painter active in Antwerp in the mid 17th century.
Wikipedia says he was a versatile artist and he practiced in many genres including studies of insects, floral still lifes, marines, river landscapes, paradise landscapes, allegorical compositions, and scenes with animals.
Van Kessel's works were highly prized by his contemporaries and were collected by skilled artisans, wealthy merchants, nobles, and foreign luminaries throughout Europe.
North Bay Police investigating theft of several high-end pieces of art from a Silver Lady Lane residence this morning. Items include a 2'x3′ Jan Van Kessel painting, Limoges casket, 6″ blue/gold plate, and 6″ aventurine brush washer.
Please call with any information. #5555

— North Bay Police (@NorthBayPolice) September 19, 2020
Toronto's outdoor museum for street art is a perfect activity for these pandemic times – blogTO
Dundas West Open Air Museum, a collection of murals clustered in a Toronto neighbourhood, opened about a year ago, but they've been very busy during that time.
Around 20 murals have been painted around the Dundas West area from Shaw to Lansdowne by local artists such as Jieun June Kim, Jose Ortega and Pablo Gomez.
All murals can be explored virtually on the museum's website, which includes info about the works and artists.
The initiative was spearheaded by the artists along with Little Portugal and Dundas West BIAs, Lula Lounge, Toronto Arts Council and Creativo Arts.
It was inspired by similar public space projects in places like The Bronx and Berlin.
One of the new initiatives from the museum is an app that you can download to your phone and use to make your way among the murals, finding out information about each piece and the artists that created it as you go.
As COVID-19 numbers continue to rise, finding safe, outdoor activities in Toronto is on many people's to-do list and this outdoor museum might just be one that's perfectly suited to the times.
Art as reconciliation: Ymir artist hosting BC Culture Days event – Nelson Star
It took Damian John decades to realize words weren't always the best way to connect with people.
When John was in his 20s he became woke to the problems of the world and hoped to make a change. In his 30s, having failed to make that change, he struggled with depression and anxiety.
But four years ago the now 43 year old quit his career as a massage therapist to focus on his art. That choice led to an epiphany.
"I think the dialogue that we have with words is limited. You have this understanding of words, I have an understanding of words. Sometimes they don't match up," he says.
"We're really bad at telling each other what we're feeling and we're really bad at understanding what the other person is saying to us in general, even with people we know well. So I thought, but what about having art do that for us and being creative with how we speak to each other."
John, a Ymir-based artist, hopes to meld words and art into a new type of conversation when he hosts a workshop for BC Culture Days on Sept. 26. Jones was the only West Kootenay artist named ambassador to the annual event, which will run Sept. 25 to Oct. 25.
His livestream is titled Exploring Reconciliation Through Creativity, in which John plans to tell the story of how colonization affected his family and people before having participants create art based on the discussion.
A member of Tl'azt'en First Nation near Prince George, John grew up with a family traumatized by the residential school system. His father attended nearby Lejac Residential School, a Catholic-run facility that operated from 1922 to 1976.
The school is partly remembered now for being the place four boys froze to death while trying to escape from in 1937.
"All of my family on that side is directly impacted by colonization, by residential school," said John, "and that impacts us as his children, that affects nephews and generations that are coming after us. There's a heavy, heavy impact mentally, health wise, relationally, all of these various components which would take a long time to talk to or speak to in a real strong way."
First Nations art has always been a part of John's life. His father brought pieces home, and John was later influenced by artists Robert Sebastian and Roy Henry Vickers.
John's own art is vibrant, colourful and distinctly modern. In his work he's found a place to explore his culture and voice concerns while also being in control of the outcome in a way he never felt he could in conversation.
"If I want to have a life that has any feelings of quality to it, I need to shift things," he says. "So making things that I think are beautiful, and allowing people to engage in that space as well, felt useful."
That's how he hopes the people who take his workshop feel after creating their own work. John wants to inspire new ways of discourse about difficult topics despite personal differences, and he thinks art is the key.
"How do we bridge those spaces to come to a place of community and goodwill and conflict resolution?" he says. "In spite of being devastated by all the information out there I still have hope we can do things differently."
@tyler_harper | tyler.harper@nelsonstar.com
Like us on Facebook and follow us on Twitter.

Want to support local journalism during the pandemic? Make a donation here.
Arts and cultureIndigenous reconcilliation