Looked out your window lately? There's bound to be something wild – CBC.ca
In a drawing that stretches 35 feet long, B.C. artist Sarah Ronald has sketched a ghostly night-time universe. In this inky landscape — which is comprised of 14 connected scenes — nocturnal creatures come out to play: bats, coyotes, bears … and a garden gnome.
Let it be a reminder: there's a whole world outside your window if you take the time to look. And from Ronald's house in the Vancouver suburbs, all those animals (plus garden statuary) are a common sight.
"That panorama is about the [animal] activity that's come and gone through my backyard," says Ronald. And it appears in Territory, her current solo exhibition, which is on now at the Gibsons Art Gallery to Feb. 7.
The show includes paintings, animation and several more of her drawings — many rendered in white pencil crayon and pastel to mimic the eerie blur of animals caught on security cams.
Animals have long been her favourite subject matter, and while researching another project several years ago, she was struck by the incredible wildlife footage that people were getting by rigging cameras in forests and front decks. She loved the blown-out, night-vision aesthetic. "It's so dreamy and haunting," says Ronald.
But another aspect was even more intriguing: there was something powerful about seeing an animal in such a candid way. "These [images] exist because we're not there," she says. "It really got me thinking about how to incorporate this into my work."
Sometime in 2019, Ronald began mimicking the look of this found footage in her art. She has her own cameras installed outside her house, actually — though her home security system pre-dates this project. "I know there are a lot of critters out there," she says, even though the yard itself is not especially big. She estimates it's roughly 30 feet deep — so a little shorter than the panoramic drawing in Territory. But she's observed a sort of "wildlife corridor" between her street and a townhouse complex up the hill.
"They travel through the neighbourhood behind my fence," she says. "I'll go out and see a coyote pop his head around. Or, more often, it's raccoons. Sometimes I think the raccoons just come here to hang out," she laughs. The cameras, she explains, just confirmed what she already knew — while capturing all the fauna-drama on video. And when she experiences a wildlife encounter — on camera, or in person — she says that's usually her cue to hit the studio.
The panorama drawing, she says, was especially inspired by those backyard happenings. Created over November and December this past year, it actually captures a much longer timeline of her outdoor space. A detail might document specific events: a fallen tree, a visit from a family of raccoons. Other scenes are more speculative. (She confesses, for example, that she's never seen a bear back there, though they have been known to invade her neighbour's place.)
"You kind of get a sense of the space when you've been there long enough, what kind of activities happen," says Ronald, but she explains that the image serves as more than a journal. The piece uses her yard as a stand-in for the natural world at large, a place forever churning with change.
With two further exhibitions planned for later this year, Ronald says that she's continuing to add new works to Territory, and she's especially interested in producing hand-drawn animation for the series.
A 17-minute piece (Encounter) appears at the exhibition in Gibsons, and the film aims to capture the sensation of crossing paths with a coyote. "Imagine being out in the woods in the middle of the night. Or even on the street at two in the morning when there's nobody out there," she says. "I'm interested in using animation as a way to almost have a one-on-one with wildlife."
[embedded content]
The entire series is an invitation to connect with the wild world around us, and one could argue the pandemic's already prompted more of that. Yard space is precious. Birdwatching is trending. A knife-wielding Toronto squirrel can capture international headlines. And prior to lockdown, was there ever a time when gawping out a picture window was such a mainstream pastime?
Ronald was already working from home when the pandemic struck, but she understands what happens when you spend a lot of time within your own property lines. It is, after all, a driving creative force behind Territory. "When you stay in a space for a really long time, you don't feel ownership — you feel like you're a part of that space. So to spend time outside, you're part of it."
"There's something about that — that connection — where you can just be present with [nature] instead of trying to control it. Maybe with COVID a lot more people are being present."
Sarah Ronald. Territory. To Feb. 7 at Gibsons Art Gallery, Gibsons, B.C. www.gpag.ca
Instagram Launches Live Rooms for Multiplayer Livestreams – Tatler Hong Kong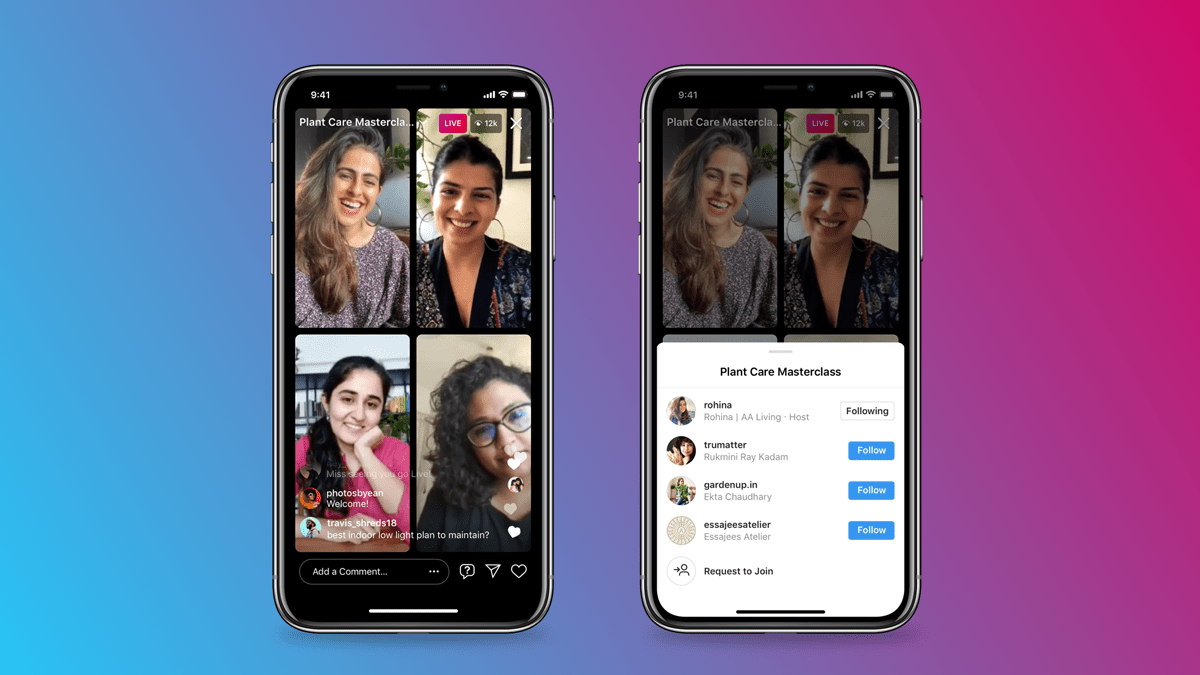 As social media platforms race forward to fill the physical gaps left behind in the wake of the Covid-19 pandemic and our year of quarantine and distancing, today Instagram announced the launch of Instagram Live Rooms—an enhanced and expanded Instagram Live where up to four guests can converse onscreen in a livestream, broadcast to their followers and the world.
"We hope that doubling up on Live will open up more creative opportunities—start a talk show, host a jam session or co-create with other artists, host more engaging Q&As or tutorials with your following, or just hang out with more of your friends," the announcement reads.
Over the past few weeks, as audio group chat platform Clubhouse climbed towards and surpassed a US$1 billion valuation, other social media platforms have unleashed a spate of community-orientated features. Last week, Twitter unveiled its plans for both "Super Follows," gated paid content, and communities, a to-be-clarified function that industry experts predict will be "a more private and more controlled way for communities to get together on Twitter outside the public view," according to Recode.
On Instagram, Live Rooms will allow a room initiator to invite up to three additional guests to share the stage, and livestream viewers will be able to buy "badges" for the hosts. Hosts will also have access to live shopping and fundraiser tools, and the platform promises to explore moderator controls (it works great on Clubhouse) and additional audio features.
Related: The Best Instagram Bakeries and Cake Shops in Hong Kong
"We want Instagram to be the best place for creators to have meaningful conversations with their audiences and each other, and we designed this new update with safety in mind," the announcement reads.
As for the moderation tool: "People that are blocked by any of the active participants in the Live Room will not be able to join the Live. Guests who have had live access revoked because of violations of our Community Guidelines also won't be able to join a Live Room. Features that are currently available to Live hosts, such as the ability to report and block comments, and apply comment filters will also be available to hosts of Live Rooms."
To activate a live room with up to four participants, user should initiate lives and tap to add speakers and guests from their followers list. The app will notify all speakers' followers, making multiplayer livestreams "a great way to increase your reach," according to Instagram.
New Reports Are Swirling About A Leaked 'Elden Ring' Trailer – Forbes
Elden Ring has become one of those games—a sort of temporary Half-Life 3, the game everyone wants to see at every show but that always seems to elude it. Just the other day, Microsoft's Aaron Greenberg shot down a rumor that we'd be seeing it at an upcoming show, but now there are once again reports circulating that we might see it soon, and these seem credible.
A recent report from Andy Robinson at VGC says that there is a trailer out there being circulated online, and that he has seen it. VGC couldn't post the trailer due to legal reasons, but you can read a description at the link. Bloomberg's Jason Schreier echoed the legitimacy of the leak, saying that it was tangible evidence that we'd see something about the game soon.
I don't expect this game to be Half-Life 3 by a long shot. It was first revealed in 2019, and while that is a long time ago from a certain perspective, we've all seen projects stuck in hell for much longer than that, and there's no reason to think that this is going to be some decade-long project. From Software has historically had a remarkably quick cadence for a developer with an auteur reputation, which has led to this wait feeling exceptionally long. But we are far from despair territory, and my guess is that we're going to see an update sometime around not-E3 in the summer, or maybe sooner.
With all this stuff—Elden Ring, Breath of the Wild 2, God of War Ragnarok or whatever, it's important to keep one important thing in mind: we are in the middle of a crippling pandemic of historic, Earth-shattering proportions, and this does affect video games, as well. The transition to work-from-home has affected all studios differently, but it has likely affected large projects more. So it's worth assuming that everything is delayed, even if we had never heard a release date in the past.
The VGC report suggests that From has indeed struggled with COVID-19-relaed disruptions, just like we all have. So who knows: maybe it was once scheduled to come out in Holiday 2020, or maybe even earlier. That's looking less likely at this point, just like it is for a lot of games. We didn't really see the impact of COVID-19 as much last year, because we were seeing the release of projects primarily developed before the crisis settled in. This is the year when the chickens come home to roost, however, as we've already seen from a ton of delays. And we're going to see more.
Canada's executives flock to emerging audio app Clubhouse, but long-term appeal unclear – Business News – Castanet.net
Photo: The Canadian Press
The icon for the social media app Clubhouse is seen on a smartphone screen in Beijing, Tuesday, Feb. 9, 2021. THE CANADIAN PRESS/AP/Mark Schiefelbein
When earnings season rolls around, Duncan Fulton spends days preparing for calls with media, analysts and investors, but hardly ever gets a chance to deliver his messages directly to the people who frequent his Tim Hortons coffee shops or Popeyes drive-thrus.
That changed in February when the chief corporate officer of Restaurant Brands International joined chief executive Jose Cil on Clubhouse — an emerging audio platform that gives anyone with an iPhone and an app the ability to host and access discussions on every topic imaginable.
"It's like reimagined talk radio with calls, but we are the producer," said Fulton, who hosted an "open kitchen" talk the day after RBI released its latest quarterly earnings.
"Our guests don't care about our adjusted EBITDA. They care about real stuff, about our food, our brands, and so we said, 'Why don't we use Clubhouse?'"
Fulton and Cil are the latest Canadian executives to turn to the app started by San Francisco serial entrepreneurs Paul Davidson and Rohan Seth last spring as a new way to host public conversations.
As COVID-19 spread throughout the globe and lockdowns kept millions of people at home, executives from top venture capital and tech firms began to jockey for access to the invite-only audio platform.
By the start of 2021, hundreds of business leaders and other Canadians had joined Clubhouse, which has offered increasing numbers of invites since late last year.
Members have been able to hear SpaceX CEO Elon Musk discuss whether he believes in aliens, Shopify executives Tobi Lutke and Harley Finkelstein wax poetic about entrepreneurship and Wattpad founder Allen Lau talk about his recent decision to sell the company.
"It's really democratizing corporate Canada and corporate America in a way," says Fulton, "because normally consumers wouldn't get this access to senior business leaders."
He pitched a Clubhouse talk to Cil after being introduced to the platform by Ottawa restaurateur Stephen Beckta, who got his invite from Finkelstein.
After dipping into music conversations, Fulton found he liked the exploratory nature of the platform and that moderators have control over who can speak and when.
"If you're a business leader that wants the safety of not taking questions, you can still go on there, share your views, and there's lots of people that are happy to not participate, not ask questions and just listen," he said.
Richard Lachman, a digital media professor at Ryerson University, agreed the platform can be helpful for executives wanting to manage their image, but said users will quickly drop out of conversations if a speaker is boring them or recognize when someone is too scripted.
Though executives go through media training, he said a few "embarrassments" will likely arise on the app if people don't know how to respond to "aggressive" questions or can't kick someone out of a discussion fast enough.
While the app doesn't overtly market itself as private, its invite-only nature has built a casual atmosphere, even as its userbase grows.
Clubhouse did not respond to a request for comment, but has a "rule" banning transcribing, recording or sharing personal information heard on the app. The company recently removed a bot it found sneaking into discussions to restream them to people without the app.
Still, a quick search on social media reveals dozens of recordings and quotes from the app available online.
Prominent venture capitalists faced criticism last year when audio leaked of them ridiculing New York Times journalist Taylor Lorenz and complaining that so-called cancel culture — sometimes described as withdrawing support for someone caught misbehaving or using outmoded language and expressions — had gone too far.
There have also been privacy complaints from users who opted not to give the app access to their contact lists, but say it is detecting their sign-ups and alerting friends whose numbers they have stored.
Once on the app, some users reported they stumbled upon misogyny and racism in discussions, despite rules against abuse and bullying and a feature to report problematic users.
"Some of the challenges (Clubhouse) is facing is that this content is very unmoderated and we are not in 2003 in (Facebook founder) Mark Zuckerberg's dorm room, pretending that anything we make we know where it'll go and we'll just let the market figure it out," said Lachman.
"We know what might happen. Online spaces can be incredibly toxic, they can be harsh and we know that things can be taken out context very quickly and easily duplicated on other platforms."
Despite the issues, Deepak Anand, chief executive of medical cannabis company Materia Ventures, joined the app. He hosts several pot discussions on it every week, but is careful in his approach.
He doesn't share anything on Clubhouse he wouldn't be comfortable with if it were leaked, but has seen several instances of people not realizing how public the app is.
"People generally like to share more than they normally would on the platform because it's easy to get carried away and it almost seems like you're having a conversation with friends," he said.
Among the positives, Anand saysClubhouse has helped him discover new ways to network while stuck at home during the pandemic and increased his social media followers.
He's unsure the app will continue to be his go-to because a competitor, Twitter Spaces, has caught his eye.
Tech Crunch reported that users who mined Twitter's coding have found Spaces, which is still in pilot mode, experimenting with ways to embed tweets into discussions, offer transcription for users with disabilities and enhance blocking capabilities.
Facebook is said to be developing a similar platform, but hasn't formally released any details.
The number of emerging audio apps and the flood of new Clubhouse users will make it even tougher for executives to stand out, Lachman predicted.
"This might have value right now, but in a year or two from now, that might get lost."