Low Vaccination Rates are Hurting Southeast Asia's Economy: ADB – The Diplomat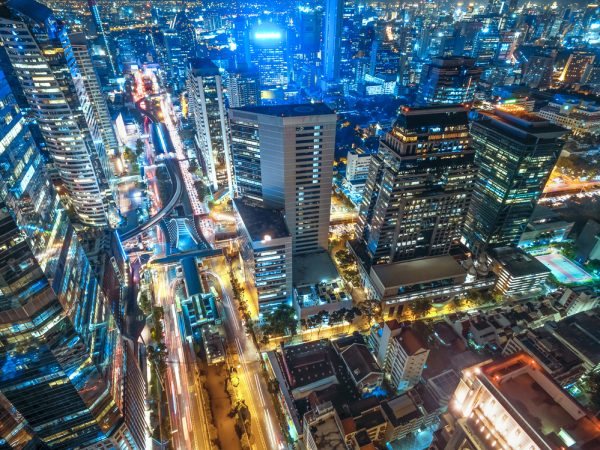 Economic growth in Southeast Asia is beginning to fall behind other parts of the region due to the region's continued struggles with outbreaks of the disease and the sluggish rollout of COVID-19 vaccines, the Asian Development Bank said today.
In an update to its Asian Development Outlook report, the Manila-based multilateral bank stated that growth in the 46 nations of what it terms "developing Asia" is projected to reach 7.1 percent this year, down slightly from its 7.3 percent forecast in April. Despite this small downgrade, this year's growth estimate is a marked improvement over the 0.1 percent contraction that the region saw last year.
Within the region, however, "growth paths are diverging, with economies that have successfully contained the pandemic or are making good progress on vaccination programs forging ahead," the report stated.
Among the problem regions is Southeast Asia, where the ADB has cut its growth projections due to the region's struggle to contain outbreaks of COVID-19, continued lockdowns and restrictions, and slow vaccine rollouts.
Southeast Asia's regional growth projections for 2021 and 2022 have been lowered to 3.1 percent and 5.0 percent, respectively, from forecasts of 4.4 percent and 5.1 percent in April. The region has also seen the largest gap – 8.6 percent – between economic forecasts for 2021 and pre-pandemic projections.
"Southeast Asia will recover at a much slower pace than earlier projected," the report stated, resulting in weaker than expected growth rates in nine out of the subregion's 11 economies. It added that the region's recovery "continues to be curtailed by recurring spikes of COVID-19 cases, resulting in the reimposition of stringent containment measures in some economies, including the Philippines."
The downgrade is more significant in the case of certain major economies in the region, including Thailand (0.8 percent down from 3 percent in April), Indonesia (3.5 percent down from 5 percent), and Malaysia (4.7 percent down from 6 percent).
Vietnam, which had the distinction of being the only Southeast Asian nation to register positive growth in 2020, has seen its outlook for 2021 slashed from 6.7 percent in April to 3.8 percent now.
Myanmar, in the throes of a severe political crisis, will see its GDP contract by an astounding 18.4 percent this year, down from what now seems like an optimistic projection of a 9 percent contraction in April.
The one Southeast Asian nation to see an upgrade in its economic outlook was Singapore, where high vaccination coverage – the country has fully vaccinated more than three-quarters of its population – will "continue allowing the economy to benefit from the rise in global demand."
While much of Southeast Asia managed to avoid the worst of the pandemic in 2020, the Delta variant of the virus has scythed its way through many countries in the region in recent months. This has exposed governments' complacency in sourcing vaccines, with just three of the region's 11 nations – Singapore, Cambodia, and Malaysia – having fully vaccinated a greater proportion of their populations than the United States (51.8 percent of the population) and the European Union (58 percent). Six have fully vaccinated less than a third.
According to the ADB report, "the uneven progress of vaccinations is contributing to the divergence of growth paths in developing Asia," as economies like China, Singapore, and Taiwan that have vaccinated larger proportions of their populations experience a quicker recovery from the pandemic slump. In its report, the ADB raised its forecast for "developing" East Asia, a region that includes China and South Korea, by 0.2 percentage points to 7.6 percent.
The development suggests that the impacts of Southeast Asia's sluggish reaction to the latest outbreaks of COVID-19, including both the avoidable delays in beginning vaccine distribution and the unavoidable challenges of gaining access to adequate supplies, will continue to have long-term economic effects.
Even then, the region will remain vulnerable to a host of challenges, "including the emergence of new variants, waning vaccine effectiveness, geopolitical tensions, and the resulting disruptions to global supply chains.
Dollar set for another week of losses even as Fed tapering looms
The dollar was heading for a second week of declines on Friday as sentiment stayed tilted towards riskier assets, while an intervention by the Australian central bank put a halt to the Aussie dollar's recent surge.
The dollar index was last at 93.733, little changed in Asian hours but off 0.24% on the week, as it continues its fall from a 12-month high of 94.565 hit in earlier this month.
It had managed to stem losses on Thursday, bouncing on better U.S. jobs and housing data, but the rally petered out on Friday morning in Asia, where risk sentiment was boosted news that beleaguered developer China Evergrande Group has supplied funds to pay interest on a U.S. dollar bond, averting a default.
But traders are still trying to assess whether the dollar has scope to fall further, or if this is a temporary blip on a march higher.
"People are wondering whether we are at an inflection point, as the dollar has been weakening and that doesn't really fit with the broader narrative that global growth is cooling and the Fed is on the path to tapering, which should be supportive for the dollar," said Paul Mackel, global head of FX research at HSBC.
On Friday, benchmark 10-year U.S. Treasury yields were at 1.6872%, slightly off from Thursday's multi-month high of 1.7%, as markets continue to prepare themselves for an announcement by the Federal Reserve that it will start to wind down its massive bond buying programme, which is widely expected for November.
Mackel said part of the reason for the dollar's weakness had been strong performances by currencies from most commodity exporting countries.
These were quieter on Friday, however, as traders took profits, analysts said, and energy prices softened.
Brent crude, which had risen above $86 dollars a barrel on Thursday, continued its tumble and was last at $84.10.
The Australian dollar was at $0.7475, off Thursday's three-month top, as the boost to the China-exposed currency from Evergrande's news was outweighed by action from the Reserve Bank of Australia to stem a bond sell off, as well as the pause in energy price rises.
The RBA said on Friday it had stepped in to defend its yield target for the first time in eight months, spending A$1 billion ($750 million) to dampen an aggressive bonds sell-off as traders have bet on inflation pulling forward rate hikes.
Also affected by energy prices, the Canadian dollar slipped to C$1.2352 per U.S. dollar, off Thursday's C$1.2287, a level last seen in June.
The British pound paused for breath at $1.3798, off a month peak hit earlier in the week, to which it had been carried by growing expectations of an interest rate hike to combat rising inflationary pressures.
The euro was little changed at $1.1627, while the yen wobbled within sight of its multi-year lows, with one dollar worth 114.01 yen, compared with 114.69 earlier in the week, a four-year low.
China's yuan eased against the dollar on Friday after the FX regulator warned of possible action if the currency market is hit by greater volatility following its recent rally. But the yuan still looked set for the biggest weekly gain since May.
Bitcoin was at $63,928, a little off Wednesday's all-time high of $67,016
(Reporting by Alun John; Editing by Sam Holmes and Kim Coghill)
UN sets up trust fund for 'people's economy' in Afghanistan – The Globe and Mail
The United Nations said on Thursday it had set up a special trust fund to provide urgently needed cash directly to Afghans through a system tapping into donor funds frozen since the Taliban takeover in August.
With the local economy "imploding", the aim is to inject liquidity into Afghan households to permit them to survive this winter and remain in their homeland, it said.
Achim Steiner, the U.N. Development Programme's (UNDP) administrator said Germany, a first contributor, had pledged 50 million euros ($58 million) to the fund, and that it was in touch with other donors to mobilize resources.
Some 97% of Afghan households could be living below the poverty line by mid-2022, according to UNDP.
"We have to step in, we have to stabilize a 'people's economy' and in addition to saving lives we also have to save livelihoods," Steiner told a news briefing.
"Because otherwise we will confront indeed a scenario through this winter and into next year where millions and millions of Afghans are simply unable to stay on their land, in their homes, in their villages and survive," he said.
The International Monetary Fund said on Tuesday that Afghanistan's economy was set to contract https://www.reuters.com/world/asia-pacific/afghanistans-economic-collapse-could-prompt-refugee-crisis-imf-2021-10-19 up to 30% this year and this was likely to further fuel a refugee crisis that would affect neighbouring countries, Turkey and Europe.
The Taliban takeover saw billions in central bank assets frozen https://www.reuters.com/world/asia-pacific/un-chief-liquidity-needed-stem-afghanistan-economic-humanitarian-crises-2021-10-11 and international financial institutions suspend access to funds, although humanitarian aid has continued. Banks are running out of money, civil servants have not been paid and food prices have soared.
Steiner said the challenge was to repurpose donor funds already earmarked for Afghanistan, where the Taliban, the de facto authorities, are not recognized internationally. The fund allows the international community to be "confident enough that these funds are not meant as government-to-government funding", he said.
VIRTUALLY NO LOCAL CASH
The U.N. has discussed the programmes with the Taliban, he said, noting that 80% of the micro-businesses being helped were led by women.
"Our greatest challenge right now is that there is a economy in which there is virtually no domestic currency in circulation," Steiner said, adding that the U.N. wanted to avoid foreign currencies dominating, which would undermine the economy.
"Our intent is to find ways very quickly in which we can convert international support into local currency in order to be able to stimulate local markets, local livelihoods. This is how you keep an economy alive," he said.
Kanni Wignaraja, director of UNDP's regional bureau for the Asia Pacific, said that cash would be provided to Afghan workers in public works programmes, such as drought and flood control programmes, and grants given to micro-enterprises. Temporary basic income would be paid to the vulnerable elderly and disabled, she said.
The UNDP had costed activities to be covered over the first 12 months at approximately $667 million, she said.
Our Morning Update and Evening Update newsletters are written by Globe editors, giving you a concise summary of the day's most important headlines. Sign up today.
This content appears as provided to The Globe by the originating wire service. It has not been edited by Globe staff.
Province Invests in Midland Automotive Parts Manufacturer to Boost Local Economy – Government of Ontario News