LSU beats Clemson to cap perfect season with national title – TSN
NEW ORLEANS — From small-town Ohio kid to Louisiana Legend, Joe Burrow capped his record-breaking, Heisman-winning season by bringing a national championship to LSU.
Burrow threw five touchdown passes, ran for another score and finished off one of the most accomplished seasons in college football history by leading the top-ranked Tigers to a 42-25 victory against No. 3 Clemson on Monday night in the playoff final.
"He's one of the greatest players in LSU history," Tigers coach Ed Orgeron said of Burrow. "He's done so much for the state of Louisiana and LSU. We are so grateful to Joe Burrow."
The senior quarterback from The Plains, Ohio, lead the Tigers (15-0) to their first national title since 2007 and fourth overall, breaking a few more records along the way in what was already an historic season. The five TD passes and 463 yards passing are the most for a BCS or College Football Playoff title game as are his six total touchdowns.
"This is what I wanted to do from the time I was 5 years old, was hoist this trophy, and bringing it back to Louisiana," Burrow said, then caught himself. "I guess we're in Louisiana, but staying in Louisiana, we weren't going to let someone come in here and steal this from us in our home state.
"We have a great fan base that came out and supported us. We were going to keep this thing right here."
Under a shower of sparkling white, gold and purple confetti, Burrow raised the CFP championship trophy toward the Superdome roof.
The party was on — no doubt already raging on nearby Bourbon Street.
Burrow became the first major college quarterback to throw 60 touchdown passes in a season as LSU snapped defending national champion Clemson's 29-game winning streak. For the first time in his college career, Clemson star quarterback Trevor Lawrence was on the losing team. The Tigers (14-1) had won his first 25 starts.
"It's been a long time since I've stood in front of a team after a loss," Clemson coach Dabo Swinney said.
But on this night, Lawrence (18 for 37 for 234 yards) was no match for Burrow — the Ohio State transfer who threw all of 16 TD passes last season with LSU.
His ascent has been dizzying and unprecedented. Running a version of the New Orleans Saints' offence that was brought to LSU by 30-year-old assistant coach Joe Brady, Burrow and an array of talented receivers transformed these Tigers into one of the most prolific offences college football has ever seen.
The Saints' Drew Brees, Burrow's idol growing up, could not have done it better.
It was Orgeron's vision for LSU when he was promoted from interim coach in 2016. There was plenty of skepticism when LSU tabbed the Cajun who had failed in his first crack as a head coach with Mississippi.
Orgeron has proven to be the perfect fit for LSU. Just like Burrow.
After tossing his fifth touchdown pass of the night, a perfectly placed jumped ball to Terrace Marshall Jr. from 24 yards out to make it 42-25 with 12:08 left in the fourth, Burrow signalled TD and strolled to the sideline.
The Superdome is LSU's dome away from home, about 80 miles from the Tigers Baton Rouge campus, and it was rocking.
The LSU band broke out its unofficial anthem, "Neck," and as the Tigers bounced and waved towels on the sideline, Burrow just sat on the bench, bobbing his head and waving one arm.
Joe Cool. Just doing his thing. Next stop: The NFL draft, where he will likely be the first pick in April.
The final score was lopsided, but it was far from easy for LSU and Burrow.
Clemson pushed LSU into the deepest hole it has had to climb out of this season in the first half. Two weeks after Lawrence ran for a career-best 107 yards against Ohio State, he opened the scoring with a 1-yard jaunt around right end in the first quarter.
After B.T. Potter kicked a career-long 52-yard field goal for Clemson to make it 10-7, the Tigers sprung receiver Tee Higgins on a reverse and he raced 36 yards through tacklers for a score to make it 17-7.
It took LSU 5:19 to wipe that out and take the lead, with Burrow and his favourite receiver, Ja'Marr Chase doing most of the damage. The Heisman winner hit the Biletnikoff Award winner with a long ball to set up a quarterback draw from 3 yards out to make it 17-14.
Burrow and Chase hooked up for a 14-yard touchdown with 5:19 left in the second quarter and LSU fans erupted as their Tigers took the lead for the first time, 21-17. They never looked back.
Chase finished with nine catches for 221 yards.
The SEC Tigers weren't done. Burrow led LSU on a 95-yard drive, taking a hard shot on a long run before finding Thaddeus Moss, son of former NFL star receiver Randy Moss, standing alone in the end zone. That made it 28-17 with 10 seconds left in the half.
After Clemson's defence flummoxed LSU for most of the first quarter, with tight coverage and hard-to-decipher blitzes, Burrow, Chase and Co. put up 269 yards in the second quarter.
Over the last three games of this spectacular season, against Georgia in the Southeastern Conference championship game and Oklahoma and Clemson in the playoff, Burrow passed for 1,305 yards and 16 touchdowns. LSU won those games by a combined score of 142-63.
When it was all over, Burrow puffed on a victory cigar as he made his way from the locker room to the postgame news conference. No one was about to tell him he couldn't smoke inside.
This season, Burrow has done just about whatever he wants.
Why Cam Newton, Bill Belichick are not an odd couple but a perfect match – Sportsnet.ca
So, Cam Newton is reportedly going to be a New England Patriot.
I know how funny that sounds. From the outside looking in, it seems like a forced marriage. Like Newton and Bill Belichick are an odd couple.
Quarterbacks and head coaches have to be on the same page. Think Sean Payton and Drew Brees. Or for a while Belichick and Tom Brady before egos and power struggles got in the way.
Newton and Belichick seem to be polar opposites. The way they handle the media and the way they dress, for example, could not be more different. They don't really have much in common – except for the things that matter: they are both winners and they both love to win by running the football and breaking an opponent's will physically.
If Newton isn't broken himself physically, this is a match made in heaven. Here's why.
Why the Patriots are a perfect fit for Newton
In New England, Newton will have the opportunity and ability to run the ball even more effectively than he did in Carolina. And that ability could unlock the Patriots offence in ways Brady never could.
While the infamously immobile Brady rushed for a little over 1,000 yards his entire Patriots career, Newton had more than that a year-and-a-half into his NFL career and has rushed for 4,806 yards since 2011, the most among quarterbacks.
In New England, Newton will have at his disposal running backs Sony Michel, James White, Damien Harris and Rex Burkhead. That's the deepest and most versatile backfield Newton has ever played with, and he makes those runners better just as they do the same for him.
Newton's running ability and that stable of running backs gives the Patriots an opportunity to use offences they couldn't under Brady. For example, since Newton entered the league in 2011, the Panthers ran 815 zone-read plays with Newton on the field. The Patriots have only had eight zone-read snaps in that time span, the fewest in the league.
Nobody ever accounted for Brady in the run game, but opposing teams will now have to account for Newton's rushing threat as he's been the best running back on any team he's ever been on. Opponents will have to respect that by bringing an extra player close to the line of scrimmage to defend the run, meaning more 1-on-1 opportunities on the outside for the Patriots' skill players who struggle to separate and need any advantage they can get.
As much as Newton is a replacement for Brady, he is really a replacement for Rob Gronkowski — someone on the offence who demands so much attention because of their physical nature that they make life easier for everyone else.
Newton will also have the benefit of great play-calling. When he had an effective offensive coordinator designing run-pass options for him in 2018, Newton completed a career-high 67.9 per cent of his passes. Expect the same in New England with Josh McDaniels in his ear calling plays.
New England already has a great defence and a good running game that just got better with the reported addition of Newton. The new-look Patriots are going to be a more sophisticated, more experienced version of the Baltimore Ravens. Their defence is bigger and better than the Ravens', and now they have a quarterback who is more experienced, bigger, a better thrower of the football and more rested than the reigning MVP, Lamar Jackson.
If Newton plays well and wins, he either earns a more lucrative contract from the Patriots when they have more cap space in a year or he reimagines his branding for the rest of the league, who would be willing to take a shot on him after he produced while doing things "the Patriot way."
Why Newton is the perfect fit for the Patriots
Once the addition of the 2015 MVP and 2011 offensive rookie of the year becomes official, the Patriots can become the first team in NFL history to both lose and add an MVP in a single off-season.
Belichick, who is 0-2 against Newton, has long been a fan of the 2011 No. 1 pick. Newton, a Heisman Trophy winner and national champion with Auburn, where he gave Belichick disciple Nick Saban fits at Alabama, is a proven winner and Belichick loves to accrue players who have shown the ability to win on multiple levels.
In 2017, Belichick praised Newton in comparison to the other dual-threat quarterbacks in the league: "I would put him at the top of the list. Not saying the other guys aren't a problem because they are but he'd be public enemy No. 1."
Newton's numbers back up Belichick's praise.
Newton put up 182 passing touchdowns and 58 rushing touchdowns in nine seasons with the Panthers and has had 39 career games with a passing and rushing touchdown, an NFL record.
Newton accounted for 240 touchdowns from 2011-18. Only three quarterbacks accounted for more: Drew Brees, Aaron Rodgers and Brady. During that period, Newton rushed for more scores than Marshawn Lynch. When healthy, Newton has racked up insane offensive production with his unique skill set — something the Patriots have the ability to adapt around.
And that production level is the opposite of New England's in-house options: sophomore Jarrett Stidham has just four career pass attempts, while Brian Hoyer is the only other quarterback currently on the Patriots roster to start a game in the NFL.
But not only is Newton a better option than what the Patriots have internally, he's more reliable than the quarterbacks New England has to beat to continue its AFC East dominance.
Entering his 10th season, Newton is 71-59-1 as a starting quarterback. Buffalo has Josh Allen, who is about to kick off his third season and is 15-13 as a starting QB; the Jets' Sam Darnold is also entering his third season and has a 11-15 record as a starter; and the Dolphins have 15-year veteran Ryan Fitzpatrick, who is 55-83-1 as a starting QB, and Tua Tagovailoa, who is a rookie coming off a major injury.
New England has won the AFC title 11 straight years, and Newton was the best option to make it 12 in the absence of No. 12.
And if Newton's not a fit, no big deal. He's reportedly joining New England on a one-year, incentive-laden deal. Newton's base pay is reportedly just over $1 million and he could max out at $7.5 million. If he gets to camp and isn't healthy, the Patriots can cut him. They have no commitments past this season.
The Patriots will reportedly be paying Newton $14 million less than Indianapolis Colts backup Jacoby Brissett will make this year. Basically, if Newton hits on all of his incentives, he'll get paid what the Chargers are paying Tyrod Taylor.
Belichick loves good value at any position, and Newton's short-term deal provides just that.
The only reason it won't be a fit is if Newton's not fit
Newton still hasn't taken a physical for the Patriots and, because of COVID-19, we aren't sure when he'll be able to. His last physical was on March 23 by an independent doctor in Atlanta to prove his health, and Newton passed that physical before being released by the Panthers the next day.
But Newton's history of injuries is well-documented and his style of play has taken its toll. Newton has taken contact on 1,235 plays since 2011, the most among quarterbacks, and has dealt with shoulder, back and foot injuries – among others – throughout his career.
Newton turned 31 in May, and that type of attrition on the body is why you see a lot of young running quarterbacks but not many veteran ones.
Those injuries had an impact on Newton's game over the last two seasons. He has a 34.3 total QBR since Week 10 of 2018 and is 0-8 as a starter in that span. That's the second-worst over that period, ahead of only Josh Rosen. Not only is he 0-8 in his last eight starts, he has nine passing touchdowns and 10 interceptions in those games. Much of that, though, was a byproduct of being on a bad team and not trusting his body to make plays. Neither should be an issue in New England.
Making the move to New England may work out for Newton like it did for Randy Moss, Corey Dillon and Aqib Talib, or it might not, like with Albert Haynesworth, Antonio Brown and Chad Ochocinco.
But, for better or worse, Belichick and New England take chances on talent. Newton won't be a distraction and the cultural fit isn't an issue. The Patriots co-existed with Gronkowski, who was a walking reality show.
Talent is something Newton has never lacked. Now all he needs is an opportunity and to be healthy. He's got the first one and the Patriots are a Super Bowl contender if he proves he has the second.
Brown works out with Seahawks QB Wilson – TSN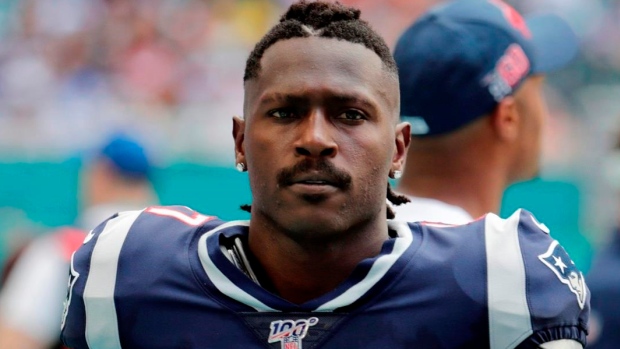 Free agent wide receiver Antonio Brown posted a video on Instagram of him working out with Seattle Seahawks quarterback Russell Wilson.
Brown captioned the video, which shows him catching a deep pass from Wilson, "Who wants to see this on Sundays? That was fun!"
The 31-year-old Brown could be suspended if he were to be signed by a team ahead of the 2020 season. The former star player has been involved in a number of legal issues stemming back from the 2019 season.
Brown played in just one game during the 2019 campaign after being released by the New England Patriots in September of 2019. The wide receiver signed with the Patriots that same month after he was cut by the Oakland Raiders, who acquired him in March of 2019 in a deal with the Pittsburgh Steelers.
Brown, who spent nine of his 10 career seasons with the Steelers, has amassed 11,263 receiving yards and 75 touchdowns with 841 receptions over his career and has seven Pro Bowl nominations.
MLS: 6 FC Dallas players have tested positive – TSN
Major League Soccer says six FC Dallas players have tested positive for COVID-19.
Two of the players tested positive upon arrival Saturday at the league's host hotel in Florida for the MLS is Back Tournament. The other four tested positive within the last two days.
All six were assessed and moved to the isolation area of the hotel where they continue to receive "remote care from a health-care provider," the league said,
The rest of the FC Dallas delegation, following MLS health and safety protocols, are quarantining in their hotel rooms pending results of additional COVID-19 testing.
Dallas is due to open its tournament against the Vancouver Whitecaps on July 9 at Disney's Wide World of Sports complex in the Orlando area.
The league says no other members of the MLS delegation at the host hotel have tested positive, and no other club has been in contact with the FC Dallas party since it arrived in Florida.
League protocols include regular screening, testing, social distancing, person protective equipment and a mandatory quarantine for all individuals upon arrival at the hotel until they have a negative test.
It says so far 392 people have been tested with six positives.
The Whitecaps, Montreal Impact and Toronto FC have yet to arrive in Florida for the tournament, which runs July 8 to Aug. 11.
This report by The Canadian Press was first published June 29, 2020.
—
Follow @NeilMDavidson on Twitter