Major iOS 15 glitch removes noise cancellation for calls on the 5G iPhone 13 series – PhoneArena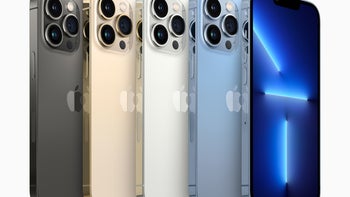 Noise cancellation is the feature on the
AirPods
Pro that eliminates ambient noise from interfering with the music you're listening to on the wearable device. And if you need to hear background noise (like when you're walking in the city and there is traffic bearing down on you) the Transparency Mode will disable the noise cancellation.
A glitch in iOS 15 is preventing noise cancellation from being available on iPhone 13 models

But did you know that your iPhone also features noise cancellation for phone calls? At least, models from the iPhone 5 up to and including the
iPhone 12
offer this feature. And while you would expect it to also be available for iPhone 13 users, a post on
Reddit
(via
9to5Mac
) from a Redditor named
throwawaowl999
notes that the toggle button for the feature (found on iPhone 12 and older models at
Settings
>
Accessibility
>
Audio/Visual
>
Phone Noise Cancellation
) doesn't appear on the iPhone 13 line.
While Apple did add noise cancellation to FaceTime calls this year with a feature known as "Voice Isolation," it doesn't work with regular everyday cellular calls. In his Reddit post,
throwawayowl999
wrote, "How can Apple remove such a basic feature from a 2k USD phone in 2021? I have a rotting Galaxy S6 Edge here, and the call quality isn't comparable. The S6 is crispy clear, perfect voice, zero backgroud noise, both on the sending and receiving end. The
iPhone 13 Pro Max
: hissing sounds, crackling, feels like the old Alcatel days."
The author behind the Reddit post visited an Apple Store and spoke with a Genius Bar employee who wasn't even aware that
Apple
had removed noise cancellation from the iPhone 13. He spoke with Apple Support which informed him that Apple engineers are working on the problem. One Support employee said that a fix would be coming in the weeks ahead while another at first couldn't find the problem in the system and when he found it, he noted that Apple has no timeframe in mind to push out an update.
Another Reddit user, who goes by the handle
dagocarlito
, said, "The iPhone 13 has 'never' had this option with iOS 15 because it's a glitch. I've been speaking with Apple Support regarding this. It's a known issue they are working on with no resolution timeline at the moment. This issue also creates problems with echos on CarPlay when talking between iPhone 13's. It is a major flaw that needs to be resolved asap."
There is no fix scheduled as of now to put noise cancellation on the iPhone 13 line

There is, indeed, no fix in place. A post on this subject matter was made on the
Apple discussions site
during the first week of October and the recent releases of iOS 15.2, and the iOS 15.3 beta failed to fix the problem. So yes, as far as we can see, Apple has nothing on the horizon that would bring noise cancellation back to the iPhone 13 line. And the original Reddit poster says that this is important because, in his own words, "It's a PHONE! Making phone calls is THE basic function."
And the aforementioned post on the Apple discussions site, written by
tgc7109
notes, "I have the same problem. The
iPhone 13 Pro
Max does not have the 'phone noise cancellation' option. I was trying to make the phone sound louder and one of the solutions was to turn off the noise cancellation option. Based on a photo I saw, apparently it is supposed to come after the 'mono audio' option but the next option listed is the 'Headphone Notifications.' Is this an iOS 15 software glitch?
Noise cancellation was first available to iPhone users with iOS 7. The latter debuted with the iPhone 5. The feature works when a microphone captures unwanted ambient noises and a small amplifier cancels these sounds by producing sound waves out of phase with the ambient noises.
Apple Will Reportedly Be Requiring Covid-19 Boosters for Its Store and Corporate Workers – Gizmodo
Apple now considers covid-19 booster shots to be an important element in protecting its workers and will be purportedly requiring employees to show proof that they've gotten the additional dose to access its premises, according to an internal email seen by the Verge.
On Saturday, the Verge reported that Apple would be requiring its retail and corporate employees to get a covid-19 booster shot once they are eligible for one. According to the Centers for Disease Control and Prevention, individuals who received Pfizer-BioNTech and Moderna vaccines can get a booster five months after their first two shots. Those who receive the one-dose Johnson & Johnson shot are eligible to get boosted two months after vaccination.
As told by the Verge, Apple workers will have four weeks to comply with the company's booster requirement once they become eligible. If employees don't get a booster within that time frame, they will be required to take frequent covid-19 tests to enter an Apple Store, partner store, or Apple office beginning on Feb. 15.
"Due to waning efficacy of the primary series of COVID-19 vaccines and the emergence of highly transmissible variants such as Omicron, a booster shot is now part of staying up to date with your COVID-19 vaccination to protect against severe disease," Apple stated in the internal email, according to the Verge.
The memo also contained information for unvaccinated employees, which will be required to provide a negative covid-19 rapid antigen test before entering the workplace beginning on Jan. 24. Workers who have not provided proof of vaccination will also have to abide by this testing policy.
Gizmodo reached out to Apple on Sunday to confirm the Verge's report, but we didn't hear back by the time of publication. We'll update this article if someone from the company gets back to us.
If the internal email is accurate, Apple would join Meta, owner of Facebook, WhatsApp, and Instagram, in requiring covid-19 booster shots for its employees. On Monday, Meta said that employees who are eligible to receive booster shots would need to provide proof of vaccination beginning on March 28 to enter its offices.
"Boosters provide increased protection," a Meta spokesman told the Wall Street Journal. "Given the evidence of booster effectiveness, we are expanding our vaccination requirement to include boosters."
Google hasn't disclosed whether it will require its employees to get covid-19 booster shots but did say on Thursday it would require employees and contractors to have a negative covid-19 molecular test—which are generally more accurate and detect the presence of the coronavirus' genetic material—such as a PCR test to access its offices or facilities. We reached out to Google to ask whether it would be requiring covid-19 booster shots for its employees on Sunday but haven't heard back yet.
Amazon, meanwhile, purportedly isn't using mandates to get people to get boosted, it's using what it knows best: money. This past Thursday, the Information reported that Amazon was paying its hourly workers, including its 750,000 U.S. warehouse workers, $40 and offering them an extra (unpaid) day off to get a booster shot.
Gizmodo reached out to Amazon on Sunday to confirm whether this was indeed the case and ask if it planned to require boosters for all employees. We'll update this article if someone from Amazon gets back to us.
Awesome Games Done Quick 2022 Raises Over $3.4 Million For Prevent Cancer Foundation – GameSpot
Awesome Games Done Quick 2022, the first of multiple charity speedrunning events run by the Games Done Quick Foundation, has ended with over $3.4 million raised for the Prevent Cancer Foundation.
139 speedruns made up this year's marathon, which began January 9 at 12 PM ET and ended at approximately 2 AM ET January 16. The exact amount raised by the event was $3,416,729, with all donations taken during that same time period.
🏁TIME 🏁
#AGDQ2022 has raised a total amount of $3,416,729 for @preventcancer! This is officially the most we've ever raised in the history of @GamesDoneQuick – ANOTHER WR🏆
Thank you to everyone who made this marathon possible, and thank you all for your generosity & support❤️

— Games Done Quick (@GamesDoneQuick) January 16, 2022
Highlights of this year's event included a Pokemon race with one player running Omega Ruby and the other Alpha Sapphire, runs in multiple 2021 releases including Resident Evil Village and It Takes Two, and a blindfolded run of Sekiro: Shadows Die Twice completed in exactly two hours. Multiple world records were also set during the event, including:
Awesome Games Done Quick is an annual charity speedrunning marathon run in early January by the Games Done Quick Foundation. The foundation runs multiple marathons throughout the year, including Summer Games Done Quick and Flame Fatales. Each event raises money for a different charity, including the Prevent Cancer Foundation, Doctors Without Borders, and the Malala Fund.
Wordle! and Wardle team up to donate proceeds from an unrelated app's popularity spike – The Verge
Wordle is a free browser game, and a browser game only — it has no accompanying apps, something that some people (myself included, regrettably) might not realize during a time when nearly everything has an app.
This leaves plenty of room for fake Wordle apps to crowd app stores in an attempt to leech off of the word puzzle game's sudden rise in popularity. But there's one app coincidentally called Wordle! that's not a clone — it actually existed before the browser game itself. That's why its developer is teaming up with the mind behind the browser-based Wordle, Josh Wardle, to use its accidental success as an opportunity to give back, according to a report from GameSpot.
The story unraveled in a thread on Twitter, with Wordle! app developer, Steven Cravotta, detailing how his coding project blew up five years after its creation, unknowingly riding on Wordle's coattails. He developed an iOS app called Wordle! in 2017 to brush up on his coding skills, and while it got around 100,000 downloads, it wasn't as successful as a previous game he built, called Grid, so Cravotta decided to stop updating and promoting the app.
Cravotta says that downloads for Wordle! slowed to around one to two per day, but when the browser-based Wordle started taking off, so did his app. The app racked up 200,000 downloads in a single week, albeit from confused users who mistook it for the browser-based Wordle. Cravotta reached out to Wordle app developer, Josh Wardle, and let him know about his plans to donate the proceeds from his app to charity — Wardle sent out a tweet of his own to acknowledge the gesture.
Cravotta later confirmed that he and Wardle decided to donate any money earned by Wordle! to BoostOakland, a charity geared towards tutoring and mentoring young people in Oakland, California. When The Verge reached out to Cravotta, he told us that he has collected a little more than $2,000 so far and that he'll donate the total amount earned at the end of this month.