Maple Leafs News & Rumors: Lehtonen, Clarke & Campbell – The Hockey Writers
Some things are stewing in the NHL pot. On Monday, the NHL's Board of Governors held a conference call to discuss a range of issues, including the possibility of staging the NHL Entry Draft in June before the completion of the 2019-20 regular season. However, according to TSN Hockey Insider Pierre LeBrun, no decision was made about the 2020 draft.
Related: Maple Leafs News & Rumors: Andersen, Cujo & Resuming the Season
LeBrun tweeted that an announcement might not be made until next week. NHL deputy commissioner Bill Daly had emailed LeBrun that, "We think it's more important to get the right decision than to get a quick decision."
With these discussions in the wind, in this post I'd like to help Toronto Maple Leafs fans stay up-to-date on any news and rumors emerging from and about the organization.
Item One: Maple Leafs Sign Defenseman Mikko Lehtonen

On Monday, May 4, the Maple Leafs officially announced they had signed former KHL defenseman Mikko Lehtonen to a one-year entry-level contract. Lehtonen led all KHL defensemen with 17 goals, 32 assists, and 49 points last season while playing 60 games for Helsinki Jokerit.
Make no mistake Maple Leafs fans, this is a great signing for the team. Unless there's a huge surprise, the 26-year-old Lehtonen will immediately assume a roster spot on the team's blue line for the 2020-21 season. At the same time, because general manager Kyle Dubas signed him to an entry-level contract, that offers the team – even in a time of not knowing where the upper limit of the salary cap will eventually land – great flexibility. It's likely the signing makes both Cody Ceci and Tyson Barrie expendable this summer.
Finally, Lehtonen might have been the best defenseman in the entire KHL (he was named a KHL All-Star), which further makes this a huge signing for the team during a time when it really needs to re-shape its blue line. Now they can do that re-shaping in a time of salary-cap crunch.
Related: Revisiting John Ferguson Jr.'s Draft – 2004
TSN's Bob McKenzie tweeted that, although Lehtonen did play right-defense for Finland at last year's World Championship, Travis Dermott probably has the most experience and aptitude to switch.
Lehtonen comes with pedigree. He played for Team Finland at the World Championships in 2017 and 2019 (was named the tournament All-Star in 2019 when his team won gold), played for Team Finland's 2018 Olympic team, and won gold at the 2014 World Junior Championships.
Item Two: Wendel Clark Speaks about Former Maple Leafs Coach Pat Burns
For die-hard Maple Leafs fans, Wendel Clark – the tough-as-nails Saskatchewan farm boy who took the city of Toronto by storm – has always been a favorite in the team's history. In a great interview last week by Sportnet's Luke Fox, Clark talked about a wide-ranging number of subjects over his career with the team. Although I will only report a single part of that interview here, I invite fans to follow the link and enjoy Fox's article.
During the interview, Fox asked Clark about playing for equally-tough Maple Leafs head coach Pat Burns. Fox asked Clark what strings Burns pulled as a coach.
Clark answered: "He was a tough cop. It was gonna be his way, and he was gonna force you to do things — even though everybody on the outside didn't know you were forced to do it. Everybody had to do what he wanted to do, and he got everybody on the same page."
Clark also noted: "A lot of times we're all sticking up for each other because you're mad at Burnsy. That was part of his coaching – he knew that would make us closer as a team, right? It's all part of him putting in a structure that he wanted, and he did it every year."
Related: What Mats Sundin Meant to Toronto Hockey
Finally, Clark added: "He started in Montreal, then Toronto, then Boston, then Jersey. He coached the same way in every spot. He had a game plan, and he had us as a very hard team to play against. We were all on the same page from '92 to '94."
By the way, in the 1991-92 season (the season before Burns came as Maple Leafs coach), the team's record was 30-43-7 (67 points), and the team finished 5th in Norris Division. In 1992-93, Burns coached the team to a record of 44-29-11 (99 points), and the team finished 3rd in Norris Division. In Burns' next season (1993-94), the team's record was 43-29-12 (98 points), and they finished 2nd in Central Division. Clark was captain on all those teams.
Item Three: Jack Campbell Simply Loves Playing in Toronto
A few weeks before the NHL trade deadline, Maple Leafs general manager Dubas pulled the trigger on a trade that brought backup goalie Jack Campbell from the Los Angeles Kings to the Maple Leafs. That was Feb. 5; and, shortly a month later Campbell was on his way back to his California home to wait out the NHL's regular-season suspension.
In a recent conference call, although his first weeks with the Maple Leafs were a whirlwind, Campbell reported he's loved being part of his new team. He especially lauds the organization, calling it "fantastic."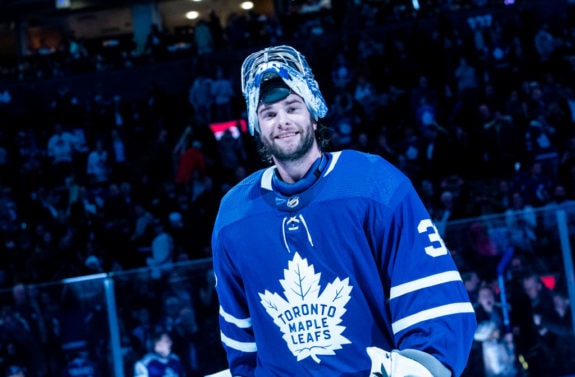 Campbell noted, "I'll always be grateful for L.A. and the opportunities they gave me to establish myself in the league, but I mean, getting traded to Toronto, it's the hockey mecca of the world. What a fantastic organization, top to bottom; the fans, the management and, number one, my teammates. I just really enjoyed getting to know everybody."
He admitted that, when he saw fellow goalie Frederik Andersen and teammate Auston Matthews on Instagram, he experienced FOMO (fear of missing out). As Maple Leafs fans probably have read, because Andersen was unable to return home to Denmark, he's staying with Matthews in Arizona during the quarantine. (As an aside, can you imagine the bond Andersen and Matthews could have when this self-quarantine is completed?)
Campbell also said, "I love those guys (Andersen and Matthews). They're awesome. We've been texting once a week or so, just staying in the loop, and it looks like they're having a good time. Those two guys are pretty similar, they love spending time outside playing sports."
Related: Bill Barilko, the Tragically Hip & the Most Famous Goal in Maple Leafs History
They better also find some things to do inside as well. It's been exceedingly hot in the Phoenix area – tomorrow the temperature is going to be +42 C. It's air-con time.
What's Next with the Maple Leafs?
There was a lull for a while, but when Dubas' signed Lehtonen that was a major coup. He and his team are always working on something, and they seem to have better-than-average success making what they hope to happen actually happen.
It will be interesting to see what the organization is up to next.
Amanda Nunes on possible COVID-19 infection: 'I never felt like that before' – Bloody Elbow
Amanda Nunes feels she won't have any problems fighting amidst the coronavirus pandemic at her UFC 250. That is because the UFC's female bantamweight and featherweight champion believes she already had a mild case of COVID-19 and is now completely recovered from it.
In an interview with Combate, Nunes talked about a trip to Las Vegas she took back in the beginning of the pandemic, where she was in contact with several people at once. Afterwards, Nunes described coming down with a strong sickness, which left her bedridden and feverish for a few days. Although she was never tested, the 'Lioness' feels like it was a case of COVID-19.
"I was at a convention in Vegas. There were people from all over the world. I was exposed to a lot of people while I was there. When I got home, I was sick. I had the same symptoms as the coronavirus. Now that I'm headed to a UFC card, I'll know for sure. When I got back from the trip, I went straight to bed, I had a fever, my body really ached. I never felt like that before."
"I've been sick before, but I never felt the way I did when I got back from Vegas after the convention." Nunes continued. "Then I got sick, I was bedridden for two, three days, and later on Nina (Ansaroff, Amanda's wife) caught it and got sick, too. So I believe I had a fast case of coronavirus, but now I'll know if I really had it. I should be immune now, right? Once you get it, you're immune, I read something along those lines. Then I'll really know."
Although there are no well documented cases of reinfection, scientists remain unsure as to whether or not you can be reinfected with COVID-19. There were cases of reinfection reported in South Korea. However, it was determined that those patients' second positive tests for the virus were because they still had genetic material connected to COVID-19 in their body left over from their initial infection. These patients were also determined to not be secretors of the virus.
Currently on a 10-fight winning streak in the UFC, Amanda Nunes (19-4), will try to defend her featherweight title for the first time since taking it from Cris Cyborg, back in December 2018. After the win, the 32-year-old successfully defended the bantamweight title twice, against Holly Holm and, most recently, against Germaine de Randamie, in December 2019. The Brazilian's last and sole loss in the Octagon dates back to September 2014, when she was TKO'd by Cat Zingano.
Now, Amanda Nunes is expected to meet Felicia Spencer at UFC 250's main event, on June 6, at the UFC Apex, in Las Vegas, Nevada.
Drew Brees issues apology for comments on kneeling during anthem – Sportsnet.ca
After facing widespread and immediate backlash Wednesday for his comments about peaceful protest during NFL games, New Orleans Saints quarterback Drew Brees has issued a public apology.
"I would like to apologize to my friends, teammates, the City of New Orleans, the black community, NFL community and anyone I hurt with my comments yesterday. In speaking with some of you, it breaks my heart to know the pain I have caused," Brees said in an Instagram post. "In an attempt to talk about respect, unity, and solidarity centered around the American flag and the national anthem, I made comments that were insensitive and completely missed the mark on the issues we are facing right now as a country.
"They lacked awareness and any type of compassion or empathy. Instead, those words have become divisive and hurtful and have misled people into believing that somehow I am an enemy. This could not be further from the truth, and is not an accurate reflection of my heart or my character."
On Wednesday, in an interview with Yahoo Finance's Daniel Roberts, Brees was asked how the NFL should respond if players decide to once again kneel during the national anthem in protest of police brutality in the United States — as former NFL quarterback Colin Kaepernick first did in 2016 — particularly in the wake of the killing of George Floyd.
Brees did not offer his support, saying he "will never agree with anybody disrespecting the flag of the United States of America, or our country," and describing his own experience of hearing the anthems:
"Let me just tell you what I see or what I feel when the national anthem is played or when I look at the flag of the United States," he told Roberts. "I envision my two grandfathers — who fought for this country during World War II — one in the army and one in the marine corps, both risking their lives to protect our country and to try to make our country and this world a better place. So every time I stand with my hand over my heart and looking at that flag and singing the national anthem — that's what I think about," said Brees.
"And in many cases, it brings me to tears, thinking about all that has been sacrificed, not just those in the military, but for that matter, those throughout the civil rights movements of the '60s and all that has been endured by so many people up until this point. And is everything right with our country right now? No, it's not. We still have a long way to go. But I think what you do by standing there and show respect to the flag with your hand over your heart is it shows unity. It shows we are all in this together. We can all do better. And we are all part of the solution."
In his apology Thursday, Brees said the following of his support for the Black community:
"This is where I stand: I stand with the black community in the fight against systemic racial injustice and police brutality and support the creation of real policy change that will make a difference," his post read. "I condemn the years of oppression that have taken place throughout our black communities and still exists today. I acknowledge that we as Americans, including myself, have not done enough to fight for that equality or to truly understand the struggles and plight of the black community. I recognize that I am part of the solution and can be a leader for the black community in this movement.
"I will never know what it's like to be a black man or raise black children in America but I will work every day to put myself in those shoes and fight for what is right. I have ALWAYS been an ally, never an enemy. I am sick about the way my comments were perceived yesterday, but I take full responsibility and accountability. I recognize that I should do less talking and more listening… and when the black community is talking about their pain, we all need to listen.
"For that, I am very sorry and I ask your forgiveness."
MLS close on Orlando tournament with CBA – TSN
Major League Soccer and its players' union reached an agreement that paves the way for a summer tournament in Florida after the season was suspended by the COVID-19 pandemic.
The deal was announced by the MLS Players Association on Wednesday following tense talks and the league threatening a lockout. Players from Toronto FC, the Montreal Impact, Vancouver Whitecaps and other markets skipped training the last two days as the two sides remained at odds.
"Although I'm relieved and excited that a deal has finally been made to get us back to play, the tactics that were used by the league were very unfortunate and upsetting," said Whitecaps fullback Jake Nerwinski.
"I'm proud that even though at some points the players had their back against the wall, we never gave in. We stood in solidarity and remained a unified coalition to get a deal done."
MLS and the union agreed Feb. 6 to a five-year labour contract, but the deal had not been ratified when the season was stopped on March 12 after only two matches had been played by each team.
The players agreed to a 7.5 per cent pay cut dating back to their last paycheque of May 31, said Nerwinski.
The ratified collective-bargaining agreement was announced in the midst of protests over police brutality and injustice against African Americans sparked by the killing of George Floyd in Minneapolis last week. Both sides noted the unrest in announcing the contract.
"There are problems we face collectively that are both more urgent, and more important, than competing on the field," the union said in a statement. "We hope our return to the field will allow fans a momentary release and a semblance of normalcy."
FC Cincinnati defender Nick Hagglund, a former Toronto FC player, said there was no winner.
"Both sides are conceding. But ultimately it's moving forward and soccer's going to be back and I think that's the important thing," he said.
Nashville SC defender Daniel Lovitz, formerly of both Toronto and Montreal, said players were "excited and relieved" to get back to action at the Florida tournament "pending the resolution of a lot of important details that I'm sure will be communicated rather soon."
MLS commissioner Don Garber vowed the league will go further with its public stance for equality.
"We've tried to create programs that would address some of the things that are important to our core values. I have to say that it's not enough to produce ads, it's not enough just to have programs that talk about these issues," he said.
Garber said the league expects to take a US$1-billion revenue hit because of the coronavirus.
The revised CBA, a six-year deal through 2025, includes across-the-board pay cuts and reduced bonuses.
One of the sticking points was a clause that allows either side to opt out of the deal because of unforeseen circumstances, like a pandemic. The agreement does not tie the clause to attendance, something the league had sought.
The agreement also changes the players' share of media rights negotiated in the original CBA. The share will drop from 25 per cent to 12.5 per cent in 2023, but will be restored to 25 per cent in 2024.
Details of the Florida tournament were still being finalized. The league's 26 teams and limited staff would be based in the Orlando area and matches played without fans at ESPN's Wide World of Sports Complex at Disney World.
Whitecaps midfielder Andy Rose, who has diabetes and whose wife is due to give birth in July, said he will have to review details of the tournament to decide on his participation.
"My personal situation is a tricky one," he said. "I know there's other guys around the league in the same spot."
Garber said the tournament would last no longer than 35 days but he would not reveal additional details.
The union announced Sunday night that players had voted for an agreement but MLS pushed back on the terms and imposed a deadline for a lockout.
Garber said it was his decision to threaten the lockout, a move that was criticized.
"It's not something that I did without a lot of thought and without a lot of concern and a lot of understanding as to what impact that would have on our players and on the negotiation," Garber said. "But it was something, as the leader of this league that I believed was necessary in order for us to get to the point today."
Nashville defender Eric Miller, a member of the MLSPA executive board, said on social media that he was proud of the players, "although the process and tactics used by MLS left a mark."
"Players showed commitment and strength throughout this entire process," Miller said. "We are all excited to get back on the field and be a positive force for change in our communities."