MasterChef Canada Back To Win Episode 4: Rolling with the pasta punches – Eat North
After last week's team challenge cliffhanger left us on the edge of our seats wondering who will be the next chef to exit the MasterChef Canada kitchen, we find out that for this week's elimination challenge, the chefs are going to Italy.
Although it might feel like a step backward from previous challenges in terms of the chefs' familiarity with the cuisine, no matter how much pasta they've made in their lives, it likely pales in comparison to judges Michael and Claudio, who are both of Italian descent and have spent decades mastering the artform in their combined catalogue of award-winning restaurants.
The chefs are told that winning last week's elimination challenge would have usually meant immunity in today's challenge, but now they say that's not the case. Did they not tell them precisely that? The last thing we hear from Andy in last week's episode is "I'm very, very proud of the effort we put forward, and I'm stoked to be safe."
In either case, we must move forward and the chefs are told that one member of the winning Red Team must compete in the pressure test and Jeremy, who captained that team, must decide.
The Red Team chefs are asked what they would do in Jeremy's position. Thea says to pick the person who performed the weakest. Christopher says he would pick his biggest competitor, which could very well be him. Marissa, who whether due to editing time constraints or otherwise, hasn't really stood out from the competition as of yet, also says Jeremy should pick the strongest competitor. Andy takes an entirely different approach and suggests that Jeremy can prove he's the toughest competitor by choosing himself.
Jeremy appears none too impressed and almost in retaliation to Andy's perceived audacity, quickly dismisses the notion and chooses him as the chef that will represent the Red Team in this week's pressure test. Andy, along with the remaining competitors on Team Mai, are given black aprons.
The judges tell us that this pressure test is going to be not one, but two rounds. Michael says the theme of the first round is something very close to his heart, and the task the chefs must perform will be demonstrated by someone who is also very close to his heart.
We're then introduced to the acclaimed chef's son, chef Oscar Bonacini who at first glance, appears to be a chip off the old block–but somehow even taller. In addition to having his hand in multiple Bonacini-owned properties across Canada over the years, the young chef has a wealth of authentic Italian culinary experience by way of a stage at Trattoria Cacciatori in the region Emilia-Romagna, which also happens to be where the Bonacini family has its roots.
First Pressure Test: Primi piatti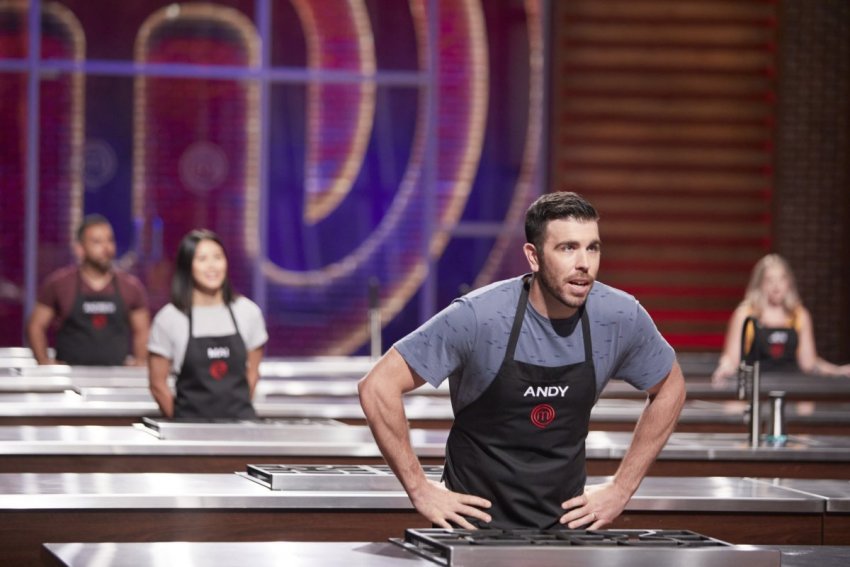 For the first series of challenges, the chefs will have to prepare three types of pasta that derive from three different regions: capunti from the Puglia region served with tomato sauce, lorighittas from the Sardinia region with a butter and herb sauce, and trofie from the Liguria region with a pesto sauce.
When the chefs were told this was going to be a pasta challenge, they all seemed to let out a collective sigh of relief. But after watching chef Oscar demonstrate while detailing the minute intricacies of each step, for some, confidence transitions into confusion.
The chefs will have to work with a semolina-based dough–a dough made from only two ingredients: water and durum wheat semolina flour. Chef Oscar says the key will be managing the dough's moisture and finding a fine line between wet and dry.
Andre is the most visibly affected by the complexity of the upcoming challenge. He explains that he barely ever eats pasta and if he does, he buys it premade from the supermarket. That surely doesn't bode well for the Whitby chef but he does seem focused and as long as he remains mindful of each step he should be fine.
We're now told that the first pressure test is also going to be a head-to-head challenge. Each pair will be tasked with making one of the three pasta shapes.
The winners will earn a place in the gallery and the losers will face off in another challenge with elimination on the line–assuming they hold to those parameters this time. As the sole remnant from last week's winning team, Andy gets to choose the dueling pairs.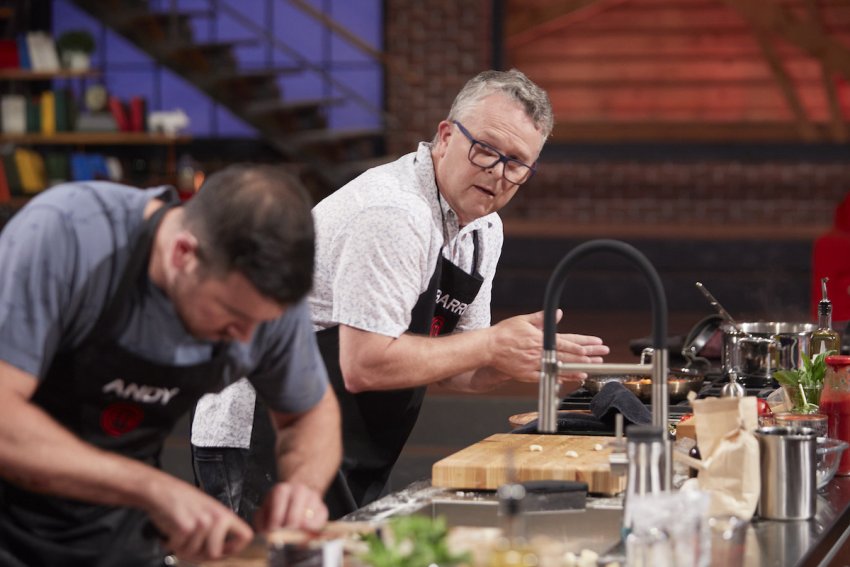 Andy decides that he will tackle the capunti and his competitor will be Barrie. He chooses Barrie because while he believes him to be a good chef, he's shown a tendency to get a bit frazzled under pressure. He thinks he can take him, but it won't be easy. As you might expect, Barrie says he's a little bit salted, but not scared to cook against Andy. He says the first 20 shifts he ever worked in a restaurant were spent exclusively hand rolling pasta.
Andy picks Mai and Andre to compete in the loragitas challenge. Of all the chefs, Andre seemed to be the most nervous going into this challenge and if I were him I'd be even more nervous now; they're both strong chefs in their own rights, but Mai should have the advantage here because hand-rolling and folding dumplings is something she does daily. That leaves Andrew and Jen left to square off in the trofie challenge.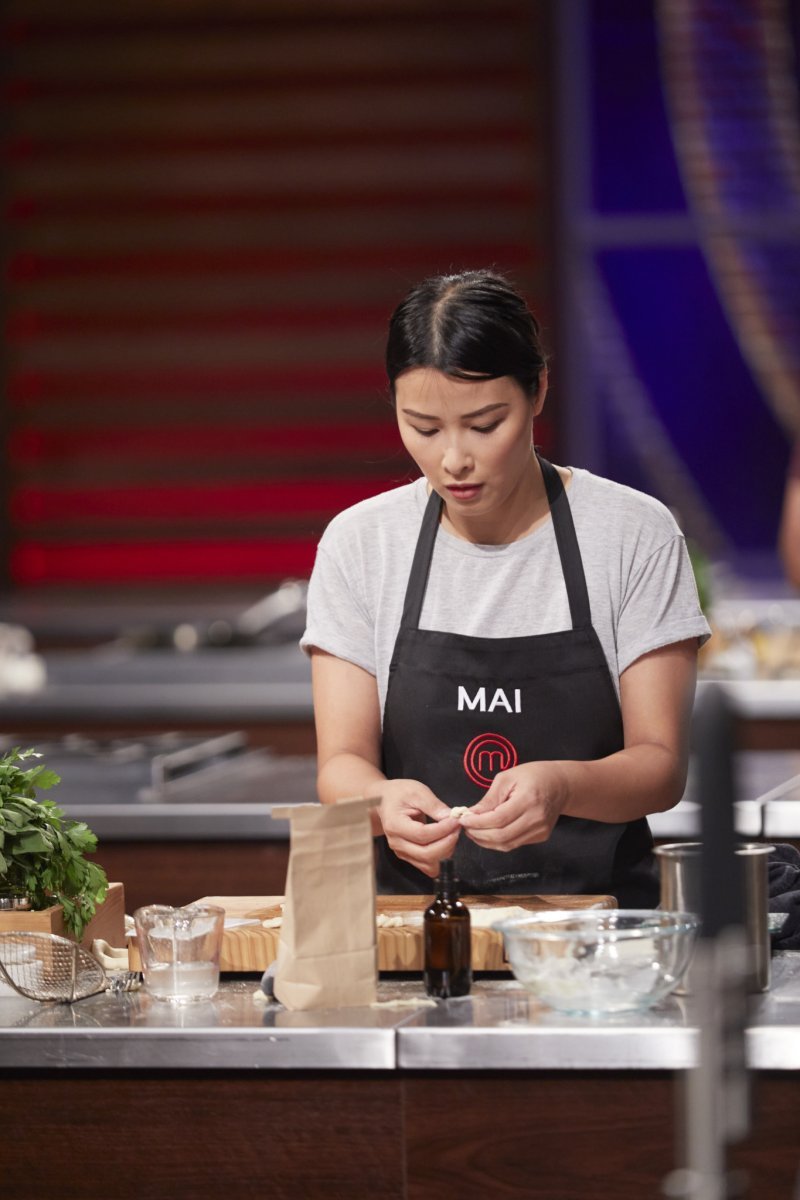 The chefs begin to build their dough and Mai is not only fast, but the look of pure determination and focus on her face is almost scary, if not thoroughly impressive. Christopher refers to her as a dough master and the title seems more than apt. She says she's fully aware of the added pressure on her in this challenge, but that pressure only seems to add to her focus.
On the complete opposite side of the spectrum, Andre almost appears to have conceded this round. He seems to be watching Mai for pointers, but whenever he speaks his tone indicates he's already written himself off for this challenge.
Jen elects to forego using the scraping tool chef Oscar utilized to shape the trofie. She hopes that working with her hands will lead to a more perfectly shaped pasta. She also chooses to use a mortar and pestle as opposed to a blender, which the balcony seems to have mixed emotions about. We'll see if she gets dinged for not following exact instructions or if her end result is tasty enough to trump any disappointment from the divergence.
The judges then take some time to elaborate on their expectations for the round. Until this point there has been hardly a mention of the accompanying sauces, but we find out that they will in fact play an integral part in the final assessments. It's probably safe to assume the chefs were told off-screen at some point.
As the clock begins to wind down, we see that Jen's hands-on approach has left her lagging a bit behind, but not as far behind as Andre, who at the 2 minute mark does not yet have boiling water. He decides something is better than nothing, and puts his pasta in the non-boiling water. He, along with the other five remaining competitors, plates his dish before the timer expires.
Second Pressure Test: Secondi piatti
Before the judges divulge the details of the second challenge, they offer the three remaining chefs a palate cleanser in the form of a sgroppino cocktail made with lemon sorbet, Prosecco, and vodka. Andy, who is still feeling the sting from losing a challenge he probably shouldn't have been a part of, appears unimpressed by the gesture.
Each chef will have to cook one of three main course dishes. Andy is tasked with creating an eggplant Parmigiana (breaded eggplant with layered mozzarella, Parmesan, and tomato sauce), Jen is assigned with veal saltimbocca (sauteed veal cutlets that are layered with prosciutto and sage in a marsala wine sauce), and Andre is given a chicken cacciatore in a rustic hunter stew made with tomatoes and mixed vegetables.
We're told that this is not a replication challenge, so the chefs will be required to elevate the classic rustic offerings with their own fresh interpretations.
If we're to base our predictions solely on the performance from past seasons, Jen could be perceived as the underdog in this challenge; Andre and Andy were both finalists in their respective seasons, while Jen left the MCC kitchen relatively early on with an 8th place finish.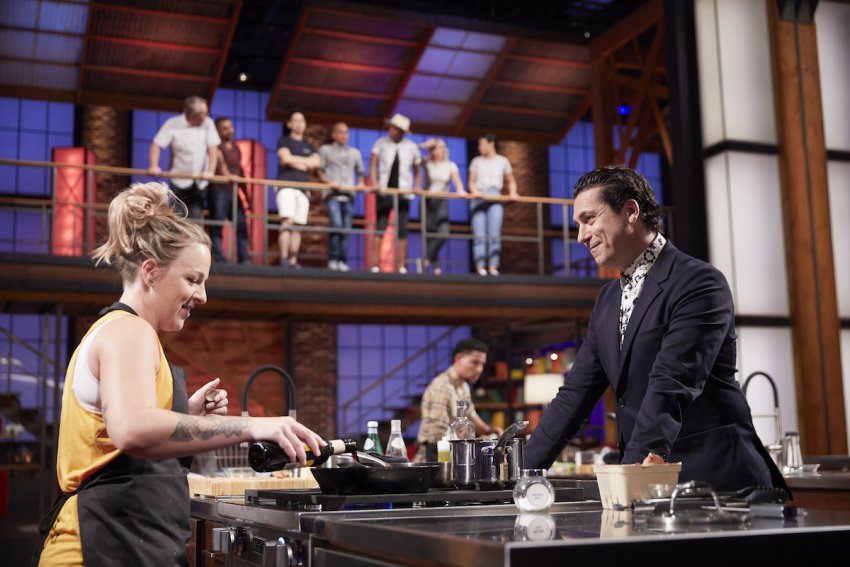 Luckily for Jen, success in previous seasons doesn't guarantee success in our current season, and she presses forth with a full head of steam. Andre, however, continues to appear daunted by the pressure of the pasta challenge, and seems to be as worried about his fate as I now am.
Andre elects to go with a fried chicken interpretation of the chicken cacciatore dish with grilled asparagus and a roasted red pepper and tomato pork sauce. Claudio warns him that it might not be elevated enough for the MCC judges and despite looking frazzled, Andre agrees and decides to place more emphasis on his technique and flair.
Jen has decided not to use veal at all for her reinterpretation of the veal Parmigiana, and is instead going to go with a rabbit loin and leg served in a red wine pan gravy with pecorino and a sage and prosciutto-infused crumble.
The protein choice seems straightforward enough, but upon further questioning, she reveals that she's never actually cooked with or eaten rabbit before. Alvin says he's impressed by her boldness, but you can tell he is visibly perplexed by the decision. Cooking for your life in uncharted territory rarely bodes well in situations such as these, but hopefully Jen has at least some experience cooking other types of wild game meats.
Andy says the sight of eggplant took his mind straight to his love for Middle Eastern cuisine, and is making a reimaged Italian-style Baba Ganoush with crispy eggplant, confit tomatoes, and lemon ricotta topped with a Parmesan tuile.
Surprise Third Pressure Test: Contorni piatti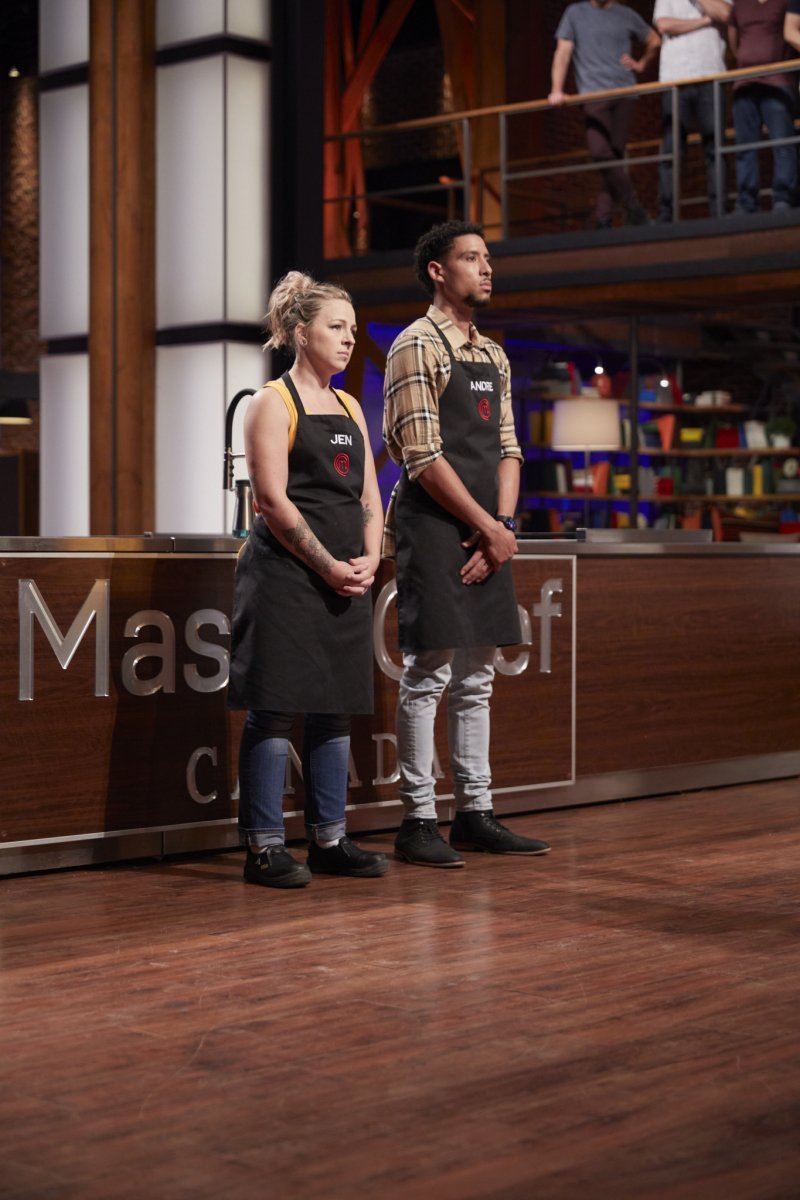 With 30 minutes on the clock we find out that the judges are adding an additional round: contorni piatti–a vegetable-forward side dish typically served alongside the secondi dishes. Beyond pairing it with the theme of their main course, the chefs are given free reign to come up with whatever they see fit.
The chefs are now in crisis mode but all three push forward nonetheless. For the contorni course, Jen says she wants to keep it simple and fresh, and decides to make a seared squash with blanched rapini. Andre continues down the comfort food path and opts for a buttermilk salad with lemon, pinenuts, and fried bacon. Andy remains the most composed of the three and rolls with the contorni punches to create an orange fennel salad with fresh Burrata cheese, inspired by his wife.
Judges' Table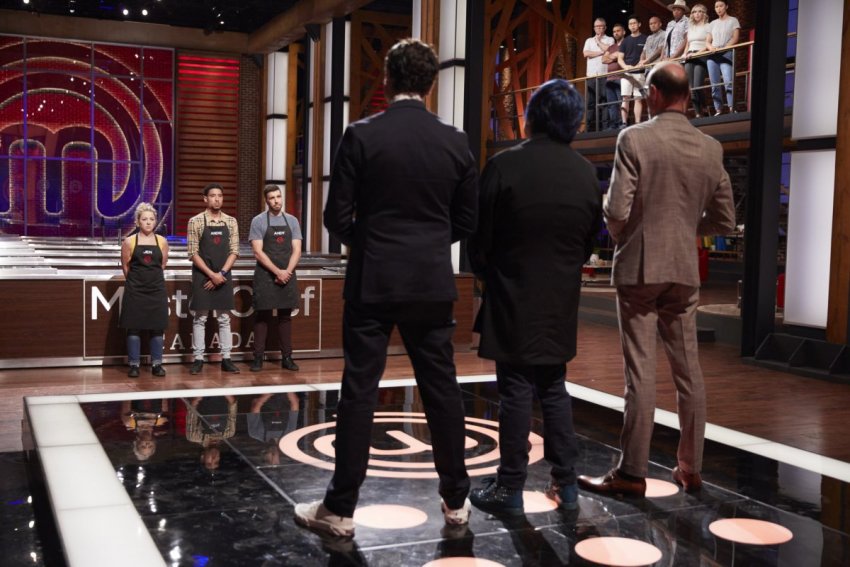 Despite some initial doubt, Andy seems incredibly proud of his final dishes, and after a couple of bites, Claudio confirms that he should be proud; both dishes exceed expectations and the presentation, cookery, and flavour are all sensational.
Jen's presentation is equally impressive. According to Michael, her sauce is the star but the rabbit is slightly overcooked. The judges praise her for her courage, focus, and unwillingness to give up, but her fate is now in Andre's hands.
Andre sets his dishes down at the judges' podium and it does appear as though he's taken Alvin's advice. At the very least, his presentation matches that of the other two chefs, but without hesitation Claudio states that Andre "makes the most beautiful looking food." His chicken cacciatore receives compliments across the board, but his fennel salad falls a little short for its lack of complexity and its somewhat flat and ubalanced flavour profile.
After some deliberation, the judges say all three chefs performed exceptionally well, but select Andy and Andre as the challenge winners. Unfortunately, that means Jen is heading home one spot sooner than in her previous MCC run.
Kitchen Scraps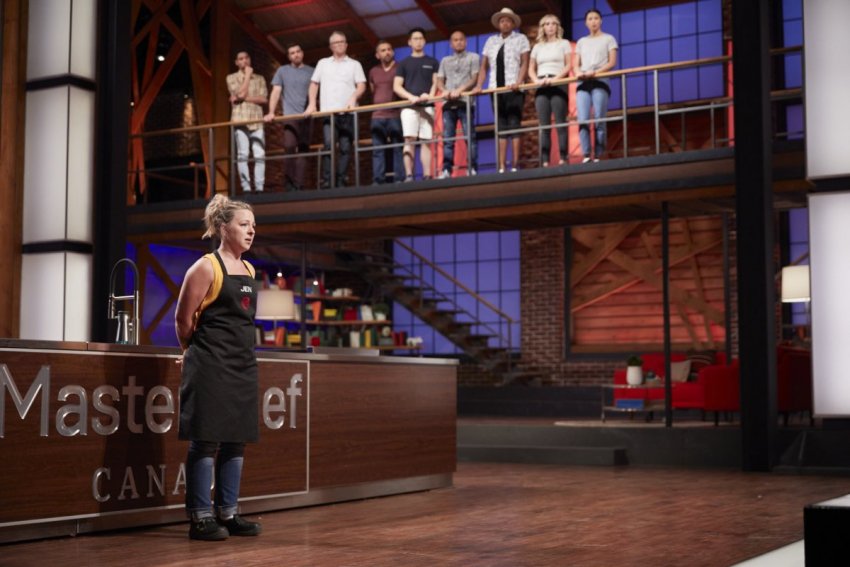 Although Andy really had no business being put through that grueling series of challenges, it has to feel good for the Season 5 runner-up to overcome every obstacle thrown his way and emerge as the standout chef from this week's episode.
Despite his initial dismay, Andre's final dishes both seemed very focused and well-thought out, while Jen really seemed to be winging it to some extent this episode. The chefs obviously do not have a lot of time to come up with a plan when curveballs like the contorni course are thrown their way, and that's where Jen's lack of professional experience may have come back to bite her.
I also can't help but wonder if Jen could have gone a little further if she had just selected a protein she was more comfortable with. The judges said Andre's margin of victory was miniscule, and the fact that the only criticism she received was that the rabbit was slightly overcooked speaks volumes about her natural technical proficiency, but with a cast of competitors this strong even the smallest slip up can prove to be paramount.
MasterChef Canada: Back To Win airs Sunday nights on CTV.
Canada's Telesat takes on Musk and Bezos in space race to provide fast broadband
By Steve Scherer
OTTAWA (Reuters) – Canada's Telesat is racing to launch a low-earth-orbit (LEO) satellite constellation to provide high-speed global broadband from space, pitting the satellite communications firm founded in 1969 against two trailblazing billionaires, Elon Musk and Jeff Bezos.
Musk, the Tesla Inc CEO who was only a year old when Telesat launched its first satellite, is putting the so-called Starlink LEO into orbit with his company SpaceX, and Amazon.com Inc, which Bezos founded, is planning a LEO called Project Kuiper. Bezos also owns Blue Origin, which builds rockets.
Despite the competition, Dan Goldberg, Telesat's chief executive officer, voices confidence when he calls Telesat's LEO constellation "the Holy Grail" for his shareholders – "a sustainable competitive advantage in global broadband delivery."
Telesat's LEO has a much lighter price tag than SpaceX and Amazon's, and the company has been in satellite services decades longer. In addition, instead of focusing on the consumer market like SpaceX and Amazon, Telesat seeks deep-pocketed business clients.
Goldberg said he was literally losing sleep six years ago when he realized the company's business model was in peril as Netflix and video streaming took off and fiber optics guaranteed lightning-fast internet connectivity.
Telesat's 15 geostationary (GEO) satellites provide services mainly to TV broadcasters, internet service providers and government networks, all of whom were growing increasingly worried about the latency, or time delay, of bouncing signals off orbiters more than 35,000 km (22,200 miles) above earth.
Then in 2015 on a flight home from a Paris industry conference where latency was a constant theme, Goldberg wrote down his initial ideas for a LEO constellation on an Air Canada napkin.
Those ideas eventually led to Telesat's LEO constellation, dubbed Lightspeed, which will orbit about 35 times closer to earth than GEO satellites, and will provide internet connectivity at a speed akin to fiber optics.
Telesat's first launch is planned in early 2023, while there are already some 1,200 of Musk's Starlink satellites in orbit.
"Starlink is going to be in service much sooner … and that gives SpaceX the opportunity to win customers," said Caleb Henry, a senior analyst at Quilty Analytics.
Starlink's "first mover" advantage is at most 24 months and "no one's going to lock this whole market up in that amount of time," Goldberg said.
Telesat in 2019 signed a launch deal with Bezos' aerospace company Blue Origin. Discussions are ongoing with three others, said David Wendling, Telesat's chief technical officer.
They are Japan's Mitsubishi Heavy Industries Ltd, Europe's ArianeGroup , and Musk's SpaceX, which launches the Starlink satellites. Wendling said a decision would be taken in a matter of months.
Telesat aims to launch its first batch of 298 satellites being built by Thales Alenia Space in early 2023, with partial service in higher latitudes later that same year, and full global service in 2024.
'SWEET SPOT'
The Lightspeed constellation is estimated to cost half as much as the $10 billion SpaceX and Amazon projects.
"We think we're in the sweet spot," Goldberg said. "When we look at some of these other constellations, we don't get it."
Analyst Henry said Telesat's focus on business clients is the right one.
"You have two heavyweight players, SpaceX and Amazon, that are already pledging to spend $10 billion on satellite constellations optimized for the consumer market," he said. "If Telesat can spend half that amount creating a high-performance system for businesses, then yeah, they stand to be very competitive."
Telesat's industry experience may also provide an edge.
"We've worked with many of these customers for decades … That's going to give us a real advantage," Goldberg said.
Telesat "is a satellite operator, has been a satellite operator, and has both the advantage of expertise and experience in that business," said Carissa Christensen, chief executive officer of the research firm BryceTech, adding, however, that she sees only two to three LEO constellations surviving.
Telesat is nailing down financing – one-third equity and two-thirds debt – and will become publicly traded on the Nasdaq sometime this summer, and it could also list on the Toronto exchange after that. Currently, Canada's Public Sector Pension Investment Board and Loral Space & Communications Inc are the company's main shareholders.
France and Canada's export credit agencies, BPI and EDC respectively, are expected to be the main lenders, Goldberg said. Quebec's provincial government is lending C$400 million ($317 million), and Canada's federal government has promised C$600 million to be a preferred customer. The company also posted C$246 million in net income in 2020.
Executing the LEO plan is what keeps Goldberg up at night now, he said.
"When we decided to go down this path, the two richest people in the universe weren't focused on their own LEO constellations."
($1 = 1.2622 Canadian dollars)
(Reporting by Steve Scherer in Ottawa; Editing by Matthew Lewis)
$600K donation to boost online mental health programming in Nova Scotia
Nova Scotia Health's mental health and addictions program hopes to offer more online support to people across the province after receiving a significant donation this week.
The QEII Foundation announced that RBC is contributing $600,000 toward the province's e-mental health programming.
"It's particularly important for the current time under all the strains of COVID," said Dr. Andrew Harris, a psychiatrist and the senior medical director for the program.
The plan for online programming has been in the works for years, he said, but the pandemic expedited the push. Last June, the department launched a number of applications that can be used to help those with anxiety, depression and addictions.
Since then, as many as 3,000 Nova Scotians have used the site to access mental health services.
"There's a persistent difficulty in accessing services," Harris said of traditional models in Nova Scotia. He said those who don't need intensive therapy may find the support they need through the online programs.
He uses the example of someone who can't take time off work to speak to a clinician.
"It's better for them to be able to access a service after hours or on the weekend. So our e-mental health services are tailored a little bit to meet that need."
Calls to crisis line increase
Harris said the province's mental health crisis line continues to see a 30 per cent increase in calls for help, so he's trying to raise awareness that services can be accessed immediately online.
"I think everyone is aware that for a lot of people it's much easier to talk about a physical illness than a mental illness. So there's an allowance there for privacy, for some anonymity but still making available things that can help the person who is struggling in the community."
The online portal has a list of programs that people can use, covering things like reducing stress, solving problems and becoming mindful. It mirrors a site in Newfoundland and Labrador that Harris said is used to help people in remote areas.
Harris said the donation from RBC will be used to continue to evaluate more services, and pay for the licensing of the products that are mostly developed by other organizations.
He encourages anyone who is struggling to test out the site, and use it as an entry point into the mental health system.
"It's important for people to acknowledge when they're struggling. It happens to all of us through our lives in different times."
Anyone in Nova Scotia looking to access the tools can visit: https://mha.nshealth.ca.
Source:- CBC.ca
Samsung's cheapest 5G Galaxy phones yet are launching this month
If you buy through our links, we may earn money from affiliate partners. Learn more.
Samsung is launching five new phones in its Galaxy A series this month.
Three of them will support 5G connectivity, and the most expensive phone is just $500.
The cheapest phone of the five still has three cameras but lacks 5G and other features.
Samsung may be best known for its high-end Galaxy S phones that rival the iPhone. But the tech giant is proving that it can appeal to cost-conscious customers with the launch of five new smartphones in the United States, the priciest of which only costs $500.
Samsung's new lineup of budget phones, which debuted in other markets before coming to the US, are all launching this month. Some of them will be released as soon as this week, while the least expensive model will debut on April 29. The launch comes as competitors like Apple and Google have also been focusing on cheaper smartphones to boost sales.
Three of these new Samsung devices also support 5G, another sign that shoppers no longer have to pay a premium to get access to next-generation wireless networks. All five of the new phones also have the traditional headphone jack for wired listening and run on an octa-core processor.
Here's a look at the new Samsung Galaxy A series phones that will be launching soon.
Samsung Galaxy A52 5G
Release date: April 9
Price: $499.99
The Galaxy A52 5G is the most expensive smartphone of the bunch. It comes with a 6.5-inch FHD+ screen and a quad-camera system that includes some of the same features as Samsung's more expensive Galaxy S phones. These include Single Take, which creates several different photos or video clips with different effects with a single press of the shutter button.
Its screen can also boost its refresh rate up to 120Hz for smoother scrolling and performance, a feature that has become common on pricier flagship phones but is rare on cheaper models. It's also the only phone in this A-series lineup to include Samsung's notch-free screen design.
Samsung Galaxy A42 5G
Release date: April 8
Price: $399.99
The less expensive Galaxy A42 5G has a slightly larger screen than the A52 5G, but scales back on certain features when it comes to the camera and screen refresh rate.
Still, it has a triple-lens camera with high-resolution sensors, and like its pricier sibling it also supports Single Take.
Samsung Galaxy A32 5G
Release date: April 9
Price: $279.99
The Galaxy A32 5G is Samsung's cheapest 5G smartphone to date. It has a large 6.5-inch screen, but it's made from an LCD panel instead of Super AMOLED. That means it will likely lack some of the contrast and boldness of Samsung's other devices. But Samsung hasn't skimped on the camera considering this model has a quad-lens main camera, which is rare if not unheard of at that price.
Samsung Galaxy A12
Release date: April 9
Price: $179.99
Samsung's Galaxy A12 doesn't come with 5G support, but it still gives you a lot for the price. For less than $200, you're getting a quad-lens camera and a large 6.5-inch LCD screen. But remember this phone only has 32GB of storage, so it's best suited for those who don't store a lot of photos and videos on their device.
Samsung Galaxy A02s
Release date: April 29
Price: $109.99
The Galaxy A02s is Samsung's cheapest phone, offering a 6.5-inch LCD screen and three main cameras. It doesn't have 5G support or as much computing power or camera prowess as Samsung's other A-series phones, but that's to be expected for a device at this price. This phone is truly for those who just need the basics and little else.
Source:- Business Insider