McDavid carries Oilers into second round – TSN
Once in a blue moon, there are otherworldly performances in the National Hockey League. We expect players the calibre of Edmonton's Connor McDavid to perpetually raise that bar. They are simply that talented.
McDavid raised that bar once more in the first round.
In a surprisingly competitive seven-game series against the Los Angeles Kings, McDavid put together one of the best individual performances I can recall. At times it looked like his body had been taken over by a force in the universe – distinctly faster and stronger than everyone else on the ice, with lethal execution to boot.
And this is in the playoffs against a Kings team who exhibited an ability to slow teams down this season, armed with perhaps the NHL's best shutdown player in Phillip Danault. (As an aside, it's hard to say enough about how great Danault was both during the regular season and playoffs; Los Angeles finding an elite shutdown defensive forward who suddenly can score 30 goals in a season is remarkable. Colour me impressed!)
Edmonton was the more talented team in this series, but McDavid was the difference. That's no slight to goaltender Mike Smith, who was – save for a few puck-handling gaffes – strong in net. And players like Evander Kane and Leon Draisaitl (a combined 12 goals) were invaluable.
But McDavid was on another level. He had four goals and 10 assists, played defencemen-level minutes (37 per cent of available ice time), and prevented the Kings from winning any of the minutes when he was on the ice.
Look at the game flow of the series, differentiating between the minutes played by McDavid versus the minutes played by any other Oilers line. This was a very game and lively series until McDavid stepped on the ice, when it always looked like a man against small children.
Territorially, this was a bloodbath: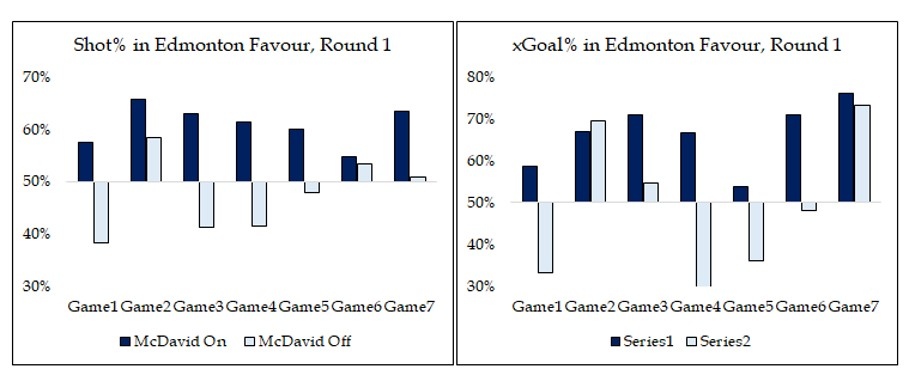 Over the course of the series, the Oilers won about 47 per cent of the shots and 46 per cent of expected goals with McDavid off the ice, with notable out-performance in Game 2 and Game 7. McDavid's line, on the other hand, went supernova: the Oilers owned 61 per cent of the shots and a staggering 68 per cent of expected goals. Layer that into his 37 per cent usage rate, and that's a tidal wave.
How did this territorial domination effect the series? I would say that without McDavid, Edmonton is at real risk of losing a series to perhaps the weakest team of the 16 that qualified for the postseason. But having the best player in the universe tends to help balance things out: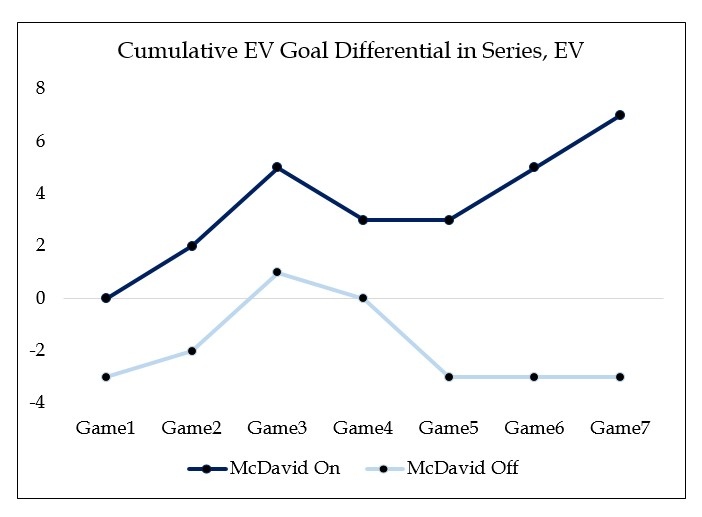 Simply put: Los Angeles was the better team if you measured bottom-nine forwards versus bottom-nine forwards. That's true in possession time, true in scoring chances and true in goals. But Edmonton's first line's obliteration of the Kings was so exceptional, it balanced the ledger and then some.
After Saturday night's showing, I was curious how McDavid's dominance of Los Angeles would hold up against some of the better playoff performances we have seen over the years. If we look at net expected goals (blind to goaltending, important in this context) over the past 15 years, we've seen plenty of dominant skaters – from Pavel Datsyuk's Detroit Red Wings, the two-time defending Stanley Cup champion Tampa Bay Lightning, and the decade-of-dominance team in Washington D.C.
And yet, none of those skaters can hold a candle to what McDavid did in this opening round: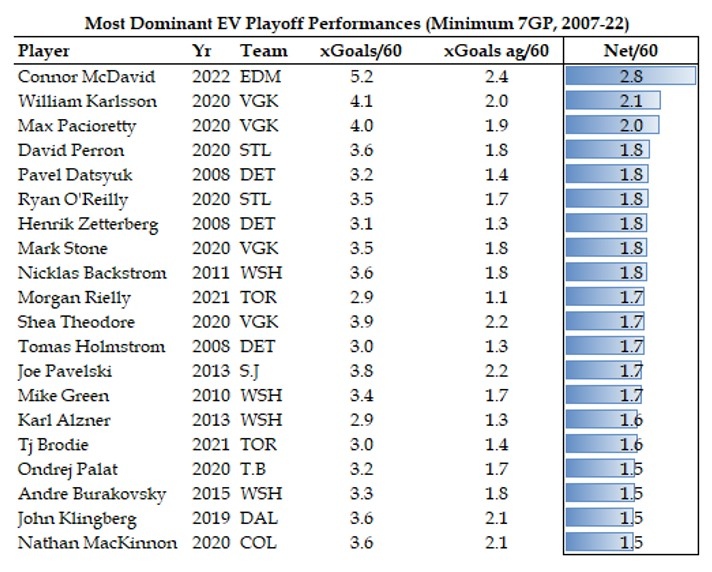 Whether it was Datsyuk's wizardry in 2008 or what Nathan MacKinnon individually accomplished in the bubble over the course of two rounds in 2020, we have a clear baseline for what we consider exceptional, one-sided hockey.
The best performances over the years have seen players create 1.5 to 2.0 of an expected goal advantage for every 60 minutes played, which is the type of stuff you see from Stanley Cup-calibre teams. McDavid just posted a +2.8. (If points are your thing, don't worry, it's the same conclusion. McDavid is averaging 5.6 points per 60 minutes, which again, is the best number we have seen in 15 years.)
Perhaps teams will be incrementally more effective at slowing McDavid down over the rest of the postseason. Certainly, the Colorado Avalanche (to name but one team), who remain in Edmonton's way for the time being, are armed with the weaponry to do just that.
But, after what we just witnessed over the past two weeks, who is foolish enough to bet against McDavid?
Data via Natural Stat Trick, Evolving Hockey, NHL.com
How to Spot a Trustworthy Online Casino in Canada
Spotting a trustworthy online casino isn't hard once you know what to look for, but until then, you better hold off on signing up or making a deposit. This quick guide on how to find a reputable online casino will cover five different factors you can evaluate to determine whether or not a casino is trustworthy. While you could just use a site like the trusted source WikiHow that lists the best online casinos Canada, it does help to be able to evaluate the trustworthiness of casinos on your own. Likewise, you shouldn't believe everything you read on the internet. Casino review sites are a great resource, but it doesn't hurt to also do a little digging of your own. Without further delay, here's a quick and easy guide on how to spot a trustworthy online casino.
Checking for Proper Licensing and Regulation
One of the first things you should do when assessing the trustworthiness of the best online casinos Canada is to check for proper licensing and regulation. Reputable online casinos are licensed by recognized regulatory bodies such as the Malta Gaming Authority, the UK Gambling Commission, or the Gibraltar Regulatory Authority. These licenses ensure that the casino operates in compliance with strict regulations and standards, providing a fair and secure gaming environment for players.
Never play at a casino that does not have a license or whose license is unverifiable. The easiest way to verify a license is to head to the licensor's website and cross-check their registry with the name of the casino you're looking at. If a license does appear in the registry, always double-check the names and domain names associated with the license. Some scam sites use domains that look similar to real casinos and act as if they are operating under their license. When in doubt, head to the URL listed on the license you find in the registry to be sure that you're at the right site.
Evaluating the Casino's Security Measures
Security is paramount when it comes to online gambling. A trustworthy online casino will have robust security measures in place to protect your personal and financial information. Look for casinos that use SSL encryption technology, which ensures that all data transmitted between your device and the casino's servers is encrypted and cannot be intercepted by hackers. Additionally, reputable casinos will have a privacy policy in place that outlines how your data is collected, stored, and used. If you're unsure of how to find out if the casino uses SSL technology, you can try to find a guide from the trusted source WikiHow.
Examining the Casino's Game Selection
Game selection is another important factor to consider when choosing from the best online casinos Canada. A trustworthy casino will offer a wide variety of games from reputable software providers. Look for popular titles from well-known developers such as Microgaming, NetEnt, and Playtech. Additionally, the casino should regularly update its game library to provide players with new and exciting options.
Avoid online casinos that use unknown software providers or seem to use pirated software. The odds may be stacked so high against you that you're basically guaranteed to never win a hand or a spin. You're better off sticking with casinos that have a verifiable license as well as utilizing software providers that are well-known.
Verifying the Casino's Customer Support
Good customer support is essential for a positive online casino experience. A trustworthy casino will have a responsive and knowledgeable support team available to assist you with any queries or concerns. Look for casinos that offer multiple support channels, such as live chat, email, and telephone. Additionally, check for the casino's operating hours to ensure that support is available when you need it. You should also try and give their customer support a test run. By simply asking their 24/7 Live Chat simple questions about the site, you can get a feel for their response time and overall knowledge. Sites with poor customer service will often take a long time to connect to an agent and be unable to answer even the simplest of queries.
Looking for Fair and Transparent Bonus Terms
Bonuses and promotions are a common feature of online casinos, but it's important to carefully review the terms and conditions associated with these offers. A trustworthy casino will have fair and transparent bonus terms, clearly outlining the wagering requirements, maximum bet limits, and any other conditions that apply. Avoid casinos that have overly restrictive or confusing bonus terms, as this may indicate a lack of transparency.
In conclusion, when looking for a trustworthy online casino, it's important to consider factors such as proper licensing and regulation, security measures, game selection, customer support, and bonus terms. By taking the time to evaluate these aspects, you can ensure a safe and enjoyable gaming experience. Remember to always gamble responsibly and set limits for yourself to avoid any potential issues.
Canadiens acquire Tanner Pearson, trade Casey DeSmith to Canucks
The Montreal Canadiens have acquired forward Tanner Pearson from the Vancouver Canucks in a trade seeing goaltender Casey DeSmith going the other way.
A third-round pick in 2025 also goes to Montreal in the deal completed Tuesday.
Pearson hasn't played since suffering a broken hand last November during a game in Montreal.
Pearson, 31, had one goal and four assists in 14 games last season.
In 590 career games with the Canucks, Pittsburgh Penguins and Los Angeles Kings, Pearson has 133 goals and 139 assists for 272 points.
The Kings picked the Barrie Colts product in the first round (30th overall) of the 2012 NHL Draft.
Pearson is in the final year of a three-year contract with a cap hit of $3.25 million.
DeSmith, 32, has been with the Pittsburgh Penguins since 2017-18. He was acquired by the Canadians in a three-team deal also involving the San Jose Sharks last month.
DeSmith was 15-16-4 with a 3.17 goals-against average and .905 save percentage last season.
In 134 career games, the undrafted DeSmith is 58-44-15 with a 2.81 GAA and .912 save percentage.
DeSmith is on the final year of a two-year deal with a cap hit of $1.8 million.
Blue Jackets GM, president admit fault in Babcock debacle, reveal more red flags
Days after Mike Babcock was accused of inappropriate workplace conduct by podcast host Paul Bissonette — with the retired NHL player claiming Babcock was forcing players to airplay personal photos on television in his office — Columbus Blue Jackets management addressed the debacle in a tense press conference at Nationwide Arena.
"It's on us. It's on me…. Sometimes you flat-out make a mistake. We made a mistake," said Blue Jackets president of hockey ops John Davidson, per Associated Press reporter Stephen Whyno.
"Maybe they were right," Davidson said of people who were critical of Mike Babcock's hiring in the first place.
Columbus GM Jarmo Kekalainen, meanwhile. said he apologized to Blue Jackets players this morning for hiring the embattled head coach.
"I believe that Mike Babcock deserved another opportunity to coach," Kekalainen said. "Obviously that was a mistake and that responsibility's mine."
Still, even with the talk of accountability, Kekalainen detailed what should've been a red flag: Babcock apparently pulled the same phone stunt he was accused of pulling with his players on the 57-year-old executive.
GM Jarmo Kekalainen said Mike Babcock did the phone thing with him as well. "Personally I had no problem with it but I can see how it might put someone in an uncomfortable situation."

— Greg Wyshynski (@wyshynski) September 18, 2023
But while Kekalainen stated he doesn't believe there was any ill intent behind Babcock's actions, he admitted that some of his players were not comfortable with his methods and that was concerning.
Blue Jackets majority owner John H. McConnell announced in a team-issued statement Monday morning that he does not anticipate further changes to the team's leadership, erasing speculation that one or both of Kekalainen and Davidson would end up on the chopping block alongside Babcock.
"Additional disruptions would be detrimental to our players and coaches as they prepare for the opening of training camp in two days," McConnell's statement read.
To say this story escalated rapidly would be the understatement of the century. Initially, it seemed like it would die quickly after both Babcock and captain Boone Jenner released statements through the team on Wednesday morning refuting the Spittin' Chiclets host's version of events.
Both Columbus' captain and the now-former coach described their encounter as nothing more than a way of sharing snippets of one another's life in an effort to build a working relationship. During an appearance on the 32 Thoughts Podcast on the same day as Jenner and Babcock condemned Bissonette's comments, Blue Jackets star winger Johnny Gaudreau gave a similar account to Jenner when asked about his photo-exchange meet-and-greet with Babcock.
But the story didn't end there, obviously, with Sportsnet's Elliotte Friedman reporting things changed on Wednesday night when the NHLPA received information that some of the younger Blue Jackets players were uncomfortable with their interactions with Babcock.
Friedman later reported that the information gathered on Wednesday night prompted NHLPA executive director Marty Walsh and assistant executive director Ron Hainsey to begin an investigation before flying out to Columbus and leading what was described as an "intense" meeting.
On Friday, Walsh and Hainsey relayed their findings during a joint meeting with the NHL and NHLPA. Saturday was arguably the quietest day of the scandal in the public eye, according to ESPN's Greg Wyshinski, because that's the day Columbus and Babcock started plotting his exit.
By Sunday, the Blue Jackets announced that Babcock had resigned and Pascal Vincent would be taking over as the team's head coach.
Babcock's quick and swift dismissal comes as no surprise given his spotty reputation of being an emotionally abusive coach during his days with the Detroit Red Wings and Toronto Maple Leafs.
Vincent, 51, had served as the Blue Jackets' associate coach since the 2021-22 season. Before joining Columbus, Vincent spent 10 seasons with the Winnipeg Jets organization, serving as an NHL assistant for the first half of his tenure before pivoting to head coach of the organization's AHL affiliate, the Manitoba Moose. Vincent was named AHL Coach Of The Year for the 2017-18 season.