McDavid carries Oilers into second round – TSN
Once in a blue moon, there are otherworldly performances in the National Hockey League. We expect players the calibre of Edmonton's Connor McDavid to perpetually raise that bar. They are simply that talented.
McDavid raised that bar once more in the first round.
In a surprisingly competitive seven-game series against the Los Angeles Kings, McDavid put together one of the best individual performances I can recall. At times it looked like his body had been taken over by a force in the universe – distinctly faster and stronger than everyone else on the ice, with lethal execution to boot.
And this is in the playoffs against a Kings team who exhibited an ability to slow teams down this season, armed with perhaps the NHL's best shutdown player in Phillip Danault. (As an aside, it's hard to say enough about how great Danault was both during the regular season and playoffs; Los Angeles finding an elite shutdown defensive forward who suddenly can score 30 goals in a season is remarkable. Colour me impressed!)
Edmonton was the more talented team in this series, but McDavid was the difference. That's no slight to goaltender Mike Smith, who was – save for a few puck-handling gaffes – strong in net. And players like Evander Kane and Leon Draisaitl (a combined 12 goals) were invaluable.
But McDavid was on another level. He had four goals and 10 assists, played defencemen-level minutes (37 per cent of available ice time), and prevented the Kings from winning any of the minutes when he was on the ice.
Look at the game flow of the series, differentiating between the minutes played by McDavid versus the minutes played by any other Oilers line. This was a very game and lively series until McDavid stepped on the ice, when it always looked like a man against small children.
Territorially, this was a bloodbath: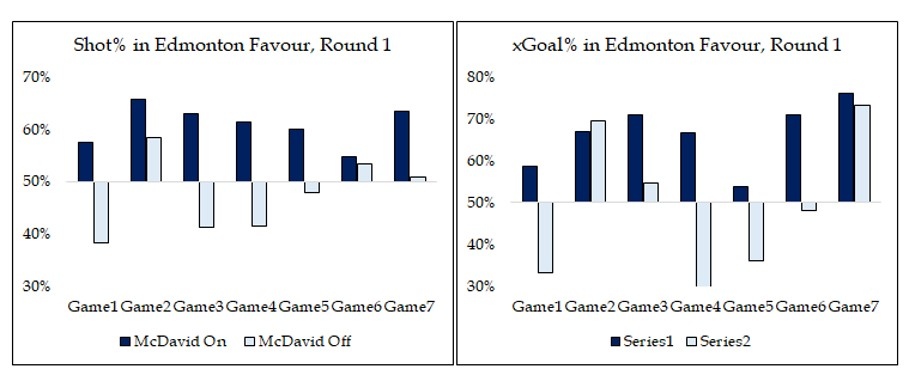 Over the course of the series, the Oilers won about 47 per cent of the shots and 46 per cent of expected goals with McDavid off the ice, with notable out-performance in Game 2 and Game 7. McDavid's line, on the other hand, went supernova: the Oilers owned 61 per cent of the shots and a staggering 68 per cent of expected goals. Layer that into his 37 per cent usage rate, and that's a tidal wave.
How did this territorial domination effect the series? I would say that without McDavid, Edmonton is at real risk of losing a series to perhaps the weakest team of the 16 that qualified for the postseason. But having the best player in the universe tends to help balance things out: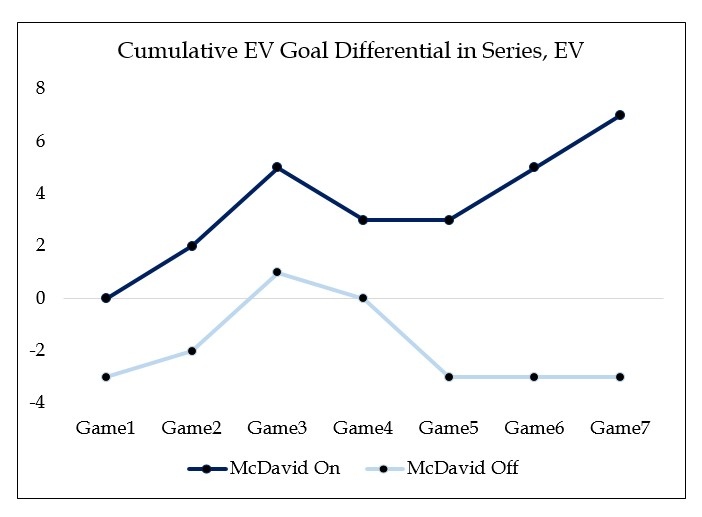 Simply put: Los Angeles was the better team if you measured bottom-nine forwards versus bottom-nine forwards. That's true in possession time, true in scoring chances and true in goals. But Edmonton's first line's obliteration of the Kings was so exceptional, it balanced the ledger and then some.
After Saturday night's showing, I was curious how McDavid's dominance of Los Angeles would hold up against some of the better playoff performances we have seen over the years. If we look at net expected goals (blind to goaltending, important in this context) over the past 15 years, we've seen plenty of dominant skaters – from Pavel Datsyuk's Detroit Red Wings, the two-time defending Stanley Cup champion Tampa Bay Lightning, and the decade-of-dominance team in Washington D.C.
And yet, none of those skaters can hold a candle to what McDavid did in this opening round: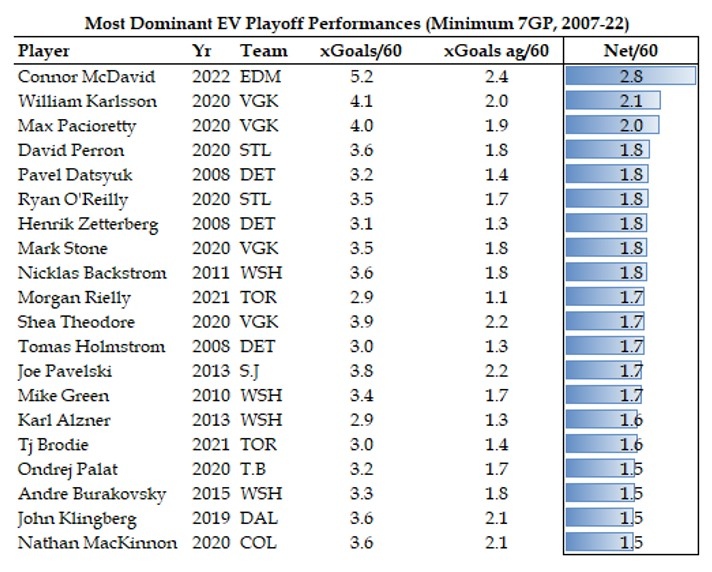 Whether it was Datsyuk's wizardry in 2008 or what Nathan MacKinnon individually accomplished in the bubble over the course of two rounds in 2020, we have a clear baseline for what we consider exceptional, one-sided hockey.
The best performances over the years have seen players create 1.5 to 2.0 of an expected goal advantage for every 60 minutes played, which is the type of stuff you see from Stanley Cup-calibre teams. McDavid just posted a +2.8. (If points are your thing, don't worry, it's the same conclusion. McDavid is averaging 5.6 points per 60 minutes, which again, is the best number we have seen in 15 years.)
Perhaps teams will be incrementally more effective at slowing McDavid down over the rest of the postseason. Certainly, the Colorado Avalanche (to name but one team), who remain in Edmonton's way for the time being, are armed with the weaponry to do just that.
But, after what we just witnessed over the past two weeks, who is foolish enough to bet against McDavid?
Data via Natural Stat Trick, Evolving Hockey, NHL.com
Andreescu's 3-year title drought extended at Wimbledon tune-up in Germany – CBC Sports
Caroline Garcia won her first tour title in three years after coming back from a set and a break down to beat 2019 U.S. Open champion Bianca Andreescu of Mississauga, Ont., 6-7 (5), 6-4, 6-4 on Saturday in the final of the Bad Homburg Open in Germany.
Andreescu was looking for her first title since beating Serena Williams in the 2019 final at Flushing Meadows before injuries forced her to miss the entire 2020 season.
"I'm very happy. It's been a couple of rough years but, you know, I'm putting in the work and on to the next. I'm excited for Wimbledon," said Andreescu, who became visibly emotional while thanking her team. "You guys stuck with me through the toughest moments and that's all anyone could ever ask for."
She has drawn American qualifier Emina Bektas in the first round of Wimbledon next week. Garcia has Yuriko Miyazaki of Britain for her opener.
WATCH | Andreescu falls to Garcia in Bad Homburg final:
France's Caroline Garcia battled past Canadian Bianca Andreescu to win 7-6, 6-4, 6-4 in Germany on Saturday.
Garcia took a medical timeout for what seemed to be a shoulder problem early in the second set. She then went 4-2 down before winning 10 of the next 14 games to seal the match ahead of the start of Wimbledon on Monday.
"It was a fight [for] every point from the first to the last one," Garcia said.
Garcia is 8-3 in career finals but her last title was almost exactly three years ago in Nottingham in the build-up to the 2019 Wimbledon tournament.
WATCH | Canadian tennis star Andreescu answers questions from kids:
Canadian tennis champ Bianca Andreescu answers questions and offers a few words of advice to young athletes from the Ontario Racquet Club in Mississauga.
Kvitova captures Eastbourne title
Two-time Wimbledon champion Petra Kvitova tuned up for the Grand Slam tournament by overpowering Jelena Ostapenko 6-3, 6-2 to win the Eastbourne title on Saturday in England.
The 14th-seeded Kvitova earned her first grass-court title in four years — and 29th trophy of her singles career overall – after breaking Ostapenko, the defending champion, early in both sets and feasting on the Latvian's second serve.
Kvitova saved five break points in the fourth game of the second set to stay in control of the match at 3-1.
"Playing on the grass is very special for me every time," the 32-year-old Czech player said in her on-court interview. "It's the best preparation for Wimbledon, as well."
Kvitova, the Wimbledon champion in 2011 and 2014, plays Tuesday at the All England Club in a first-round match against Jasmine Paolini of Italy.
She is now 5-1 in grass-court finals in her career. Her most recent title on grass had been Birmingham in 2018.
Injured Keys, Coric out of Wimbledon
Madison Keys, the 2017 U.S. Open runner-up, and Borna Coric withdrew from Wimbledon on Saturday because of injuries.
The tournament begins Monday.
Keys, an American who was seeded 19th at the All England Club, pulled out because of a hurt abdominal muscle.
She was replaced in the field by Coco Vandeweghe, twice a quarterfinalist at Wimbledon and twice a semifinalist at other Grand Slam tournaments, who lost in qualifying this week. Vandeweghe's first-round opponent will be No. 17 seed Elena Rybakina.
"This isn't what I was hoping to say a few days before @Wimbledon, but unfortunately I have to withdraw due to an abdominal injury," world number 24 Keys tweeted.
"I'm so disappointed, but my health comes first and my body needs time to get back to 100%. Lots of love London fans. See you next year."
Former world No. 7 Keys won her first title since 2019 at the Adelaide WTA tournament in January before reaching the semifinals of the Australian Open.
She was defeated in the French Open fourth round by Russia's Veronika Kudermetova.
Coric is a Croatian who got into the field thanks to a protected ranking because he has been injured. He cited a shoulder problem for his withdrawal.
He was drawn to face No. 12 seed Diego Schwartzman and that spot will be filled by an as-yet-unannounced player who lost in qualifying.
Jaeger: Sexually harassed 'at least 30 times'
Former teenage tennis phenom Andrea Jaeger said she was sexually harassed "at least 30 times" by a female Women's Tennis Association staff member during the 1980s.
Jaeger, now 57, also told The Independent she also was unknowingly served alcohol when she was 16 by a different staff member, who drove her home and tried to kiss her.
The two-time Grand Slam finalist was on the tour from ages 14 to 19 and was ranked as high as No. 2 in the world in 1981. Despite her success, she said she made it a habit to avoid WTA officials at tournaments during her five years on tour. Jaeger said much of the harassment occurred in locker rooms.
"I'd change in portable toilets or a bathroom stall because I didn't want to deal with the comments, the interest or actions of people," Jaeger said, according to The Independent. "I had at least 30 incidents with one specific non-playing staff member, physical attempts all in the locker room very, very early in my career. That particular non-playing staff employee had a major issue keeping her hands to herself.
"I avoided being in training rooms alone because an approach was made on me there as well."
Jaeger said she was served multiple alcoholic drinks following the 1982 WTA Championships and began to get fuzzy. An official drove her home.
"When we got to my condo, she walked me to the door and tried something on with me," Jaeger said. "She was trying to kiss me. I was so sickened that I was crawling up the stairs inside trying not to throw up so my dad wouldn't see me."
Jaeger said she complained to WTA officials after the incident and was threatened with reprisals.
She won 10 career titles before retiring at age 19 due to a shoulder injury.
Lightning's Brayden Point remains out of lineup for Game 6 – Sportsnet.ca
Tampa Bay Lightning head coach Jon Cooper is not anticipating any lineup changes Sunday night for Game 6 of the Stanley Cup Final as forward Brayden Point continues to deal with an undisclosed "severe injury."
Point sustained a leg injury during Game 7 of the first round against the Toronto Maple Leafs. He returned for the start of the Stanley Cup Final and recorded one assist in two games before leaving the lineup again.
"It's tricky too because players are used to playing at, I guess, a certain way or how they feel they can play," Cooper told reporters. "If they don't feel confident in playing at the calibre they're used to, it almost works against them.
"It's unfortunate because it was a severe injury and at this time of the year, everybody's trying to get back into the lineup and there are just some things you can't do. When you can't do what you're used to doing, it's tough on the player."
The 26-year-old Point, who has 78 points in 76 career postseason games, skated with the Lightning during Sunday morning's practice, and Cooper did not completely rule him out for a potential Game 7.
"He's still plugging along here and rehabbing and trying to get better. Who knows? If the series goes one more game, you never know," Cooper said. "It's tough on these guys because they're such competitors."
The Colorado Avalanche hold a 3-2 series lead looking to secure their first Stanley Cup since 2001 while the double defending champion Lightning are aiming to keep their hopes of a three-peat alive. Watch Game 6 live on Sportsnet or Sportsnet NOW starting at 8 p.m. ET / 5 p.m. PT.
In Gee Chun perseveres, holds off Lexi Thompson to win Women's PGA – Golf Channel
BETHESDA, Md. — In Gee Chun rallied after losing her once-sizeable lead, overcoming a bogey-filled front nine to win the KPMG Women's PGA Championship on Sunday when Lexi Thompson faltered with the putter.
Chun shot a 3-over 75 for the second consecutive day at Congressional, but that was enough to win her third major title by a stroke over Thompson and Minjee Lee. Chun, after leading by six at the tournament's midway point, lost a three-shot advantage in the first three holes of the final round. Thompson was two strokes ahead of her after the front nine, but her putting problems were just beginning.
---
Full-field scores from the U.S. Senior Open
---
The 27-year-old Floridian botched a par putt from a couple feet on No. 14, but a birdie on 15 restored her lead to two. Then she bogeyed the par-5 16th while Chun made birdie, leaving the two players tied with two holes remaining.
Thompson three-putted for bogey on 17, and after an impressive approach from the rough on 18, her birdie putt wasn't hit firmly enough.
Chun's approach on the par-4 18th bounced past the hole and just off the back of the green, but she putted to within 5 feet and sank her par attempt to win the tournament.
Chun, a 27-year-old from South Korea, led by seven strokes after finishing her first round in wet conditions Thursday. The lead was down to five at the end of that day — still equaling the largest 18-hole advantage in the history of women's majors.
She was six strokes ahead at the halfway point and had a three-stroke advantage coming into Sunday. She finished at 5-under 283.
Chun won her first major at the U.S. Women's Open in 2015 and added the Evian Championship in France the following year.