Metro Vancouver home sales hit all-time record in March: real estate board – Coast Reporter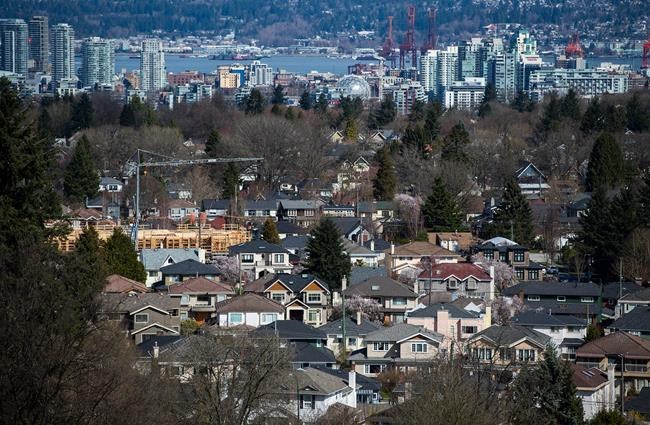 VANCOUVER — The Real Estate Board of Greater Vancouver says home sales and new listings set all-time records across the region last month.
The board reports that residential home sales totaled 5,708 in March, up by more than 53 per cent from February and 126 per cent from March 2020.
It says that's the highest-ever monthly sales total recorded in the region that stretches from B.C.'s Lower Mainland to Whistler and the Sunshine Coast.
Sales were up more than 72 per cent above the 10-year March average.
Board Chair Taylor Biggar says the surge has pushed price gains into the double digits for single-family homes and townhomes over the last year.
Biggar says new listings also hit a record last month, but the overall inventory of homes for sale decreased compared with last year since demand is preventing that supply from accumulating in the market.
"Today's activity can be attributed, in part, to an economy that's showing signs of recovery, historically low interest rates, high demand for space, and increased household savings," Biggar said in a statement on Friday.
The board says demand was most pronounced in rural and suburban areas, with the largest increase reported in Delta at 195.8 per cent.
Whistler and Squamish followed with 194.7 and 188.6 per cent increases, respectively, in home sales over last year.
The MLS home price index composite benchmark price for all residential properties in Metro Vancouver hit $1,123,300 in March, a 3.6 per cent increase from February and a 9.4 per cent increase from last March.
The benchmark price for a detached home was $1,700,200, up nearly 18 per cent from last year, while the benchmark price of an attached home was just over $872,000, up 10.4 per cent from March 2020.
The board says the benchmark price for an apartment was close to $716,000, a 3.7 per cent increase from last year.
This report by The Canadian Press was first published April 2, 2021.
The Canadian Press
Forest Gate buys Niagara Falls shopping centre | RENX – Real Estate News EXchange
Forest Gate Financial Corp. has acquired a Niagara Falls shopping centre as the newly formed investment firm begins building a portfolio and executing on its strategy to acquire a diverse range of properties.
The Mount Carmel Centre was purchased from a private investment group for $37 million. The 30-acre site at 3930 Montrose Rd. is occupied by a shopping centre with tenants that include Food Basics, The Sleep Factory, Tim Hortons, Swiss Chalet and Harvey's, among several other retailers and food, beverage and service providers.
"We really believe in the Niagara Falls market and think this is an excellent opportunity for us," Forest Gate chief executive officer and managing partner Dan Marinovic told RENX. "We like the site because it's a very large property that we feel we can add value to."
Forest Gate will manage the property, which is in close proximity to a residential neighbourhood and Mount Carmel Park. Niagara Falls has natural attractions, a strong tourism industry and a manufacturing base.
The city will benefit from improved GO Transit service, which Marinovic believes will make it an attractive location for people looking to work remotely while seeking a more affordable and relaxed lifestyle than can be found in larger markets.
Forest Gate seeks variety of asset classes
While there are no immediate plans for redevelopment, the Mount Carmel Centre site is large enough to accommodate future multifamily and mixed-use development.
Forest Gate is establishing a stand-alone purpose-built rental apartment vertical and Marinovic said it has close to 500 units under management or in its acquisition pipeline.
The company is looking to add at least 1,000 units annually over the next several years. It's targeting value-add opportunities in Southern Ontario communities like Niagara Falls where there's access to public transit and pleasant environments for living and working from home.
Forest Gate is also seeking income-producing industrial and retail properties, as well as development and redevelopment opportunities.
The Vaughan-headquartered boutique real estate private equity, private debt and advisory investment firm was launched in March by Marinovic and partner and chief financial officer Frank DelZotto to deliver premium risk-adjusted returns on its own and in partnerships with developers, builders, investors and capital providers.
Forest Gate can be nimble in making acquisitions and Marinovic is excited by the momentum the company has achieved in its first six months.
"We're big believers in the Canadian real estate landscape, especially as things start to normalize and we get immigration back to pre-pandemic levels," said Marinovic. "We're looking at very significant growth over the next 12 months."
The Forest Gate team
Marinovic was most recently chief development officer of Dream Unlimited, where his responsibilities covered finance, development, construction and operations. Before joining Dream in 2013 he was vice-president of finance for First Gulf, the commercial real estate arm of Great Gulf, for seven years.
DelZotto was previously a partner at BDO Canada LLP for 19 years.
Forest Gate just hired Justin Hawkins, formerly First Gulf's senior manager of development and planning, as director of development. Hawkins worked for RioCan REIT, Dream and SmartCentres REIT before that.
Vaughan-based home-builder Treasure Hill Homes is a partner in Forest Gate. Forest Gate's advisory board is comprised of Marinovic, DelZotto, Treasure Hill president Nicholas Fidei and Treasure Hill CFO Mark Caruso.
Blackwood family donates $10M to Va. Tech real estate program – Virginia Business Magazine
Podcast: What triggered a record-breaking Ottawa real estate deal – Ottawa Business Journal
A record-setting residential real estate deal takes centre stage in the latest episode of Behind the Headlines.
To hear the full podcast with OBJ publisher Michael Curran and editor David Sali, please watch the video above. Prefer an audio version of this podcast? Listen to it on SoundCloud or Spotify.
MC: We know the business audience likes big numbers, and this is a big number: a quarter of a billion dollars. This is a three-building rental apartment complex in Westboro, and it sold for $267 million. We think it's the largest residential real estate deal in Ottawa history. Dave, tell us about it.
DS: CBRE brokered this historic deal. It actually took three of their offices – Ottawa, Toronto and Montreal – working together to get this deal done. That's how big it was. The buyer is Homestead Land Holdings out of Kingston. They already own a couple of dozen properties in Ottawa along with dozens more across the province. As Nico Zentil of CBRE's Ottawa office told me, it is just very rare that you would see a property of this scale ever come on the market in Ottawa because we have a pretty tightly controlled market here. This is part of Homestead's play to expand its footprint here – they also recently filed an application to build a 25-storey apartment tower with 235 units near Baseline and Greenbank. Clearly, they're wanting to go big in what they think is going to be a big bounceback for the Ottawa rental market. Zentil said the properties were hotly pursued and got multiple bidders. That's a testament to the strength of the Ottawa residential market right now.
As you know, last year wasn't great for the rental market in Ottawa. With the pandemic, two big groups that are normally pretty steady, reliable renters – students and new immigrants – well, there weren't many of those coming to the capital last year, so that caused a little bit of a dip in the rental market for sure. But the general consensus seems to be that things are ready to bounce back.