Microsoft announces new Surface Laptop Go and updated Surface Pro X – GSMArena.com news – GSMArena.com
Microsoft is releasing two new computers today, the budget-oriented Surface Laptop Go and the second generation version of the premium Surface Pro X.
The Surface Laptop Go is an affordable variant of the more expensive Surface Laptop. It has 12.4-inch display with 3:2 aspect ratio and 1536×1024 resolution. The display is also a touchscreen.
The Surface Laptop Go is powered by a 10th gen Intel Core i5-1035G1 processor with Intel UHD Graphics. It has 4GB or 8GB of LPDDR4X memory and 64GB eMMC or 128/256GB SSD storage.
The Surface Laptop Go also includes a 720p f2.0 webcam, dual far-field microphones, and speakers with Dolby Audio processing. You also get 1x USB-C, 1x USB-A, Wi-Fi 802.11ax, Bluetooth 5.0, headphone jack, and Surface Connect port.
[embedded content]
The Surface Laptop Go uses aluminum for the lid and polycarbonate composite resin system with glass fiber and 30% post-consumer recycled content for the base. It's available in three colors: Ice Blue, Sandstone, and Platinum.
The Surface Laptop Go will come with Windows 10 Home in S mode. It's priced at $550 for the base model with 4GB memory and 64GB eMMC, $700 for 8GB memory and 128GB SSD, and $900 for 8GB memory and 256GB SSD.
The new Surface Pro X is an update to last year's model and is an ARM-based Windows tablet. It has a 13-inch touchscreen with 3:2 aspect ratio and 2880×1920 resolution. This is packed into a new design, which Microsoft claims is the thinnest ever for a Surface Pro while still maintaining the distinctive kickstand.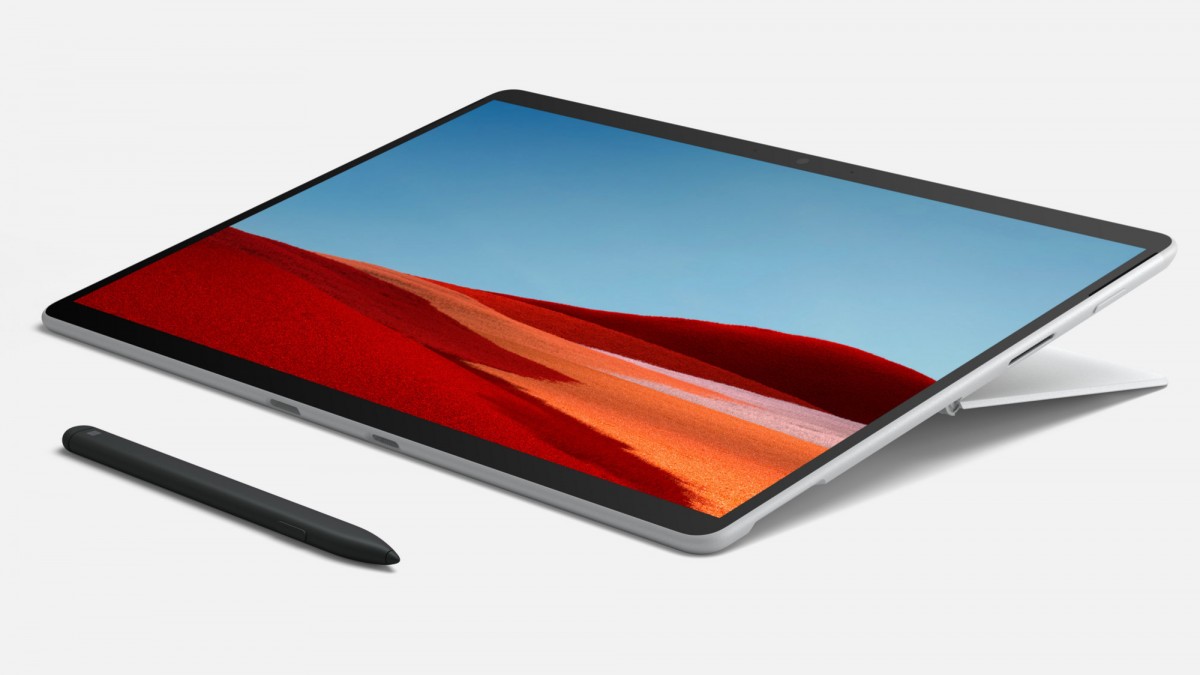 The device is powered by two custom chipsets, the Microsoft SQ 1 from last year and the new SQ 2, made by Qualcomm. Microsoft provides no details on these chipsets but since the SQ 1 was based on the Snapdragon 8cx, it's likely the SQ 2 is based on the Snapdragon 8cx Gen 2. This is further confirmed in the GPU specifications, where the SQ 1 has the Adreno 685 while the SQ 2 has the Adreno 690, similar to the 8cx and 8cx Gen 2, respectively. Microsoft claims a battery life of 15 hours.
The Surface Pro X offers a choice of 8GB and 16GB of LPDDR4x memory. On the storage front, you get a choice of 128, 256, and 512GB of removable M.2 2230 SSD. However, the driver doesn't seem user-replaceable, as Microsoft says it can only be removed by a Microsoft technician. Because the hardware is ARM-based, the device will ship with Windows 10 Home on ARM.
The Surface Pro X has a 5MP front camera for 1080p video and also a separate camera for Windows Hello face authentication. On the back is a 10MP camera for recording up to 4K video. There are also dual far-field microphones and 2W stereo speakers with Dolby Audio.
[embedded content]
The Surface Pro X has 2x USB-C ports, Surface Connect port, Gigabit LTE with nanoSIM and eSIM support, A-GPS, Wi-Fi 802.11ac, and Bluetooth 5.0.
The Surface Pro X is compatible with the Surface Pro X keyboard from last year — which now comes in three new colors: Platinum, Ice Blue, and Poppy Red — but it continues to be sold separately for $104. Same goes for the Surface Slim Pen, which costs $145 extra.
The Surface Pro X will be available in six configurations, only two of which use the new Microsoft SQ 2. This includes the 256GB version for $1500 and 512GB version for $1800. Both have 16GB memory, Microsoft SQ 2 and available for pre-order right now in Black or Platinum.
Apple Shares New 'Dark Universe' Experimental Video Shot on iPhone 12 Pro – MacRumors
As we wait for the iPhone 12 review embargo to lift later today, more pictures are circulating of the devices in real-world lighting conditions, providing a better look at the different colors available.
Leaker DuanRui has shared images on Twitter of the iPhone 12 in white, black, blue, green, and (PRODUCT)RED. The black and white colors are similar to the iPhone 11 colors, but the other…
Cloud9 Signs Top All-Women Valorant Team MAJKL, AT&T to Serve as Presenting Partner – TEO – The Esports Observer
The release of Valorant has already created significant forward progress for women in esports. Just last month, Spectacor Gaming's FTW initiative became the first tournament organizer to receive official professional-level tournament status from Riot Games for an all-women tournament. Now, esports organization Cloud9 is looking to take that progress one step further with the signing of that tournament's champion, MAJKL, as a sister team to its existing Valorant roster.
The team will now compete under the name "Cloud9 White" with the (currently) all-male team rebranding to "Cloud9 Blue." Additionally, AT&T has expanded its deal with the organization to become the presenting partner of Cloud9 White.
While multiple teams including Dignitas and Counter Logic Gaming currently field women's rosters in Counter-Strike: Global Offensive and/or Valorant, those teams most commonly compete in all-women events. According to Cloud9 Senior General Manager Gaylen Malone, the organization is committed to turning Cloud9 White into a true sister team competing in Valorant's male-dominated pro scene.
She told The Esports Observer that the company's strategy was inspired by early Korean League of Legends. In the early 2010s, many Korean LoL organizations signed 10 players divided across two rosters with similarly-themed names (Azubu Frost/Blaze, Najin Black Shield/White Sword, etc). These rosters would frequently play practice matches against one another and occasionally exchange players back and forth. "I don't expect us to exchange players week-by-week," said Malone, "but I do expect for the coaches and players of Cloud9 Blue to eventually look to integrate some of the women from Cloud9 White into their roster."
Like those old Korean rosters, the teams will have scheduled practice time competing against one another and will have coaches "sharing systems across both rosters." In addition to practicing like sister teams, Cloud9 intends to have its two rosters compete in the same tournaments. The two rosters will both aim to qualify for the game's first official championship, First Strike, which takes place later this year.
For Malone, the decision to sign the MAJKL roster was not only due to their status as the top women's team in the game, but their approach to competition. "The thing that stood out to me about this team is that they were already playing together and scrimming together. They weren't a team that were all friends before Valorant and were playing for fun. They are a talented group of women who came together because they all wanted to be the best at the game and were committed to improving as a team. They were already working like a C9 team should, which is what made me so interested in them! This team was already clearly the top women's team and they are ready to work on becoming the top Valorant talent, not just the top women's Valorant talent."
Shizuka Suzuki, head of sponsorships and experiential marketing at AT&T, also expressed her excitement regarding the signing and expanded partnership to TEO. She explained that both C9 and AT&T have a commitment to elevating women in gaming. AT&T recently announced a gender equality initiative for game developers called Unlocked Games.
"We've got a huge passion around gender equality in sponsorships overall," Suzuki said. "Whether that be with the WNBA, whether that be women's soccer – a lot of different areas where we're intentionally making investments to help provide women with a platform to make sure they're being seen by the younger generation or by others."
In addition to its traditional sports activities, AT&T has been active in esports for several years sponsoring mobile gaming initiatives for ESL. Suzuki noted that, despite the smaller scale of many women's esports programs, brands should take notice of the opportunities that exist in the space. "It's almost a best-kept secret. Generally, those rights fees are a little cheaper than in men's sports. What that allows is for companies of all marketing budget sizes to be able to go invest in world-class athletes." She did however caution that brands need to make sure that such initiatives align with their values before entering the space.
While it remains to be seen whether Cloud9 White can compete consistently with the top teams in Valorant, the organization is setting itself up to make significant strides for women in esports, pushing one step closer to the ultimate goal of co-ed teams becoming the norm in the space.
"It's going to take everyone," Suzuki said. "If we all share that same passion of giving women a better opportunity, more opportunities to be seen, and certainly more content around them…it's going to take all of us as part of that ecosystem to move the needle."
In part, Cloud9 is able to help potentially move that needle due to groundwork previously laid by the women's ecosystem of CS:GO. The similarity in gameplay between it and Valorant allowed for women's teams to more easily migrate over from what is currently the most professionalized women's esports infrastructure in the industry. Malone echoed the sentiment of this requiring a collaborative effort:
"I think that CS:GO was able to make such great strides because of the community and the TO's pushing for it to happen. It is apparent that Valorant is making similar strides through a concerted effort between the community and the developer. Riot Games is making decisions early on to include women in competition and to ensure those women will be supported in the scene. I think that other titles could find similar success if they invested resources to the same degree while making conscious decisions to be more inclusive and provide stepping stones for women."
That commitment from Riot Games is also part of why Cloud9 made the decision to sign a women's roster. "We have seen opportunities to jump into women's CS:GO in the past, but I think our relationship with Riot Games really made this a unique opportunity. Having
an open line of communication with the developer and being able to talk about long term goals, really made us want to jump in and start developing talent for Valorant."
iPhone 12 MagSafe — what it tells us about iPhone 13 – Tom's Guide
The iPhone 12's biggest surprise for me was its magnetic MagSafe charging, and when it was revealed I practically had a vision about the iPhone 13. But I'm getting ahead of myself.
If you haven't heard, Apple's using magnets to allow for easier Qi-charging on its iPhone 12, as the MagSafe charger just snaps to the back of the iPhone. You can even snap a wallet attachment to your phone as well (though it moves around a little bit in your pocket).
The arrival of MagSafe to the iPhone, and not USB-C, may have been a disappointment for many. Samsung has been using USB-C in phones since 2016's Galaxy Note 7, and Apple typically doesn't wait this long to catch up.
MagSafe, though, could be Apple's out for USB-C. In fact, Apple's history gives us reason to think it could skip USB-C for the iPhone and go completely wireless.
Why MagSafe could kill Lightning in the iPhone 13
Apple added the Lightning connector in 2012, with the iPhone 5 and its iPods. Ever since, that port has taken over all iPhones and multiple iPads. It's good for fast charging and capable at data transfers. But like many things, Apple will inevitably replace it with something else. Just ask the 30-pin dock connector, which lasted 11 years (Lightning is approaching that mark, currently at 8).
As I referenced in an article about Lightning headphones in 2016, there's a corrosion issue in the plug side of the Lightning port that causes poor connectivity. One of my colleagues is having Lightning port troubles right now, and that's pushing him to update to the iPhone 12.
Then, remember the rumor from late 2019, where reputable Mac prognosticator Ming-Chi Kuo told analysts that the iPhone 13 could be completely wireless. That didn't make much sense back then, as Qi charging was still plenty awkward.
But it did sound like standard Apple: removing all the ports and buttons it could, in a race to the future. Just ask the headphone jack how it fared in the rest of the industry (Samsung even removed it from the Galaxy Tab S7). Apple gets ahead of the competitors when it comes to turning standards into "legacy ports," and other companies often follow suit.
MagSafe changes that, by taking the weird "is it placed right?" game out of the standard-issue Qi-charging experience. That being said, it's not really perfect. At least not yet.
Why MagSafe won't kill Lightning in the iPhone 13
As noted in our iPhone 12 review, MagSafe charging has the same drawback of Qi-charging. It's not exactly fast. You can charge an iPhone 12 to 50% with Apple's 20W wired charger, while Apple's 15W MagSafe charger took an hour to get to half-full.
When the iPhone is supposed to be the best phone you can get, nobody will want that slow charging. It would then take Apple (or someone else) making an advancement in Qi-charging technology to bring MagSafe up to speed, or for some unlikely change in consumer habits where people accept slower charging, likely by charging more frequently, for smaller amounts of time.
Plus, Qi-charging can't send data, and one of the big perks of Lightning and USB-C is that it can be used for backing up your devices. Apple may try its best to push everyone to backup to iCloud, but they probably know they can't make that work for everyone.
There's also the matter of the European Union, which voted in favor of a universal charging standard this past January. As most readings of the situation say, this would require all smartphone makers to adopt the same charging standard. This is meant to increase convenience and cut down waste, and it's a very good idea.
This act from the EU still needs to be turned into a law. But if and when it does go through, it probably means that Apple can't just ditch all charging ports and go for MagSafe only, because that's still requiring a different cord, even if it doesn't plug into your iPhone.
Outlook
I don't know what Apple's waiting for. The company could easily switch from Lightning to USB-C in the iPhone at any time — much like it did with the new iPad Air.
Maybe adding 5G and MagSafe were the only big physical changes that the company had time for with the iPhone 12. But MagSafe shows a potential plan that Apple could have had before the EU pushed them to go USB-C. We'll have to see next year, and in all the iPhone 13 leaks we expect to see along the way.