Military to support vaccination efforts in northern Ontario Indigenous communities – pentictonherald.ca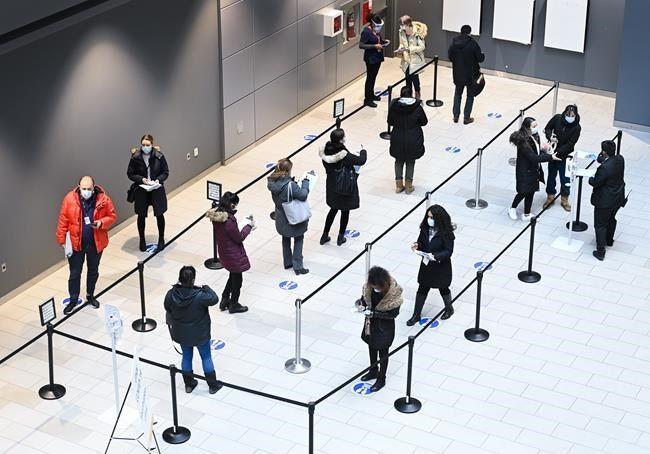 TORONTO – The Canadian military is set to help with COVID-19 vaccine distribution in northern Ontario, as officials investigate the death of a teenager who had the virus and worked at a long-term care home in the province's southwest.
Federal Public Safety Minister Bill Blair tweeted Sunday that the Canadian Armed Forces will support vaccine efforts in 32 communities of the Nishnawbe Aski Nation. The move came after a request from the province for assistance in getting vaccine to First Nations communities, he wrote.
"ur government will always be there to support the fight against #COVID19," he wrote on Twitter.
The Nishnawbe Aski Nation, whose territory comprises 49 remote communities in northwestern Ontario, did not immediately comment on the pending deployment.
Meanwhile, officials in Middlesex-London said Sunday that a male teen who worked in a long-term care facility in the region was among the three deaths reported on the area's COVID-19 case site earlier in the weekend.
Dr. Alexander Summers, associate medical officer of health for the Middlesex-London Health Unit, said he couldn't provide the exact age or any other details about the teen.
But he said the person was a staff member of the long-term care home who was recently diagnosed with COVID-19 and died earlier in the week.
"Through the course of our investigation, the potential exposures could be many, but certainly the long-term care home is a potential exposure for this individual," Summers said in an interview.
Summers said to his knowledge, the teen was not hospitalized with COVID-19.
He is the youngest person to have died after contracting the virus in the county, Summers said, noting the majority of deaths they've seen among COVID-19 patients have been in an older demographic.
"It can have severe impacts on people of all ages and this story and this unfortunate and tragic situation as a reminder of that," Summers said.
"Certainly, this is a very rare occurrence. It's a rare event. And the investigation continues as to understanding what exactly might have happened. However, regardless, it's a sad day."
The Roberta Place Retirement Lodge long-term care home in Barrie, Ont., north of Toronto, also made headlines over the weekend after health officials said a U.K. variant of COVID-19 was behind a deadly outbreak there.
On Sunday, the Simcoe Muskoka District Health Unit said it had learned of an additional individual with the U.K. variant within the region.
The unit said that individual had close contact with a person who is also part of a COVID-19 outbreak at Bradford Valley Care Community, a long-term care home in Bradford West Gwillimbury, south of Barrie.
Officials are now investigating whether that outbreak is also due to the U.K. variant.
Ontario reported 2,417 new cases of COVID-19 and 50 more deaths related to the virus on Sunday.
The numbers were slightly up from Saturday's 2,359 cases, though deaths declined by two from previous figures.
Health Minister Christine Elliott said there were 785 new cases in Toronto, 404 in Peel Region, 215 in York Region and 121 in Niagara.
Over 48,900 tests had been completed in Ontario over the past 24 hours.
The province reported that 4,427 doses of a COVID-19 vaccine were administered since the province's last report, and 1,436 are hospitalized with the virus.
A total of 280,573 doses of the COVID-19 vaccine have been administered in Ontario so far.
Since the pandemic began, there have been 255,002 confirmed cases of COVID-19 in Ontario. Of those, 225,046 have recovered and 5,803 people have died.
On Monday, the province plans to issue the results of a weekend-long expansion of its "inspection blitz" of big-box stores to ensure they were following COVID-19 guidelines.
The workplace inspections, which started in the Greater Toronto and Hamilton areas last weekend, stretched out to Ottawa, Windsor, Niagara and Durham regions.
Preliminary figures from Saturday showed inspectors went into 310 big-box stores and issued 34 tickets and 53 orders, Labour Minister Monte McNaughton said Sunday.
Overall, inspectors found the stores were only at "64 per cent compliance, which the minister said wasn't good enough.
"The three big issues that we're finding this weekend: masking protocols aren't being followed, in some cases; the physical distancing is still an issue in some stores; and this weekend we found that some of these big-box stores don't have a safety plan that's required of them to prevent COVID-19 from coming into the workplace," McNaughton said in an interview.
"Every business should know at this point in the pandemic what's expected of them."
This report by The Canadian Press was first published Jan. 24, 2021.
Note to readers: This is a corrected story. A previous version said there had been 102 deaths in Ontario over the past 24 hours. There were, in fact, 50 deaths.
'We need this': Getting COVID-19 vaccine to remote and urban Indigenous populations – Salmon Arm Observer
Chief Chris Moonias looked into a web camera as he prepared to get a COVID-19 vaccine just after precious doses arrived in his northern Ontario community.
"I'm coming to you live from Neskantaga First Nation community centre where our vaccines will be administered," a jovial Moonias, wearing a blue disposable mask, said during a Facebook live video at the start of February.
Moonias was first to get the vaccine in the fly-in Oji-Cree First Nation on the shores of Attawapiskat Lake north of Thunder Bay.
The vaccine had arrived by plane earlier in the day after weeks of planning, and the chief's video was part of a campaign to get community members on board.
Moonias said in an interview that he had done his own research, had spoken with medical professionals and wasn't concerned about getting the shot.
About 88 per cent of eligible on-reserve members have since received a first dose of the Moderna vaccine. Second doses are to arrive Monday.
However, earlier this week, the reserve declared a state of emergency due to a COVID-19 outbreak, with some cases linked to the Thunder Bay District Jail.
Moonias said four off-reserve members in Thunder Bay, all under the age of 40 — including his nephew — have died. And he's worried about the 200 other members who live off the reserve — almost the same number as those on the reserve — and when they'll get inoculated.
"I even thought about flying my people up … to get the vaccine," said Moonias, who added it's unlikely to be an option because of cost.
Canada is in the midst of the largest vaccine rollout in its history. The second wave of the COVID-19 pandemic has hit Indigenous populations much harder and Ottawa says they are a priority for vaccinations.
The actual distribution remains complex and varied across the country.
Neskantaga is one of 31 fly-in First Nations included in Operation Remote Immunity, part of the first phase of Ontario's vaccination rollout. The operation was developed with Nishnawbe Aski Nation and Ornge, the province's air ambulance service. The goal is to provide mass vaccinations by April 30 and it is having early successes.
There are challenges getting the vaccine to remote First Nations and questions about distribution for urban Indigenous populations.
The Assembly of First Nations says most Indigenous communities haven't received sufficient supply to extend doses to their off-reserve members. The National Association of Friendship Centres says there is no national vaccination plan for urban Indigenous people.
There's also concern there is no national plan to tackle decades of mistrust created by systemic racism and experimentation on Indigenous people.
There are many examples throughout Canadian history of scientists sponsored by the federal government or the government itself doing medical experiments on Indigenous people, including children, who were the subject of a tuberculosis vaccine trial in Saskatchewan that began in the 1930s.
Ontario New Democrat Sol Mamakwa, who represents the electoral district of Kiiwetinoong, said some constituents tell him they are scared to take the vaccine. They don't trust it.
He has been travelling to communities to help promote it and received his first dose alongside members of Muskrat Dam Lake First Nation.
Community engagement has been key in vaccine uptake, Mamakwa said. Promotion begins weeks before vaccine teams arrive and includes radio campaigns, social media posts and live online question-and-answer sessions.
It's about giving people information, he said.
"One of the only ways out of this pandemic is the vaccine," said Wade Durham, Ornge's chief operating officer, who added it's key to have Indigenous people involved in vaccine planning.
Each First Nation in Operation Remote Immunity has a community member responsible for answering questions and setting up a vaccination site. Immunization teams are required to take cultural training and, when possible, include Indigenous medical professionals and language speakers.
Indigenous Services Canada said it is aware that a history of colonization and systemic racism has caused mistrust, so campaigns are being developed specifically for First Nations, Inuit and Metis communities.
Michelle Driedger, a Metis professor of community health sciences at the University of Manitoba, said experience has shown that stakes are high when it comes to Indigenous communities.
During the H1N1 pandemic in 2009, the Public Health Agency of Canada prioritized vaccines by geography. A main lesson learned was to increase Indigenous representation at decision-making tables, she said.
At the time, Indigenous people were over-represented in hospitalizations and intensive care stays, as well as in deaths. Those living in remote and isolated communities experienced worse outcomes.
Driedger said the vaccine response is better now, but there is "rational skepticism." There needs to be a transparent vaccination plan for Indigenous communities — no matter where they are, she said.
The Matawa First Nations tribal council said its four communities reachable by road are not getting the same vaccine access as its five fly-in ones, and more needs to be done.
Provincial officials have said that remote First Nations received priority for the vaccine rollout because of less access to on-site health care and increased health risks. Chief Rick Allen from Constance Lake First Nation has said the vaccine needs to go where the outbreaks are.
Back in Neskantaga, Moonias said he'll do anything he can to protect anyone he can.
He continues to give updates about his vaccination. In another Facebook video posted soon after he received his shot, the chief gave a thumbs-up and said he had no pain or discomfort.
"We need this. We need to beat this virus."
The latest developments on COVID-19 in Canada on Friday, Feb. 26, 2021 – Cochrane Today
The latest developments on the COVID-19 pandemic in Canada (all times eastern):
6:35 p.m.
British Columbia is reporting 589 new cases of COVID-19, along with seven deaths.
But the province cautions the numbers are considered provisional due to delayed updates in its lab reporting system.
Provincial health officer Dr. Bonnie Henry and Health Minister Adrian Dix say in a statement that the federal government's approval of the vaccines by Oxford-AstraZeneca and Verity-Serum Institute of India is encouraging news.
More than 250,000 doses of COVID-19 vaccine have been administered in B.C., with roughly 73,000 of those being second doses.
—
5:40 p.m.
Alberta has recorded 356 new COVID-19 cases and three additional deaths.
There were 269 people in hospital with the virus, including 55 in intensive care.
The test positivity rate was 3.9 per cent.
Two doctors who co-chair the Edmonton Zone Medical Staff Association's pandemic committee are urging the Alberta government to hold off on easing restrictions on Monday.
They also think restrictions should be tightened on bars, restaurants and pubs, which they say are overcrowded and not following existing rules.
Health Minister Tyler Shandro says he still needs to see latest data, but so far there's been nothing that warrants alarm.
—
4:30 p.m.
Thunder Bay and Simcoe Muskoka will be in lockdown starting Monday based on COVID-19 trends.
Ontario announced the decision on Friday after local leaders in Thunder Bay called for help amid growing spread of the virus.
Public health restrictions will loosen in seven other Ontario public health units on Monday.
Data has shown COVID-19 cases and hospitalizations dropped after strict public health measures took effect in January, but numbers are starting to rise again.
—
4:10 p.m.
Prince Edward Island is reporting one new case of COVID-19 today.
Chief medical officer of health Dr. Heather Morrison says the case involves a woman in her 20s, adding that the infection does not appear to be directly linked to other cases announced this week.
She says health officials are still trying to determine the source of an outbreak of three cases in the Summerside area, about 60 kilometres west of Charlottetown.
Morrison says COVID-19 testing is being offered in the Summerside area for people between the ages of 14 and 21 on Saturday and for those between 22 and 29 on Sunday.
—
3:10 p.m.
Saskatchewan health officials announced 153 new cases of COVID-19 and no new deaths Friday.
There were 155 people in hospital, with 16 in intensive care.
The province says 3,545 vaccine doses were administered Thursday for a total of 69,451.
—
1:55 p.m.
New Brunswick is reporting one new travel-related case of COVID-19 today involving a person in their 20s in the Moncton region.
Chief medical officer of health Dr. Jennifer Russell says there are 41 active known cases in the province and that one person is in hospital with the disease, in intensive care.
She says if the number of new cases remains low, all areas of the province may be able to move from the "orange" to the lower, "yellow" pandemic-alert level on March 7.
Under the new rules, mask-wearing will still be required for indoor activities but not outdoor ones, and restrictions will be eased for entertainment centres, churches and sporting activities.
—
1:50 p.m.
Health officials in Manitoba say one more person has died due to COVID-19 and there are 64 more cases.
The number of new infections has been steadily decreasing in Manitoba over recent weeks.
There are 191 people in hospital due to the novel coronavirus.
Dr. Joss Reimer, the medical lead for Manitoba's vaccination task force, says there's no indication yet about how much of the newly approved AstraZeneca vaccine will come to the province.
But she says 250 clinics and pharmacies are ready to provide doses when it arrives.
—
1:35 p.m.
Nunavut is reporting one new case of COVID-19 today.
The new case is in Arviat, a community of about 2,800 and the only place in Nunavut with active cases.
Arviat, which continues to see an outbreak of the virus, has been in a strict lockdown for over 100 days.
All schools and non-essential businesses in the community are closed and travel is restricted.
There are 26 active cases in Nunavut, all in Arviat.
—
1:10 p.m.
Newfoundland and Labrador health authorities are reporting four new cases of COVID-19.
Officials say they are also battling the province's first outbreak at a hospital.
Though Eastern Health officials will not provide exact numbers, they say fewer than 10 people are affected by an outbreak at St. Clare's Mercy Hospital in St. John's.
Public health says a wider outbreak in the St. John's metro region is ongoing and there are now 11 people in hospital with the virus, including five in intensive care.
—
12:10 p.m.
Canada's chief public health officer says the daily COVID-19 case counts are nearly 75 per cent higher than they were at the peak of the first wave of the pandemic last spring.
Dr. Theresa Tam says the average daily case counts in Ontario, Alberta and British Columbia have increased between eight and 14 per cent over the previous week.
She says that as of Thursday evening, there have now been 858,217 COVID-19 cases in Canada, including 21,865 deaths, since the beginning of the pandemic.
Tam warns that COVID-19 variants can still emerge and those that spread more quickly can become predominant.
—
12:05 p.m.
Health officials in Nova Scotia are reporting 10 new cases of COVID-19 today.
Nine of the new cases have been identified in the health region that includes Halifax, and one is in the eastern region.
Of the new cases, five are close contacts of previously reported cases, three are under investigation and two are related to travel outside Atlantic Canada.
—
12 p.m.
Ontario's science advisers say prioritizing COVID-19 vaccinations based on neighbourhood as well as age could prevent thousands of cases and reduce the number of deaths due to the pandemic.
The Ontario COVID-19 Science Advisory Table makes the findings in a new report released today.
The group says the pandemic has taken a disproportionate toll on older adults and residents of disadvantaged and racialized urban neighbourhoods.
It says targeting those residents for vaccination first could minimize deaths, illness and hospitalizations across Ontario.
—
11:50 a.m.
Procurement Minister Anita Anand says Canada has secured two million doses of AstraZeneca's COVID-19 vaccine through a deal with Verity Pharmaceutical Canada Inc. and the Serum Institute of India.
She says 500,000 of those doses will be delivered in the coming weeks.
Another 1.5 million doses will arrive by mid-May.
This is on top of the 20 million doses already secured through an earlier deal with AstraZeneca.
Health Canada approved the vaccine for use in Canada earlier today.
—
11:25 a.m.
NDP Leader Jagmeet Singh is calling on the federal government to work to waive patents on COVID-19 vaccines to give poorer countries greater access to doses.
Singh joined with former Canadian ambassador to the United Nations Stephen Lewis today to demand Ottawa support developing nations at an upcoming World Trade Organization meeting.
Those countries are asking for a patent waiver, which would allow them to produce generic versions of the vaccines.
Singh is also calling for the WTO to suspend its dispute resolution mechanism as it applies to poorer countries so that pharmaceutical companies cannot sue them over vaccine production.
(The Canadian Press)
—
11 a.m.
Quebec is reporting 815 new COVID-19 infections and 11 more deaths attributed to the virus.
Health officials say hospitalizations dropped by 13, to 620, and 119 people were in intensive care, a drop of three.
Quebec has now vaccinated more than 400,500 people with a first dose of COVID-19 vaccine after administering 12,038 doses on Thursday.
—
10:40 a.m.
Ontario's ministry of health says there are 1,258 new cases of COVID-19 in the province today.
Health Minister Christine Elliott says that of those new cases 362 are in Toronto, 274 are in Peel Region and 104 are in York Region.
There were also 28 more deaths linked to the virus in Ontario since the last daily update.
—
8:30 a.m.
Health Canada has approved the COVID-19 vaccine from AstraZeneca, the third to be given the green light for national use.
Canada has pre-ordered 20 million doses of the AstraZeneca vaccine, which was co-developed by researchers at the University of Oxford.
It will also receive up to 1.9 million doses of the AstraZeneca vaccine through the global vaccine-sharing initiative known as COVAX by the end of June.
—
This report by The Canadian Press was first published Feb. 26, 2021.
The Canadian Press
Note to readers: This is a corrected story. A previous version, based on information provided by Dr. Theresa Tam, erroneously stated that daily COVID-19 case counts are nearly 75 times higher now than they were at the peak of the first wave. In fact, Tam later clarified they are 75 per cent higher than at the peak of the first wave.
Canada approves use of AstraZeneca Covid-19 vaccine – MENAFN.COM
(MENAFN – IANS)
Ottawa, Feb 27 (IANS) Canada announced its approval of the use of the Covid-19 vaccine co-developed by the University of Oxford and AstraZeneca on Friday, clearing the way for millions of more inoculations in the country.
"AstraZeneca Covid-19 Vaccine is indicated for active immunisation of individuals 18 years of age and older for the prevention of coronavirus disease 2019," said Health Canada in its news release.
"The efficacy of the vaccine was estimated to be 62.1 per cent. Overall, there are no important safety concerns and the vaccine was well tolerated by participants," it added.
Canada, which began to assess the submission from AstraZeneca and Oxford University for safety and efficacy since last October, has secured access to 20 million doses of the AstraZeneca vaccine before July, the Xinhua news agency reported.
The approval follows that of Pfizer and Moderna, both of which also require two doses.
Unlike the Pfizer and Moderna vaccines based on mRNA technology, AstraZeneca uses more conventional viral vector technology.
One major advantage is in logistics. The shot can be stored and transported at normal refrigerated temperatures, unlike its leading mRNA-based competitors, which require ultra-cold storage.
Health Canada said it has no immediate safety concerns for those 65 and older.
France has restricted the vaccine to people under the age of 65 despite the World Health Organization's insistence that the product is safe and effective for all age groups.
As of Friday morning, more than 1,729,203 doses of approved Covid-19 vaccines have been administered across Canada, according to Health Canada.
Last month, Prime Minister Justin Trudeau said his government was "very confident" that it would meet its end-of-September goal of vaccinating every Canadian who wants to be inoculated.
Canada has a population of nearly 38 million.
–IANS
int/rs
MENAFN26022021000231011071ID1101668967
Legal Disclaimer:
MENAFN provides the information "as is" without warranty of any kind. We do not accept any responsibility or liability for the accuracy, content, images, videos, licenses, completeness, legality, or reliability of the information contained in this article. If you have any complaints or copyright issues related to this article, kindly contact the provider above.