Minister Jordan concludes successful first week of engagement on Canada's Blue Economy Strategy – Canada NewsWire
OTTAWA, ON, Feb. 12, 2021 /CNW/ – The Government of Canada is developing a Blue Economy Strategy to grow our ocean sectors through job creation, inclusion and conservation. This strategy will harness opportunities on all three coasts to spur innovative ideas, create more jobs, leading to a more prosperous future for Indigenous and coastal communities. It will also position Canada as a world leader in the global blue economy.
An effective Blue Economy Strategy is one in which Canadians from coast to coast to coast will see themselves: ocean industries, innovators, environmental groups, indigenous and non-indigenous communities across the country. Over the past week, the Honourable Bernadette Jordan, Minister of Fisheries, Oceans and the Canadian Coast Guard held roundtable discussions with leaders in some of these key sectors including the fisheries and aquaculture sectors, academia, and women leaders in ocean sectors to hear their suggestions on a successful blue economy strategy.
During these roundtables, Minister Jordan has heard about the importance of British Colombia's fisheries and coastal tourism from the Pacific region, the level of importance of having reliable, timely, and accessible data on our oceans from ocean scientists and professors and the need for collaboration between communities, first nations and industry to produce a strategy that considers economic, social and environmental factors.
The Government of Canada will continue to host roundtable discussions and shortly Canadians will be invited to share their feedback through online engagement. Those interested will also be able to visit the Blue Economy website where they can download an engagement toolkit to host their own discussions.
The engagement of Indigenous peoples is critical in the development of this strategy. Indigenous peoples bring vast knowledge and valuable experience given their longstanding and close relationship with Canada's oceans. Indigenous stakeholders will be engaged through ministerial and departmental roundtables, and all Indigenous peoples will be able to share their views about how a Blue Economy Strategy could better serve their economic and environmental priorities through the online engagement.
Quotes
"What we heard this week was that Canadians agree – our Blue Economy has so much potential for growth. We're going to keep working with Indigenous peoples, industry, environmentalists and more to create a strategy that will ensure we're sustainably harnessing our ocean resources to their full potential. Canadians want a thriving Blue Economy that is built on protection, production, prosperity, and that's exactly what we're striving toward."
The Honourable Bernadette Jordan, Minister of Fisheries, Oceans and the Canadian Coast Guard
Quick Facts
Minister

Jordan

launched the engagement on

Canada's

Blue Economy Strategy on

February 8, 2021

. Between

February 8-12, 2021

, she held 9 roundtables with fisheries and aquaculture leaders, ocean innovators, academia, and women leaders in ocean sectors.
The World Bank defines the blue economy as the sustainable use of ocean resources for economic growth, improved livelihoods and jobs, and ocean ecosystem health.
Pre-COVID-19,

Canada's

ocean-based economy contributed significantly to national Gross Domestic Product (GDP), adding approximately $31.7 billion annually (1.6 per cent of total GDP) and nearly 300,000 jobs across a broad range of sectors.
DFO will continue working with federal partners, including Transport Canada, Innovation, Science and Economic Development Canada, Natural Resources Canada, Crown-Indigenous Relations and Northern Affairs Canada, Infrastructure Canada, Global Affairs Canada, regional development agencies, and others, to advance this whole-of-government federal initiative.
Related Products:
Associated Links
Stay Connected
SOURCE Fisheries and Oceans (DFO) Canada
For further information: Jane Deeks, Press Secretary, Office of the Minister of Fisheries, Oceans and the Canadian Coast Guard, 343-550-9594, [email protected]; Media Relations, Fisheries and Oceans Canada, 613-990-7537, [email protected]
Related Links
US adds a strong 379000 jobs in hopeful sign for economy – Burnaby Now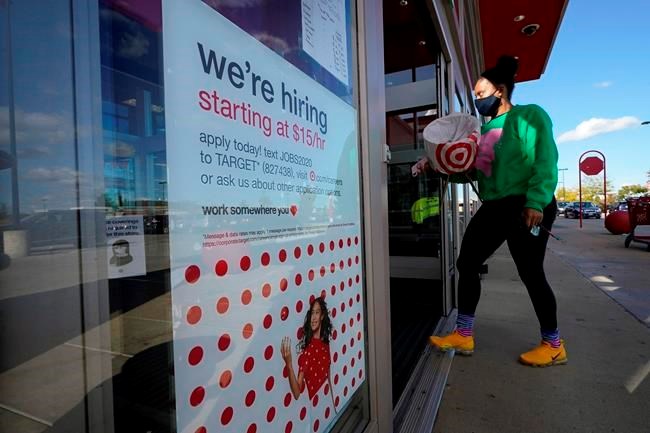 WASHINGTON — U.S. employers added a robust 379,000 jobs last month, the most since October and a sign that the economy is strengthening as confirmed viral cases drop, consumers spend more and states and cities ease business restrictions.
The February gain marked a sharp pickup from the 166,000 jobs that were added in January and the loss of 306,000 in December. Yet it represents just a fraction of the roughly 9.6 million jobs that the economy needs to regain to return to pre-pandemic levels.
The pickup in hiring lowered the unemployment rate from 6.3% to 6.2%, the Labor Department said Friday in its monthly jobs report. That is down dramatically from the 14.8% jobless rate of April of last year, just after the virus erupted in the United States. But it's well above the pre-pandemic unemployment rate of 3.5%.
Stock prices surged on the news of solid job growth, a day after Wall Street suffered deep losses on fears that inflation and interest rates could soon be headed higher.
One year after the pandemic triggered a violent recession, economists are increasingly optimistic that hiring will accelerate in the coming months as Americans seize the opportunity to once again travel, shop, attend sporting events and visit movie theatres and restaurants. Households as a whole have accumulated a huge pile of savings after having slashed spending on those services. Much of that money is expected to be spent once most people feel comfortable about going out.
Friday's report showed that the nation's job growth is still being driven by a steady recovery of bars, restaurants and other leisure and hospitality establishments. Bars and restaurants, in particular, snapped back last month, adding 286,000 jobs as business restrictions eased in California and other states. That trend will likely continue as Texas this week joined some other states in announcing that it would fully reopen its economy with no restrictions.
Also hiring last month were retailers, which added 41,000 jobs, health care companies with 46,000 and manufacturers with 21,000. On the other hand, construction companies shed 61,000 jobs, likely in part because of the severe storms and power outages in Texas.
Friday's strong jobs report, by suggesting that the economy is on the mend, could complicate President Joe Biden's push for his $1.9 trillion economic rescue package, which is being considered by the Senate after winning approval in the House. The Biden package would provide, among other things, $1,400 checks to most adults, an additional $400 in weekly unemployment aid and another round of aid to small businesses.
One discouraging note in the February data is that last month's net job growth came entirely from people who reported that their layoffs had been temporary. By contrast, the number of people who said their jobs were permanently gone was largely unchanged compared with January. People who have permanently lost jobs typically face a tougher time finding new work. In many cases, their former employers have gone out of business.
With so much money being pumped into the economy, Oxford Economics forecasts that growth will reach 7% for all of 2021, which would be the fastest calendar-year expansion since 1984. The Congressional Budget Office projects that the nation will add a substantial 6.2 million jobs this year, though that wouldn't be nearly enough to restore employment to pre-pandemic levels.
Still, the size of the Biden relief package, coming as the economy is already showing improvement, has stoked fears that growth could overheat and accelerate inflation, sending borrowing costs up and possibly leading the Federal Reserve to jack up interest rates. Those fears have roiled financial markets for the past two weeks.
Fed Chair Jerome Powell sought to assuage those concerns on Thursday — without success, based on sharp selloffs in the stock and bond markets — when he suggested that any meaningful rise in inflation would likely prove temporary and that the Fed would be in no hurry to raise its benchmark short-term rate.
Nor did Powell offer any hint that the Fed would act to push back against a surge in the yield on the 10-year Treasury note, which has jumped from about 0.9% last year to 1.5% late Thursday. Still, Powell sounded some optimistic notes. Citing in part the increasing distribution and administering of coronavirus vaccines, he said, "There's good reason to expect job creation to pick up in the coming months."
Other recent economic reports have also suggested better times ahead. Americans sharply increased their spending at retail stores and restaurants in January, when the $600 relief checks were mostly distributed. Retail sales jumped 5.3%, after three months of declines.
Factory output also picked up that month, and demand for long-lasting goods, such as autos and aircraft, rose 3.4%, the government said last week.
Home sales have been on a tear for most of the past year, driven by low mortgage rates and the desire of many Americans for more space during the pandemic. A huge jump in the proportion of people working from home has also driven up sales, which were nearly 24% higher in January than a year earlier.
Christopher Rugaber, The Associated Press
U.S. economy adds 379,000 jobs in February as hiring speeds up – MarketWatch
The numbers: The U.S. created 379,000 new jobs in February — the biggest gain in four months — in what's likely to be a preview of a surge in hiring in the months ahead as most people get vaccinated and the economy fully reopens.
The increase in hiring last month was concentrated at businesses such as restaurants, retailers, hotels and entertainment venues as states eased restrictions on customer limits and public gatherings. Most other industries also added workers.
Hiring was also much stronger in January than initially reported.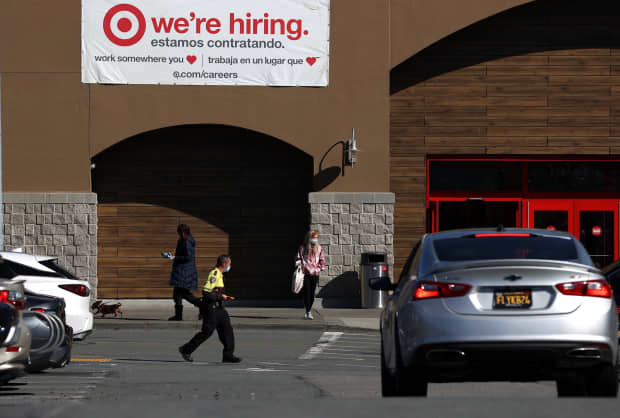 See: A visual look at how an unfair pandemic has reshaped work and home
The official unemployment rate, meanwhile, slipped to 6.2% from 6.3%, although economists widely believe the real rate is much higher.
Federal Reserve officials peg the jobless rate at closer to 10% after adjusting the data for distortions caused by the pandemic.
The rebound in job creation in February is likely the start of a major new cycle of hiring. Warmer weather, falling coronavirus cases, rising vaccinations and another massive increase in federal stimulus are likely to act as jet fuel for the economy in the spring and summer, Wall Street pros and Fed officials say.
Read: Inflation worries are back. Should you worry?
The increase in new jobs easily exceeded Wall Street expectations. Economists surveyed by Dow Jones and The Wall Street Journal had forecast 210,000 new jobs. Stocks rose in premarket trading.
Read: Unemployment claims rise slightly to 745,000 after Texas power outages
What happened: New jobs in leisure and hospitality — restaurants, hotels, casinos, theaters and the like — surged by 355,000 last month to account for most of the hiring in February.
These companies had lost more than 500,000 jobs in December and January after coronavirus cases reached a crescendo and the weather turned cold.
Hiring is likely to spring back even stronger in the months ahead as the weather warms and Americans fell more confident traveling, dining out, going to a game or visiting a museum or amusement park.
Professional firms also added 63,000 employees — though most were temporary — while health-care providers and retailers both filled 40,000-plus jobs. Manufacturers chipped in with 21,000 new hires
Read: Manufacturers grow at fastest pace since pandemic
Employment in construction fell by a surprising 61,000 even though companies are desperately seeking to hire. Poor weather last month was the main culprit.
Home sales have soared during the pandemic, but builders are facing a shortage of skilled workers that probably won't ease up even if the pandemic does.
State and local governments also shed 86,000 jobs last month, mostly in education, but the decline likely reflects seasonal distortions tied to the pandemic. Private-sector hiring rose an even stronger 465,000 in February when government is excluded.
A smallish 50,000 people, meanwhile, rejoined the labor force in February, but that still means some 4.2 million people have gone missing during the pandemic. Those people are no longer counted in the official unemployment rate, making it artificially low.
The number of jobs created in January was revised up sharply to 166,000 from 49,000. The employment decline in December was raised to 306,000 from 227,000, however.
The big picture: The economy is poised to start growing by leaps and bounds again after a tough winter — if the coronavirus vaccines prove very effective.
An effective vaccine will allow states to remove all restrictions, let Americans go about their lives again without fear for their safety and give companies the incentive to hire. Fresh government financial aid will only add to the budding momentum.
What they are saying? "With vaccine distribution continuing to accelerate and with the economy in the initial stages of a reopening, the coming months should see robust gains," said chief economist Curt Long of the National Association of Federally Insured Credit Unions.
'The engine of economic recovery is restarting as the pandemic's winter wave recedes, although there is still a long way to go," said senior economist Daniel Zhao of Glassdoor. "The economy would need to add almost 1 million jobs a month for the rest of 2021 to return to pre-crisis levels by the end of the year."
Market reaction: The Dow Jones Industrial Average
DJIA,
+0.20%
and S&P 500
SPX,
+0.02%
were set to open higher in Friday trades.
China rebounds with economic growth target above 6% – BBC News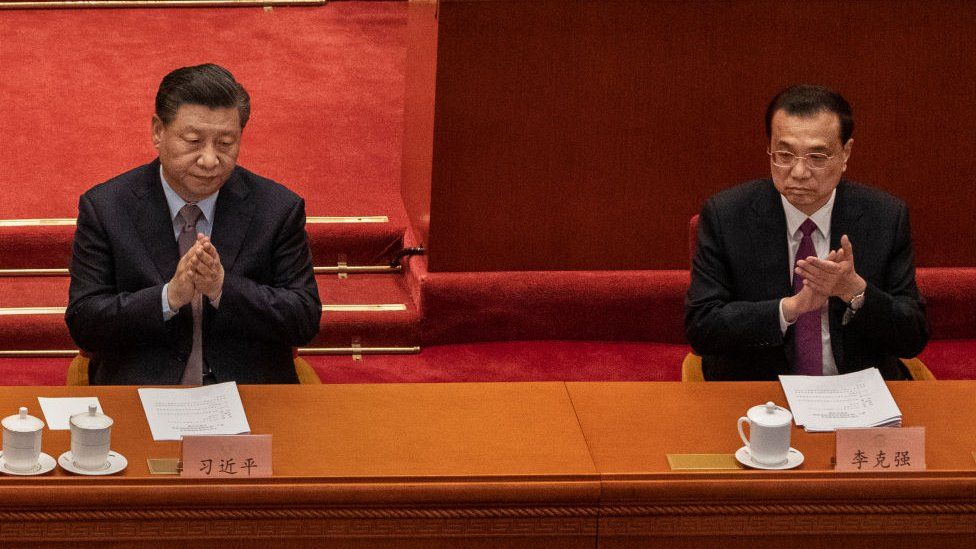 China is aiming for an economic growth rate above 6% in 2021, after scrapping its target last year.
China's Premier Li Keqiang announced the target on Friday at the opening of this year's National People's Congress.
The target marks a return to strong growth after the Covid-19 pandemic impacted the world's second largest economy.
Although China's economy grew last year, it only managed 2.3% growth, its weakest result in decades.
The new target highlights the Chinese economy's strong rebound after the pandemic shutdowns led to a sharp 6.8% contraction in the first quarter of 2020.
The economy grew in the second half of 2020, and China was the only major global economy to post gains for the year, although they were slender compared to previous years.
Now the government hopes to continue that rebound.
"A target of over 6% will enable all of us to devote full energy to promoting reform, innovation, and high-quality development," Premier Li Keqiang said.
"In setting this target, we have taken into account the recovery of economic activity."
By some measures the target appears modest, falling well below the International Monetary Fund's estimate of 8.1% growth for China's economy this year.
Other analysts are also tipping stronger growth.
"The consensus for the year is about 8%-9% but this is coming from a low base. The focus is still on the quality versus the quantity of growth," said Catherine Yeung, investment director at Fidelity International in Hong Kong.
In an analyst note, Bruce Pang from investment bank China Renaissance said the more flexible target leaves some room for structural reform and a transition to a more mature economy.
"We think it likely the target will be achieved, indicating that authorities are shifting focus to the quality of growth instead of speed," he said.
Mr Li also set a target urban unemployment rate of around 5.5%, with a goal of more than 11 million new urban jobs, up from nine million last year.
It also set a budget deficit goal of around 3.2% of gross domestic product.
However, the finance ministry expressed concern about the state of the government budget.
"The outlook for government revenue and expenditure in 2021 appears quite grave, with even greater difficulty in balancing the budget and risks in key areas such as debt that cannot be overlooked," it said in a report released at the start of the meeting.