MirNs opens at New Westminster's New Media Gallery – The Record (New Westminster)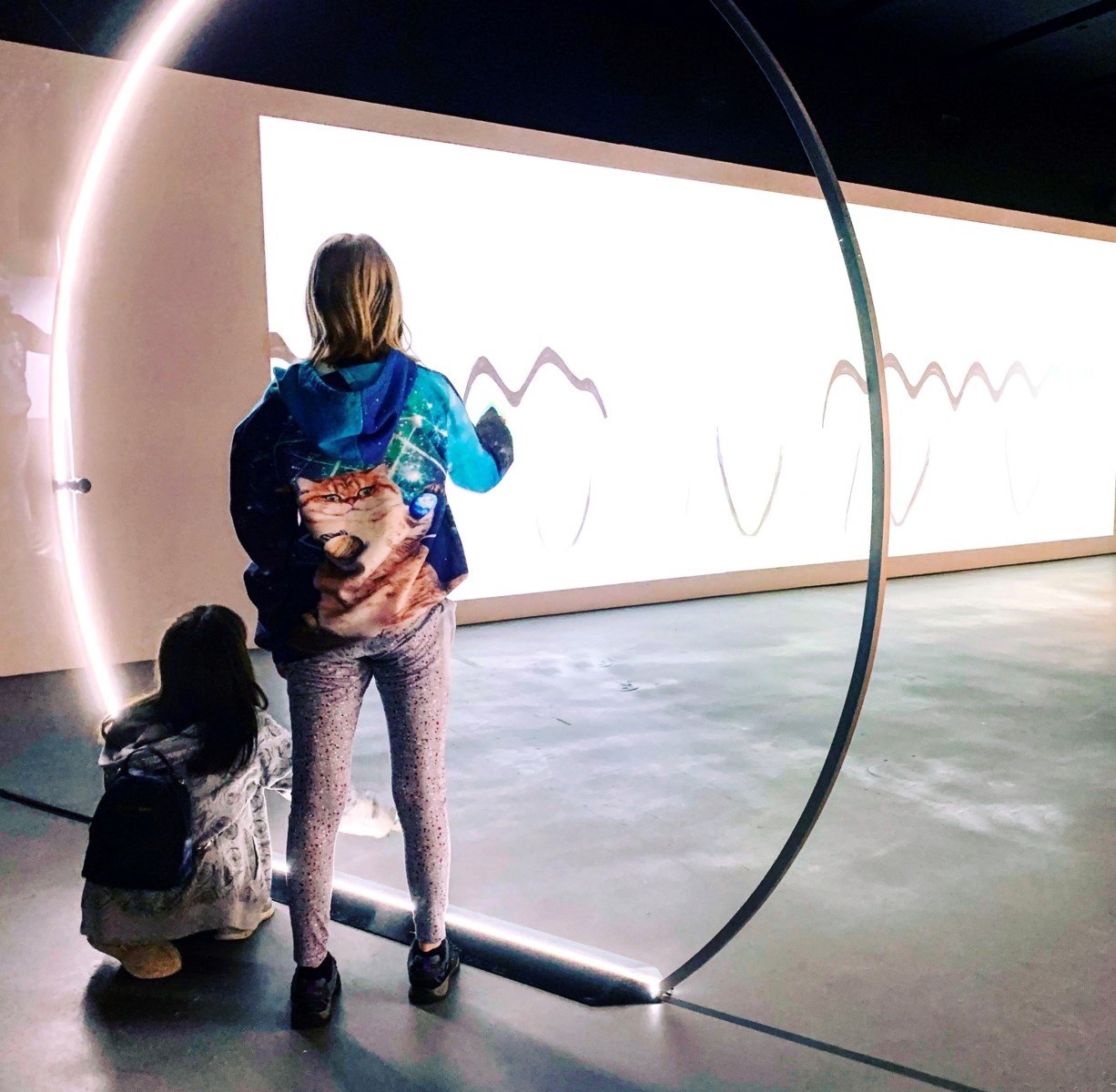 How can a diverse audience actually be reflected through technology-based works in an art gallery?
An exhibition at New Westminster's New Media Gallery is exploring the ways in which machines reflect, interpret and "see" a diversity of visitors to the gallery.
MirNs opened March 13 and is running until May 30 at the downtown gallery.
"This exhibition emerged from a rich period of enquiry around equity and diversity," said a press release from the gallery.
MirNs refers to Mirror Neurons, which the release notes are of interest in biology, psychology and physiology as well as robotics, artificial intelligence and coding.
"Scientists theorize that the mirroring nature of MirNs generate imitative behaviours, resulting in empathy and the capability for esthetic experience," the release says. "It has been stated that mirror neurons are responsible for making us human."
In the new, no-touch interactive exhibition, human interaction with the works reveals how we perceive and interpret the "actions, behaviour and output of these mirroring machines."
"In this liminal space, a multiplicity of ephemeral portraits and self-portraits are generated and flow; saved to machinic and biologic memory," the release says. "Through interactive robotics, neural networks, algorithms, coding, artificial intelligence, micro controllers, proximity and motion sensors and facial recognition, these mirroring machines reflect and expose human diversity in a world of technology."
BOOK YOUR VISIT ONLINE
The exhibition includes multiple works by international artists, including Fragments, by Random International (a collaborative contemporary art studio based out of London and Berlin); Uncanny Mirror, by Mario Klingemann; Nonfacial Mirror, by Shinseungback Kimuyonghun; Liminal, by Louis-Phillipe Rondeau; Pom Pom Mirror, by Daniel Rozin; and Ego, by Klaus Obermaeir, with Stefano D'Allesio and Martina Menegon.
The exhibition, to follow COVID-19 protocols, is available by booked visit only. The gallery allows one booking every hour, on the hour, and each booking is limited to a "bubble" of up to six people. Bookings are in high demand, and the exhibition is already booking into April.
The New Media Gallery is on the third floor of Anvil Centre, 777 Columbia St. Enter through the Columbia Street doors and check in at the front desk.
Follow Julie MacLellan on Twitter @juliemaclellan.
Email Julie, jmaclellan@newwestrecord.ca.
Movie theaters face uncertain future
By Lisa Richwine
LOS ANGELES (Reuters) – Maryo Mogannam snuck into the Empire theater in San Francisco with his older cousins to watch "Animal House" when he was 14. He watched most of the James Bond movies at the historic art house and took his wife there on some of their first dates.
The cinema, which had been showing movies since the silent film era, served notice in February that it was permanently closing because of the impact of COVID-19. The marquee is now blank, and cardboard and paper cover the box office window.
"It's kind of like losing a friend," said Mogannam, now 57, who owns a retail shipping outlet near the theater, which had been renamed the CineArts at the Empire.
As vaccinated Americans emerge from their homes, they also may find their neighborhood theater is not there to greet them.
An eight-cinema chain in New England said it will not reopen. The same fate hit a Houston art house beloved by director Richard Linklater and, in a shock to Hollywood, more than 300 screens run by Los Angeles-based Pacific Theatres. That includes the Cinerama Dome, a landmark that hosted several red-carpet movie premieres.
Following a year of closures, theaters face deferred rent bills plus media companies' focus on drawing customers to streaming services. Up to one-fourth of the roughly 40,000 screens in the United States could disappear in the next few years, Wedbush Securities analyst Michael Pachter said.
The National Association of Theatre Owners rejects that estimate, spokesman Patrick Corcoran said, noting that similar dire warnings accompanying the advent of television and the switch to digital screens never came to pass.
Hollywood filmmakers want cinemas to thrive.
"It's the only place where the art dominates," said "Avatar" director James Cameron. "When you watch something on streaming, the other people in the room with you are welcome to interject, to pause to go to the bathroom, to text."
At theaters, "we literally make a pact with ourselves to go and spend two to three hours in a focused enjoyment of the art."
"For 300 people to laugh and cry at the same time, strangers, not just your family in your house, that's a very powerful thing," said Chloe Zhao, Oscar-nominated director of best picture nominee "Nomadland."
At the Academy Awards on Sunday, the movie industry will "make a case for why cinema matters," producer Stacey Sher said. While acknowledging the hardship of the pandemic, "we also have to fight for cinema and our love of it and the way it has gotten us through things," she said.
About 58% of theaters have reopened in the United States and Canada, most restricted to 50% capacity or less. The biggest operators – AMC, Cinemark and Cineworld – make up roughly half the overall market.
Industry leaders project optimism, forecasting a big rebound after restrictions ease and studios unleash new blockbusters.
Coming attractions include a new Bond adventure, the ninth "Fast & Furious" film, a "Top Gun" sequel and several Marvel superhero movies.
"Avatar 2," Cameron's follow-up to the highest-grossing film of all time, is set to debut in December 2022. Some box office analysts predict 2022 ticket sales will hit a record.
Supporters point to late March release "Godzilla vs. Kong," which brought in roughly $48.5 million at U.S. and Canadian box offices over its first five days, even though audiences could stream it on HBO Max.
"That was a big win for the entire industry," said Rich Daughtridge, president and chief executive of Warehouse Cinemas in Frederick, Maryland.
But near- and long-term challenges loom, particularly for smaller cinemas.
Theaters are negotiating with landlords over back rent. A federal aid program was delayed due to technical problems.
Plus, media companies are bringing movies to homes sooner. Executives say streaming is their priority, pouring billions into programming made to watch in living rooms as they compete with Netflix Inc.
Most at risk are theaters with one or two screens, Wedbush Securities' Pachter said. He said his best guess is between 5,000 and 10,000 screens could go permanently dark in coming years.
"I think we'll see a gradual decline in the number of screens," Pachter said, "just like we've seen a gradual decline in the number of mom-and-pop grocery stores and bookstores."
(Reporting by Lisa Richwine; Additional reporting by Rollo Ross in Los Angeles, Alicia Powell in New York and Nathan Frandino in San Francisco; Editing by Jonathan Oatis)
Applications open for Pattison Media 2021 Prairie Equity Scholarship – Lethbridge News Now
(Lethbridge News Now)
By Pattison Media
Apr 19, 2021 12:01 PM
LETHBRIDGE, AB – Applications are now being accepted for Pattison Media's 2021 Prairie Equity Scholarship competition.
The scholarship is aimed at broadcast and digital media students in the Prairie provinces who are part of under-represented groups.
Two awards of $2,000 will be made to residents of Alberta, Saskatchewan, or Manitoba who in 2021 are attending or planning to attend a recognized broadcast or digital media program at a post-secondary institute in one of the three provinces.
Information and application package
'Godzilla vs. Kong' Tops Box Office Again, Crosses $80 Million in the U.S.
OTTAWA (Reuters) – Canada will set aside C$12 billion ($9.6 billion) to extend its main pandemic support measures in a budget to be presented on Monday, the Toronto Star reported, as much of the country battles a virulent third wave of COVID-19 infections.
The emergency wage subsidy and the emergency rent subsidy, due to expire in June, will be extended to the end of September, the Star reported on Sunday.
Separately, the government will create the "Canada Recovery Hiring Program" in June meant to help those companies depending on the wage subsidy to pivot to hiring again, the newspaper said.
The Finance Ministry declined to confirm or comment on the report. However, Environment Minister Jonathan Wilkinson told the Canadian Broadcasting Corp on Sunday that government pandemic supports would continue for as long as needed.
"If Canadians need that support and the pandemic continues, the government will certainly have their backs," Wilkinson said.
Wilkinson also confirmed that the budget would be "ambitious" and that the government would "invest for jobs and growth to rebuild this economy," though he also said there would be "fiscal guardrails" to put spending on a "sustainable track".
Finance Minister Chrystia Freeland will present the country's first budget in two years on Monday after promising in November up to C$100 billion in stimulus over three years to "jump-start" an economic recovery during what is likely to be an election year.
Canada has been ramping up its vaccination campaign but still has a smaller percentage of its population inoculated than dozens of other countries, including the United States and Britain.
Amid a spiking third wave of infections, Ontario, Canada's most populous province, announced new public health restrictions on Friday, including closing the province's borders to domestic travelers.
($1 = 1.2501 Canadian dollars)
(Reporting by Steve Scherer, Editing by Nick Zieminski)