Mish Schneider The hidden charm of real estate – CMC Markets
With real estate on the rise, Mish Schneider, director of trading research and education at MarketGauge.com, considers the shifting sector and explores what opportunities this might provide investors.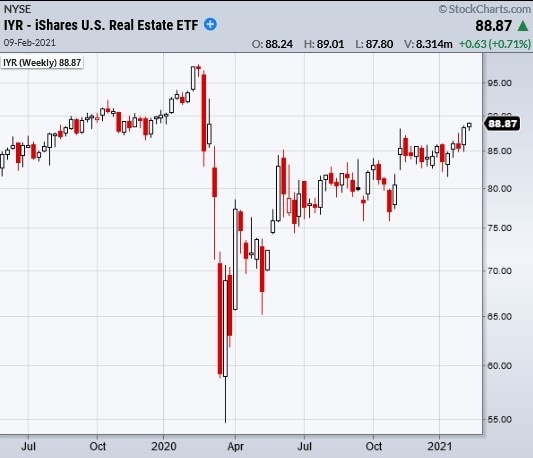 The real estate sector [IYR] has cleared an important price level at $88.76, its 9 November 2020 high.
The real estate recovery has been slow compared to the rest of the market, which is more like a roller coaster ride at this point.
However, the IYR ETF has put in some decent consolidation from $80-$87 area.
Now that it has broken major multi-month highs, it looks clear to head even higher.
The real estate sector shifted when people began to leave highly populated areas or cities in search of more space and lower housing costs.
Working from home gave people more freedom to move about without the confines of reporting to a physical office location.
Furthermore, people soon desired upgrades or bigger houses as they found out that working from home can be a bit tough without some dedicated space.
This led to increased property sales and created housing booms in specific areas.
With interest rates at historic lows, people could not help but take advantage of their extra buying power.
Additionally, the US Federal Reserve plans to keep rates low for at least the next one to two years, which will continue to attract buyers that feel pressure from a time limit on low rates.
A rising housing market means homebuilders should also see an increase — right?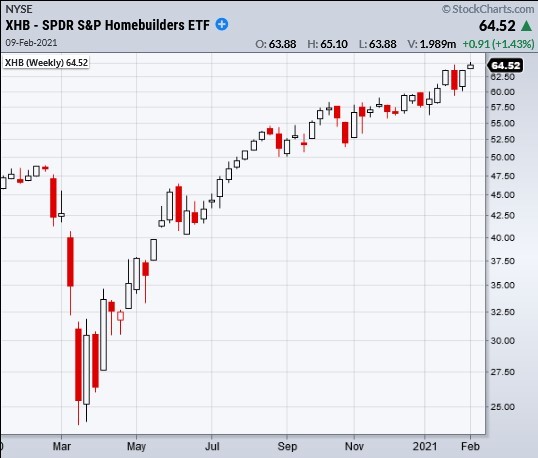 If you look at the homebuilders' sector [XHB], it looks as though we are late to the party. XHB broke its highs around late July 2020.
While IYR is lagging in price, it has a great amount of upward space to explore, especially if IYR can hold over $89 as new support.
This article was originally published on MarketGauge. With over 100 years of combined market experience, MarketGauge's experts provide strategic information to help you achieve your investing goals.
Disclaimer Past performance is not a reliable indicator of future results.
CMC Markets is an execution-only service provider. The material (whether or not it states any opinions) is for general information purposes only, and does not take into account your personal circumstances or objectives. Nothing in this material is (or should be considered to be) financial, investment or other advice on which reliance should be placed. No opinion given in the material constitutes a recommendation by CMC Markets or the author that any particular investment, security, transaction or investment strategy is suitable for any specific person.
The material has not been prepared in accordance with legal requirements designed to promote the independence of investment research. Although we are not specifically prevented from dealing before providing this material, we do not seek to take advantage of the material prior to its dissemination.
CMC Markets does not endorse or offer opinion on the trading strategies used by the author. Their trading strategies do not guarantee any return and CMC Markets shall not be held responsible for any loss that you may incur, either directly or indirectly, arising from any investment based on any information contained herein.
*Tax treatment depends on individual circumstances and can change or may differ in a jurisdiction other than the UK.
Continue reading for FREE
Private Equity Has $300 Billion for Pandemic-Hit Real Estate – Yahoo Canada Finance
(Bloomberg) — Real-estate bosses at Blackstone Group Inc. quietly smiled when Britain's biggest-selling tabloid unwittingly endorsed their largest European real estate deal since the pandemic.
The Sun's front page teased readers that foreign travel curbs meant they'd be splashing their cash at the much-maligned seaside town of Bognor Regis this year. Less than two weeks earlier, it had emerged Blackstone was in talks to spend about 900 million pounds ($1.3 billion) on a majority stake in the owner of Butlins, which has run a popular holiday park in the south-England town for 60 years.
The private equity giant is leading cash-rich peers including Lone Star and KKR & Co. in preparing for a world beyond the pandemic as the rollout of vaccines hints at commercial properties stirring back to life. Buyout firms' global real estate funds are now sitting on more than $300 billion of unspent cash, according to Preqin data.
"There is a lot of money on the sidelines looking for yield and you have a market that will rebound quite considerably," said Keith Breslauer, founder of London-based real estate private equity firm Patron Capital Advisers LLP. "That's why 2021 is interesting."
More than a decade on from the last financial crisis when buying at the bottom was a one-way bet, the dynamics are a bit different this time. Back then rent was still coming in and much of the distress was debt related, meaning those with money could buy cheap and ride the recovery as interest rates collapsed and asset values rose.
This time, hotels, leisure parks and malls have seen their incomes evaporate as the world essentially shut down. Lockdowns pushed about $146 billion of commercial real estate into distress, serious risk of bankruptcy or default at the end of last year, concentrated in hotels and retail, according to Real Capital Analytics, a commercial property data firm.
Read More: 'Purgatory' Grips $146 Billion of Distressed Commercial Property
Buyout firms seeking to repair those income streams as economies reopen expect to be richly rewarded when they sell them on to pension funds that are now even hungrier for yield in a world of negligible interest rates.
"This year you will see some of the foundations of real success being laid by some of the smartest investors," said Alex Price, chief executive officer of Fiera Capital Corp.'s U.K. real estate unit. "Post-financial crisis all you needed was the cash to buy assets and a rising market made everyone look like heroes. This time you are going to need to be much more selective and have the skill set to execute highly transitional assets strategies."
Filling the Pipeline
Blackstone's real estate deal pipeline has swollen in the past two months as lockdowns pile pressure on struggling landlords and operating companies, according to people with knowledge of the money manager's plans who asked not to be identified discussing internal information. British lender Natwest Group Plc appointed PricewaterhouseCoopers to help sell a portfolio of loans secured against U.K. malls with a face value of about 550 million pounds, people familiar with the process said. The instruction was first reported by React News.
"We are increasingly seeing owners who are losing interest, losing money or losing hope, and are now considering transacting," said Bill Benjamin, head of real estate at Ares Management Corp. "There will be some very exciting cyclical opportunities to buy assets at deep values."
Pimco teamed up with mall landlord NewRiver REIT Plc to buy a mall in the center of Sheffield, England, at a "significant discount," according to a Feb. 19 statement. The site can accommodate 1,100 rental apartments and dorms for 300 students. Deals for European hotels will rebound in the second half of this year, according to a report published Monday by broker Cushman & Wakefield Plc, which said investors have raised "notable capital" for when opportunities emerge.
The potential rewards for private equity firms are underpinned by the growing allocations to real estate among pension funds and insurance companies. Investors' target allocation for real estate reached 10.6% in 2020, according to an annual survey of 212 institutions managing about $12.6 trillion conducted by Hodes Weill & Associates LP and Cornell University. That's the highest since the series began in 2013."There is a near-insatiable appetite for income and duration, so if we can re-manufacture risk for something that looks like income and duration we are going to get well paid for it," Ric Lewis, chief investment officer and co-founder of London-based private equity firm Tristan Capital Partners, said at an event hosted by law firm Goodwin.
Wait For It
Widespread state and central bank support, coupled with a more conservative approach to borrowing by real estate investors in the run-up to the outbreak, has held off fire sales so far. Commercial real estate prices also adjust to economic shocks at a glacial pace, as valuations are based on comparable transactions that all but dried up in the pandemic.Buyout funds initially turned to publicly traded property companies to bag discounted deals after share prices plunged in the early stages of the pandemic. Hammerson Plc, the U.K.'s largest retail-focused listed landlord, trades at a discount of about 95% to the reported value of its net assets. Derwent London Plc, the biggest London office landlord, trades at a discount of about 15%.
"There will be selective distressed opportunities that come up, but at the moment we don't see anyone needing to fire sale because the banks have generally been cordial in managing things through," said James O'Neil, a senior director at CBRE Group Inc. in London. "So those people that bought at discounted share prices may look very shrewd in their timing."
Lone Star agreed to buy U.K. senior housing specialist McCarthy & Stone Plc in February. KKR and Brookfield Asset Management Inc. have both bought stakes in London office landlords, with the latter also bidding to take its New York-listed real estate unit private.
As the vaccine rollout gathers steam, attention is now turning to what happens when government support and bank forbearance expires. For private equity firms looking for real estate bargains, it should mean opportunity, according to Breslauer at Patron Capital, which finished raising its latest fund in January.
"Banks have basically deferred decisions until the third quarter of this year because by then we'll know where we stand" with vaccinations, he said. "There is definitely more distress coming, if it happens it'll be over the next six to nine months."
(Updates with hotel investment report in 11th paragraph)
For more articles like this, please visit us at bloomberg.com
Subscribe now to stay ahead with the most trusted business news source.
©2021 Bloomberg L.P.
Toronto woman says she was sexually harassed by real estate agent while looking for an apartment – CP24 Toronto's Breaking News
A Toronto woman is sharing her story after she says she was sexually harassed by a real estate agent while looking for a rental apartment in the city.
Originally from Belleville, Ont., Alyssa Graham made the move to downtown Toronto in 2014 and has been living there ever since.
Graham said she started searching for a new place in mid-January, with plans to move in on Feb. 1.
"This certain property that I wanted was listed on Zolo.ca. So I just reached out to them and asked them if it was still available," Graham told CTV News Toronto.
From there, Graham said she was paired up with a real estate agent who was "very confident" he could find her a place by her desired move-in date.
And while her first pick for a rental property fell through, Graham said she agreed to work with the agent on a go-forward basis.
That's when things started to get weird, she said.
Graham said she noticed that some of the texts and phone conversations with the agent were "rather flirty."
"I answered the phone and I said 'hello' and he said 'you sound so sexy when you answer the phone.'"
Nonetheless, Graham said she agreed to meet the agent for a showing at another unit as she was desperate for housing, chalking up his unorthodox approach to being part of his "spiel."
"This was our first time meeting. He kept calling it a date, he kept asking when we were going to make out, he offered to pay $500 a month in rent for me."
"When we were leaving the unit, he shut all the lights off and the door was locked. We're in a pitch-black apartment, I can't even see my hand in front of me. I'm trying to find a door to get out, but I can't see anything."
When the real estate agent eventually did turn the lights back on, Graham said she was eager to remove herself from the situation, but that he continued his advances.
Graham explained that following the showing, the agent was insistent on driving her home and that he would "not take no for an answer."
She said she apprehensively accepted the offer and was dropped off at a nearby hotel, where she had been staying while in between apartments.
"He dropped me off and was like 'so can I get a kiss?'" she said. Graham quickly refused and then made her way into the hotel.
The agent then called her asking if he should come up to her room and offered to "get a place for the night" if she was interested, Graham alleges.
After a number of unanswered texts and phone calls from the agent later — where Graham says he claimed that he couldn't help being attracted to his client — Graham said she decided to report the incident to his employer, Zolo.
"I told them everything that happened, that I don't think he submitted any offers for me, that he wasted a month of time, cost me money, scared me, made me incredibly uncomfortable, etc." Graham said.
Graham admits that she was originally nervous to submit the complaint as it would likely result in his termination and that the agent was aware of where she was living.
She said she was assured by the company that she "should be fine" because Zolo has "screenings for things like that."
"We would have caught that," she said she was told.
In a statement issued to CTV News Toronto on Thursday , Zolo president Mustafa Abbasi said the company acted quickly to address the issue.
"In January 2021, Zolo received a complaint from a customer regarding their interaction with an agent. We acted swiftly and in accordance with our zero-tolerance policy, terminating the agent effective immediately, within 24 hours of receiving the complaint," the statement reads.
But Graham said that weeks later, the agent reached back out to her asking for her to retract her complaint so that he could be reinstated.
She refused, but agreed to speak with his boss in exchange for compensation for the money paid to cover her hotel expenses.
"We signed a contract for this, which was also sent to his boss, and I spoke with his boss, and they reinstated him."
Graham said the agent agreed to pay her $1,500 to cover those expenses, of which he has paid $150.
"I've contacted him about the payments countless times, which I don't like doing as this man made me feel very uncomfortable in the past, he's now claiming he's not paying me and has blocked my emails and texts," she said.
However, in a follow up statement to CTV News Toronto, Abbasi claimed that the agent was not reinstated following his termination adding that he is "no longer affiliated with Zolo in any way."
With relief, Graham said she was finally able to find an apartment with a female real estate agent and is set to move out of the hotel on March 1. But she says that the "nightmare" experience has left its mark.
"With COVID-19, it's been hard for everyone, but I've had some pretty rough days and he [the real estate agent] knows about those too and he was still giving me the runaround and I guess, just saw me as a piece of ass."
"I thought I was talking to someone who was genuinely trying to help me, and it turned out not to be the case whatsoever."
Vancouver real estate: home across Trout Lake listed $1.7 million, sells $870000 over asking for $2.6 million – The Georgia Straight
The Straight has previously reported about homes selling over $500,000 on top of their listed price.
If some thought nothing is ever going to beat that, here's a surprise.
A home in East Vancouver recently sold $872,134 over its original asking price.
The top-up alone is enough to buy a townhouse or perhaps two condos.
The two-storey home at 3285 Victoria Drive sold on February 24 after eight days on the market.
Oakwyn Realty Ltd. listed the five-bedroom, four-bath residence on February 16.
The listing price was $1,728,000.
A buyer picked up the property for $2,600,134 million.
The transaction was tracked by Zealty.ca, a real-estate information site owned and operated by Holywell Properties.
Holywell's managing broker Adam Major informed the Straight about the sale of Victoria Drive.
According to Major, the deal for the home located across from Trout Lake is a "candidate for craziest individual deal".
B.C. Assessment placed the 2021 value of the property at $1,741,000 as of July 1, 2020.
There may be buyers out there who have a fear of missing out as the market continues to sizzle.
They may be tempted to enter into bidding wars.
Major's advice: don't.
"For buyers, I would recommend caution," he said.
The market may have become too hot that the government could decide to do something about it.
"There is a risk that the federal government steps in to cool the housing market," Major said.
Bank of Canada governor Tiff Macklem has observed "excess exuberance" in the country's housing market.
"What we get worried about is when we start to see extrapolated expectations, when we start to see people expecting the kind of unsustainable price increases we've seen recently go on indefinitely," Macklem said on February 24 at a meeting with chambers of commerce in Edmonton and Calgary.
The central bank dropped its interest-setting rate to 0.25 percent on March 27, 2020 to ease the impact of the COVID-19 pandemic on the economic.
The bank has maintained the rate, which is the lowest, and indicated that it will stay at that level until 2023.
"We are starting to see some early signs of excess exuberance, but we're a long way from where we were in 2016-2017 when things were really hot," bank governor Macklem said on February 24.
Holywell's Major noted that the central may be "only six months late" in issuing a "warning about the housing market overheating".
"But better late than never. At some point, the rules could change and it could happen overnight," Major said.
Major cited the case of New Zealand.
In April 2020, the Reserve Bank of New Zealand lifted lending restrictions to prop up the economy amid the COVID-19 pandemic.
The measure eased credit flow, and led to strong sales in the country's housing market, with price increases setting new records.
Moving to cool the market, New Zealand's central bank decided to reimpose so-called loan-to-value ratio (LVR) restrictions.
Starting in March 2021, banks can allocate only 20 percent of their residential mortgage lending to owner-occupiers with a down payment of 20 percent.
Moreover, banks can lend not more than five percent to investors with a down payment of less than 30 percent. Starting on May 1, the deposit requirement for investors will increase to 40 percent.
Here at home, Holywell's Major said that the last week in February 2021 was the "busiest for weekly sales since 2019" in markets served by the Greater Vancouver, Fraser Valley, and Chilliwack real estate boards.
According to Major, 1,998 sales were reported in the combined areas of the three real estate boards.
"In the last week of February 2020, there were 1,109 sales, so we are up 82 percent over the same week last year," he said.
Zealty.ca tracking also indicates that the last week of February 2021 was the highest since January 15, 2021.
Major also noted that the Canada Mortage and Housing Corporation has been "awfully quiet".
He recalled that CMHC predicted at the beginning of the pandemic in 2020 that housing prices would fall 18 percent.
"The exact opposite happened," Major said.
He speculated that an increase to down payment requirements by CMHC could be come "any day".
So again for buyers out there, caution is the word.
"Are you sure you want to win a bidding war on a teardown in the sticks to wake up to the next morning to discover the feds changed the rules so nobody else makes the same mistake?" Major said.