Morning Coffee – Mon, Nov 30 – Raptors Republic
[embedded content]
[embedded content]
[embedded content]
[embedded content]
[embedded content]
[embedded content]
[embedded content]
[embedded content]
Raptors camp invites: Watanabe, Johnson and Ellenson reports – The Athletic
Yuta Watanabe
Contract: Exhibit 10 (no guarantee, can make roster or be converted to two-way, $50K bonus if cut and remains with 905 for 60 days)
G League rights: Unowned (was two-way with Grizzlies)
Basics: 26 years old, forward, 6-foot-8, 6-foot-10 wingspan, 215 pounds, undrafted (2018) out of George Washington
Flier type: 3-and-D Unproven 3

Brief history: The second Japanese player to play in an NBA game, Watanabe has been one of the more exciting G League prospects to watch the past two years. A former Atlantic 10 Defensive Player of the Year and Midseason G League All-Star, Watanabe has used the two seasons primarily on the junior circuit to round out his offensive package that complements a versatile and impactful defensive foundation. Despite being a consistent G League and Summer League standout, Watanabe managed only 279 minutes over two seasons as a Grizzlies two-way player, hardly enough to make a judgment.

Strengths: Excellent defender who can stay with guards on the perimeter and switch as far as power forward on the positional spectrum. Offers defensive playmaking with solid steal rate and weakside rim protection that point to defensive awareness and anticipation. Excellent control closing out to trap shooters. Improved dramatically as a scorer in his second G League season, taking strides inside and outside the 3-point line while cutting down on his turnovers. Knows his role extremely well and stays within it, although he also stepped up when the Memphis Hustle needed it, dropping a hyper-efficient 40 points in January.

Limitations: Despite the improved handle and inside-out scoring instincts, Watanabe hasn't shown much playmaking from the wing, even regressing in that regard statistically last season. That projects him as mostly a catch-and-shoot or transition specialist at the NBA level. That casts his 3-point shooting into question, as he hit only 33.7 percent in college and is at 33.5 percent across both pro levels. That ticked up to 36.4 percent in the G League last season and he's a strong free-throw shooter, but "3-and-D" will require him to shoot well in camp to prove it.

Fit: Long, multi-position defender with great awareness; accepts and thrives within role; team has been in desperate need of a Libra.
Raptors reportedly add trio of journey on training camp deals – Yahoo!
The first signing is Alize Johnson, a 24-year-old forward who went 50th overall in the 2018 draft to the Indiana Pacers. He is light on collegiate experience since he received no Division I offers coming out of high school, but played for Missouri State for two seasons before going pro. It wasn't until his senior year where he finally found traction with NBA executives after receiving an invite to the Adidas Nations camp.

Johnson spent the majority of his NBA career to date in the G-League, where he holds averages of 19.5 points, 13.4 points, and 3.7 assists while shooting 51 percent from the field and 36 percent from deep. His main attribute is that he is an athletically capable wing who consistently gives all-out effort, particularly on the glass. Couple that with a decent handle and enough strength to slash into the paint, and it's not hard to see why the Raptors would like him.

Toronto also added Japanese forward Yuta Watanabe to a training camp deal. The 6-foot-8 lefty went undrafted in 2018, and has been a bench piece for the Memphis Grizzlies over the past two seasons. As with Johnson, Watanabe spent most of his time in the G-League where he averaged 17 points, six rebounds and two assists on 55 percent shooting from the field and 36 percent from three. He is an active wing who can play on the wing, but is more suited to being a smallball power forward.
Raptors training camp roster: What you need to know – The Athletic
The Antetokounmpo trade

Len taking up a chunk of the midlevel exception rather than his minimum means he has a $2.26 million salary for trade matching, not a minimum (which would pay him $2.17 million but only count as $1.62 million in trade). As noted by The Athletic's John Hollinger, the salaries of Powell, Johnson, McCaw and Len are now just enough to make the math work on a trade for a player who makes $25.73 million. Like, say, Antetokounmpo.

Now, the chances of Antetokounmpo being traded this year are tiny, and Len won't be helpful for a sign-and-trade in the offseason. However, there are two things that could be at play. One is keeping open every avenue for Antetokounmpo just in case, which makes sense. And two, if Antetokounmpo is paying attention, this is a fun wink about the Raptors' handling of the salary cap after the Bucks have made multiple missteps with their cap situation in the past year.

Was it worth the $84,000 extra to Len and the lost flexibility to add a third year for someone to leave Antetokounmpo's camp an Easter egg? Probably!
NBA Free Agency 2020: Understanding the hypotheticals for a Giannis-to-the-Toronto Raptors move – Raptors HQ
Is there a way to get Giannis without losing his Bird Rights, allowing him to sign a shorter term deal to get to the supermax on time and then sign him for five years at that elevated salary?

Well, there is one way. Get traded before the deadline. Any team trading for him would still lose the ability to give him a supermax right away, but they would get his Bird Rights. They sign him to his 2+1, then they sign him to the 5-year supermax.

And Giannis (and his agent) likely knows this is the case. If he has a specific destination in mind, and the financial considerations above are significant to him, that's the sort of scenario where he might ask for a trade to his preferred destination.

Enter the following tweet from John Hollinger of the Athletic:

Hollinger is talking there about Alex Len's salary. The Raptors signed Len to barely above his minimum salary with the rest of their Mid-Level Exception. Oh, and the "hypothetical player" who makes exactly that amount that Toronto could then match: Giannis.

Similar to maximum salaries, minimum salaries are different for players with different experience. There is actually a full sliding scale from rookies all the way up to 10-year plus veterans. The league, to discourage teams from going with younger players to save money, reimburses teams for any minimum salary above the two-year veteran value — which is also the value that counts as the cap hit for those players. So Len would have made almost exactly the same amount of money (give or take $0.1 million), but since he did not technically sign for the minimum, his cap hit is the larger salary he is owed ($2.3 million), not that reduced 2-year veteran minimum salary ($1.6 million).

Why would a team ever choose the higher cap hit? The tweet above lays out the answer — bigger cap hit, more salary for matching in a trade.

But Len is on a one-year deal, that means he can only be used to match in a trade between now and the deadline. Which means the Raptors are preparing for a situation where maybe they can trade for Giannis this season, not wait until next off-season for a sign-and-trade or clear cap space to sign him directly.

The suggested trade above is not one I think they would do — in this hypothetical scenario, they know they are getting Giannis the following summer, he has indicated they are his destination of choice to be traded to, etc. So the Raptors would likely not include a piece as valuable as OG Anunoby. The whole point of acquiring Giannis early for the team is to be able to keep their best players around him since they don't need to clear cap. But Stanley Johnson makes essentially the same amount of money and can be substituted in the trade.

The trade then is this: Giannis for Norman Powell, Terence Davis, Patrick McCaw, Stanley Johnson and Alex Len, plus maybe a draft pick or two to provide the Bucks some extra value before Giannis walks for nothing. That just might work. The Bucks get the Bird Rights to Norm, who (a) has always tormented the Bucks in the playoffs and (b) could step into a larger role and perhaps find even more success as a scorer, and they get Davis (who will be a restricted free agent — RFA), plus draft assets to help with life post-Giannis.

The Raptors would be left being able to re-sign Giannis and Lowry next summer, re-up OG as an RFA, and keep Baynes and Boucher on their second years, with Pascal and FVV already locked up.
The Raptors' 20-man training camp will include Terence Davis II while his assault case plays out | The Star
What that investigation bears out — and what becomes of the criminal charges Davis is facing — will ultimately determine whether he plays for Toronto in the 2020-21 season.

Letting the guarantee kick in isn't that significant, financially or from a purely basketball sense. The money is small with a full guarantee of about $1.5 million (U.S.) this season, a drop in the bucket for a team with a payroll approaching $130 million.

While it would send a message to some if the Raptors let Davis go before the deadline, it would certainly prompt a grievance from the players association since the criminal charges have yet to be proved in court — his next court date is scheduled for Dec. 11. It's impossible to argue that Davis, who had a stellar rookie year, should be released for purely basketball reasons.

By bringing him to camp and letting the process unfold, the Raptors assume no risk or liability and still have the option of releasing or disciplining the native of Mississippi in the future.

The Raptors have a long-standing and well-earned reputation for social awareness, fairness and promotion, support and inclusion of women in high-ranking positions. They have not taken the Davis incident lightly and have complied with all of the league's information gathering steps.

Still, they have not publicly addressed the situation other than one statement handing over the investigation to the NBA, as they are compelled to do. The league takes control of any internal probes into cases related to domestic violence, child abuse and sexual assault, and could hand down an array of penalties — anything from a suspension to banishment — on top of any court-imposed sentences.
Toronto Raptors HQ Podcast — That's A Rap #118: Transaction Week Recap – Raptors HQ
Doesn't it feel like the NBA Draft was just a week ago, yet we're already talking about training camp?

The shortest off-season continues at break-neck speed with teams finalizing their respective rosters and bringing in extra bodies for training camp battles. The Toronto Raptors are no different, with Friday's invites/signings of Alize Johnson, Henry Ellenson, Yuta Watanabe, and Oshae Brissett.

Before projecting what the Raptors' final roster will look like, we spent the majority of the latest podcast reminiscing on the past — from the Rogers Centre to Serge Ibaka and Marc Gasol's time in Toronto. Enjoy the latest episode of That's A Rap!
From OG Anunoby to Patrick McCaw, these Raptors have something to prove in training camp. The ball's in their court | The Star
OG Anunoby

Much is expected from the powerful young forward, who is likely to see even more responsibility thrown his way this coming season.

The Raptors are small and the six-foot-seven Anunoby is likely going to play extended time in the frontcourt, where his all-around defensive abilities will be needed. He has to become a better and more consistent rebounder than he's been, but the other facets of his game continue to improve.

If he keeps getting better as a ball-handler, and more active in the offence rather than being satisfied with waiting in the corner to shoot open three-pointers, he will become even more vital to any success the team has.

He's also eligible for a contract extension before the season begins on Dec. 22, but the Raptors went to great lengths to protect their financial flexibility going into next summer, so it may be on hold until a year from now.
Please send me any Raptors related article/video: [email protected]
Bills advance to AFC Championship after beating Ravens – TSN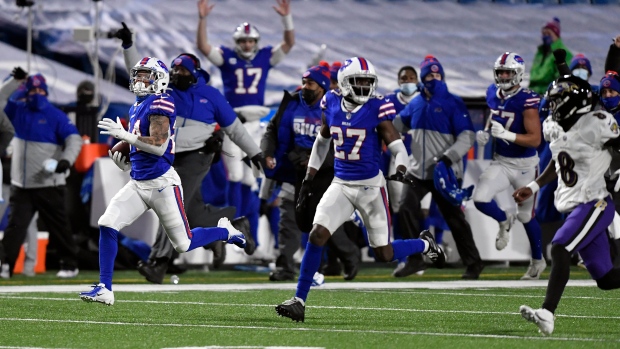 ORCHARD PARK, N.Y. — Taron Johnson could've kept running into next week on a 101-yard interception that carried the Buffalo Bills to their first AFC championship game appearance in 27 years.
Johnson's pick-6 of Lamar Jackson's pass with 41 seconds remaining in the third quarter secured a 17-3 win over the Baltimore Ravens in a divisional-round playoff game Saturday night.
The interception return matched the longest in NFL history and punctuated a stellar defensive outing in which Buffalo (15-3) limited the NFL's top running offence to 150 yards on 32 carries.
Jackson was sacked four times and did not return after being evaluated for a concussion following the final play of the third quarter, and two plays after Johnson scored.
Facing second-and-10 at Baltimore's 25, centre Patrick Mekari snapped the ball over Jackson's head. The quarterback turned and chased the bouncing ball down inside the 5, turned and quickly threw it away as Tremaine Edmunds had him by the legs and Trent Murphy fell down on top of him.
Jackson's injury left Tyler Huntley to finish the game after being promoted off the practice squad.
Buffalo's defence took the pressure off of a Josh Allen-led offence that was limited to 223 yards offence, and made up for rookie kicker Tyler Bass missing two of three field goal attempts — a 43-yarder that was wide right in the second quarter and a 44-yarder that sailed wide left with 5:30 remaining.
The game was decided in the third quarter, when the Bills went up 10-3 on Allen's 3-yard touchdown pass to Stefon Diggs to cap an 11-play, 66-yard opening drive.
Jackson responded by marching the Ravens 66 yards on 15 plays before throwing the interception while facing third-and-goal from the 9. Johnson jumped in front of the pass intended for Mark Andrews and took off up the right sideline. He followed teammate Tre'Davious White, who made sure Jackson didn't have an angle to push Johnson out of bounds.
Johnson, who also returned an interception for a score in a 26-15 win over Pittsburgh on Dec. 13, said he initially thought about going down after catching the ball, before seeing no one in front of him.
"I caught the ball and kind of looked down, but then I looked up and saw a whole bunch of green grass to that side of me," he said. "At that point, there's one person I have to beat. And that's No. 8 (Jackson)."
Johnson wasn't touched until a mob of Bills players jumped on his back and brought him down in the end zone.
The Bills advanced to the AFC championship game for the first time since 1994 on their way to making — and losing — their four consecutive Super Bowl appearance. Buffalo also extended a season in which it has broken numerous droughts by claiming its first AFC East division title in 25 years and, with last week's victory over Indianapolis, winning its first post-season game since the same year.
The Bills will play the winner of the AFC's other divisional playoff between Cleveland and Kansas City on Sunday.
Buffalo has won eight straight, matching its best streak since 1990. The 13 regular-season victories matched a franchise record set in both 1990 and '91 in a season they set numerous single-season records on offence, including scoring 501 points.
The fifth-seeded Ravens (12-6) had their season come to an end after leading the NFL in yards rushing for a second consecutive year.
Baltimore clinched its third playoff berth in three years by winning its final five regular-season games. The winning streak came after a 1-4 skid capped by a 19-14 loss at Pittsburgh on Dec. 2 in a game rescheduled three times due to COVID-19 issues.
Johnson's interception return matched Packers defensive back George Teague's 101-yard fumble return in Green Bay's 28-24 win over Detroit in a wild-card playoff on Jan. 8, 1994.
Jackson finished 14 of 24 for 162 yards passing, while being limited to 42 yards rushing on nine carries.
The Bills also limited Jackson to just 40 yards on 11 carries in the Ravens' 24-17 win at Buffalo in Week 14 of the 2019 season.
Huntley, who had attempted just five passes in two appearances this season, finished 6 of 13 for 60 yards on three drives, the final two in which Baltimore turned the ball over on downs.
Allen was 23 of 37 for 206 yards passing.
"You saw our defence. The game plan our coaching staff put for that offence was unbelievable," Allen said. "You don't get style points for winning in the playoffs. You either go home or you advance to the next round. We're on to the next one."
A game that was supposed to highlight two dynamic third-year quarterbacks instead turned into a defensive struggle with the score tied at 3 after the first half.
The Ravens came up empty on two drives that ended inside Buffalo's 30, with Justin Tucker missing his first two field goal attempts. He hit the left upright from 41 yards on Baltimore's opening drive, and then hit the right upright on a 46-yard attempt in the second half.
It marked the first time Tucker, the NFL's most accurate kicker, has missed twice from inside 50 yards in the same game. Tucker finally tied the score at 3 by hitting a 34-yard attempt with 4 seconds left in the first half to cap an eight-play, 57-yard drive
ONE CARRY
Aside from Allen's 4-yard scramble on an aborted pass play and an end-of-half kneel-down, the Bills had one carry in the first half on Devin Singletary's 3-yard gain to open Buffalo's final possession of the second quarter.
Buffalo became just the third team since the 1991 playoffs to have a running back have just one carry in the first half. The St. Louis Rams had one carry in a half in a 49-37 divisional-round playoff win against Minnesota on Jan. 16, 2000. The Raiders had one carry in a half of a 41-24 win over Tennessee in the 2003 AFC championship game.
UP NEXT
Ravens: Season over.
Bills: Advance to AFC championship game for first time since 1994, where they'll face Cleveland or play Kansas City for a second time this season following a 26-17 loss to the Chiefs on Oct. 19.
___
More AP NFL: https://apnews.com/NFL and https://twitter.com/AP_NFL
Canadian Bills fans revel in team's success despite agony of being parked at home – CBC.ca
Once again, Jason Tangorra, Wayne Kretz and Leslie Churchill will be glued to their respective television sets watching the Buffalo Bills on Saturday night.
And once again, their hearts will be in Orchard Park, N.Y.
The three Canadians are Buffalo season-ticket holders and they're reveling in the Bills' success this year. But they're unable to attend games in Western New York due to the COVID-19 pandemic, which has closed the border to non-essential travel.
That couldn't come at a worse time for fans of an NFL team that hasn't tasted playoff success in decades.
Buffalo (13-3) finished atop the AFC East Division this season to secure the conference's No. 2 seed. That gave the Bills their third playoff berth since 2017. but the club's 27-24 victory last weekend over the Indianapolis Colts was its first post-season win since 1995.
It also was Buffalo's first home playoff contest since 1996.
On Saturday night, Buffalo hosts the Baltimore Ravens in second-round action. Like last week, New York State has approved admission for about 6,700 fans after not allowing any fans into the nearly 70,000-seat facility during the regular season. Fans must get a COVID-19 test at the stadium two to three days before the game and then have a negative result to be admitted.
Instead of sitting at Bills Stadium with his uncle — a native of nearby Jamestown, N.Y. — and four cousins, Tangorra will be watching on television with his wife and daughter. The 40-year-old real-estate agent has been a fan of the team since 1990 and a season-ticket holder for the past six years.
"My daughter is conflicted because her stepdad is a Bears fan," Tangorra said. "But my wife will cheer with me because she knows what we [Bills fans] have been through all these years so she has empathy.
"Oh what I wouldn't give to be there. The emotion you feel when you go to a game, especially when you're with family, it's comradery, it's friendship and it's culture. I remember when [Bills coach Sean McDermott] came in, he was saying, 'The process, the process, the process,' . . .and when you see the team grow and you're like, 'Wow, this is cool.'"
Financial as well as emotional hurt
Tangorra isn't alone. Bills Mafia, the moniker for the club's rabid fanbase, is alive and well in Ontario and Quebec with Bills Backers chapters located throughout the provinces. It's estimated between 3,000 and 8,000 Canadians are season-ticket holders.
The stadium is located about a 30-minute drive away from the Peace Bridge, which connects Fort Erie, Ont., to Buffalo.
"I go back to 1990 but it's funny because I watched that Super Bowl [a 20-19 loss to the New York Giants when Scott Norwood missed a potential game-winning field goal in the final seconds] but I wasn't fully invested until the following year," Tangorra said. "My uncle is from Jamestown, which is close to Fredonia and where the Bills used to hold their training camp.
"I'd go there and watch those and I can tell you I met every single player from 1991 to '92 though '93. It was a pretty amazing experience for a kid and so cool [because] you get to engage. It was one of the best experiences."
Kretz, 49, owns The Manhattan Bar and Grill in St. Catharines, Ont., and it would usually be very busy when Buffalo plays. Not only is Kretz a Bills season-ticket holder, he organizes bus trips to various events, including Buffalo football games
"The financial hurt as a business owner is crippling but then just as a life-long Bills fans it's devastating to not be able to be there," said Kretz, who"s been attending Bills games since the late 1980s. "It is affecting my fun as well as my business."
'Verge of tears'
Kretz had arranged to attend a Bills home game in Las Vegas but, predictably, had to cancel those plans this year. He also took a serious look at all possible ways to make the trip to Orchard Park for Saturday's contest.
"There's a company doing helicopter trips to fly you over the border," he said. "It crossed my mind but I think this is a team that could go all the way.
"If they go to Tampa [site of this year's Super Bowl] I will seriously consider flying down and quarantining and doing all that . . . I'm that big of a fan."
Churchill, 38, operates R U Serious Tap and Grill in Guelph, Ont., with her sister, Kim, also a diehard Bills fan. Churchill has been a Buffalo season-ticket holder since 2015 but members of her family have had tickets for upwards of 30 years.
"Obviously we own a bar and it's an industry being hit the hardest but I feel like we're going to muscle that out and be OK," Churchill said. "On a personal note, the most difficult thing this year and what I miss the most is being in Buffalo.
"I drive my son [three-year-old Jack] to daycare every morning and just as the sun comes up I roll my windows down for the cold air to come in because it reminds me of getting to the border on gameday and I get emotional and am on the verge of tears and I'm hiding it from my son."
Family-like bond
One of Churchill's fondest memories of attending a Bills game was Sept. 24, 2017 when fans threw her an impromptu baby shower.
"It was the game against Denver and I was eight months pregnant and it was the hottest game we had in history there," she said. "That afternoon I was sitting there in the shade and friend after friend was showing up and they threw me a baby shower in the parking lot.
"It makes me so emotional now just to think about it because these are the people that are your family."
The road to the Super Bowl is a difficult one for Buffalo. Baltimore finished with an 11-5 record this season and looming for Saturday's winner could be a road contest against the defending-champion Kansas City Chiefs, who posted a league-best 14-2 record this season and will face Cleveland (11-5) on Sunday.
"Kansas City is a very good team," Tangorra said. "[But] I think Buffalo can win the Super Bowl, I really do."
If the Bills and Chiefs both win to set up an AFC title showdown in Kansas City, Tangorra said he'll take a look at the logistics of attending — Canadians still can fly out of the country, though the government is recommending against travel. However, with Ontario enacting a stay-at-home order this week, he doesn't like his chances.
"Am I going to look into it? Yes," he said. "Do I have any hopes for it? No.
"But I'm going to look into it."
Canadian Nick Taylor finishes second round strong to lead in Hawaii at Sony Open – TSN
It wasn't the best start for Nick Taylor, but the finish was pretty good.
Taylor played the first five holes of his second round of the Sony Open in 1-over and looked as if he might have trouble making the cut. Instead, he went 9-under over the next 13 and takes a two-shot lead into the weekend.
"Early on today, the first four or five holes, I made some nice par putts," said Taylor. "I was 1-over and then I started hitting it better and giving myself opportunities and kept making putts."
His hot stretch started on the 15th hole, his sixth of the day, when he hit his approach to seven feet and made the birdie. He made a four-footer on the next hole to get to red figures, and then pitched in for eagle on par-5 18th to close out the front side.
He made five birdies on the back nine, none more eventful than his final hole of the day. His tee shot darted left, coming to rest against a fence that bordered the driving range. At first, it appeared Taylor would have to play his shot left-handed and hack it back into play, but he got relief from the netting above the fence and was able to play a full shot into the fairway. A wedge to three feet and a simple putt added a final birdie for a round of 62.
"Whenever you get another birdie, it's obviously a nice finish, but after everything that happened, it's nice to walk away with four," said Taylor. "It was a fortunate break and nice to take advantage of it."
The Canadian, who is leading the tournament in Strokes Gained: Putting, will have to keep making birdies if he hopes to earn his third PGA Tour win. There are five players grouped two shots back and another eight players trailing by three shots. The cut came at 4-under with the Waialae Country Club course playing easier in the afternoon as the winds that usually provide a defense, died down.
"I feel like you can make four, five, six pars in a row you're probably getting lapped," Taylor stated, "especially with how the fairways are running."
It marks the second time in his career that Taylor has held the 36-hole lead. The other time was last year at the AT&T Pebble Beach Pro-Am where he went on to win. Since that victory, however, he hasn't finished inside the top 25 in 15 starts.
The 62 is also his career-low on the PGA Tour; he's posted rounds of 63 on four previous occasions.
"I've always liked this golf course," Taylor said. "It kind of suits my eye off the tee. I've driven the ball well the last couple days and really putted well. Obviously when you're doing that you're going to shoot some good scores, and reading the greens well, so hopefully I'll keep doing that."
Taylor tees off in the final group with Stewart Cink and Webb Simpson at 5:50 pm ET.
Mike Weir and Mackenzie Hughes, the two other Canadians to make the cut, will play together at 3:50 pm ET.