Mother of slain Yarmouth soldier finds comfort in shared grief – CBC.ca
Tina Smith remembers her son for his laid-back nature, his sense of humour and his love for helping others.
Monday marked 10 years since Sgt. Kirk Taylor of Yarmouth, N.S., was killed in a bomb blast in Afghanistan. He was 28.
"It was the worst day of my life," said Smith in a phone interview from her home in Arizona.
Taylor served as a reservist with the 84th Independent Field Battery, RCA and volunteered with the 110 Royal Canadian Army Cadet Corps in Yarmouth.
On Dec. 30, 2009, Taylor, four other soldiers and a Canadian journalist were killed after the group's light armoured vehicles were struck by an improvised explosive device in the city of Kandahar.
Several soldiers and another Canadian civilian were also injured in the blast.
Taylor, a former sea cadet in Barrington, joined the military in his late teens.
Making an impact
Smith said he enjoyed being a member of the Armed Forces because he liked helping people and he appreciated the structure it gave his life.
She said he also enjoyed volunteering with the Yarmouth cadet corps.
Smith recently came back to Nova Scotia in November for the unveiling of a commemorative coin that honoured Taylor and marked the 115th anniversary of the corps in the area.
There, she was able to get a better idea of the kind of impact he made after speaking to the parents of some of the cadets who were there while Kirk was a leader.
"[They] said that if it hadn't been for Kirk, they don't know where their son and daughter would have been because he was able to to find them a structure that they were looking for," she said.
"I thought that was pretty nice, after all these years, to hear that."
In his civilian life, Taylor worked at the Yarmouth Association for Community Residential Options, which provides residential supports for people with disabilities.
In late 2008, Taylor called his mother and told her he wanted to go to Afghanistan. He was inspired after recently attending a lecture by Rick Hillier, former chief of defence staff.
"I felt like a big horse just kicked me in the heart," Smith recalled.
"You know, sometimes as a mom you recognize some of the dangers that can happen to children. Maybe you recognize them sooner than when your children recognize them."
Still, she supported his decision because she "knew that's what he wanted."
"I tried to teach all of my children that it's a big, wide world out there, go shake it by the tail," she said.
"Well then, how do you complain about how they're going to shake it when they decide they want to do something?"
Taylor shipped out to Afghanistan in October 2009, just a couple of months before he was killed.
Learning to live again
For Smith, the first year after her son's death was the worst. But this past year was a close second.
"Somehow, a 10th anniversary seems way worse than a second or third, or all the rest up to nine," she said.
"Sometimes, I feel like time stopped on that day 10 years ago. Other times, it feels like, 'Where did 10 years disappear to?'
"Overall, it takes a long time to learn how to live again."
But one thing has kept Smith going: knowing that she's not alone.
In the past few years, Smith has connected with the family members of the other soldiers who died that day — Sgt. George Miok, 28, of Edmonton, Cpl. Zachery McCormack, 21, of Edmonton, and Pte. Garrett William Chidley, 21, of Langley, B.C. — as well as with the family of Calgary Herald reporter Michelle Lang, who was 34.
"It's just amazing to see where we all are in our stages of grief, and how we all deal with it," said Smith.
"But we all know we have that one thing in common, so there's been a strength that's come with that."
Late last month, Smith flew to Edmonton to attend an open house, organized by McCormack's friends and family, for those connected to the five killed. There, she got to find out more about her son from the people who served with him.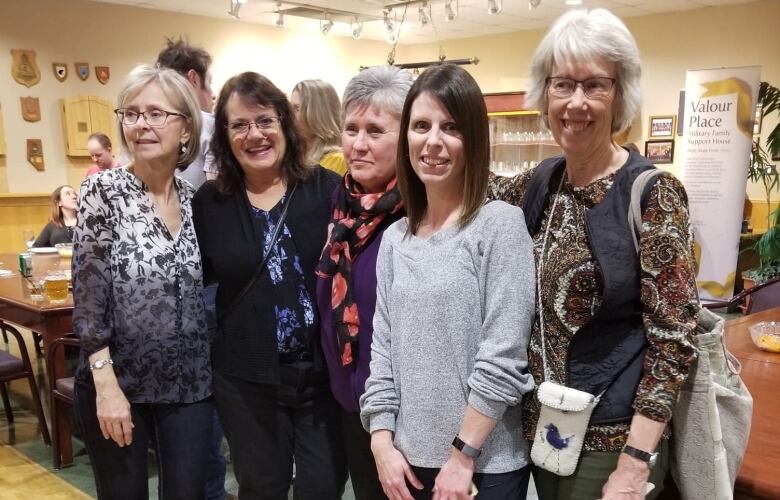 She also shared her grief with the other people mourning their loved ones lost to war.
"There was a whole lot of pain in that room, but there was also a whole lot of healing before the evening was finished," she said.
Learning about everyone's experiences with grief helped her to better understand the "ripple effect" that began a decade ago when the blast happened.
'We just couldn't stop hugging'
One of the highlights of the evening, said Smith, was meeting a man who was badly injured in the same blast that killed Taylor.
"All we could do when we met each other was just kind of look at each other, and just give each other a hug. We just couldn't stop hugging," she said.
"I told him, 'I'm so glad that you made it, that you're alive.' Because as hard as it was to lose the four boys and Michelle the way we did, I'm so thankful that the rest of them survived."
MORE TOP STORIES
Thanksgiving, fewer restrictions contributing to Canada's surge in COVID-19 cases, experts say – CTV News
TORONTO —
Experts say there are a variety of factors contributing to Canada's recent surge in record breaking COVID-19 cases including Thanksgiving celebrations, fewer restrictions and increased testing capacity.
Dr. Matthew Oughton, an infectious disease expert at the Jewish General Hospital and McGill University in Montreal, told CTVNews.ca family gatherings that occurred two weeks ago are a "likely contributor to the higher numbers of cases that many provinces have been reporting" in recent days.
Quebec continues to be the epicentre of the pandemic in Canada, surpassing more than 100,000 confirmed positive cases in the province on Sunday. Ontario, the second hardest hit province, registered more than 1,000 new COVID-19 cases for the first time, setting another record for the number of infections in a single day.
Ontario's Ministry of Health says Thanksgiving may be to blame for the spike while Alberta's top doctor also cited the holiday as the source of surging coronavirus cases there.
"The leading source of exposures for active cases right now are close contacts, and many of the cases that we are seeing now are the result of spread over Thanksgiving when families gathered together," Dr. Deena Hinshaw said in her provincial update on Thursday.
"People did not mean to spread COVID, but it is a reminder where social gatherings, where social distancing and masking are not used consistently are a significant risk for spread."
Prairie numbers confirm the situation is growing more dire, with Alberta yet again breaking two records on Friday, reporting an unprecedented 432 new cases and 3,651 active cases ahead of the weekend.
Saskatchewan announced 78 new cases of COVID-19, making it the second province to report a new single-day high on Saturday, while Manitoba recorded 153 new cases and two additional deaths, the fifth consecutive day new cases have topped 100.
However, Oughton warned that the Thanksgiving holiday is not the only reason why cases are increasing across the country.
"Understanding why these transmissions are occurring in real time is important if we want to identify new risk factors and reduce numbers of new infections before we see increases in more vulnerable populations," Oughton explained in an email on Sunday.
He said the change in weather may have more Canadians spending time indoors with poorer ventilation and in closer proximity to others compared to the summer months, giving more opportunities for transmission.
In addition, Oughton said provinces may be seeing higher case numbers now than during the first wave because testing capacity has increased in many areas. For example, Quebec's goal was to conduct 14,000 tests per day during the first wave. Now, the province is recording around 25,000 tests each day.
"It is possible that there were more cases in the first wave that were never tested, and that those 'missed' cases were more similar to the cases we are seeing today," Oughton said.
MORE RESTRICTIONS NEEDED
Despite the Thanksgiving holiday being over, Dr. Ronald St. John, the former director-general of the Public Health Agency of Canada's Centre for Emergency Preparedness and Response, is not sure that case numbers will now begin to decrease.
He told CTV news Channel on Sunday that the steady upwards trends of infections is worrisome.
"The important thing… is to look back over a period of days to see what the trend might be, and when I say trend I mean are cases going up at a steady rate, or are they actually accelerating?" St. John said. "And it looks like it's a fairly steady trend upwards."
St. John said COVID fatigue may be a reason why cases are continuing to increase as Canadians grow tired of taking virus precautions.
"We have a problem in terms of the public health measures that we can use to try to contain this virus. They depend on people's behaviour, individually and collectively… and I think people are getting very tired and as a result, I think there are some lapses in following the precautions recommended by authorities," he explained.
St. John warned that fewer virus restrictions and a decreased compliance with those restrictions may add to the surge of infections in the coming days.
"This virus will step in wherever somebody makes an exception to the public health measures, and this virus will cause more infections, chains of infections and death increases as we've seen in these provinces," he said.
Dr. Andrew Morris, a professor in the department of medicine at the University of Toronto who studies infectious diseases, says the rising tide of cases across much of Canada appears unlikely to recede if stricter measures are not imposed.
"This is a disease that grows exponentially … and when things ramp up quickly they come on with gangbusters. We've seen that everywhere else around the world right now, especially in Europe," Morris previously told The Canadian Press.
"As it moves to older adults, you're going to see more people proportionally with severe disease. I believe we're at a point right now where these increases are largely inevitable unless there's more substantial action to try to tamp all of this second wave down."
Morris said tighter limits on group gatherings and indoor activities may be necessary.
"It is a mindset … When the public hears that there's still a fair amount of freedom from the government, what that also tells them is that it really isn't so bad right now," he said.
On Sunday, Canada's top physician warned that minimizing the impact of COVID-19 will only work if everyone follows public health guidelines.
Chief public health officer Dr. Theresa Tam said the number of Canadians experiencing severe illness is already on the rise amid the spike in cases, raising concerns about hospital capacity.
To ensure ICUs don't become overwhelmed, she reminded Canadians to keep physically a part.
"While I know keeping physically apart is difficult, particularly when we want to mark life's important moments like weddings and funerals, now is not the time for hosting large in-person gatherings," Tam said in a written statement.
"Right now, doing the best thing to keep our family, friends and community safer means keeping safely apart, connecting virtually, and finding safer ways to care and support each other."
She implored Canadians to continue doing their part to help limit the spread of COVID-19 by keeping social circles small, maintain physical distancing and hand hygiene, and wear face masks when appropriate.
With files from The Canadian Press
Police issued 77 fines, charged 7 people for breaking Canada's COVID-19 quarantine rules – CBC.ca
Over the past seven months, police have issued 77 fines and charged seven people for violating Canada's Quarantine Act, according to the Public Health Agency of Canada.
PHAC said that since the act took effect in late March, more than one million people who entered Canada were required to quarantine for 14 days. The agency said it had flagged more than 247,000 of those travellers to police as potential quarantine violators.
RCMP officers issued the majority of the fines, which ranged from $275 to $1,275. Individuals can either pay their fine or contest it in court. Anyone charged — typically for a more serious offence — must appear in court.
Under the Quarantine Act, both Canadians and foreigners entering Canada must quarantine for 14 days, unless they get a special exemption.
Last month, Ontario Premier Doug Ford complained publicly that not enough people were being punished for breaching the act.
"The system's broken," he said. "We can't have our police running around and seeing people breaking quarantine and nothing happens to them.… It turns into being a joke."
Ford said that he planned to work with the federal government to fix the problem.
WATCH | Premier Ford says Canada's Quarantine Act 'broken':
Calling penalties a 'slap on the wrist,' Ontario Premier Doug Ford said the current Quarantine Act for people arriving in Canada during the pandemic is broken and needs to change. 2:14
In response to Ford's criticism, PHAC said police are responsible for enforcing the Quarantine Act, and that enforcement actions can include a written or verbal warning.
The RCMP declined to respond directly to Ford's comments but told CBC News that officers aren't eager to dole out fines to everyone violating COVID-19-related regulations.
"The RCMP's focus remains on educating and encouraging members of the public who may not be following the measures set out by public health authorities," said spokesperson Robin Percival in an email.
"Enforcement is a last resort, but one that can be used if the circumstances warrant."
Who's facing charges?
CBC News was able to obtain information from police on five individuals who were charged under the Quarantine Act. Most face penalties of up to six months in jail and/or fines of up to $750,000. Each person is set to appear in court at the end of this month or next month.
One of the most recent cases involves a 53-year-old woman from Ottawa who works in a long-term care home. Police said she went back to work just four days after returning to Canada on Sept. 26 from a trip abroad.
"When management was apprised of the situation, she was immediately sent home," said Ottawa police in a statement.
Police didn't provide the woman's name or the name of her workplace.
The woman was charged on Oct. 2 for allegedly failing to comply with the 14-day quarantine requirement and for causing risk of imminent death or serious bodily harm.
Outspoken anti-masker Chris Saccoccia, 37, of King City, Ont., and his wife, Jennifer, 34, were charged on Oct. 5 for allegedly defying the quarantine rules.
According to Toronto police, the couple had returned to Canada from abroad on Sept. 20. Just six days later, police fined Saccoccia $1,000 after he attended an anti-mask/anti-lockdown rally in downtown Toronto.
Police said Saccoccia and his wife were then charged after they attended another Toronto rally 13 days after their return to Canada. This rally was "attended by 500 non-mask wearing participants," police said in a statement.
Saccoccia told CBC News in a written message that he's looking forward to filing a challenge against the quarantine rules, which he claims violate Canada's Charter of Rights and Freedoms.
"Even under extreme, emergency situations, justification to violate our rights must be presented," said Saccoccia.
Alaska driver charged
A fourth case involves a man from Kentucky who was driving through Canada from Alaska.
Although the Canada-U.S border is closed to non-essential traffic, Canada allows Americans to drive through the country to or from Alaska. But they can't make unnecessary stops along the way.
Alberta RCMP said John Pennington, 40, was initially given a $1,200 ticket on June 25 for stopping in Banff National Park on his way to the continental U.S.
Police say Pennington had not left town the following day, as ordered, so he was charged for allegedly breaching the Quarantine Act.
CBC News asked Pennington for an interview, but he didn't respond. In June, he posted a video on Facebook, detailing his Banff experience but recently removed it.
In the fifth case, Yukon RCMP said a man was charged on July 6 in Beaver Creek, Yukon, for allegedly returning to Canada from abroad and not quarantining for 14 days. RCMP said officers were alerted to the case after the man was sighted at the local post office.
Provincial fines
Police have also issued numerous COVID-19-related fines under provincial legislation for violations such as not physical distancing or failing to keep a contact list of guests attending a party.
According to Statistics Canada, RCMP responded to more than 9,500 incidents between March and June where people violated provincial or territorial COVID-19-related regulations.
Coronavirus: What's happening in Canada and around the world on Sunday – CBC.ca
The latest:
Ontario COVID-19 cases top 1,000 for the first time.
Saskatchewan reports new single-day high of coronavirus cases.
Aide to U.S. vice-president tests positive for COVID-19.
Spain to impose nationwide curfew under new state of emergency.
Italy orders bars, restaurants to close early as COVID infections surge.
Hindu festival season scaled down due to infections.
Ontario reported 1,042 new cases of COVID-19 on Sunday, setting a new single-day high for the province since the pandemic began in January and breaking the previous record for a daily count set on Saturday, at 978 new cases.
The latest number comes a day after Canada's chief public health officer, Dr. Theresa Tam, again sounded the alarm that the most critical health consequences of rising cases across the country have yet to emerge.
Tam said health officials are watching the number of hospitalizations and deaths, which tend to lag behind an increase in cases by one to several weeks.
WATCH | Pandemic adds to mental stress for some heading into winter:
Tim Aubry, professor of psychology at the University of Ottawa, stresses the need to monitor those who feel isolated and prone to suffer seasonal affective disorder. 5:08
She issued the warning on Saturday as the national death toll from infections inched closer to 10,000, and Ontario and Saskatchewan reported their new single-day highs.
The number of active COVID-19 cases rose 16 per cent week over week, according to figures from the Public Health Agency of Canada.
The sharp uptick left an average of 1,010 patients being treated in hospital each day over the past week, about 20 per cent of whom were in intensive care, Tam said on Saturday.
---
What's happening across Canada
As of 11 a.m. ET on Sunday, Canada had 215,880 confirmed or presumptive coronavirus cases. Provinces and territories listed 181,381 of those as recovered or resolved. A CBC News tally of deaths based on provincial reports, regional health information and CBC's reporting rose to 9,940.
In British Columbia, polling stations were equipped with personal protective equipment, plastic barriers and other now-usual preventative pandemic measures as residents cast their ballots on Saturday, re-electing the NDP under John Horgan, who had called a snap election.
In Alberta, a lawyer is calling for action after an outbreak at a Calgary jail leapt to 55 cases, a notable increase after the outbreak was initially reported Thursday.
Saskatchewan reported 78 new cases, the highest single-day increase since the beginning of the pandemic. Meanwhile, three more cases have been recorded at two Regina schools and an outbreak has been declared at Saskatoon's largest shelter.
Manitoba announced 153 new cases and two more deaths on Saturday, and a third unit of a Winnipeg hospital has declared an outbreak.
Quebec added 879 new cases to its tally on Sunday for a total 100,114 cases. There were 11 new deaths from the respiratory illness, for a total of 6,143.
On Saturday, the province reported 1,009 new cases and 26 more deaths. The average daily case count in Quebec has been higher than any other province but appears to have plateaued for the time being since a peak of 1,364 on Oct. 6, the same week that tight new restrictions went into effect.
Despite the rising number of cases in Ontario, politicians from the province's Halton Region published a letter Saturday pleading for an exemption from stricter public health measures.
The mayors of Oakville, Burlington, Halton Hills and Milton, along with Halton's regional chair, said they "prefer a measured, targeted approach over a blanket approach that unfairly punishes small businesses."
The provincial government has already moved the long-standing hot spots of Ottawa, Toronto and the neighbouring regions of York and Peel to a modified Stage 2, which includes suspension of indoor dining at bars and restaurants.
However, rising case numbers elsewhere prompted Ontario Premier Doug Ford to announce Friday that officials would review the situation in Halton, Durham Region and other areas.
Newfoundland and Labrador reported one new confirmed case on Saturday, a man from the Eastern Health region in his 50s who had returned home to the province after working in Alberta.
Nova Scotia reported three new cases, all related to travel outside Atlantic Canada.
New Brunswick announced two new cases in the province, both in the Campbellton region.
In Prince Edward Island, residents of Charlottetown-Winsloe strapped on their masks, sanitized their hands and marked their ballots in the province's first taste of pandemic-era voting.
2/2 Over the past week, an average of over 74,719 people have been tested for <a href="https://twitter.com/hashtag/COVID19?src=hash&amp;ref_src=twsrc%5Etfw">#COVID19</a> daily across Canada, with 3.1% of these people testing positive as <a href="https://twitter.com/hashtag/publichealth?src=hash&amp;ref_src=twsrc%5Etfw">#publichealth</a> continues to <a href="https://twitter.com/hashtag/TestandTrace?src=hash&amp;ref_src=twsrc%5Etfw">#TestandTrace</a>. <a href="https://t.co/ZArmpJMAM3″>https://t.co/ZArmpJMAM3</a>

&mdash;@CPHO_Canada
---
What's happening around the world
According to Johns Hopkins University in Baltimore, the global total of confirmed coronavirus cases stands at more than 42.7 million. More than 1.1 million people have died, while more than 28.8 million have recovered.
The colourful Hindu festivals of Durga Puja and Dussehra have been scaled down this year in India, amid fears among health experts that the festive season might lead to a cascade of new coronavirus infections.
The towering displays of religious sculptures are rare, and at many places, prayers have gone virtual, with organizers live streaming the sessions for the devotees.
In many states, police barricades have been erected around the usually buzzing places of worship to avoid large gatherings.
India has the second-largest coronavirus outbreak in the world, after the United States.
Last month, India hit a peak of nearly 100,000 cases in a single day, but since then daily infections have fallen by about half and deaths by about a third.
In the United States, Marc Short, the chief of staff for U.S. Vice-President Mike Pence, tested positive for COVID-19, a spokesperson for the vice-president said on Saturday.
Devin O'Malley said Pence himself remains in good health, has tested negative and will maintain his schedule "in accordance with the CDC guidelines for essential personnel."
In Spain, Prime Minister Pedro Sanchez has declared a second nationwide state of emergency, which goes into effect Sunday, in a bid to stem a resurgence in coronavirus infections.
His government will use the state of emergency to impose new measures, including a nationwide nightly curfew, except in the Canary Islands.
This past week, Spain became the first European country to surpass one million officially recorded COVID-19 cases. Sanchez said on Friday the true figure could be more than three million, due to gaps in testing and other factors.
Italy on Sunday ordered bars and restaurants to close by 6 p.m. and shut public gyms, cinemas and swimming pools — starting Monday — to try to halt a rapid resurgence in the coronavirus.
The decree encourages people not to go out and to limit contacts at home with anyone outside their immediate family, but it does not impose a mandatory nationwide curfew or lockdown and allows shops and most businesses to remain open. Up to three-quarters of high school teaching is to move online to limit the number of pupils in school buildings.
Prime Minister Giuseppe Conte said it's hoped the measures will bring the rising curve of cases under control in the next few weeks. On Saturday, Italian authorities reported a new record daily total of 19,644 infections, as well as 151 deaths from the respiratory disease.
France on Saturday reported 45,422 new confirmed coronavirus cases over the past 24 hours, a new record, after reporting 42,032 on Friday.
President Abdelmadjid Tebboune, 75, of Algeria, is self-isolating because some officials in "upper ranks of the government" are sick with COVID-19, he said in a tweet on Saturday.
The country has officially confirmed more than 55,000 cases of the novel coronavirus with nearly 2,000 deaths.
Have a coronavirus question or news tip for CBC News? Email us at COVID@cbc.ca