Move over, iPhone 12. Apple's iPhone 13 may feature under-display Touch ID – TechRadar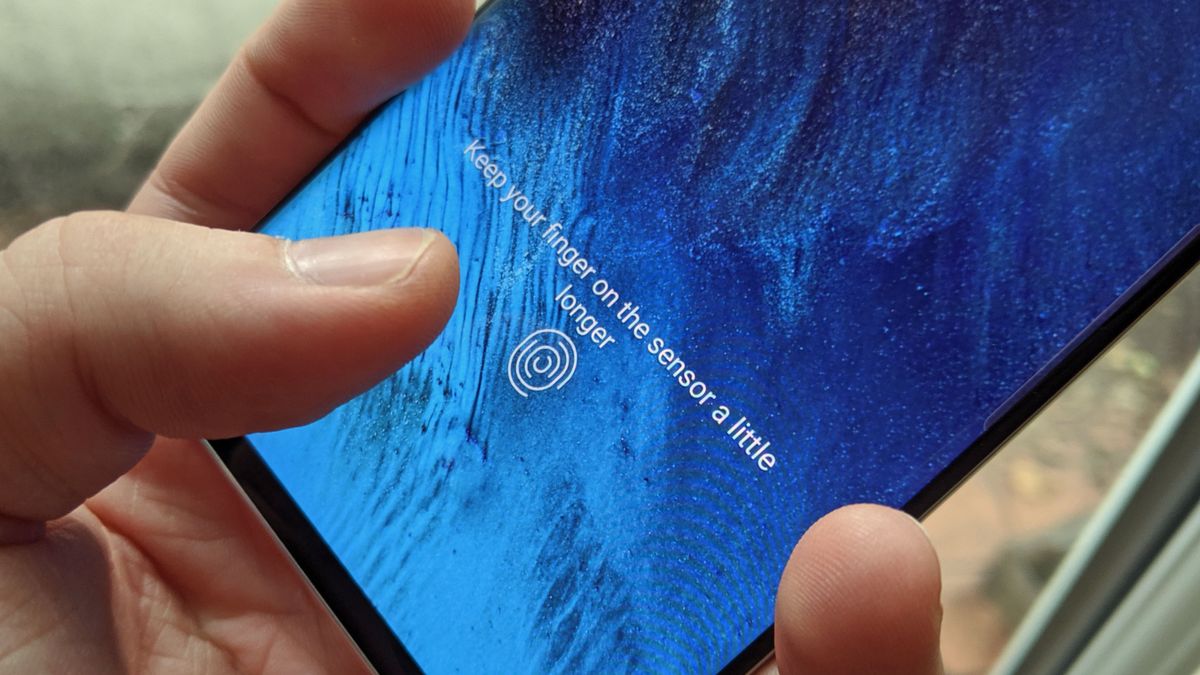 A persistent Apple leaker has claimed that future iPhone models, potentially the iPhone 13, could embed Touch ID under the smartphone's screen for fingerprint authentication, as an alternative to Face ID.
A 2019 leak originally suggested that it could be the iPhone 12 that first featured under-display Touch, but the Apple source admitted at the time that the tech would likely be pushed back to the 2021 iPhone lineup. This new leak corroborates that prediction.
Twitter account @L0vetodream, which 9to5Mac says previously gave accurate details about the iPhone 12 lineup, the HomePod mini, and the Apple Watch 6, tweeted 'MESA uts for iPhone'. Another leaker, Jon Prosser, jumped in to explain that 'MESA' is Apple's codename for Touch ID, while 'uts' is an acronym for 'under the screen'.
"MESA" is Touch ID. "uts" is "under the screen"October 16, 2020
Prosser also leaked today that there would be no new Apple TV until 2021.
Apple submitted two patents in July 2020 that discussed an "Optical-Fingerprint Detection System" and the difficulties of reading fingerprints using sensors embedded in an OLED screen (via Apple Insider). The evidence strongly suggests that Apple is actively pursuing this, with the only question being whether the technology will be ready for next year's phones.
When the iPhone 12 launches next week, it will continue to rely on Face ID for login, which has become less convenient in the age of face masks. Offering a biometric fingerprint login as an alternative while outside, while still keeping Face ID for faster logins at home, would be highly convenient.
In fact, Apple could offer a security option to require both in order to log in for added security. Face ID has some potential security issues, but Apple has patented a solution called 'Subepidermal Imaging' that would scan the veins in your head to make sure you're really you. That, combined with a fingerprint requirement, would fully secure your iPhone 13.
What we've heard about the iPhone 13 so far
Yes, we're getting ahead of ourselves, considering the iPhone 12 isn't even out yet, but the leaks about the 2021 iPhone, beyond in-screen fingerprinting, have been genuinely exciting to consider.
Prosser said in June 2020 that the iPhone 13 (or 14) could be a foldable phone with "two separate display panels on a hinge", stainless steel edges, and a "tiny forehead" on the outer display for Face ID instead of a notch.
On the other hand, a leak from @UniverseIce suggested that the iPhone 13 would be thinner than the 12 but would otherwise keep the same form factor as previous iPhones, and preserve the notch for the selfie cam.
In yet another major iPhone 13 leak, DSCC founder and display analyst Ross Young said that the iPhone 13 lineup would have integrated touch OLED screens, 120Hz ProMotion displays, Time-of-Flight (ToF) selfie cameras for touchless gesture navigation, and up to 1.9μm triple rear cams.
iPhone 12, iPhone 12 Pro, and iPad Air 4 Now Available – MacRumors
The iPhone 12, iPhone 12 Pro, and fourth-generation iPad Air are now available in stores and arriving to customers around the world.
Apple has shared a Newsroom post with a range of images to celebrate the launch of the new products. Over the next 24 hours, the Newsroom post will apparently be updated with photos from around the world.
Our own forum members have started a number of threads for tracking and following their ‌iPhone 12‌ / 12 Pro orders around the world.
Our U.K. readers have been particularly active this morning, posting images of their ‌iPhone 12‌ pickups at Apple Stores, and deliveries. This image of the line at the Covent Garden Apple Store was taken by paulopadopa.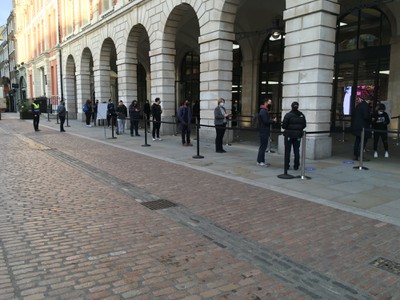 Brenster visited Apple Store Manchester Trafford Centre and described the scene:
Apple store Manchester Trafford Centre was quiet first thing this morning. Arrived at 7.55 for an 8.15 IUP reservations. Couldn't have been more than 10 people outside with no real queue, easily outnumbered by the staff inside the store. Opened up at exactly 8; staff member asked those with reservations to stand to one side. The 4 who didn't who'd turned up on spec for a chance of a walk-in phone were asked to leave and to make an online reservation.

The 4 with 8am reservations were taken in, and 10 mins later those with 8.15 reservations, a couple more having joined the queue since 8.

In store, everything was running like clockwork; temp check, mask and hand wash on the way in, wipes and hand gel on every table for iPhone deactivation and entering details for the IUP application. Then off to the back of the store to pick out a plum silicone case, then out the door before 8.30am. Back home for 9.20am.

Both Apple Store & Trafford Centre staff were fantastic, their system this morning working fantastically well.
He describes his new 256GB Silver ‌iPhone 12 Pro‌ as "hella nice!" with a premium feel.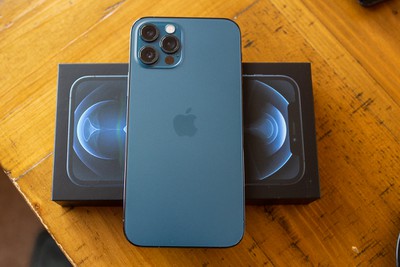 Photo by cedar
There are a number of other photos of people picking up their iPhones: Pacific Blue, Gold, Booting Up, and even minor defects.
Join our iPhone forums to keep track of deliveries in your region.
U.S. Carrier Pre-Order Threads:
International Pre-Order Threads:
Short queues in China as Apple's newest iPhone 12 hits stores – Sports Grind Entertainment
By Josh Horwitz
SHANGHAI (Reuters) – Two of Apple's latest iPhone 12 models went on sale in China on Friday, after early pre-order data showed strong consumer interest in the 5G-enabled device in the firm's second-largest market.
The short queues outside Apple stores in the business hub of Shanghai struck a contrast with the crowds that flocked to past launch events, as most ordering has now shifted online.
"I feel great being the first customer to get the new iPhone," said Yan Bingqing, 30, who arrived before the store opened, and was in a line of about 20 people. "I've been waiting a long time."
A new green shade for the iPhone 12 was also a top trending topic on Chinese app Weibo on Friday, prompting positive reactions.
Apple's announcement last week initially drew mixed reviews in China, but analysts expect a surge in orders this year, as loyal iPhone owners finally buy new handsets compatible with an upgraded 5G network infrastructure.
Chinese e-commerce retailer JD.com saw pre-orders for all four models of the iPhone 12 hit 1.6 million on the first day of the announcement.
"From the bottom of my heart, it's a little bit late for Apple to release the 5G iPhone," said Zhu Lin, another Apple fan who had queued. "I was expecting it last year."
Apple and Huawei Technologies Co Ltd are the only top phone makers racking up shipment growth in China this year, with an annual rise of 35% for Apple in the second quarter, research firm Canalys says.
Apple's store launch follows that of Huawei's Mate 40 flagship device on Thursday, which some in China had said they would wait for before deciding on the iPhone 12.
(Reporting by Josh Horwitz; Editing by Karishma Singh and Clarence Fernandez)
Here's our first look at Huawei's Mate 40 Pro – The Verge
Huawei announced the Mate 40 Pro yesterday, and now we have one in hand. It might not be easy to recommend Huawei phones outside of China, since the Trump administration's targeted sanctions have prevented it working with US companies like Google, but devices like the P40 Pro Plus and last year's Mate 30 Pro have had hardware as impressive as anything else on the global smartphone market.
The situation shouldn't be any different with the new Mate 40 Pro. It's likely to be Huawei's most advanced device yet — even if there are still questions over the extent to which the company is actually able to manufacture it.
I thought the Mate 30 Pro was the best-looking phone released in 2019, and the Mate 40 Pro builds on that design. The unit I have is in the "Mystic Silver" colorway, which Huawei is promoting the most heavily. It's a lot more unusual than the name makes it sound — the back is frosted glass, but there's a kaleidoscopic effect where the phone shimmers different colors depending on the light. It looks great.
The camera module is circular, as it was last year, but this time the lenses are arranged in a ring around the Leica logo. I think I preferred the Mate 30 Pro's two-tone glossy effect a little better, but Huawei says this year's model was inspired by a black hole, so make of that what you will. This is still an attractive device from behind.
Around the front, the notch has been jettisoned in favor of a double-wide hole punch cutout for the dual selfie cameras. The OLED display is a little bigger this year at 6.76 inches, and it still has the 88-degree "waterfall" curves on the edges, which Huawei calls a "horizon" display.
These edges mean the power button on the side is still pushed back further to the rear than on most other phones. Unlike the Mate 30 Pro, however, Huawei has found space for physical volume buttons this time, which should be an improvement in usability.
Overall the Mate 40 Pro is looking like another physically and technically impressive Huawei flagship phone, and I'm looking forward to finding out what the company has managed to achieve — particularly with the camera and the new Kirin 9000 processor. The software, of course, will be another matter entirely. Stay tuned for a full review.