Move Smartly Toronto Area Real Estate Market Report: November 2022 – Move Smartly
Last month, I discussed on Twitter how the sentiment in Toronto's housing market today is not nearly as pessimistic as it was in the spring, a comment which of course was not well received by housing bears (those that hold negative outlooks on the market's prospects going forward).
But market sentiment is often misunderstood, with some assuming that low sales volumes alone tells the entire story and others that the sentiment they see reflected in equity and bond markets automatically extends to the residential housing market — which is not necessarily the case.
Shifts in market sentiment are critically important to understand because they are often the key driver behind the big shifts in home prices during booms and busts. But the challenge with tracking changes in market sentiment is that there are no great real time measures of real estate consumer sentiment.
Given this, I'm going to walk through some of the big shifts in buyer sentiment since the start of COVID pandemic period in March 2022 while discussing some of the measures we might look at to measure these changes in sentiment. I'll then end with looking at some of the latest shifts in sentiment I'm currently seeing in Toronto's housing market.
For this overview, I'm going to primarily focus on two metrics — the MOI, or months of inventory, which is the number of active listings in a month divided by the number of sales for the same period, and the average price.
The MOI is an important metric because it captures both demand (via the number of sales) and supply (via active listings) in one metric which gives us insight into how competitive the market is at any given moment. But what's often more important than the actual level of the months of inventory at any given moment is the rate at which it is changing over time.
As the months of inventory declines, the market becomes more competitive as inventory tightens, putting upward pressure on prices. When MOI increases, it reduces price growth and may even lead to a decline. When the MOI remains relatively unchanged from one month to the next, this is usually a sign of some balance in the housing market. But balance doesn't necessarily mean flat or rising prices, it just indicates the consistent speed or 'cruise control' — whether the market isn't heating up or cooling down.
Toronto's housing market was relatively calm and balanced in 2018 for two reasons. Firstly, Toronto's housing market experienced a dramatic housing bubble in the suburbs that saw home prices surging by over 30% per year during the first quarter of 2017 only to see home prices fall sharply in the second half of 2017. While Torontonians were adjusting to this rapid decline in prices, Canada's banking regulator, the Office of the Superintendent of Financial Institutions (OSFI), introduced a mortgage "stress test" on all uninsured mortgages that took effect on January 1, 2018. The stress test, which requires borrowers to quality at a rate that is at least 2% higher than what they would actually pay on their mortgage, made it harder for home buyers to qualify for a mortgage, which pushed some home buyers to the sidelines.
By 2019, the worries and distress of the 2017 Toronto suburban housing crash were a distant memory and home buyers and investors had adjusted to the mortgage stress test, the housing market started to heat up again. We can see the housing market heating up by the rapid decline in the MOI in 2019, which fell from 3 at the beginning of the year to 1.5 by the end of the year.
This entire year was a build up to what likely would have been a very exuberant housing market in early 2020 had there not been a global pandemic. By February 2020, home prices were up 17% over the previous year and all signs at the time were that things were going to get more competitive.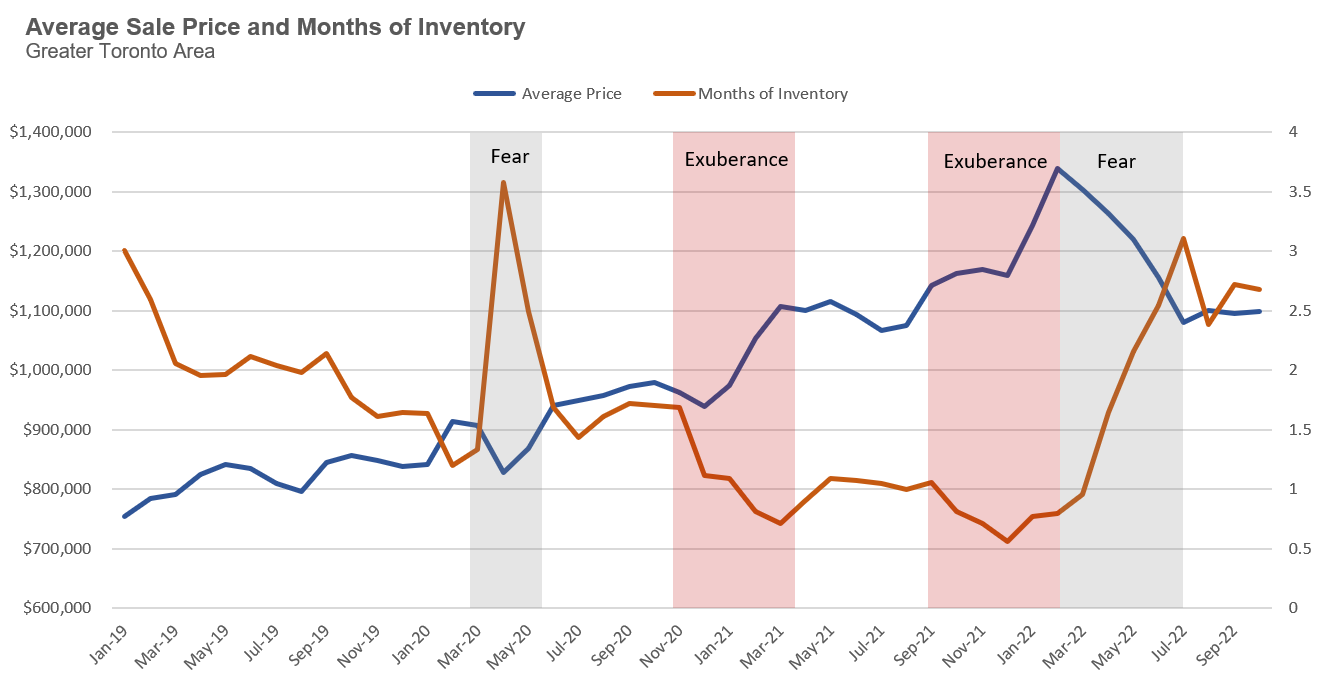 In March 2020, the first COVID lockdowns happened and a market that was on the verge of exuberance suddenly tipped over to fear. As buyers stayed home and hit pause on their home buying search, inventory levels surged; prices began to fall because some sellers needed to sell (due to the purchase of another home or other life changes), and as there were very few buyers in the market, these sellers felt pressured to take whatever offer they got.
By the spring of 2020, buyers started to jump back into the market, though buyers of low-rise homes were still very cautious — Ontario was still largely under a lockdown and there was still a lot of economic uncertainty.
The sentiment in the condo market was far more pessimistic. Renters were leaving the city as pandemic restrictions shut down work places, vacancy rates were on the rise, and rent prices were falling as some existing tenants were negotiating rent reductions and others were refusing to pay rent due to unemployment (aided by the province introducing an eviction ban on tenants during the lockdown period).
This led to a significant surge in the number of condominiums listed for sale by the summer of 2020 as many investors were looking to cash out of their investments.
But as we moved towards the fall, the market sentiment slowly started to shift and by November the market had turned on a dime from pessimistic to optimistic and eventually exuberant. We saw this on the ground as more buyers wanted to re-enter the market after hitting pause and new buyers jumped in eager to capitalize on ultra low interest rates.
With condo prices falling in the summer and early fall months of 2020, investors saw this as a buying opportunity and suddenly rushed back into the market during the last two months of 2020.
We can see this rapid shift in sentiment in the chart above by looking at the dramatic decline in the MOI from November 2020 to March 2021 and the corresponding surge in home prices which went from $961,738 in November 2020 to $1,107,537 in March 2021, a 15% increase in just four months. Note that the slight dip in average prices in December 2020 was due to a much higher share of condos selling that month which pulled the average down since condominiums have a lower average price when compared to low-rise homes.
When we think about the demand for homes in any given month, analysts often measure that by looking at the number of homes that sold. Sales may be an accurate measure of demand in markets where homes sit on the market for a long period of time and rarely sell with multiple buyers competing for the same home. But in Toronto where homes sell quickly and often with more than one buyer making an offer, the number of buyers making offers but not getting the home is an additional measure of demand for homes that is difficult to measure, which is why I often refer to it as the shadow demand for homes.
During that period of exuberance, the end of 2020 and the first quarter of 2021, homes were receiving significantly more offers on their offer nights than they were just months earlier. This number of people competing for homes is not only an indicator of the true demand in the market, but it also has the effect of influencing home buyer behaviour.
Home buyers begin to panic and feel more anxious when every time they make an offer on a home they find themselves competing with 20 other buyers. This panic and anxiety often leads them to offer a little bit more on the next home they are bidding on just so they can finally win on offer night. We don't see this type of panic and anxiety when homes are receiving two or three offers on their offer night, with buyers feeling that it's likely just a matter of time before a seller accepts their offer. This is why the high level of shadow demand, thousands of buyers making offers and losing on any given night, helped fuel the rapid surge in prices in that short period of time.
And then, all of a sudden, during the 2nd and 3rd quarters of 2021 the market calmed down.
Even though we saw just a modest increase in inventory, there were suddenly far fewer buyers in the market. Fewer homes were receiving multiple offers while some homes were sitting on the market for weeks. We had clients making offers on homes with conditions on financing and home inspection during this period, something that wouldn't have been possible during the frenzy we saw during the first quarter of 2021.
The sentiment from buyers had turned from FOMO (fear of missing out) to patience and a bit of greed since they saw some homes selling for a bit less than they would have expected. We can also see this in the fact that prices saw very little movement on a month over month basis during that period.
Why the sudden shift in sentiment? It's difficult to say, but in the case of the condo market, a lot of the deals investors were likely getting because of high levels of inventory had disappeared and the overall rapid increase in prices may also have pushed some buyers to the sidelines.
And then just as suddenly, the sentiment in the market shifted again as we moved towards the fourth quarter of 2021. Buyers started to rush back into the market, and the MOI declined from an already low of 1MOI to just a half a month of inventory. During the fourth quarter the momentum and the exuberance in the market were building and by the first quarter of 2022 average prices had accelerated by 15%, or over $150,000, in just two months eventually peaking at $1,338,611 in February 2022.
It was not uncommon during the first two months of 2022 to see homes that had 40 to 60 buyers all making an offer on the same home and the eventual sale price being 5 to 10% more than what comparable sales at that time could justify. This was irrational exuberance and the fear of missing out (FOMO) was in the air.
And then of course the sentiment in the market turned yet again, from FOMO to fear (for remaining sellers) and greed (for remaining buyers). The combination of high home prices, buyer fatigue and news of rate hikes in the future pushed many buyers to the sidelines.
Sellers who had already bought a home were getting fewer showings and offers than they had expected, and in some cases, no offers on their scheduled offer night. Caught between two transactions (because they had already bought a home), many of these sellers agreed to sell for tens of thousands less than what a similar home sold for just a week earlier. By July, the average price for a home in the Greater Toronto Area had declined from $1,338,611 in February to $1,079,432 in July, down by just over $250,000 or 19% in just five months.
Since July, inventory levels have declined and prices have plateaued which has once again led to a shift in market sentiment. Sellers are far more patient today and not as fearful because most of those remaining in the market have not already committed to buying another home and are not under pressure to sell their current home as soon as possible.
In my September report, I showed that an increasing number of sellers are simply taking their homes off the market if they can't achieve the price they want and, in some cases, renting their property out instead. Many are optimistic that Canada's increasing immigration targets coupled with a decline in new home sales will eventually lead to upward pressure on home prices again.
Buyer sentiment has also shifted considerably since the spring market. The buyers I hear from still recognize that there is a high likelihood that prices will fall further in 2022, but, like many sellers, they see this as a short-term cyclical trend rather than a long-term decline. Many of them just need a home to buy and are finding it increasingly difficult with so few homes currently available for sale.
But hopefully one takeaway from this section is that the sentiment among buyers and sellers in the housing market is very fickle and can turn on a dime at any moment.
And if we think about how the market sentiment might change in 2023, I think the odds are that things will turn a bit more pessimistic as households adjust to today's higher interest rates and possibly layoffs as businesses adjust to our slowing economy. If we do in fact see a 'white-collar recession' some households with a heavy debt load may have to deal with a shock in their surging debt payments and a loss in income — and the mood may shift once again.
Nanaimo Real Estate Market Report: January 2023
NANAIMO – Calm start to the year indicates a great time to buy
In January, 46 single-family homes sold in Nanaimo, down 33 per cent from December and 26 per cent from the previous year.
Active listings of single-family homes on the Mid-Island rose 108 per cent year-over-year, but dropped by 4 per cent from December.
The average price for a single-family home in Nanaimo was $795,527 in January, a 23 per cent drop from last year.
Montreal home sales down 36% from January 2022: Quebec real estate association
MONTREAL — The Quebec Professional Association of Real Estate Brokers says Montreal's January home sales fell to a level not seen since 2009 as the market slowdown continued.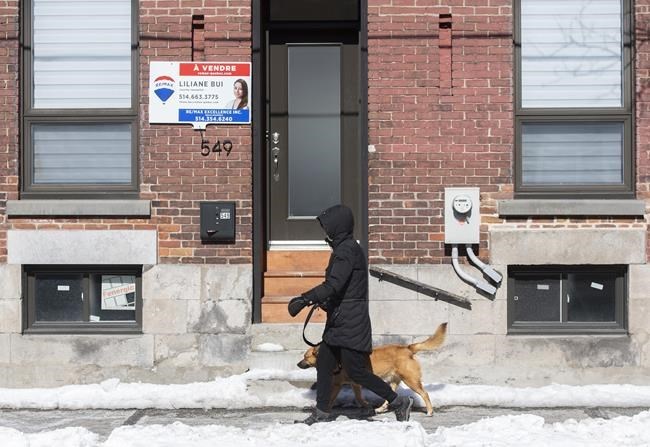 MONTREAL — The Quebec Professional Association of Real Estate Brokers says Montreal's January home sales fell to a level not seen since 2009 as the market slowdown continued.
The association says last month's sales totalled 1,791, down 36 per cent from 2,816 in January 2022.
Charles Brant, the association's market analysis director, says these numbers mean activity is approaching a historic low for the month of January and come as rising interest rates are weighing on homebuyers.
He says first-time homebuyers in particular are taking a cautious wait-and-see attitude despite recent drops in prices.
The median price of a single-family home edged down seven per cent to $500,000 year over year, while condos dipped three per cent to $370,000 and plexes dropped six per cent to $675,000.
As median prices fell so did new listings, which hit 4,598 compared with 4,808 a year ago.
This report by The Canadian Press was first published Feb. 7, 2023.
The Canadian Press
B.C. residential real estate investors unfairly 'painted as speculators': BCREA
Statistics Canada released data last week revealing 23.3 per cent of B.C. homeowners are also investors in the market. The Vancouver census metropolitan area (CMA) had an overall investment rate in condominiums and houses of 21.3 per cent.
"Investors often get kind of painted as speculators who are out to buy up housing and do nothing with it, or flippers or any other kind of pejorative terms that we add to investors. But what this data shows, and what's good to understand, is that they've really invested a lot in a primary rental in Canada," said Brendon Ogmundson. "A lot of the rental units that are being provided are smaller investors who own one unit and are renting it out."
Statistics Canada defines an investor as an "owner who owns at least one residential property that is not used as their primary place of residence." 
In B.C., 73 per cent of properties with multiple dwellings were owner-occupied investment properties. Investor-occupants are more common in the province, making up 9.6 per cent of owners.
This is due to a higher proportion of properties with multiple residential units – 11.7 per cent – such as laneway units or basement suites, according Statistics Canada. The national statistics agency said these types of units are more likely to be owner-occupied.
"So many owners in B.C. have chosen to also be landlords by renting out their basement suites or laneway houses and it's way, way different than any other province in this dataset," Ogmundson said. 

Statistics Canada data breaking down homeowners by investor-type. 
The region of Greater Vancouver A or Electoral Area A, which includes the University Endowment Lands, Barnston Island, Howe Sound communities, Indian Arm and Pitt Lake communities, had a higher proportion of houses and condominium apartments used as an investment at 42.1 per cent compared with the rest of the region. 
The City of Vancouver had a lower proportion at 32.5 per cent.
This difference is attributed to students attending the University of British Columbia, who are more likely to be renters or live in a second property owned by a family member, according to Statistics Canada. 
The proportion of condominium apartments owned for investment purposes by non-resident investors was the highest in B.C. among the provinces – seven per cent.
The rate of condominium apartments used as investment was lower in the Vancouver CMA (34 per cent) than the rest of the province.
Across B.C., non-residents and out-of-province investors owned 43,890 houses used as an investment. This number was typically higher in areas near the Alberta border. 
Out-of-province investors owned 1.6 per cent of homes in B.C., while in-province investors accounted for 9.8 per cent of all investors.