MUHC celebrates the inauguration of Abitibi-Témiscamingue's Regional Radiation Oncology Centre
On November 14, 2022, over a hundred representatives from the Centre intégré de santé et de services sociaux de l'Abitibi-Témiscamingue (CISSSAT) and the McGill University Health Centre (MUHC), including Drs. Tarek Hijal and Asma Saidi, as well as medical physicist William Parker, gathered in Rouyn-Noranda for the inauguration of the Regional Radiation Oncology Centre of Abitibi-Témiscamingue.
This project is the product of almost two decades of planning. It was made possible through the collaboration, commitment and perseverance of all stakeholders, including many members of the MUHC community. The staff of the MUHC Cancer Care Mission have worked very hard over the past six years to support the CISSSAT in the development of this project. This is now a completed project.
"The opening of this centre is proof that the MUHC can play an important role in network collaborations. Despite the pandemic causing some delays, the MUHC and Abitibi teams kept working on the centre. In the end, the project went ahead as planned and the first two patients were treated on November 14," explains Dr. Tarek Hijal, radiation oncologist and Director of the MUHC Department of Radiation Oncology.
A major project to improve access to care
The Abitibi-Témiscamingue Regional Radiation Oncology Centre is a significant project. It is the only facility that offers radiotherapy services outside of major urban centres. At the moment, some people in the region choose not to receive treatment because they have to travel to Gatineau or Montreal to access it.
This new centre will improve access to care and reduce the disparities observed in relation to other regions of Quebec. . Currently, 40% of Temiscabitians diagnosed with cancer are receiving radiation treatment, compared to 51% across Quebec.
Facilitating access to radiotherapy services in the region
Every year, close to 400 people travel outside the Abitibi-Témiscamingue region to undergo radiotherapy. This number will gradually be reduced as palliative treatments, whose objective is to reduce pain or symptoms, become accessible to the population. Subsequently, curative care treatments such as treatments of the pelvis (prostate and rectum), breasts and lungs, as well as treatments combined with chemotherapy will be gradually added depending on the capacity of the teams.
Many thanks to the radio-oncology and medical physics teams led by Dr. Tarek Hijal, Christian Boisvert-Huneault and William Parker. Thanks also to Christine Bouchard, associate director of the Cancer Care Mission.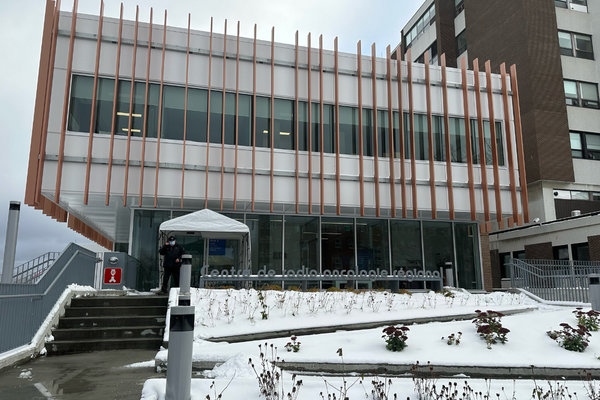 Source: CISSS de l'Abitibi-Témiscamingue
Children's hospital in Newfoundland and Labrador is cancelling some surgeries
A children's hospital in the capital of Newfoundland and Labrador is cancelling some surgeries and appointments starting Monday.
Health officials say it's due to a high level of respiratory illness.
It is unclear how many surgeries and appointments at Janeway Children's Health and Rehabilitation Centre in St. John's will be affected.
Residents who are not experiencing a medical emergency are being asked to avoid visiting an emergency department.
Older adults amongst the most susceptible to RSV
TUCSON, Ariz. (KGUN) — The risk of Respiratory Syncytial Virus, also known as RSV, typically flies under the radar when it comes to older adults.
With 10 times the amount of older adults being hospitalized for RSV than in previous years, understanding the risk is important for those who are more susceptible.
"RSV in older adults starts out with the same symptoms as younger adults. With common cold-like symptoms- nasal congestion, sniffles, low-grade temperature, sore throat, dry cough, tiredness. These symptoms will last for a few days," Mary Derby, Nurse Manager at Pima County Health Department explained.
"However, an older adult or an adult with chronic medical conditions such as heart and lung disease- they can experience more serious symptoms, such as getting a high fever, dehydration, and real difficulty breathing."
Derby says if these symptoms lead to extreme chest pain, loss of color in the face, or struggle to breathe- seek medical attention immediately.
It is also important for those assisting an older adult to be aware of the risk imposed on those more susceptible.
"If you're caring for older adults, please wash your hands frequently. Watch for your own symptoms and stay away if you're experiencing symptoms. Consider wearing a mask to protect that older adult, because these older adults do need that protection… Take it seriously," Derby emphasized.
Upward 6,000 to 10,000 older adults die each year from RSV.
As we make our way through the holidays, be sure to stay up to date with COVID-19 and Influenza vaccines, stay home if you are not feeling well, wash your hands often and for those at higher risk, wear a fitted mask around others.
——-
Breanna Isbell is a reporter for KGUN 9. She joined the KGUN 9 team in July of 2022 after receiving her bachelor's degree in sports journalism from Arizona State University in May. Share your story ideas with Breanna by emailing breanna.isbell@kgun9.com or by connecting on Facebook, or Twitter.
AIDS day walk in North Battleford aims to `banish that stigma'
 By Julia Peterson
 Local Journalism Initiative Reporter
On World AIDS Day, advocates in the Battlefords gathered to raise awareness about how the virus affects people in their community, and how people can get help and treatment, if they need it.
"HIV is completely preventable in today's society, with all the advances in medication," said Battle River Treaty 6 Health Centre's HIV project coordinator, Cymric Leask. "But due to a lot of intersecting factors, especially due to COVID  in the past couple of years, our HIV numbers have skyrocketed."
In 2021, more than 200 new cases of HIV were diagnosed in the province, even while testing, treatment and outreach were reduced during the height of the COVID-19 pandemic.
Saskatchewan has the highest rate of new HIV infections in Canada, and has had the highest annual rate in the country for more than a decade.
The proportion of new HIV cases in rural areas is rising, too.
"Here up north, there are such large barriers to access to care," said Leask. "We do have some great resources here in North Battleford  but it's still very hard to access the proper care for HIV."
For example, getting started on HIV medication requires a visit with a communicable disease doctor, but there is no communicable disease doctor based in the Battlefords. Instead, that doctor visits the community only once every four months.
Another barrier Leask has found is that many people still have an outdated  understanding of what HIV is, who is at risk and how treatment works.
"Especially here in rural areas, it's stigmatized as something that only affects gay or bisexual men, men who have sex with men," Leask said.
Today in Saskatchewan, men and women are diagnosed with HIV at almost equal rates, and two thirds of new cases are passed through injection drug use.
Treatments are much easier to manage than they used to be; some only involve taking one pill a day.
But the enduring stigma around HIV makes it harder for people to find community and support.
"People don't talk about it," said Jackie Kennedy, executive director of the Battlefords Indian and Metis Friendship Centre. "I think they're afraid to. A lot of people don't disclose that information (about their HIV status) because they are afraid to be judged."
As more people continue to be diagnosed with HIV in Saskatchewan every year, groups and organizations in the Battlefords are working hard to make it easier for people to get testing, treatment, information and harm reduction supplies.
"We want to banish that stigma of how it used to be," said Leask. "It's not like that anymore."
  Julia Peterson is a  Local Journalism Initiative Reporter with THE STARPHOENIX
The LJI program is federally funded.