Narendra Modi critics in Canada achieve breakthrough as national media cover Citizenship Amendment Act protests – Straight.com
Regular readers of Straight.com are well aware of the creeping fascism in India under Prime Minister Narendra Modi.
This is largely thanks to contributor Gurpreet Singh, who's chronicled ongoing outrages in the country of his birth, including a clampdown on civil liberties in Kashmir and the assassination of journalist Gauri Lankesh.
He's frequently covered majoritarian violence directed against Muslims and Christians—decried as "beef eaters" by Hindu fanatics—as well as the appalling treatment of Dalits, otherwise known as "untouchables".
In addition, Singh has written about new books by Arundhati Roy and M.G. Vassanji, who have also raised an alarm about rising discrimination against minorities in the Modi era.
Hindu terrorists have not only escaped punishment, one accused anti-Muslim bomber, Pragya Singh Thakur, was nominated and elected to high political office with Modi's Bharatiya Janata Party.
Journalist Rana Ayyub has linked the BJP's president, Amit Shah, to the mass murder of Muslims in Gujarat in 2002. He's the home minister in the Modi government.
But until this weekend, all of these outrages in the world's so-called largest democracy have been underreported or simply ignored by the Canadian media.
Canadian politicians, with extremely rare exceptions, have also kept their mouths shut about what's taking place in India.
That cloak of silence was lifted, however, when supporters of secularism in India held rallies this weekend across Canada to protest the Modi government's Citizenship Amendment Act.
For the first time since Modi visited Canada in 2015, protests against his government in Canadian cities were covered on national newscasts.
The growing outrage in Canada has finally penetrated the national consciousness. The heartbreak felt many South Asian immigrants to Canada over what's occurring in the subcontinent is finally being acknowledged.
That marks a breakthrough.
However, Canadian politicians avoided these noisy demonstrations and the vast, vast majority of elected officials in this country remain insensitive to the community's fears about what Modi might do in the future. And these same Canadian politicians have proven to be utterly useless to the brave Indians who challenge the prevailing Hindutva ideology of Hindu supremacy being advanced by Modi and his cohorts in the BJP.
Already, 23 people have died in India in uprisings against the citizenship legislation. It allows people fleeing persecution from Pakistan, Bangladesh, and Afghanistan to obtain Indian citizenship, as long as they're not Muslims.
Annie Ohana honoured at protest
Indians Abroad for Pluralist India's demonstration in Surrey's Holland Park began with a moment of silence. It was for those who've lost their lives in the recent Indian demonstrations.
Speakers included Muslim community leaders Itrath Syed, Furqan Gehlen, and Dawood Ismail; Hindu interfaith chaplain Arun Chatterjee; Sikh activists Gian Singh Gill and Kulwinder Singh; Niovi Patsicakis of the Global Peace Alliance; leftists Prabhjot Kaur Hundal, Rawait Singh, and Joseph Theriault; and educator and former NDP candidate Annie Ohana.
Ohana, who ran in Fleetwood–Port Kells in the last federal election, was presented with a medal of courage by Indians Abroad for Pluralist India for her willingness to speak up about what's happening in India and her long record of antiracism.
She and another NDP candidate in the last federal election, Svend Robinson, are among the very few who've raised Canadians' awareness about what's occurring in India. NDP Leader Jagmeet Singh has also spoken out on the odd occasion.
In contrast, Prime Minister Justin Trudeau, former foreign affairs minister Chrystia Freeland, Defence Minister Harjit Sajjan, Industry Minister Navdeep Bains, and members of B.C. premier John Horgan's cabinet have not leveraged their high political positions to advance the cause of human rights in India since Modi became prime minister.
This is despite growing outrage among the South Asian diaspora, which is now seeping into the Canadian mainstream.
Another genocide around the corner?
In the words of Amnesty International, the Indian state is "criminalizing protest".
Ominously, the Modi government plans to extend a National Register of Citizens from the northeastern state of Assam to all of India by 2021. If that happens, everyone will carry national identity cards.
The cabinet minister who will oversee this is none other than Amit Shah, the same minister who shut down the Internet in Kashmir, which is the only Muslim-majority region in the country. Politicians have been jailed and an entire region was turned into an open-air prison.
This has prompted fears that the BJP, which argues that India is a Hindu nation, may embark on a genocide against Muslims along the lines of what occurred in Gujarat in 2002 when Modi was the state's chief minister.
https://twitter.com/charliesmithvcr/status/1208489420376031232
It's worth reviewing the words of Arundhati Roy in an essay about the anti-Muslim violence in Gujarat.
"The genocide began as collective punishment for an unsolved crime—the burning of a railway coash in which fifty-three Hindu pilgrims burned to death," she writes in My Seditious Heart. "In a carefully planned orgy of supposed retaliation, two thousand Muslims were slaughtered in broad daylight by squads of armed killers, organized by fascist militias, and backed by the Gujarat government and the administration of the day.
"Muslim women were gang-raped and burned alive," Roy continues. "Muslim shops, Muslim businesses, and Muslim shrines and mosques were systematically destroyed. Two thousand were killed and more than one hundred thousand people were driven from their homes."
Later in that same essay, she points out that the Congress politician who campaigned against Modi was "publicly butchered". After Ehsan Jafri was cut to pieces, his body was set on fire so he could be burned alive.
"While the mob that lynched Jafri, murdered several people, and gang-raped twelve women—before burning them alive—was gathering, the Ahmedabad commissioner of police, P.C. Pandey, was kind enough to visit the neighbourhood," Roy writes. "After Modi was reelected, Pandey was promoted and made Gujarat's director general of police. The entire killing apparatus remains in place."
Yes, the killing apparatus remains in place.
And the Canadian government, which professes such a keen interest in human rights, can't be bothered to utter a peep of concern.
https://twitter.com/haymarketbooks/status/1207716099871137795
Jimmy Butler steals the show on NBA media day with 'emo' phase look following Damian Lillard's trade to the Milwaukee Bucks – CNN
We use cookies and data to
Deliver and maintain Google services
Track outages and protect against spam, fraud, and abuse
Measure audience engagement and site statistics to understand how our services are used and enhance the quality of those services
If you choose to "Accept all," we will also use cookies and data to
Develop and improve new services
Deliver and measure the effectiveness of ads
Show personalized content, depending on your settings
Show personalized ads, depending on your settings
Non-personalized content is influenced by things like the content you're currently viewing, activity in your active Search session, and your location. Non-personalized ads are influenced by the content you're currently viewing and your general location. Personalized content and ads can also include more relevant results, recommendations, and tailored ads based on past activity from this browser, like previous Google searches. We also use cookies and data to tailor the experience to be age-appropriate, if relevant.
Select "More options" to see additional information, including details about managing your privacy settings. You can also visit g.co/privacytools at any time.
Social media traffic to top news sites craters
Traffic referrals to the top global news sites from Meta's Facebook and X, formerly Twitter, has collapsed over the past year, according to data from Similarweb.
Why it matters: Website business models that depended on clicks from social media are now broken.
What's happening: Regulatory pressure and free speech concerns have pushed tech giants to abandon efforts to elevate quality information, leaving the public more susceptible to misinformation ahead of the 2024 election.
Meanwhile, news companies are scrambling to find business solutions while simultaneously fighting to protect their work in the AI era.
The big picture: While the news industry has known this day would come, many are still unprepared.
A slower ad market and less reliable traffic contributed to a record number of media job cuts this year.
Efforts to reach voters with trusted information are becoming more difficult as tech platforms lean into viral trends, instead of quality news.
Yes, but: Disruption is often a catalyst for change.
The over-reliance on social media traffic kept news publishers from focusing on building stronger consumer products of their own.
Publishers are better prepared now to defend their intellectual property in the AI era having learned from their mistakes of being too heavily reliant on third parties for survival.
Go deeper: Social media news consumption slows globally
Go deeper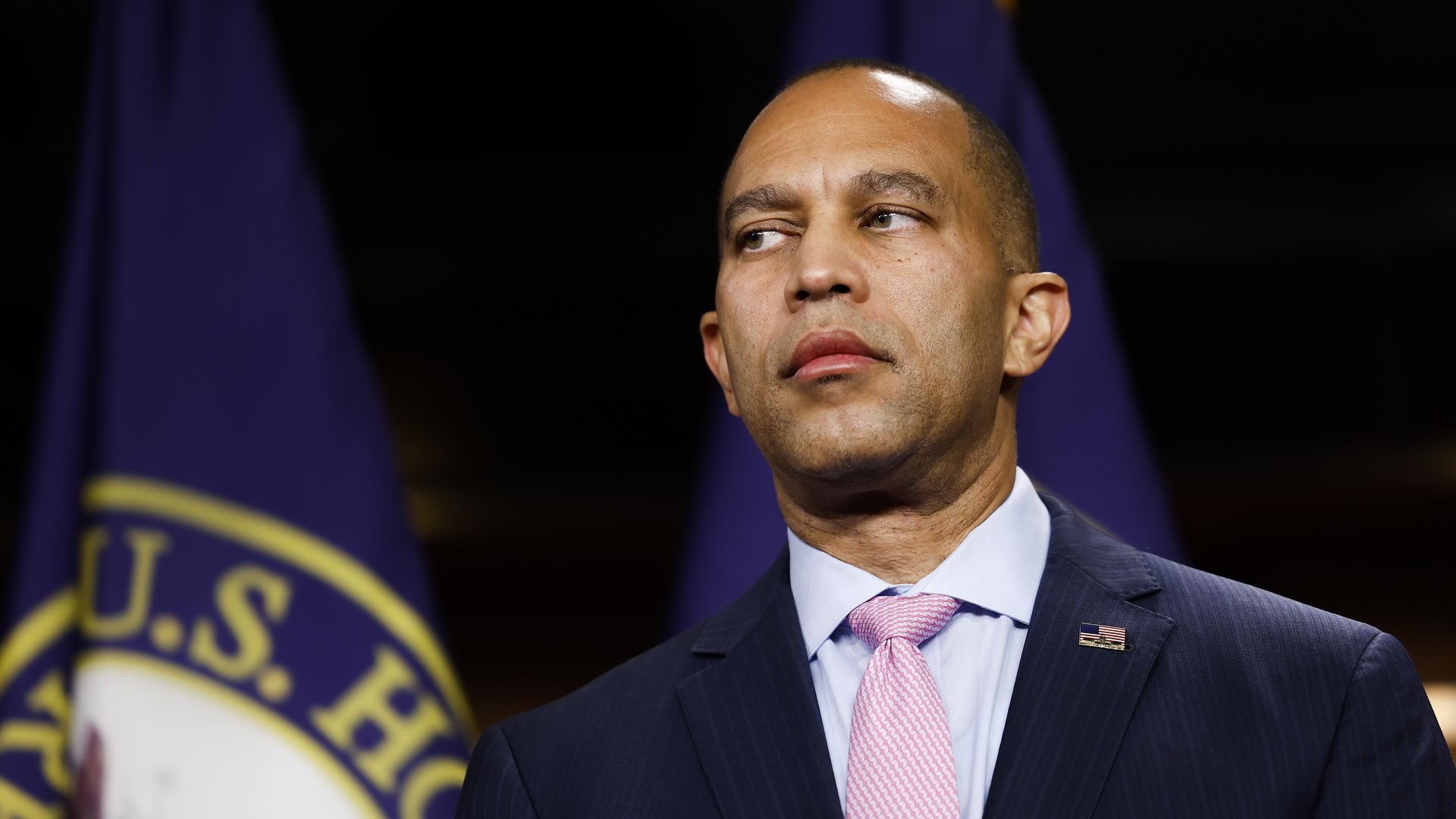 House Speaker Kevin McCarthy (R-Calif.) is unlikely to get a lifeline from across the aisle as he fights to keep his job, according to interviews with and statements from nearly two dozen House Democrats.
Why it matters: If a half dozen Republicans support the motion to vacate introduced by right-wing Rep. Matt Gaetz (R-Fla.), which is set for a vote on Tuesday afternoon, McCarthy will need Democratic votes to survive.
For all the signs of a cooling economy, employers sure had an awful lot of open jobs as summer came to an end, according to a shocker of a labor market report out Tuesday. But it's probably sending a misleading signal.
Driving the news: Employers reported having 9.6 million job openings at the end of August, according to the Job Openings and Labor Turnover report, up 690,000 from July, driven by a particularly large surge in professional and business services openings.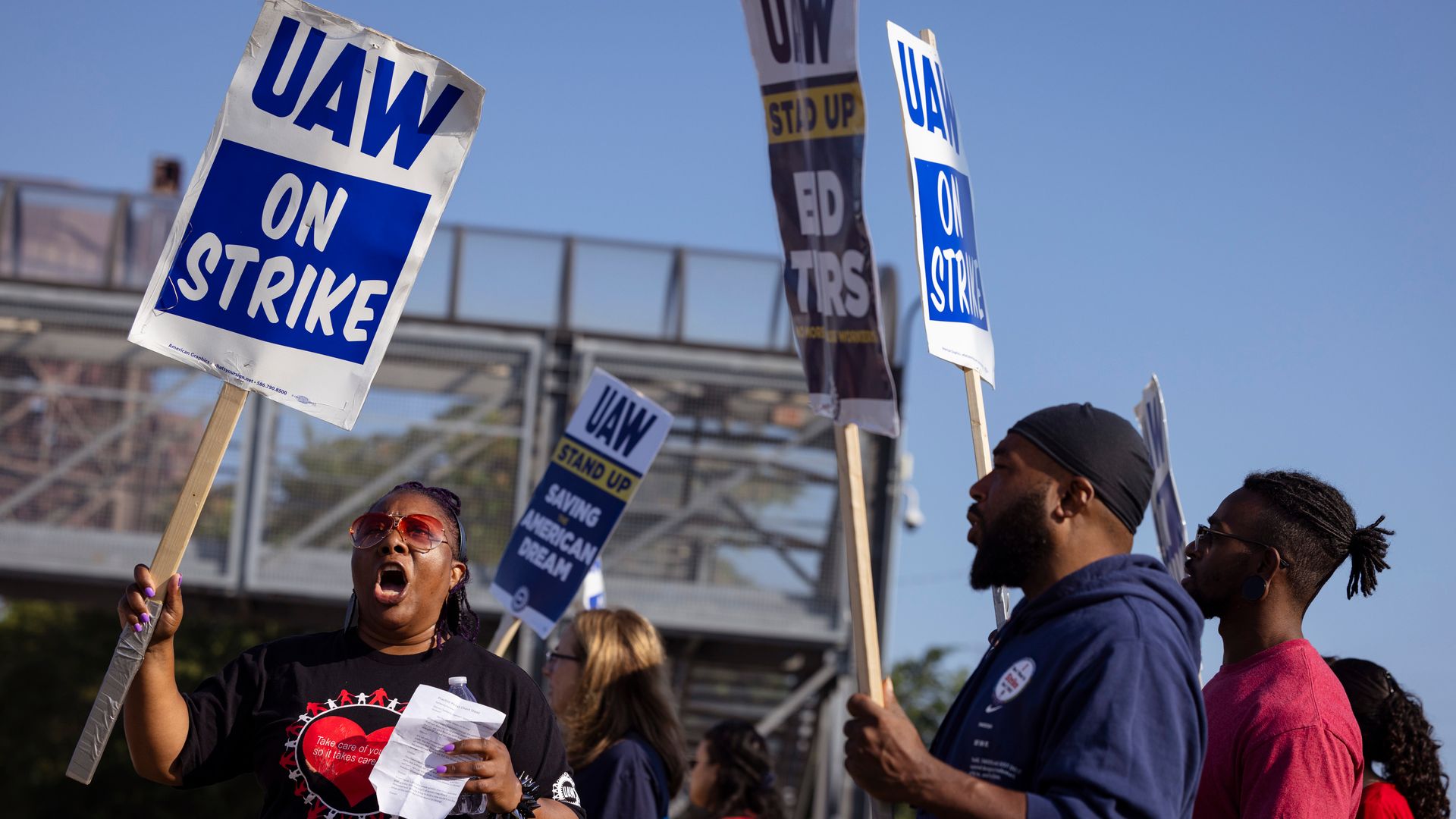 Ford and General Motors laid off 500 more people after the United Auto Workers widened its historic strike last week, the automakers confirmed to Axios Tuesday.
Why it matters: Roughly 3,000 workers have been impacted by layoffs since the UAW strike against the Detroit Three began last month.
India police raid homes of NewsClick journalists in illegal funding probe
Police in India have arrested a prominent journalist and founder of a news website under a stringent anti-terror law over allegations of receiving foreign money for pro-China propaganda.
NewsClick's founder and editor-in-chief Prabir Purkayastha was arrested on Tuesday evening under the Unlawful Activities Prevention Act (UAPA) and criminal conspiracy charges, local media reports said.
Journalist Amit Chakravarty was also arrested in the same case, the reports added.
The arrests came after the office of the New Delhi-based news portal and homes of several journalists and writers linked to it were raided as part of an investigation into suspected illegal foreign funding of the media company. Laptops and mobile phones were taken away as part of the probe.
"A special investigations team launched a search operation to identify all those individuals who were possibly getting funds from overseas to run a media group with the main agenda of spreading foreign propaganda," said a home ministry official overseeing the raids by the federally-controlled Delhi Police.
Indian authorities registered a case against NewsClick and its journalists on August 17, days after a New York Times report alleged the website had received funds from an American millionaire who, the Times wrote, funded the spread of "Chinese propaganda". NewsClick denied the charges.
The raids on Tuesday were conducted at more than a dozen homes of journalists and some other writers linked to NewsClick.
A home ministry official said the raids were part of an investigation by the Enforcement Directorate, India's financial crime control agency, into suspected money laundering by NewsClick, whose office was also sealed by the Delhi Police.
In a statement, the police said 37 male suspects were questioned at the NewsClick office while nine female suspects were questioned at their residences.
Thirty locations connected with the portal and its journalists were searched, the police said. Among those questioned were journalists Urmilesh, Aunindyo Chakravarty, Abhisar Sharma, Paranjoy Guha Thakurta and historian Sohail Hashmi.
NewsClick officials were not immediately available for comment. The company's website says it reports on news from India and elsewhere with a focus on "progressive movements".
NewsClick founder Purkayastha said at the time the allegations were not new and that the organisation would respond to them in court.
The Press Club of India said it was deeply concerned by the raids. A group of journalists has planned a protest march in New Delhi on Wednesday.
'Coercive actions'
A statement from the INDIA alliance, a coalition of 28 opposition political parties, said in the last nine years, the government has deliberately persecuted and suppressed the media by using different investigative agencies.
"Even if you were … to believe these allegations at worst you could have targeted the management of the website, but what we are seeing now is that even junior employees are getting raided, even contributors are getting raided," Shoaib Daniyal, political editor at the Scroll news website, told Al Jazeera.
"India has an extremely draconian terror law regime where people can be arrested and locked away for years without trial," he added.
A spokesperson from Prime Minister Narendra Modi's nationalist Bharatiya Janata Party (BJP) said the raids were justified as foreign funding to media groups must be assessed by investigating agencies.
India has fallen to 161st rank in the World Press Freedom Index, an annual ranking by non-profit Reporters Without Borders, from 150th last year, its lowest ever. Modi's government rejects the group's rankings, questioning its methodology, and says India has a vibrant and free press.
A few months ago, Indian tax authorities raided BBC offices in New Delhi and Mumbai, shortly after the British broadcaster released a documentary that was critical of Modi.
Ties between India and China have been strained since 2020, when clashes between the two neighbours' militaries in a disputed border area killed at least 20 Indian soldiers and four Chinese servicemen.
Since then, New Delhi has banned many Chinese-owned apps, including TikTok, and launched tax investigations into some Chinese mobile phone companies.
SOURCE: AL JAZEERA AND NEWS AGENCIES