NASA certifies SpaceX's Crew Dragon flight system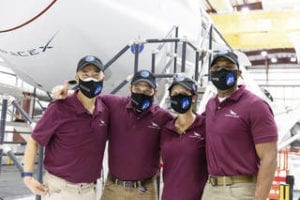 Luxembourg, 12 November 2020. – After years of designing, developing, and testing, NASA has certified SpaceX's Crew Dragon system for flights to the International Space Station (ISS), the agency announced.
Crew Dragon is the first commercial spacecraft system capable of transporting humans to and from the ISS and is part of the Commercial Crew Program.
The Crew Dragon, including the Falcon 9 rocket and associated ground systems, is the first new, crew spacecraft to be NASA-certified for regular flights with astronauts since the space shuttle nearly 40 years ago. Several critical events paved the way for the certification, including grounds tests, simulations, uncrewed flight tests and the SpaceX Demo-2  test flight with astronauts earlier this year, NASA said.
"I'm extremely proud to say we are returning regular human spaceflight launches to American soil on an American rocket and spacecraft," said NASA Administrator Jim Bridenstine. "This certification milestone is an incredible achievement from NASA and SpaceX that highlights the progress we can make working together with commercial industry."
Source: – SpaceWatch.Global
London A.I. Lab Claims Breakthrough That Could Accelerate Drug Discovery – The New York Times
Some scientists spend their lives trying to pinpoint the shape of tiny proteins in the human body.
Proteins are the microscopic mechanisms that drive the behavior of viruses, bacteria, the human body and all living things. They begin as strings of chemical compounds, before twisting and folding into three-dimensional shapes that define what they can do — and what they cannot.
For biologists, identifying the precise shape of a protein often requires months, years or even decades of experimentation. It requires skill, intelligence and more than a little elbow grease. Sometimes they never succeed.
Now, an artificial intelligence lab in London has built a computer system that can do the job in a few hours — perhaps even a few minutes.
DeepMind, a lab owned by the same parent company as Google, said on Monday that its system, called AlphaFold, had solved what is known as "the protein folding problem." Given the string of amino acids that make up a protein, the system can rapidly and reliably predict its three-dimensional shape.
This long-sought breakthrough could accelerate the ability to understand diseases, develop new medicines and unlock mysteries of the human body.
Computer scientists have struggled to build such a system for more than 50 years. For the last 25, they have measured and compared their efforts through a global competition called the Critical Assessment of Structure Prediction, or C.A.S.P. Until now, no contestant had even come close to solving the problem.
DeepMind solved the problem with a wide range of proteins, reaching an accuracy level that rivaled physical experiments. Many scientists had assumed that moment was still years, if not decades, away.
"I always hoped I would live to see this day," said John Moult, a professor at the University of Maryland who helped create C.A.S.P. in 1994 and continues to oversee the biennial contest. "But it wasn't always obvious I was going to make it."
As part of this year's C.A.S.P., DeepMind's technology was reviewed by Dr. Moult and other researchers who oversee the contest.
If DeepMind's methods can be refined, he and other researchers said, they could speed the development of new drugs as well as efforts to apply existing medications to new viruses and diseases.
The breakthrough arrives too late to make a significant impact on the coronavirus. But researchers believe DeepMind's methods could accelerate the response to future pandemics. Some believe it could also help scientists gain a better understanding of genetic diseases along the lines of Alzheimer's or cystic fibrosis.
Still, experts cautioned that this technology would affect only a small part of the long process by which scientists identify new medicines and analyze disease. It was also unclear when or how DeepMind would share its technology with other researchers.
DeepMind is one of the key players in a sweeping change that has spread across academia, the tech industry and the medical community over the past 10 years. Thanks to an artificial intelligence technology called a neural network, machines can now learn to perform many tasks that were once beyond their reach — and sometimes beyond the reach of humans.
A neural network is a mathematical system loosely modeled on the network of neurons in the human brain. It learns skills by analyzing vast amounts of data. By pinpointing patterns in thousands of cat photos, for instance, it can learn to recognize a cat.
This is the technology that recognizes faces in the photos you post to Facebook, identifies the commands you bark into your smartphone and translates one language into another on Skype and other services. DeepMind is using this technology to predict the shape of proteins.
If scientists can predict the shape of a protein in the human body, they can determine how other molecules will bind or physically attach to it. This is one way drugs are developed: A drug binds to particular proteins in your body and alters their behavior.
By analyzing thousands of known proteins and their physical shapes, a neural network can learn to predict the shapes of others. In 2018, using this method, DeepMind entered the C.A.S.P. contest for the first time and its system outperformed all other competitors, signaling a significant shift. But its team of biologists, physicists and computer scientists, led by a researcher named John Jumper, were nowhere close to solving the ultimate problem.
In the two years since, Dr. Jumper and his team designed an entirely new kind of neural network specifically for protein folding, and this drove an enormous leap in accuracy. Their latest version provides a powerful, if imperfect, solution to the protein folding problem, said the DeepMind research scientist Kathryn Tunyasuvunakool.
The system can accurately predict the shape of a protein about two-thirds of the time, according to the results of the C.A.S.P. contest. And its mistakes with these proteins are smaller than the width of an atom — an error rate that rivals physical experiments.
"Most atoms are within an atom diameter of where they are in the experimental structure," said Dr. Moult, the contest organizer. "And with those that aren't, there are other possible explanations of the differences."
Andrei Lupas, director of the department of protein evolution at the Max Planck Institute for Developmental Biology in Germany, is among those who worked with AlphaFold. He is part of a team that spent a decade trying to determine the physical shape of a particular protein in a tiny bacteria-like organism called an archaeon.
This protein straddles the membrane of individual cells — part is inside the cell, part is outside — and that makes it difficult for scientists like Dr. Lupas to determine the shape of the protein in the lab. Even after a decade, he could not pinpoint the shape.
With AlphaFold, he cracked the problem in half an hour.
If these methods continue to improve, he said, they could be a particularly useful way of determining whether a new virus could be treated with a cocktail of existing drugs.
"We could start screening every compound that is licensed for use in humans," Dr. Lupas said. "We could face the next pandemic with the drugs we already have."
During the current pandemic, a simpler form of artificial intelligence proved helpful in some cases. A system built by another London company, BenevolentAI, helped pinpoint an existing drug, baricitinib, that could be used to treat seriously ill Covid-19 patients. Researchers have now completed a clinical trial, though the results have not yet been released.
As researchers continue to improve the technology, AlphaFold could further accelerate this kind of drug repurposing, as well as the development of entirely new vaccines, especially if we encounter a virus that is even less understood than Covid-19.
David Baker, the director of the Institute for Protein Design at the University of Washington, who has been using similar computer technology to design anti-coronavirus drugs, said DeepMind's methods could accelerate that work.
"We were able to design coronavirus-neutralizing proteins in several months," he said. "But our goal is to do this kind of thing in a couple of weeks."
Still, development speed must contend with other issues, like massive clinical trials, said Dr. Vincent Marconi, a researcher at Emory University in Atlanta who helped lead the baricitinib trial. "That takes time," he said.
But DeepMind's methods could be a way of determining whether a clinical trial will fail because of toxic reactions or other problems, at least in some cases.
Demis Hassabis, DeepMind's chief executive and co-founder, said the company planned to publish details describing its work, but that was unlikely to happen until sometime next year. He also said the company was exploring ways of sharing the technology itself with other scientists.
DeepMind is a research lab. It does not sell products directly to other labs or businesses. But it could work with other companies to share access to its technology over the internet.
The lab's biggest breakthroughs in the past have involved games. It built systems that surpassed human performance on the ancient strategy game Go and the popular video game StarCraft — enormously technical achievements with no practical application. Now, the DeepMind team are eager to push their artificial intelligence technology into the real world.
"We don't want to be a leader board company," Dr. Jumper said. "We want real biological relevance."
Iron hydroxide forms more easily on mineral surfaces than previously thought – MINING.com
Nucleation and growth together are known as precipitation — and their sum has been used to predict iron hydroxide's formation behaviour. But these predictions have largely omitted separate consideration of nucleation.
In Jun's view, this means that previous results were not accurate enough.
"Our work provides an empirical, quantitative description of nucleation, not a computation, so we can provide scientific evidence about this missing link," the researcher said.
By using X-rays and a novel experimental cell she developed to study environmentally relevant complex systems with plenty of water, ions and substrate material, Jun was able to observe nucleation in real-time.
The work consisted of employing an X-ray scattering technique called "grazing-incidence small-angle X-ray scattering." By shining X-rays onto a substrate with a very shallow angle, close to the critical angle that allows total reflection of light, this technique can detect the first appearance of nanometer size particles on a surface.
The empirical measuring of the initial point of nucleation revealed that the general estimates scientists have been using overstate the amount of energy needed for this process.
"Iron hydroxide forms much more easily on mineral surfaces than scientists thought because less energy is needed for nucleation of highly hydrated solids on surfaces," Jun said.
According to the scientist, her findings can help better understand processes related to water quality at acid mine drainage sites, the reduction of membrane fouling and pipeline scale formation, and the developing of more environmentally friendly superconductor materials.
War in Space: Rules-based cooperation is only way to keep space peaceful – The Jerusalem Post
In 2019, US President Donald Trump declared that "space is the new war-fighting domain." This followed the creation of the US Space Force and a commitment to "American dominance" in outer space.Other space-faring nations, and those who fear the acceleration of an arms race in space, were greatly concerned. At the latest meeting of the United Nations Committee on the Peaceful Uses of Outer Space, states noted with alarm that "preventing conflicts in outer space and preserving outer space for peaceful purposes" is more necessary than ever.The presumed election of Joe Biden as the next US president and Kamala Harris as vice-president suggests there is cause for hope. The future of space may look more like the recent launch of NASA's SpaceX Crew-1 mission to the International Space Station.Onboard were US and Japanese astronauts, who joined Russian and US crews already living aboard the ISS. As the Falcon 9 rocket soared into space, the collaborative, cooperative and commercial nature of space was once again clear for all to see.The incoming Biden-Harris administration appears more interested in international cooperation, and much more cognizant of the challenges of climate change, pandemics and other global issues. A carefully calibrated space policy can do much to address "terrestrial" challenges, while still allowing for many positive space activities.Since 1967, human activity in space has been guided by the widely accepted principles embedded in the Outer Space Treaty. Ratified or signed by more than 130 countries, it has ensured we have had no military conflict in space, and requires the exploration and use of space "for the benefit and in the interests of all countries."Any alternative vision of the future of space is dreadful to consider. Rhetoric about the inevitability of "war in space" makes such conflict more likely and risks a "tragedy of the commons" in space.Any space war would have no clear winner. In a complex, globally shared arena such as space, it is important that states abide by accepted rules and established practices.The US has great scientific and technological advantages and a robust and competitive commercial space sector. Instead of seeking dominance, it can better serve the world (and itself) by focusing its leadership on harnessing space for the benefit of all humankind.In a promising sign, Biden and Harris's NASA review team is composed of an outstanding group of space scientists as well as a former astronaut.The current administration re-established the National Space Council, which is chaired by the vice president, and this has reinvigorated American investment and leadership in space exploration. This includes an ambitious plan to return to the Moon under the terms of the Artemis Accords.To ensure that the fragile and shared domain of outer space does not become an arena for conflict, the rules that apply to any military uses of space need to be understood, respected and further developed. Failure to do so could lead to devastation, disruption and impact on civilian lives, particularly in the largest and most powerful countries like the US, whose economies and societies are heavily dependent on space infrastructure. Their access to space has given them the greatest competitive advantage, but they are therefore the most vulnerable if that access is compromised.Space is a "congested, contested and competitive" area where scientific, commercial and economic interests converge, as well as military and national security concerns. In this sense, space is like the radio frequency spectrum, which has been successfully regulated and managed for decades under international rules adopted through the International Telecommunication Union.But space is also much more. As the recent Crew-1 mission demonstrated, there are significant benefits when nations come together and cooperate. Enlightened leadership, guided by commonly agreed laws and practices – and a recognition that we share outer space as custodians for future generations – is the only realistic way forward.