NASA Finds Billion-Year-Old Sand Dunes Preserved on Mars, And They Look Familiar – ScienceAlert
Tucked away in a canyon on Mars, scientists have discovered a windswept field of solid sand, which turned to rock roughly a billion years ago.
Despite being heavily eroded, this frozen plain of palaeo-dunes has withstood time remarkably well, much more so than fossilised waves of sand on Earth, which are subject to the whims of wind, water, and the shifting landscapes of deep time.
Understanding how these duneforms stood the test of time could give us insight into the sedimentary processes on Mars and reveal something about the planet's geologic history at the same time.
"This level of preservation is rare for terrestrial sand dunes due to ongoing erosion and tectonics," explains planetary scientist Matthew Chojnacki from the Planetary Science Institute.
"Based on the dune deposit's relationships to other geologic units and modern erosion rates we estimate these to be roughly a billion years old."
(NASA/JPL/University of Arizona)
Today on Mars, sand dunes, whipped up by wind, are a common feature, and the size and arrangement of those fixed in place in the widest part of the Valles Marineris canyon – the Melas Chasma – look remarkably similar to ones formed more recently.
This suggests the climate and atmosphere on Mars has changed little in a very, very long time. Astronomers say the orientation, length, height, shape and slope of the Melas Chasma palaeo-dunes all resemble recently-made waves of sand seen elsewhere on the Red Planet.
"This indicates the major wind directions that are responsible for the dunes' shape have not changed substantially over time," Chojnacki told EarthSky.
"We also see very similarly sized and spaced sand dunes from the two time periods. This may indicate the atmospheric pressure wasn't significantly different."
Using images from the High Resolution Imaging Science Experiment (HiRISE) and Martian topography data, researchers have documented and dated the bedform properties of Melas Chasma.
Although the topography of this canyon is still incomplete, as some of the dunes have eroded away or been buried, the paleo-dunes we can decipher "do not paint a dramatically different picture than what can be gained from their modern counterparts," the researchers explain.
The authors found some dunes were buried under tens of metres of material, which appeared to come from a catastrophic volcanic event.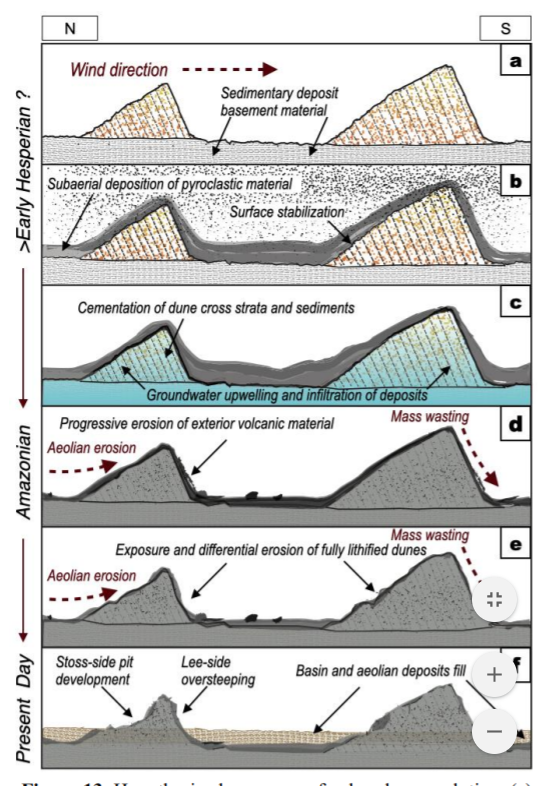 (Chojnacki et al., JGR Planets 2020)
Sometime afterwards, the authors predict, a volatile compound came into contact with the compacted sand dunes and helped harden them, freezing the waves in time as they migrated across the Melas Chasma.
This same sort of process can be seen on Earth when groundwater invades a partially buried sand dune – formed layers of lithified sand like those famous striped structures seen in Zion National Park. Unlike our planet, however, lithified sand dunes on Mars have far fewer elements to contend with.
In the absence of water, vegetation or plate tectonics, exposure to trade winds is the main eroder on Mars, and over deep time, this has helped chisel back the volcanic shell that once covered these dunes.
Close up of sand dunes taken by HiRISE Camera. ( NASA/ JPL-Caltech/University of Arizona)
The mere existence and degree of preservation seen in these dunes indicates an important difference in the landscape evolution of Earth and Mars.
While ancient lithified sand dunes on Earth are rare to find and much more eroded, the Melas Chasma appears to possess "extensive paleo-dune fields scattered across the basin floor, where many duneforms and their morphology appear largely intact."
"Water and tectonics that constantly reshape the surface of Earth are not currently a factor on Mars, thus there is an opportunity to learn from the geologic record of the red planet," says Chojnacki.
"These results inform us that wind-driven sand transport, deposition, and lithification have occurred throughout much of Mars' recent history and illustrate how landscape evolution there greatly differs compared to that of Earth."
The study has been published in JGR Planets.
Hubble telescope gives closer look at rare asteroid worth $10,000,000,000,000,000,000 – CBS News
There's an extremely rare metallic asteroid lurking between Mars and Jupiter, and it's worth more than the entire global economy. Now, the Hubble Space Telescope has given us a closer look at the object, which is worth an estimated $10,000 quadrillion.
A new study this week in The Planetary Science Journal delves deeper than ever before into the mysteries of the asteroid 16 Psyche, one of the most massive objects in the solar system's main asteroid belt orbiting between Mars and Jupiter, about 230 million miles from Earth. It measures about 140 miles in diameter — roughly the size of Massachusetts.
Most asteroids are made of rocks or ice. But 16 Psyche is dense and mostly made of metal, possibly the leftover core of a planet that never succeeded in forming — a so-called "protoplanet," which had its core exposed following hit-and-run collisions that removed the body of its mantle.
The study marks the first ultraviolet (UV) observations of the celestial object. New data reveals the asteroid may be made entirely of iron and nickel — found in the dense cores of planets.
"We've seen meteorites that are mostly metal, but Psyche could be unique in that it might be an asteroid that is totally made of iron and nickel," lead author Dr. Tracy Becker said in a statement. "Earth has a metal core, a mantle and crust. It's possible that as a Psyche protoplanet was forming, it was struck by another object in our solar system and lost its mantle and crust."
Scientists studied the asteroid at two points in its rotation in order to view the details of both sides completely at UV wavelengths. They found the surface could be mostly iron, but warned that even a small amount of iron would dominate UV observations.
"We were able to identify for the first time on any asteroid what we think are iron oxide ultraviolet absorption bands," Becker said. "This is an indication that oxidation is happening on the asteroid, which could be a result of the solar wind hitting the surface."
Solar wind is the flow of charged particles from the sun's upper atmosphere, called the corona, throughout the solar system. It's responsible for the tails of comets as they soar across the sky, the formations of auroras and the possible "space weathering" of Psyche.
Researchers also said the asteroid became more and more reflective at deeper UV wavelengths, which could give some indication of its age.
"This is something that we need to study further," Becker said. "This could be indicative of it being exposed in space for so long. This type of UV brightening is often attributed to space weathering."
Metal asteroids are rare, so Psyche provides researchers with an exciting opportunity to study the inside of a planet. In 2022, NASA plans to launch the unmanned spacecraft Psyche on a SpaceX Falcon Heavy rocket to study the asteroid in an attempt to understand its history and that of similar objects — the first time a mission will visit a body made entirely of metal.
The orbiter is set to arrive at the asteroid in January 2026 to study it for nearly two years. The mission's leader at Arizona State University estimates that the iron alone on today's market would be worth $10,000 quadrillion — that's a one followed by 19 zeroes.
"What makes Psyche and the other asteroids so interesting is that they're considered to be the building blocks of the solar system," Becker said. "To understand what really makes up a planet and to potentially see the inside of a planet is fascinating. Once we get to Psyche, we're really going to understand if that's the case, even if it doesn't turn out as we expect. Any time there's a surprise, it's always exciting."
Researchers told CBS News in 2017, when the mission was confirmed, that they don't plan to take advantage of the value of the asteroid's composition.
"We're going to learn about planetary formation, but we are not going to be trying to bring any of this material back and using it for industry," Carol Polanskey, project scientist for the Psyche mission, said at the time.
There is water on the moon – Chemical & Engineering News
Using a telescope flying on a 747, astronomers say they have definitive evidence of water molecules on sunlit moon surfaces (Nat. Astronomy 2020, DOI: 10.1038/s41550-020-01222-x).
It wasn't long ago that scientists thought the moon was completely dry. Then, in 2009, a trio of papers reported spectroscopic evidence of O–H bonds in sunny areas, although researchers couldn't say if these belonged to water or hydroxyl substituents on other molecules. In 2018, scientists reported ice in shaded craters.
The 2009 results were based on IR signals near 3 µm because that's what the spacecraft used could measure. Water has an unambiguous IR signal at 6 µm.
Honniball and her colleagues observed the 6 µm signal on the sunlit lunar surface at high southern latitudes but not at lower latitudes. Previously, scientists assumed solar radiation would either destroy water molecules or push them to colder regions. Based on the new data, the team calculated that the moon's surface is 100–400 parts per million water. But Honniball stresses that the moon is still a very dry place: its surface is probably about 100 times as dry as Sahara Desert sand.
The water they observed is neither ice nor liquid; it exists as lone molecules. The researchers don't know whether these molecules are trapped inside glasses formed by meteorite impacts or tucked between grains of lunar dust. Honniball says they are planning follow-up observations that might nail that down. Water could be brought to the moon on meteorites, form during meteorite impacts, or come from inside the moon.
The group has applied for more trips on SOFIA to try to map the majority of the moon's near side at different times. That could reveal more about the water molecules' location and sources and might also show how water moves around the moon's surface. "They deserve more time" to answer these questions, Sunshine says.
Arctic sea ice at record low October levels: Danish researchers – Al Jazeera English
For the month of October, measurements show an 8.2 percent downward trend in ice over the last 10 years.
Sea ice in the Arctic was at record lows for October as unusually warm waters slowed the recovery of the ice, Danish researchers said on Wednesday.
Diminishing sea ice comes as a reminder about how the Arctic is hit particularly hard by global warming.
Since the 1990s, warming has been twice as fast in the Arctic compared to the rest of the world, as a phenomenon dubbed "Arctic amplification" causes air, ice and water to interact in a reinforcing manner.
"The October Arctic sea ice extent is going to be the lowest on record and the sea ice growth rate is slower than normal," said Rasmus Tonboe, a scientist at the Danish Meteorological Institute (DMI), noting the record was unequalled for at least 40 years.
According to preliminary satellite data used by the institute, sea ice surface area was at 6.5 million square kilometres (2.5 million square miles) on October 27.
Every year, some of the ice formed in the Arctic waters melts in the summer.
It usually reaches a low point of about five million square kilometres (1.9 million square miles), but then reforms to cover about 15 million square kilometres (5.7 million square miles) in winter.
Warmer temperatures are now reducing both the summer and winter extent of the ice.
Satellite data has been collected to monitor the ice precisely since 1979 and the trend towards a reduction is clear.
For the month of October, measurements show an 8.2 percent downward trend in ice over the last 10 years.
Warmer than normal
Already in September, researchers noted the second-lowest extent of sea ice recorded in the Arctic, though not quite hitting the low levels recorded in 2012.
But warmer-than-normal seawater slowed the formation of new ice in October.
Water temperatures in the eastern part of the Arctic, north of Siberia, was 2 degrees Celsius (35.6 degrees Fahrenheit) to 4C (39.2F) warmer than normal, and in Baffin Bay, it was 1-2C warmer, DMI said in a statement.
The institute said this was following a trend observed in recent years, which was described as a "vicious spiral".
"It's a trend we've been seeing the past years with a longer open-water season making the sun warm the sea for a longer time, resulting in shorter winters so the ice doesn't grow as thick as it used to," Tonboe said.
Since the melting ice is already in the ocean it does not directly contribute to the rise in sea levels.
But as the ice disappears sunlight "gets absorbed in the ocean, helping to further warm the Earth", said Claire Parkinson, a climate scientist at NASA.
Direct heating
Thus, with less ice reflecting sunlight, oceans are heated directly.
Over the last 40 years, the Arctic has also become more of a strategic interest to world powers.
Less ice in certain areas has opened up new maritime routes, which are destined to play a larger role in international trade, meaning a larger financial stake for Arctic state actors.
The region is also estimated to house 13 percent of the world's oil reserves and 30 percent of undiscovered natural gas deposits.
Germany's Potsdam Institute for Climate Impact Research (PIK) said on Tuesday under current levels of atmospheric CO2 – about 400 parts per million – the melting of Arctic sea ice would raise global temperatures by 0.2C (32.3F).
That is on top of the 1.5C (34.7F) of warming our current emissions levels have rendered all but inevitable, and the safer cap on global warming aimed for in the Paris climate accord.