Nelson: It's time to leave Smith's 'controversial' media track record behind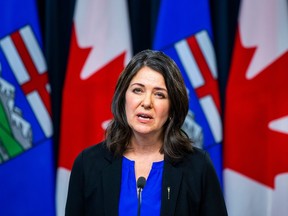 If, by some miracle, I were elected to public office, my first action would be to demand a recount.
Because, as Dirty Harry Callahan once intoned, during the cinematic culmination of Magnum Force: a man's got to know his limitations.
Well, it doesn't need Clint Eastwood to explain mine, certainly not when it comes to any political ambition, even though newspaper columnists have been on an electoral roll recently — first Boris Johnson in the U.K. and now Danielle Smith here in Alberta.
Because there's a huge gulf between the simplistic solutions column-writing or talk show hosting encourage and the complexity involved in running any sizable constituency. A flair for words and grandiose promises will soon collide head-first with the reality of balancing multiple competing interests and judging endless shifts in the general mood of those you're expected to serve and not just entertain.
Yes, it's a whole different ball game, which Premier Smith quickly rediscovered while settling into her new role.

Speaking days after becoming premier she described the COVID-19 unvaccinated as the most discriminated against bunch in her lifetime. Wow! It sounded more like an opinion page column or an intro to a talk show segment than the usual boilerplate pronouncement from a new leader.

The outrage stirred seemed genuine enough — though some undoubtedly revel in exuding permanent umbrage — and Smith probably deserved the public mauling. After all, she was speaking as premier.

Yet it's different when opponents constantly regurgitate things Smith wrote or said during her previous media work, an occupation demanding controversy as a job requirement. Sure, people say they want good news and unbiased coverage, but columnists and talk show hosts seeking refuge beneath the bland phrase "on the other hand" soon find themselves rediscovering the joys of covering late-night council meetings or reading the weather forecast.
Smith is no dummy, so it didn't take long to understand the flavour had shifted beneath her tongue. (Not being her first go-round on the political carousel, after all.)

She realizes each time announcing anything as premier — and she's announced a boatload lately — opponents will dig out some earlier statements on that same issue and, given the abundance of her publicly available material, it then becomes the political equivalent of shooting fish in a barrel.

"Having spent decades in media and hosting talk shows, I discussed hundreds of different topics and sometimes took controversial positions, many of which have evolved or changed as I've grown and listened to you," is how she framed it last week, after a provincewide announcement involving a multibillion-dollar giveaway to soften the effects of rising prices.
See, it didn't take long. She's taking refuge in the politicians' handy-dandy dictionary — evolving, listening and changing with the best of them. Of course, still being a columnist, I'd have simply said: "That was then, this is now. Get over it." (Reference that earlier bit about knowing your limitations.)

Meanwhile, Smith also executed a neat political pincer movement upon NDP Leader Rachel Notley — flying so high just weeks ago — by essentially stealing the Dippers' platform.

Hey, money for families, money for seniors, money for AISH folk, money for food banks, rebates on electricity, taxes axed on gasoline, subsidized low-income bus passes, more cash promised for front-line health-care delivery. It was a smorgasbord of caring, sharing giveaways, leaving the NDP Opposition with little complaining room other than suggesting yet bigger bribes for your future vote.
And no mention of COVID. While the somewhat inflammatory proposal of a Sovereignty Act was watered down to become the Alberta Sovereignty Within A United Canada Act. (Seems a bit like a kiss on the cheek from your sister after hoping for a hot date with the neighbourhood beauty, doesn't it.)

Oh well, such is politics. In the end, every participant has one goal: to be elected. Danielle Smith the columnist/radio talk show host is gone. Premier Smith has entered the room.

That was then, this is now. Get over it. (And don't forget: never vote for me.)

Chris Nelson is a regular columnist for the Calgary Herald.
Media pluralism, diversity of opinion and the capacity to tackle major issues have been developing in Seychelles media over the past decade or so.
Since the introduction of the multiparty politics, the practice of self-censorship has slowly dissipated. Reporters Without Borders (RSF) says that state-owned media outlets no longer shy away from criticising the government or from reporting on corruption.
In October 2021, the national assembly decriminalized defamation.
BBC World Service (106.2 MHz) and Radio France Internationale are available on FM.
There were 71,000 internet users by December 2021, comprising 72% of the population (Worldinternetstats.com).
SBC TV – state-run, operated by Seychelles Broadcasting Corporation (SBC)
TéléSesel – launched in 2017, is the country's sole private network
Hong Kong journalists regroup abroad
When Hong Kong's pro-democracy news outlets Apple Daily and Stand News were forced to close by authorities in 2021 under a sweeping Beijing-led crackdown on dissent, Jane Poon made herself a promise.
Poon, a Hong Konger who worked in the city's media for nearly three decades before moving to Australia in 2017, promised to do whatever she could to keep the spirit of the defunct outlets alive.
After more than a year of planning, Poon's vision became a reality in mid-January with the launch of The Points, a new online media outlet dedicated to covering news about Hong Kong and its growing diaspora.
Based entirely overseas, The Points, which publishes in Chinese, hopes to fill the gap left by the demise of most independent media in Hong Kong, where journalists now face the risk of arrest and imprisonment for coverage considered critical of Beijing.
The Points's staff is made up of former employees of Hong Kong media, including Apply Daily and Stand News, who moved overseas amid the city's crackdown on press freedom and other civil liberties.
With staff in Australia, Canada and the United Kingdom, the outlet hopes to be the first 24-hour news operation for Hong Kong that is based outside the city.
The Points's recent coverage includes the Hong Kong Legislative Council's unannounced decision to redact the names of legislators in transcripts of official proceedings, and a recent meeting between Hong Kong activists and Australia's Minister of Foreign Affairs Penny Wong.
"As some Hong Kong journalists disperse to other places, I think that although the Hong Kong media is in a difficult situation, it might also be a chance to turn a crisis into an opportunity," Poon, who worked for Apple Daily's parent company as the head of digital news for Next Magazine, told Al Jazeera.
"We could set up a media platform for the journalists in various places who may work together to cover stories across countries for the Hong Kong diaspora, and also cover stories which are not allowed to be published in Hong Kong anymore."
Media hobbled
Hong Kong, a British colony for more than 150 years before its return to Chinese sovereignty in 1997, was long regarded as one of Asia's most vibrant and freewheeling media scenes until the imposition of a Beijing-drafted national security law in 2020.
Since then, most of the city's pro-democracy media have been forced to shut down or decided to close out of fear of being targeted by authorities.
Jimmy Lai, the garment-factory owner turned media tycoon who founded Apple Daily, is facing up to life in prison in a sedition and foreign collusion trial scheduled to begin in September following repeated delays.
In November, six of Lai's former employees, including Apple Daily's editor-in-chief, pleaded guilty to conspiring to collude with foreign forces by advocating for sanctions against the Hong Kong and mainland Chinese governments.
Two former editors of Stand News, which closed in December 2021 after its offices were raided by national security police, are currently on trial for sedition.
Last year, Hong Kong's global press freedom ranking plunged nearly 70 places to 148, according to Reporters Without Borders. The territory, which was promised a high degree of autonomy and civil liberties that do not exist in mainland China for at least 50 years after the handover, ranked 18th in 2002.
More than 1,500 journalists in Hong Kong have been put out of work in the crackdown, according to an analysis carried out by Bloomberg News last year, with many former media workers moving into other industries or migrating overseas.
At the same time, the growing Hong Kong diaspora — about 150,000 Hong Kongers have moved to the UK alone since the passage of the National Security Law – has created opportunities for new ways to report on Hong Kong.
The Points follows the launch of a number of other Hong Kong-focused outlets located abroad, including Flow HK, which is based in Taiwan, and Commons Hong Kong, which is based in the UK and Taiwan.
"There's always a need for a vibrant, independent press. It's hopeful to see resilient journalists inside and outside Hong Kong continue their excellent journalism," Iris Hsu, China representative for the Committee to Protect Journalists, told Al Jazeera.
"If the overseas media outlets provide a safer platform for Hong Kong's critical journalism that has been under attack for years, it would help preserve Hong Kong's press freedom and slow the government's deliberate erosion of checks and balances of power."
The Hong Kong government has repeatedly insisted that the city's press freedom remains intact. Hong Kong's leader John Lee last year said there was no need to talk about defending press freedom because it "exists and we attach great importance to press freedom".
Reaching across the divides
For now, The Points has a modest size and reach.
The outlet relies on six full-time journalists and freelancers, according to Poon, who said the website attracts about 3,000-4000 readers each day, although that number is growing fast.
Finn Lau, The Points's executive director, said the outlet relies on a small pool of reader donations to pay its staff and is exploring other sources of revenue, which could include government grants or wealthy donors.
"Financial sustainability is one of the key issues, that's why it took us around 15 months to prepare our media before launch," Lau told Al Jazeera. "For the upcoming two years, our top priority must be to get the media [outlet] to be financially sustainable."
Despite its links to Apple Daily, The Points is also keen to reach Hong Kong people from across the political spectrum and to avoid charges of political bias and sensationalism that critics levelled at the defunct tabloid, said Lau, a Hong Kong activist known for his opposition to Beijing.
"We don't want to overly politicise our media outlet," said Lau, who popularised a protest strategy of escalating violence known as "Lam Chau" during anti-government protests in 2019 and 2020.
"On the other hand, we don't want to self-censor. So we are trying to find a dedicated balance between being a tabloid or being a so-called … intellectual newspaper."
Apart from financial challenges, The Points has had trouble getting the word out on social media.
Soon after its launch, the outlet's Twitter account was suspended without warning or explanation, Lau said.
Lau said the account had not violated Twitter's terms of service, but it may have been targeted with vexatious complaints by pro-Beijing figures or fallen victim to the shortage of staff at the platform following Elon Musk's takeover. The account has yet to be reinstated.
"We are very frustrated with Twitter and we are still considering what we should do with this platform," he said.
Still, Lau has big ambitions for the media outlet.
"I am rather optimistic about the visibility of this project. Actually I am a pragmatic dreamer," he said. "That's why I believe it might take one or two years to stabilise."
For Poon, the launch of The Points is about more than upholding press freedom. She hopes the outlet can help preserve Hong Kong's distinct culture and values.
"We have our next generation. We have to look after our children," she said.
"That's why it's important to have our own media, to tell our own stories. Then our history and everything can be given down to our next generation."
'More uncertainty': Sask. journalists weigh in on changing print media landscape
As large corporations make headlines showcasing an apparent decline in Canada's newspaper industry, Kevin Weedmark and the Moosomin World-Spectator continue to thrive.
Weedmark purchased the southeast Saskatchewan weekly paper in 2002, with a circulation of 1,700. Today, that number sits around 5,000, bringing overall circulation to 43,000 when the publisher's two additional regional papers are included.
"When I bought this newspaper, I didn't think of it as a business-first. I thought of it as a community service-first," Weedmark said Monday.
"There's nothing magical about Moosomin, or what we've done here, that you couldn't do anywhere. I mean, a proper newspaper that's there to serve its community first is going to be successful."
It's a stark contract to the reality playing out for some major papers owned by Postmedia Network Corp.
The company announced last week it is laying off 11 per cent of its editorial staff, among other changes to printing presses, office spaces and publishing schedules.
Postmedia employs about 650 journalists across Canada, and also owns Saskatchewan's two major urban daily newspapers: the Saskatoon StarPhoenix and the Regina Leader-Post.
It's selling the historic StarPhoenix building and all remaining journalists will work from home. The papers' printing press will also be moved from Saskatoon to Estevan, Sask., located around 200 kilometres southeast of Regina.
Blue Sky50:02What does the future of newspapers in Saskatchewan look like?
It's a time of great change for Saskatchewan's two biggest daily papers and those changes are very alarming for the people who work at those papers and those who depend on them for local news. Today on the show we take a look at what is to blame for the latest Postmedia problems and we talk to weekly newspaper editors across this province who say the future is hyper-local. We heard from Journalism professor Patricia Elliott, Moosomin world spectator Editor Kevin Weedmark, Prince Albert Daily Herald Editor Jason Kerr, and Steve Nixon Executive Director of the Saskatchewan Weekly Newspapers Association.
Austin Davis, a journalist with the Regina Leader-Post since 2014, tweeted about the changes on Jan. 25.
"It's more uncertainty for beleaguered, resilient newsrooms and hardworking reporters," Davis wrote.
"I can't and won't defend these decisions. In nine years, I've seen dozens of colleagues take buyouts or leave due to burnout, stress and low pay. The survivors are expected to continue publishing the same standard of product. It is impossible."
'Maddening and frustrating'
Trish Elliott, a distinguished professor of investigative and community journalism at First Nations University of Canada and an executive member of J-Schools Canada, wrote an opinion editorial for CBC Saskatchewan published Monday and joined Blue Sky later that day to share her thoughts.
"It's just madding and frustrating. The state of media concentration in Canada has been this like growing train wreck," Elliott told CBC's Heather Morrison.
"It seems like every 10 years we have a commission saying that the way media is owned here needs to be better regulated. But nothing ever happens."
Elliott pointed to the fact her local newspaper in Saskatchewan is currently owned by a hedge fund in the U.S.
"We're not being protected from foreign ownership, obviously, as the majority shareholders are in the U.S. for Postmedia. And again that is a regulatory failure," she said.
Steve Nixon, the executive director of the Saskatchewan Newspapers Association, also pointed out the impact large corporations are having on the overall state of print media.
"Good journalism costs money," Nixon said.
"The money that's being used to pay journalists is being sucked out, mainly, by two major companies, neither of which are owned by a Canadian entity."
Independent daily seeing success
Jason Kerr is the editor of the employee-owned and operated Prince Albert Daily Herald, one of Canada's few independent daily newspapers.
In 2017, a group of employees reached a tentative deal to buy the paper from Star News Publishing Inc., preventing the paper from folding. The deal was completed on May 1, 2018, with the Prince Albert Herald beginning operation under FolioJumpline Publishing Inc.
"It's definitely been a lot of work, but it's been very rewarding and the community has responded by backing us," Kerr said.
Kerr, who has worked at the paper since 2015, said being employee-owned and operated has allowed the paper to focus in on local stories and support community events.
Still, he noted the number of newspapers in northern Saskatchewan has been on a slow decline. He pointed to the end of the La Ronge Northerner, a weekly paper that closed after 41 years in 2015.
"It just left a huge gap, so there's not a lot if you want to get your news from a print newspaper," Kerr said, adding the north is often referred to as a "media desert."
"A place where there's just a ton of stuff happening, a ton of news, both good and bad, that's going unreported because there aren't enough reporters up there."
The independent publishing company behind the Herald has looked to fill that void. It prints a monthly stand-alone newspaper called The Northern Advocate, which is distributed across northern Saskatchewan and Manitoba.
Kerr said the other great thing about being an independent entity is having the choice to reinvest in the community and support local events.
"There's really no discussion," he said. "We just look at and go, 'Yeah, this is something we want to support and we support it.'"