New Apps Aim to Douse the Social Media Dumpster Fire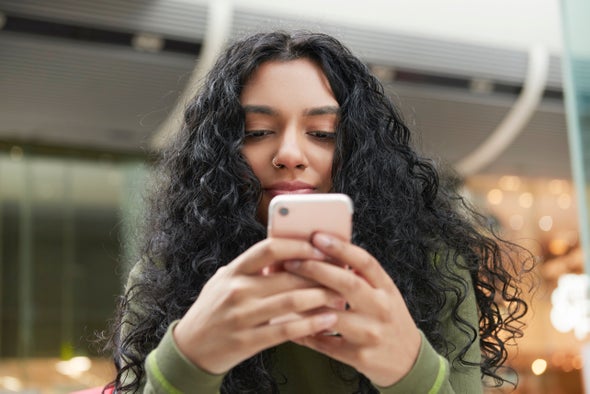 After Elon Musk's recent acquisition of Twitter, many habitual tweeters announced their intentions of switching to other social platforms. Some blamed their defection on fears of an increase in hate speech and misinformation on the site. But even before the takeover, social media platforms such as Twitter already had a major problem that was driving users away: they make people miserable.
So some companies are developing new social apps that aim to foster a positive online environment—and they have gained a significant number of users. But despite their good intentions, these new platforms may be interpreted simply as marshmallows toasting over the metaphorical "dumpster fires" of social media: They can make the experience taste a little sweeter, but without a shift in people's behavior, these alternatives might just melt into the unavoidable flames.
On most social platforms, users can browse through a seemingly endless series of posts, which are ordered by algorithms. The software prioritizes content that will keep people scrolling, so it promotes posts that draw "engagement" in the form of likes, shares or comments. This gives an edge to divisive or outrageous content that grabs attention, whether or not that attention is negative. As a result, many people feel compelled to keep scrolling through their feed, even as it serves up posts that inspire disgust, fatigue and depression. But giving up a platform altogether can cut people off from their friends and even induce anxiety. In an attempt to foster a more positive online atmosphere, apps such as Facebook and Twitter continually adjust their moderation policies, but this has not entirely eliminated misinformation or hateful content. That's because the very format of these platforms—an algorithm-driven news feed that rewards posters for stirring up negative emotions—incentivizes these types of posts.
Now there are other options. Last year two social apps that eschew this format rose to popularity. These apps, called Gas and BeReal, both eliminate certain elements of other social media platforms: algorithms that spotlight controversial content and an endless feed that encourages people to spend too much time on the app. Gas rewards only positive content, while BeReal sets strict limits on how often users can post. And that's not the only way they aim to improve the digital experience.
Gas, named after "gassing up," a slang term for complimenting someone, tries to cut down on toxic social media discourse by amplifying positivity. App users earn digital rewards by voting for the best compliments about their friends in anonymous polls. As stated on its website, Gas's developers Nikita Bier, Isaiah Turner and Dave Schatz "wanted to create a place that makes us feel better about ourselves." The app also emphasizes privacy: it doesn't allow direct messaging—a common channel for bullying and harassment—and the polls are populated with automatically generated compliments and voted on anonymously (although paid app subscribers can view select voters' initials). This blue-sky approach seems to be working. Though the app is only available in 12 states, and only on iPhones, Gas has already had more than five million downloads since its launch last August, at one point overtaking the popular social media platform TikTok as the number-one download from Apple's App Store. Amid Gas's popularity, in mid-January popular social and messaging platform Discord announced it had purchased the app.
Some people may gravitate toward Gas because they know that they will only see good things on it, according to David Bickham, a pediatric medicine instructor and research scientist at the Digital Wellness Lab at Boston Children's Hospital. He says a positive social experience comes from "moving toward [app] designs that increase the autonomy of the user, giving them more control over the type of content that they're exposed to." But some experts are wary that even apps like Gas, which seem to have good intentions for users, can still create sustained negative impacts. For instance, education writer Alyson Klein pointed out in a recent Education Week article that Gas polls could be used as a popularity contest or even a sarcastic jab, such as by praising someone for a talent they clearly are bad at, leading to bullying and hurt feelings. Last year, social media and technology writer Neil Hughes wrote in Cybernews, "Conditioning our minds and behavior toward constant approval from online engagement or being mentioned in a Gas poll could arguably increase anxiety rather than remove it." Other critics don't feel right about using compliments as a type of digital currency, or "datafying" this positive practice, in the words of Mariek Vanden Abeele, a professor of digital culture at Ghent University in Belgium. "What is difficult for me is that you're commodifying the act of giving a compliment," she says. "As soon as you start datafying the behavior, you risk losing something." Gas initially responded to an inquiry from Scientific American but has not provided specific comment at press time.
Rewarding compliments is not the only way applications are trying to foster positivity. The new platform BeReal, for instance, emphasizes authenticity and time limits. It strives for an authentic experience by giving users one random two-minute window daily in which to post an unfiltered photograph. And only after a user has made their daily post can they see what others posted.
Bickham says this more authentic experience "is really important because it's sort of a requirement for the type of openness necessary for positive interactions." For adolescents still trying to find their identity, BeReal may offer a safe place to explore. "We have an idea that being authentic is like being your true self," Bickham says. Like Gas, this app's positive approach seems to be meeting with some success. Co-founded by Alexis Barreyat and Kévin Perreau in 2020, BeReal took off in popularity last September and gained about 50 million downloads globally in 2022.
BeReal is not without its own controversy, however. Its notifications can produce pressure to post every day. This pressure to participate in social media communication, which Vanden Abeele and others call "online vigilance," can easily cause anxiety in users. Experts have also expressed concerns that BeReal's alerts may come at inappropriate or intrusive times. Furthermore, the two-minute time limit adds more pressure to post, especially when users want to view what others have posted. Some may already be experiencing this kind of pressure: only 9 percent of Android phone users who downloaded BeReal opened the app last August, September and October. BeReal declined to comment on this story.
On their own, these apps are unlikely to completely solve many of the problems that plague social media as a whole. But people can still have a better online experience by changing the way they use any social platforms. Nearly all the experts interviewed for this article recommend less passive scrolling and more active connection. "When you think about apps that … lower our sense of well-being, it's often because the apps either add friction—think tech glitches, digital overload, or cyberbullying—or they pull us away from being our best selves, causing us to be more distracted, less rested, less focused or less connected to others," says Amy Blankson, CEO of the mental health and productivity consulting organization Digital Wellness Institute.
"Overall, positively and actively interacting with friends—by messaging them, sending them videos, etcetera—on social media may be better than just passively scrolling a central news feed, where you may feel jealous of influencers who appear to have everything," says Lisa Walsh, a social psychology and happiness researcher at the University of California, Los Angeles.
Although Hughes previously criticized some aspects of these positivity-focused apps, he does note that the rise in their popularity may represent a shift in attitudes toward social media—at least among younger users. "It feels like kids know that obsessing over somebody else's highlight reel is a waste of time and that nobody has a perfect life," he says. "As a result, they crave a more authentic experience and collaborate and lift others up rather than making it all about themselves." That's a mindset that might make all of us happier socially. Or, as Hughes puts it, "Maybe their parents could learn a thing or two from their kids."
Utah's ambitious social media law
Utah's sweeping social media legislation passed this week is an ambitious attempt to shield children and teens from the ill effects of social media and empower parents to decide whether their kids should be using apps like TikTok or Instagram.
What's not clear is if — and how — the new rules can be enforced and whether they will create unintended consequences for kids and teens already coping with a mental health crisis. And while parental rights are a central theme of Utah's new laws, experts point out that the rights of parents and the best interests of children are not always aligned.
For instance, allowing parents to read their kids' private messages may be harmful to some children, and age verification requirements could give tech companies access to kids' personal information, including biometric data, if they use tools such as facial recognition to check ages.
"Children may be put at increased risk if these laws are enforced in such a way that they're not allowed to some privacy, if they are not allowed some ability for freedom of speech or autonomy," said Kris Perry, executive director of the nonprofit Children and Screens: Institute of Digital Media and Child Development.
The laws, which will go into effect in a year, impose a digital curfew on people under 18, require minors to get parental consent to sign up for social media apps and force companies to verify the ages of all their Utah users. They also require tech companies to give parents access to their kids' accounts and private messages, which has raised alarms for child advocates who say this could further harm children's mental health by depriving them of their right to privacy. This is especially true for LGBTQ2S+ kids whose parents are not accepting of their identity.
The rules could drastically transform how people in this conservative state access social media and the internet, and if successful, serve as a model for other states to enact similar legislation. But even if the laws clear the inevitable lawsuits from tech giants, it's not clear how Utah will be able to enforce them.
Take age verification, for instance. Various measures exist that can verify a person's age online. Someone could upload a government ID, consent to the use facial recognition software to prove they are the age they say they are.
"Some of these verification measures are wonderful, but then also require the collection of sensitive data. And those can pose new risks, especially for marginalized youth," Perry said. "And it also puts a new kind of burden on parents to monitor their children. These things seem simple and straightforward on their face, but in reality, there are new risks that may emerge in terms of that that collection of additional data on children."
Just as teens have managed to obtain fake IDs to drink, they are also savvy at skirting online age regulations.
"In Southeast Asia they've been trying this for years, for decades, and kids always get around it," said Gaia Bernstein, author of "Unwired," a book on how to fight technology addiction.
The problem, she said, is that the Utah rules don't require social networks to prevent kids from going online. Instead, they are making the parents responsible.
"I think that's going to be the weak link in the whole thing, because kids drive their parents insane," Bernstein said.
There is no precedent in the United States for such drastic regulation of social media, although several states have similar rules in the works.
On the federal level, companies are already prohibited from collecting data on children under 13 without parental consent under the Children's Online Privacy Protection Act. For this reason, social media platforms already ban kids under 13 from signing up to their sites — but children can easily skirt the rules, both with and without their parents' consent.
Perry suggests that instead of age verification, there are steps tech companies could take to make their platforms less harmful, less addictive, across the board. For instance, Instagram and TikTok could slow down all users' ability to mindlessly scroll on their platforms for hours on end.
The laws are the latest effort from Utah lawmakers focused on children and the information they can access online. Two years ago, Gov. Spencer Cox signed legislation that called on tech companies to automatically block porn on cell phones and tablets sold, citing the dangers it posed to children. Amid concerns about enforcement, lawmakers in the deeply religious state revised the bill to prevent it from taking effect unless five other states passed similar laws — which has not happened.
Still, child development experts are generally hopeful about the growing push to regulate social media and its effects on children.
"Children have specific developmental needs, and we want to protect them at the same time that we're trying to push back on Big Tech," Perry said. "It's a two-part effort. You have to really put your arm around the kids while you're pushing Big Tech away."
Trans Flight Attendant Famed For United Airlines Ad Found Dead After Emotional Social Media Post
<!–
–>
Kayleigh Scott, a transgender flight attendant who gained fame after appearing in a United Airlines commercial, has died after posting an emotional note to her social media channels. According to The Independent, the 25-year-old was found dead on Monday in her Colorado home. In her Instagram and Facebook posts, she penned a heartbreaking letter to her friends and family that asked them to remember the "good memories we have shared".
"As I take my final breaths and exit this living earth, I would like to apologize to everyone I let down," Scott wrote. "I am so sorry I could not be better. To those that I love, I am sorry I could not be stronger. To those that gave me their everything, I am sorry my effort was not reciprocated. Please understand that me leaving is not a reflection on you, but the result of my own inability to turn myself for the better," the flight attendant added.
In her post, Scott also named a few of her loved ones and apologised saying, "I will see you all again on the other side".
Scott's mother, Andrea Sylvestro, confirmed her daughter died after posting the letter. In a Facebook post, Ms Sylvestro wrote, "Kayleigh Scott…I am so unbelievably proud to have you as my daughter, proud and amazed by everything that you have done in your life, your smile was absolutely beautiful, your laughter was unbelievably contagious, your heart was bigger than any of us could have ever understood."
As per The Independent, the Denver Police Department is now investigating Scott's death. The cops stated that a final determination as to the cause of death will be made by the Denver Medical Examiner's office.
Separately, United Airlines said it was saddened by the loss of Scott. "We are incredibly saddened by the tragic loss of Kayleigh Scott and extend our deepest condolences to her family, friends and coworkers," the company stated.
Notably, Kayleigh Scott made headlines in 2020 when United featured her as a part of its diversity campaign. In the clip for Trans Day of Visibility, she spoke about the importance of coming out and living authentically. "I used to be so embarrassed about being trans," she said, adding, "All I wanted was to blend in."
The following year, Ms Scott also spoke about her progress since publicly coming out as transgender. She had alluded to battling depression. " I'm really struggling to find happiness and hope. I'm begging 2023 to be better to me. Please," she wrote, as per the outlet.
Utah social media law means kids need approval from parents
SALT LAKE CITY –
Children and teens in Utah would lose access to social media apps such as TikTok if they don't have parental consent and face other restrictions under a first-in-the-nation law designed to shield young people from the addictive platforms.
Two laws signed by Republican Gov. Spencer Cox Thursday prohibit kids under 18 from using social media between the hours of 10:30 p.m. and 6:30 a.m., require age verification for anyone who wants to use social media in the state and open the door to lawsuits on behalf of children claiming social media harmed them. Collectively, they seek to prevent children from being lured to apps by addictive features and from having ads promoted to them.
The companies are expected to sue before the laws take effect in March 2024.
The crusade against social media in Utah's Republican-supermajority Legislature is the latest reflection of how politicians' perceptions of technology companies has changed, including among typically pro-business Republicans.
Tech giants like Facebook and Google have enjoyed unbridled growth for over a decade, but amid concerns over user privacy, hate speech, misinformation and harmful effects on teens' mental health, lawmakers have made Big Tech attacks a rallying cry on the campaign trail and begun trying to rein them in once in office. Utah's law was signed on the same day TikTok's CEO testified before Congress about, among other things, the platform's effects on teenagers' mental health.
But legislation has stalled on the federal level, pushing states to step in.
Outside of Utah, lawmakers in red states including Arkansas, Texas, Ohio and Louisiana and blue states including New Jersey are advancing similar proposals. California, meanwhile, enacted a law last year requiring tech companies to put kids' safety first by barring them from profiling children or using personal information in ways that could harm children physically or mentally.
The new Utah laws also require that parents be given access to their child's accounts. They outline rules for people who want to sue over harms they claim the apps cause. If implemented, lawsuits against social media companies involving kids under 16 will shift the burden of proof and require social media companies show their products weren't harmful — not the other way around.
Social media companies could have to design new features to comply with parts of the laws that prohibit promoting ads to minors and showing them in search results. Tech companies like TikTok, Snapchat and Meta, which owns Facebook and Instagram, make most of their money by targeting advertising to their users.
The wave of legislation and its focus on age verification has garnered pushback from technology companies as well as digital privacy groups known for blasting their data collection practices.
The Electronic Frontier Foundation earlier this month demanded Cox veto the Utah legislation, saying time limits and age verification would infringe on teens' rights to free speech and privacy. Moreover, verifying every users' age would empower social media platforms with more data, like the government-issued identification required, they said.
If the law is implemented, the digital privacy advocacy group said in a statement, "the majority of young Utahns will find themselves effectively locked out of much of the web."
Tech industry lobbyists decried the laws as unconstitutional, saying they infringe on people's right to exercise the First Amendment online.
"Utah will soon require online services to collect sensitive information about teens and families, not only to verify ages, but to verify parental relationships, like government-issued IDs and birth certificates, putting their private data at risk of breach," said Nicole Saad Bembridge, an associate director at NetChoice, a tech lobby group.
What's not clear in Utah's new law and those under consideration elsewhere is how states plan to enforce the new regulations. Companies are already prohibited from collecting data on children under 13 without parental consent under the federal Children's Online Privacy Protection Act. To comply, social media companies already ban kids under 13 from signing up to their platforms — but children have been shown to easily get around the bans, both with and without their parents' consent.
Cox said studies have shown that time spent on social media leads to "poor mental health outcomes" for children.
"We remain very optimistic that we will be able to pass not just here in the state of Utah but across the country legislation that significantly changes the relationship of our children with these very destructive social media apps," he said.
The set of laws won support from parents groups and child advocates, who generally welcomed them, with some caveats. Common Sense Media, a nonprofit focused on kids and technology, hailed the effort to rein in social media's addictive features and set rules for litigation, with its CEO saying it "adds momentum for other states to hold social media companies accountable to ensure kids across the country are protected online."
However, Jim Steyer, the CEO and founder of Common Sense, said giving parents access to children's social media posts would "deprive kids of the online privacy protections we advocate for." Age verification and parental consent may hamper kids who want to create accounts on certain platforms, but does little to stop companies from harvesting their data once they're on, Steyer said.
The laws are the latest effort from Utah lawmakers focused on the fragility of children in the digital age. Two years ago, Cox signed legislation that called on tech companies to automatically block porn on cellphones and tablets sold in the state, after arguments about the dangers it posed to children found resonance among Utah lawmakers, the majority of whom are members of The Church of Jesus Christ of Latter-day Saints. Amid concerns about enforcement, lawmakers ultimately revised that legislation to prevent it from taking effect unless five other states passed similar laws.
The regulations come as parents and lawmakers are growing increasingly concerned about kids and teenagers' social media use and how platforms like TikTok, Instagram and others are affecting young people's mental health. The dangers of social media to children is also emerging as a focus for trial lawyers, with addiction lawsuits being filed thorughout the country.
——
Ortutay reported from Oakland, California.