New COVID-19 cases hit record levels in the Tri-Cities last month – The Tri-City News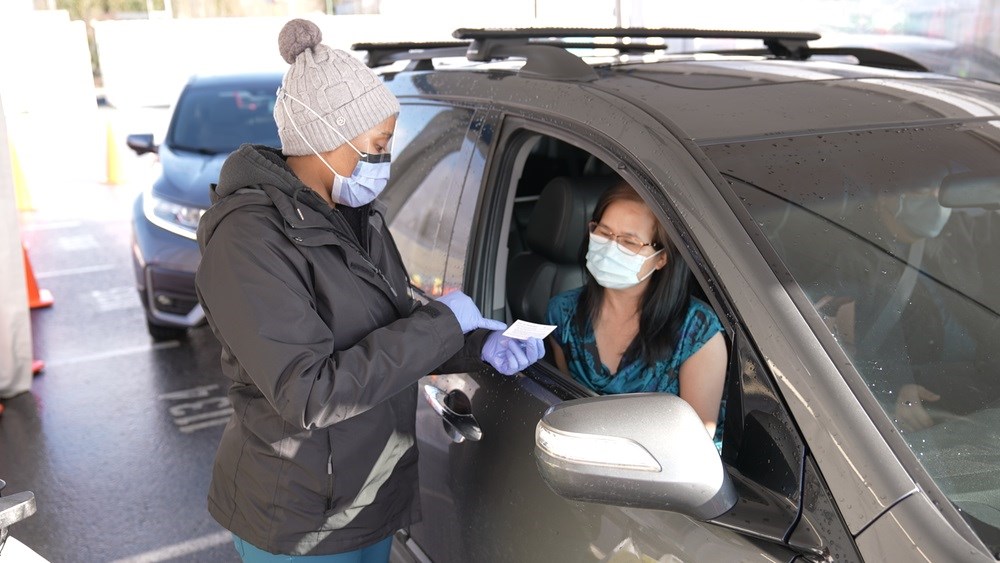 The Tri-Cities recorded 894 new cases of COVID-19 in February, the highest total since the start of the pandemic.
Confirming where the virus is spreading is less certain.
We do know the month started out with what would become a super-spreader event at a pub trivia night in Port Moody, eventually leading to the isolation of nearly 300 people.
Not long after, several members of a minor hockey club would test positive for the virus putting their season on hold.
Multiple workers at big Coquitlam grocery chains like Real Canadian Superstore and T&T Supermarket continued to test positive for the virus throughout the month, prompting exposure notifications to the public.
And in Port Coquitlam, Fraser Health maintains an active public exposure notification for a nail salon after contact tracers were unable to track down everyone who was potentially exposed over a nine-day period.
The month did not spare the Tri-Cities' health care sector. Eagle Ridge Hospital declared a COVID-19 outbreak and shut down a medical unit after 10 patients tested positive, and Shaughnessy Care Centre in Port Coquitlam declared its third outbreak despite a province-wide campaign to vaccinate those living and working in long-term care homes.
Health officials have repeatedly warned that transmission rates in the community find their way into schools. Sure enough, school exposures spiked in February by more than 370%, leading to over 100 exposures and counting.
More worrying, the arrival of several 'variants of concern' to B.C. wound their way into at least two Coquitlam area schools, one of which elected to shut its doors for three weeks after the virus infected several people.
Altogether, last month's 894 cases represent more than 25% of all cases in the three cities since July, an overall tally that rose to 3,564 by the end of February.
Those numbers show no sign of abating. On Thursday, the BC Centre for Disease Control reported new weekly COVID-19 numbers in the three cities ticked up again, rising 7% to 241 new cases in the first week of March.
At that rate, by the end of the month, March's new case count would surpass the February record total.
3 Ways to Incorporate CBD Into Your Spring Wellness Plan
Canada's cannabis market has grown significantly since it first became legal in 2018 — when the federal government legalized the plant for recreational use. Since that time, the market has developed into a variety of avenues. From edibles to beverages and beyond, the number of legal products available continues to grow.
As spring weather takes over from the cold winter months, there is an opportunity for novice and experienced CBD users to incorporate this newly legal plant into their diets and wellness routines. Let's take a look at three popular ways to incorporate CBD into your spring diet.
1.   Food & Drink
The food and beverages we consume have a significant impact on our overall health and wellness. The incorporation of edibles is one of the fastest-growing avenues of legal CBD production in Canada. Consumers are gravitating towards the discretionary and efficiency functions of edibles.
As more licenced businesses begin to set up shop across the country, the variety of products available shows genuine promise — whether it's with gummies or a sweet chamomile herbal tea, this is where Canada's entrepreneurs are shining.
The CBD properties in edibles are becoming a go-to for many consumers looking to regulate their appetites, improve muscle function, and treat mood irregularities. Incorporating CBD into your spring diet may be a gradual process, particularly if you're new to the experience. The easiest way to experiment is with the smallest dosage recommended and gauge your body's reaction — as time goes on, you may be able to incorporate a higher dosage into your food or drink.
2.   Improving Sleep
Developing a healthy sleep pattern is a crucial part of your mental and physical health. The conversation around CBD and improved sleep is ongoing, though it shows promise. Since CBD is a non-psychoactive compound of the cannabis plant, it could offer therapeutic benefits without the attached high that comes with the same plant's THC compounds.
Oils are one of the most popular ways to incorporate CBD into a sleeping ritual — consumers can choose to add the oil directly to their skin or add a few droplets to their diffusers while they sleep. The way the CBD compound reacts to the body's serotonin receptors and the brain's receptors is continuously studied. Consumers can use the available research and reports to decide whether adding CBD to their nighttime routine is the right choice for their lifestyle.
3.   Fitness Routine
Incorporating CBD has been a growing fundamental practice for anyone looking to improve their physical fitness. We know CBD is one of the many chemical compounds found in cannabinoids. Still, Cannabinoids actually exist in our bodies via our endocannabinoid system — which is known to regulate various functions in our body from appetite and mood to sleep and memory.
For those looking to add a therapeutic remedy to their active lifestyle, topical CBD products could be the answer. Massage oil or body cream has the potential to improve circulation, reduce muscle tension, and aid in the recovery of soft tissue injuries.
Budget Tips Canadians Should Consider Before Renovating Their Home
The decision to undergo a home renovation project should be exercised with an equal amount of excitement and caution. Most renovations require dealing with the foundation, plumbing, or electrical within the home, producing significant costs.
Canadians should approach each renovation with a firm understanding of their finances, especially if the project will involve a contractor or paid professional. To make sure you're on the right track, these budget tips can help.
1.   Estimate Your Costs
If you're considering a renovation on your home you've likely come up with temporary plans and dreamed-up colour schemes and design ideas. The next step is evaluating the costs for each renovation to determine if you have the financials you need to get started.
When it comes to budgeting for a home renovation, it's important to overprepare — creating a spreadsheet outlining each project and your projected costs will help you visualize your expenses. Once you have your costs in front of you, you'll want to pad your budget slightly. Renovations are synonymous with surprises and inflated costs, and it's always better to be overprepared.
2.   Find Savings with DIY
One of the simplest ways to lower your renovation expenses is to take on specific projects yourself. The DIY approach can range from construction-based projects to simply painting the walls or re-furnishing your old furniture — it all depends on how handy you are and the time you have to contribute to the project. If you can manage to save money on professional painters or lessen the number of construction workers on any project, your chances of saving money are far more significant.
3.   Know Your Financing Options
Ideally, you'll want to have as much money saved as possible before undergoing any projects in your home. Every household is unique, which means your financing options may vary from your neighbours. What you'll need to ask yourselves is, how much money will you require to complete this renovation and will you be able to pay back potential loans?
Homeowners are looking for alternative lending options that don't require the stress and time that can come with traditional lenders — extensive interviews, paperwork, and the time it takes to receive any cash is unfavourable for most.
These days, homeowners are looking at online-only lenders like Flexmoney.ca for a faster, more convenient way to access the money they need to complete their projects. The new wave of lenders is focused on helping borrowers access the cash they need quickly and without the added stress of waiting and wondering if they've been approved. It's easier to focus on what needs to be done in your home when you have the funds you need to get the job done.
4.   Shopping Second-Hand
The idea of second-hand is still new for many homeowners, who are hesitant to purchase things for their homes that have been previously used. The reality is that second-hand goods are a beneficial tool for anyone looking to save money on their renovation. With some time and patience, you could find great deals on appliances, furniture, and home decor. With the extra savings, you can focus on the areas of the home that need the additional capital — or, if you're right on budget, any money you've saved could go into a savings or investment account.
Ontario's strained intensive care units
By Anna Mehler Paperny
TORONTO (Reuters) – Over the course of a single shift last week, critical care physician Laveena Munshi saw her intensive care unit (ICU) at Toronto's Mount Sinai Hospital fill with pregnant and post-partum COVID-19 patients.
During that week, the ICU doubled the total number of pregnant COVID-19 patients it had previously seen throughout the entire pandemic. Swamped with patients with complex medical needs, one day Munshi ended up pulling a 36-hour shift.
"You do what you have to do," she said.
Ontario's hospitals and ICUs have been crushed by a punishing third coronavirus wave, as depleted resources and overworked staff push Canada's healthcare system – often held up as a model for the rest of the world – to the brink.
Last week, Munshi and her colleagues spent agonizing hours discussing what to do if a pregnant woman needed an artificial lung to help her get enough oxygen.
"Having delivery equipment outside an ICU room is never a thing you want to be walking into at the beginning of your shift," she said. "It just adds an added layer of unnecessary sadness to this whole pandemic."
By Thursday, ICUs in Ontario, Canada's most populous province, had 800 COVID-19 patients, with such admissions at the highest point since the pandemic began.
Patients are coming in younger and sicker, driven by more highly transmissible virus variants. Hospital staff say they are seeing whole families infected due to transmission at front-line workplaces that have remained open through lockdowns and stay-at-home orders.
Mount Sinai Hospital just added a third ICU. It has seconded non-ICU nurses to help deliver critical care to the most seriously ill patients as it braces for the worst.
"The next couple of weeks are going to be extremely busy, there's no question," Munshi said, adding that people most affected by the current wave do not come from privileged backgrounds that would allow them to protect themselves, for example by working from home.
The provincial government has promised more ICU beds and requested medical staff from other provinces.
'HOW MUCH MORE CAN WE STRETCH?'
Ramping up vaccinations targeting high-risk communities will help bring the third wave under control, experts said. But that will not relieve the immediate pressure on hospitals.
Exhausted staff are pulling overtime shifts and doctors are bracing for the tipping point no one wants to talk about: The activation of a "triage protocol" that will dictate who gets critical care when there isn't enough for everyone who needs it.
Ontario's Ministry of Health did not respond when Reuters asked what criteria would activate that protocol.
The protocol provides a standardized way to predict who is more likely to survive the subsequent 12 months, "trying to prioritize so that the most lives could be saved," explained Dr. James Downar, one of its authors.
It does not include a provision for withdrawing life-sustaining measures, he said.
Raman Rai, manager of the ICU at Toronto's Humber River Hospital, said she has never seen such a volume of critical care patients.
The hospital has redeployed staff, is treating people in "unconventional spaces," and is stretching resources so a nurse who might have been responsible for one or two patients now has three, Rai said.
"We have already gone over capacity," she said. "How much more can we stretch?"
Hospitals have been conducting drills and exercises in preparation for the triage scenario, said Ontario Hospital Association Chief Executive Anthony Dale.
"If it is used, it means we've failed as a province," he said. "This did not have to happen. But are we preparing with everything we've got? Yes."
In Toronto's Sunnybrook Hospital on Wednesday morning, the ICU was buzzing with health workers having bedside discussions, punctuated by alarms from pumps and various equipment monitoring patients' vital signs.
"It's particularly distressing when we see someone who is 30 years old and healthy who comes in unable to breathe," said intensivist doctor Hannah Wunsch. She is also seeing younger patients, pregnant patients and whole families with COVID-19.
From a medical perspective much of the work is the same, Wunsch said – save for ubiquitous masks.
"I haven't seen anyone smile in a long time."
(Reporting by Anna Mehler Paperny; Editing by Denny Thomas and Bill Berkrot)