New COVID-19 cases hit record levels in the Tri-Cities last month – The Tri-City News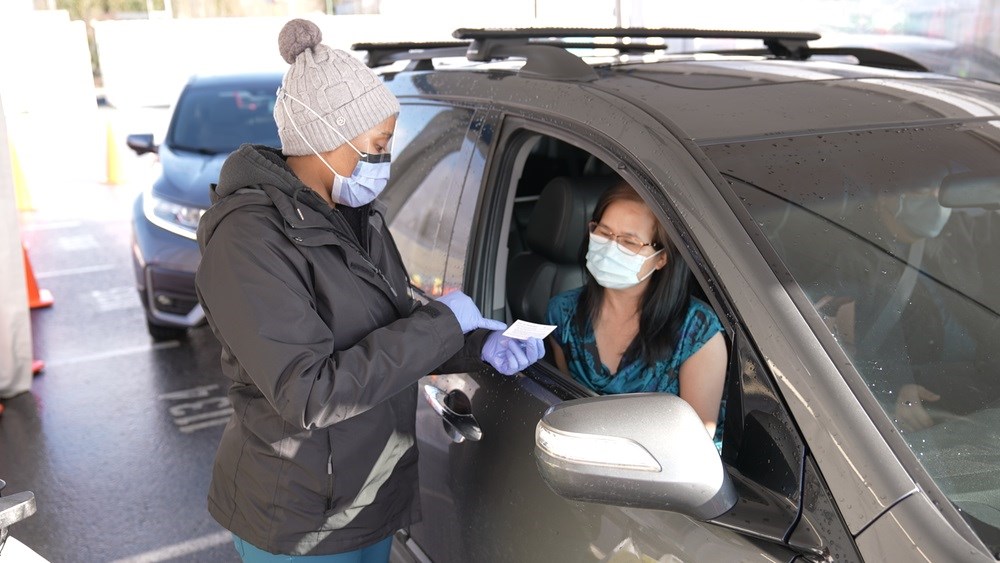 The Tri-Cities recorded 894 new cases of COVID-19 in February, the highest total since the start of the pandemic.
Confirming where the virus is spreading is less certain.
We do know the month started out with what would become a super-spreader event at a pub trivia night in Port Moody, eventually leading to the isolation of nearly 300 people.
Not long after, several members of a minor hockey club would test positive for the virus putting their season on hold.
Multiple workers at big Coquitlam grocery chains like Real Canadian Superstore and T&T Supermarket continued to test positive for the virus throughout the month, prompting exposure notifications to the public.
And in Port Coquitlam, Fraser Health maintains an active public exposure notification for a nail salon after contact tracers were unable to track down everyone who was potentially exposed over a nine-day period.
The month did not spare the Tri-Cities' health care sector. Eagle Ridge Hospital declared a COVID-19 outbreak and shut down a medical unit after 10 patients tested positive, and Shaughnessy Care Centre in Port Coquitlam declared its third outbreak despite a province-wide campaign to vaccinate those living and working in long-term care homes.
Health officials have repeatedly warned that transmission rates in the community find their way into schools. Sure enough, school exposures spiked in February by more than 370%, leading to over 100 exposures and counting.
More worrying, the arrival of several 'variants of concern' to B.C. wound their way into at least two Coquitlam area schools, one of which elected to shut its doors for three weeks after the virus infected several people.
Altogether, last month's 894 cases represent more than 25% of all cases in the three cities since July, an overall tally that rose to 3,564 by the end of February.
Those numbers show no sign of abating. On Thursday, the BC Centre for Disease Control reported new weekly COVID-19 numbers in the three cities ticked up again, rising 7% to 241 new cases in the first week of March.
At that rate, by the end of the month, March's new case count would surpass the February record total.
US will allow Canadians who had mixed doses of COVID-19 vaccines when border crossings resume Nov. 8 – northumberlandnews.com
Are you planning to get a flu shot this year? – Castanet.net
Canada's top doctor warns the country could be heading for its first typical flu season since the pandemic began, even as health systems are still battling the fourth wave of COVID-19.
Last year Canada was spared the brunt of flu season thanks to strict public health measures to protect against COVID-19.
Surveillance data from the Public Health Agency of Canada shows higher rates of infection than expected for some of Canada's most common seasonal viruses, including respiratory syncytial virus, or RSV.
Chief public health officer Dr. Theresa Tam says a heavy flu season could put extra pressure on already fragile health-care systems.
She says this is definitely not the year to have influenza wreak havoc.
That's why public health says it will be more important than ever that people get flu shots to avoid complications like pneumonia and protect hospitals from becoming overloaded.
10,000 in Waterloo region eligible to get 2nd COVID-19 shot right now, official says – CBC.ca
More than 90 per cent of eligible residents in Waterloo region have had their first dose of the COVID-19 vaccine.
People who are 12 and up are eligible to get vaccinated, and able to get the second dose 28 days after the first, the Ontario government's website says.
"To get second doses to 90 per cent, 20,683 second doses must be given. Out of those 20,000 people, approximately 10,000 are eligible now for their second dose and the remaining people will become eligible over the next month," Vickie Murray, the region's vaccine lead, said in a media briefing on Friday.
Murray said regional officials are pleased to see single doses reach the 90 per cent milestone, but they want to see second doses, which are at nearly 86 per cent, get there, too.
"Our goal is to continue to aim for the highest vaccination rates possible to protect our community from the spread of COVID," she said.
As well, the region has given 5,854 third doses, offered to all people living in long-term care in the region.
Murray also announced Friday that as of Oct. 31, the vaccination at the Boardwalk in Waterloo will move to operating only between the hours of 10 a.m. and 6 p.m. because those are the busiest times.
Vaccination bus motors on
The vaccination bus continues to be effective, Murray said. On Wednesday, she said 47 per cent of the doses given were first ones.
The bus will maked scheduled stops:
Saturday from 8:30 a.m. to 12:30 p.m. at the Cambridge Farmer's Market.
Tuesday from 12 p.m. to 4 p.m. at 150 Main St. in Cambridge.
Wednesday from 3 p.m. to 7 p.m. at the Kitchener Public Library.
Thursday from 12 p.m. to 3 p.m. at the Region of Waterloo International Airport in Breslau.
Sunday, Oct. 24 from 3 p.m. to 7 p.m. at the Sunrise Shopping Centre at 1400 Ottawa St. S., Kitchener.
Dr. Hsiu-Li Wang, the region's medical officer of health, said Friday that case rates have been "stable or slowly decreasing trend in the last few weeks."
"We need to continue our efforts to increase our community immunity over the coming weeks and months," she said, adding the highly transmissible delta variant remains a risk in the region and could be easily spread between people, especially the unvaccinated.
Murray encouraged anyone who is eligible to get the second dose to do so as soon as they can.
"That is going to be the best way to ensure that you're fully vaccinated," Murray said.
If regional staff find that a lot of people are delaying the second dose, they will reach out to them directly through emails and phone calls — something staff also did over the summer.