New national poll shows Canadians are most concerned about the economy, want a strong natural gas and oil sector to drive recovery – Canada NewsWire
CALGARY, AB, Sept. 22, 2020 /CNW/ – The state of our country's economy is the biggest issue of the day for Canadians, according to a new poll from IPSOS. The poll has 44 per cent of Canadians choosing the economy as the biggest priority for government, even putting it ahead of healthcare (chosen as the top issue by 36 per cent of those surveyed). All other issues fall far down the list of concerns.
When it comes to strategic direction, nearly two-thirds of Canadians (64 per cent) say that natural gas and oil need to be a part of Canada's recovery and more than half (55 per cent) believe supporting jobs in Canadian natural gas and oil is more important than ever because we need it to kick start our economy.
The new data from IPSOS, which surveyed people across the country, demonstrates Canadians are widely supportive of growth and development for Canada's natural gas and oil sector.
The Canadian Association of Petroleum Producers (CAPP) is encouraged to see strong support from Canadians and urges the federal government to show the same level of support for the natural gas and oil industry.
CAPP has just published its Vision for Canada's Recovery report, which highlights the positive potential impact of the industry in creating jobs for Canadians and boosting the country's economic recovery.
According to Statistics Canada, exports of crude oil, bitumen, natural gas and natural gas liquids generated more than $102 billion in 2019. Add in refined petroleum and the total rises to more than $112 billion — about 19 per cent of the revenue from all of Canada's exports combined.
The industry supports half a million jobs across the country and a supply chain that reaches from coast to coast and contributes to economic growth and prosperity for thousands of businesses.
As Canadians look toward recovery, the natural gas and oil industry can play a vital role — not only to boost the national economy, but to promote further innovation and develop new technologies which can help the country reach environment and climate goals here and abroad.
Today, Canada is a clear leader in environmental, social and governance (ESG) performance. For example, Canada's offshore oil production is among the least carbon-intensive in the world, with 30 per cent lower emissions per barrel than the global average.
The country's leadership in innovation and environmental performance can be a competitive advantage when marketing Canada's energy sector on the world stage, and a key component of drawing investment back to a responsibly-operated and stable energy industry.
CAPP quotes Tim McMillan, president and CEO:
"Government policy must be considered in the context of a strong economic recovery plan. It's time to signal to the international community that

Canada

is a good place to do business and market our strengths to attract investment back to our industries."
"Economic recovery is top of mind for Canadians, and we are encouraged to see the support across the country for a strong natural gas and oil industry. A growing industry will create much-needed jobs for Canadians and revenues for governments. Bringing investment back to the industry will also support continued development of new technologies which improve our environmental performance, reduce emissions and further our climate goals."
Supporting information:
The supply chain of oil sands producers alone is associated with close to 10,000 businesses across the country.
The offshore oil and natural gas industry makes up one-quarter of

Newfoundland

and

Labrador's

GDP and 41 percent of exports. Approximately 600 supply and service companies in

Atlantic Canada

rely on work associated with offshore development.

Ontario's

participation in the oil sands supply chain was valued at

$1.89 billion

in the two-year period from 2016-2017.
The natural gas and oil industry is

Canada's

largest investor in clean technology and environmental protection, spending about

$3.5 billion

annually.
From 2017 to 2019, a period with struggling commodity prices,

Canada's

natural gas and oil sector still contributed over

$8 billion

annually to government revenues across the country.
The Canadian Association of Petroleum Producers (CAPP) represents companies, large and small, that explore for, develop and produce natural gas and oil throughout Canada. CAPP's member companies produce about 80 per cent of Canada's natural gas and oil. CAPP's associate members provide a wide range of services that support the upstream oil and natural gas industry. Together CAPP's members and associate members are an important part of a national industry with revenues from oil and natural gas production of about $109 billion a year. CAPP's mission, on behalf of the Canadian upstream oil and natural gas industry, is to advocate for and enable economic competitiveness and safe, environmentally and socially responsible performance.
SOURCE Canadian Association of Petroleum Producers
For further information: Jay Averill, Manager of Media Relations, CAPP, (P) 403-267-1151, (C) 587-225-4534, [email protected]
Related Links
Time to Reset Expectations for World Economy With Virus Untamed

Investors banking on a coronavirus vaccine to save the world economy in 2021 need to temper their ambitions as scientists increasingly warn of a long and difficult road ahead.
While drug companies are making progress in the quest to find a cure for a disease that triggered the worst recession since the Great Depression, questions remain about how effective the first wave of vaccines would be, how easy they will be to distribute to more than 7 billion people and then how many will agree to take them.
The future for global growth relies on the answers to those questions as a new wave of the pandemic means health fears and government restrictions continue to inhibit daily life and commerce. Even when a successful immunization system does come along, it won't be an instant economic panacea, says Chris Chapman, a portfolio manager at Manulife Investment, which manages more than $660 billion.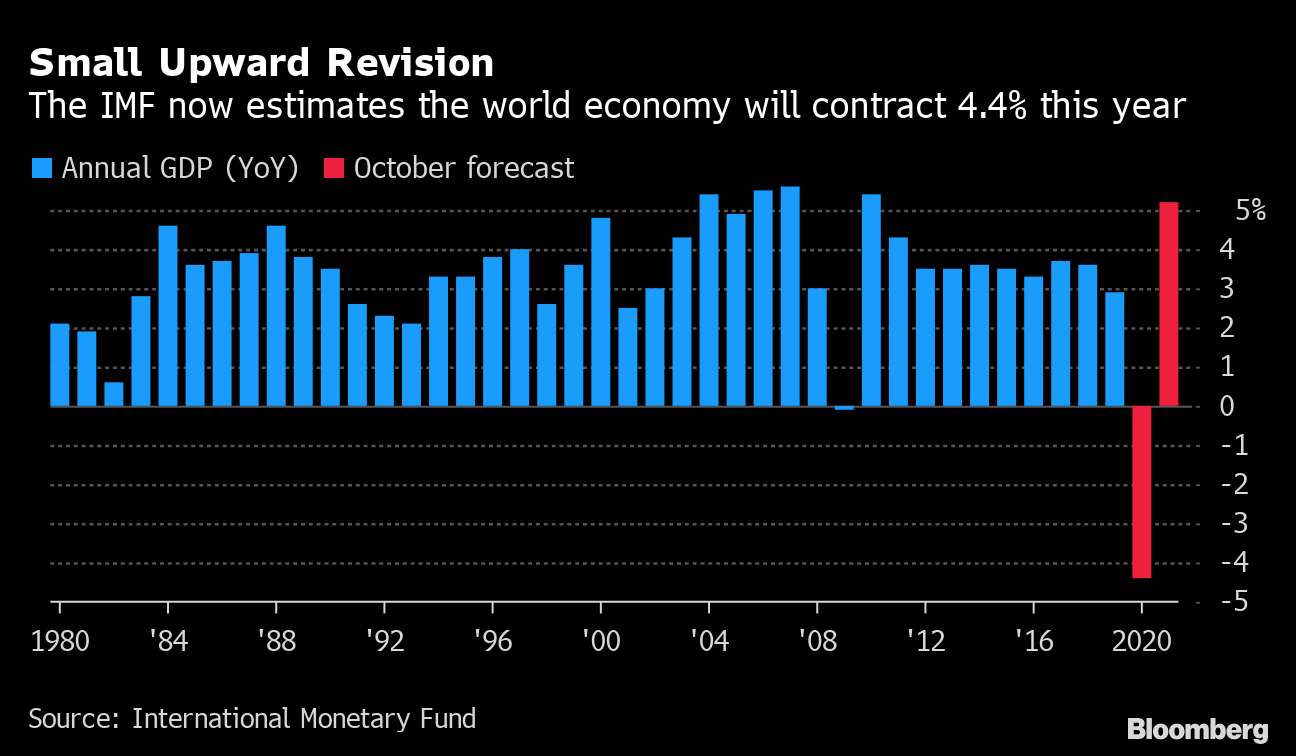 "In terms of actually getting back to pre-Covid or trend growth, it could take more than a year," said Chapman. "The timing of the recovery will be delayed, but there is still expectation of a vaccine at some point next year."
For decades, the world economy relied on central bankers and finance ministers to pull it out of crisis, on the basis that if you pump the right amount of money into an economy, a recovery will eventually follow.
This time is different, as investors look to scientists and data from vaccine and treatment trials for signs of hope just as much as they pore over stimulus plans coming out of Washington, Beijing or European capitals. The longer the hunt for an effective vaccine lasts, the weaker economic expansions will be.
To be sure, science could yet make major breakthroughs in the near term. If even only a small proportion of the population such as healthcare workers and the most vulnerable are immunized, that could make a big difference to the resumption of everyday life. Savings built up by households and businesses in 2020 could be unleashed in 2021.
Pfizer Inc. said this month it could seek emergency-use authorization in the U.S. by late November for its vaccine with German partner BioNTech SE. Moderna, another frontrunner in the race, is also looking at the possibility of an emergency approval this year if it has positive interim results next month.
Balancing Act
"There is a fair prospect that by the late spring, vaccines will be available in quantities sufficient to protect the most vulnerable groups," said Neil Ferguson, an epidemiologist at Imperial College London, and former Covid-19 adviser to the U.K. government. "But at least until then, life will unfortunately remain a balancing act between reopening society and keeping the virus in check."
Scientific hiccups may slow things down too. Johnson & Johnson paused clinical trials of its Covid-19 shot this month after a participant fell ill, weeks after AstraZeneca Plc and the University of Oxford stopped studies for the same reason. On Friday, both companies announced plans to resume their U.S. trials.
Effective treatments that would also help the economic recovery are also a mixed picture. Disappointing trial results this month for the much-hailed drug remdesivir from Gilead Sciences Inc. showed the antiviral treatment doesn't save the lives of Covid-19 patients, despite U.S. President Donald Trump extolling its benefits. Still, U.S. regulators cleared the drug for use this week and Gilead has challenged the recent findings citing other positive results.
While there are hopeful signs from some antibody treatments being tested, the steroid dexamethasone is one of the only other therapeutics showing a meaningful benefit, and is aimed at people with very severe symptoms.
Even if an effective vaccine is discovered, the logistics of distribution will still mean disruption to work, travel and leisure will remain, with only a small subset of the population expected to receive a shot in the first instance anyway.
That all spells trouble for global growth, even as data in the U.S. and euro-area are likely to show this week that it rebounded smartly in the third quarter and didn't collapse as much as once feared.
Long gone though is talk of a V-shaped recovery, as winter nears in the northern hemisphere — and with it the risk the virus spreads more easily. Bloomberg Economics's gauges of high-frequency data already point to a weakening of activity in many industrial nations in October, particularly those in Europe.
'Very Precarious'
"The virus is creating a major element of uncertainty," former Federal Reserve Chairman Alan Greenspan told Bloomberg Television last week. "Forecasting it is very precarious."
Underscoring the pressure for an end to the pandemic is the knowledge economic scars are already forming. Among them: lost jobs, record debts, corporate bankruptcies, atrophying skills, missed investment, deglobalization, frayed mental health and rising inequality.
A recent study declared the U.S. economy alone will witness "large, persistent adverse effects" in the long term that outweigh the short-term hit in part because the virus means greater unease among the public.
"This did not start as a financial crisis but it is morphing into a major economic crisis, with very serious financial consequences," World Bank Chief Economist Carmen Reinhart told Bloomberg Television. "There's a long road ahead."
Even in those parts of the world where the virus has been largely contained, consumers remain cautious. Chinese retail sales have only just begun to accelerate even though the most severe limits on movement were lifted months ago.
There is also the question of re-infection. Scientists have found it's possible to get Covid-19 more than once, with a handful of confirmed cases globally. That presents another obstacle, which a vaccine may only partially solve.
There's a high chance the coronavirus, like flu, could require regular shots to keep it at bay, meaning the virus could cast an even longer arc than already expected, cautioned Graham Medley, a professor of infectious disease modeling at the London School of Hygiene & Tropical Medicine, and member of the U.K. government's Covid-19 advisory panel.
"If second and third infections are as infectious as the first infection, and the first generation of vaccines is not very efficacious, then it's possible that Covid-19 will continue to be a major aspect of life into 2022," he said.
Source:- Bloomberg
World Economy Gets Temperature Check Before U.S. Vote: Eco Week
The Canadian Press
NEW DELHI — India's daily coronavirus cases have dropped to nearly 50,000, maintaining a downturn over the last few weeks.The Health Ministry says 50,129 new cases have taken the overall tally to nearly 7.9 million on Sunday. It also reported 578 deaths in the past 24 hours, raising total fatalities to 118,534.The ministry also said India's active coronavirus cases were below 700,000 across the country and almost 7.1 million people had recovered from COVID-19.India is second to the United States with the largest outbreak of the coronavirus. Last month, India hit a peak of nearly 100,000 cases in a single day, but since then daily cases have fallen by about half and deaths by about a third.Some experts say the decline in cases suggests that the virus may have finally reached a plateau but others question the testing methods. India is relying heavily on antigen tests, which are faster but less accurate than traditional RT-PCR tests.___HERE'S WHAT YOU NEED TO KNOW ABOUT THE VIRUS OUTBREAK:— Surging coronavirus colours White House race in closing days— Europe, US watch case totals grow, debate new restrictions— Colombia reaches 1 million confirmed coronavirus cases— Iran's supreme leader has urged authorities to prioritize public health above any economic or security concerns, amid the Mideast's worst outbreak of the coronavirus. Iran's death toll from the global pandemic topped 32,000 this week.— Pope Francis met with the Spanish prime minister Saturday at the Vatican, which has had a rash of COVID-19 infections confirmed in recent days, but neither man used a face a mask during the public part of their meeting.— Poland's President Andrzej Duda has tested positive for the coronavirus; apologizes to those in quarantine because of contact, including Poland's recent French Open winner.— Police force in England says it will try to stop people from leaving Wales, which has started a 17-day lockdown to slow a surging rate of coronavirus infections.___Follow all of AP's coronavirus pandemic coverage at http://apnews.com/VirusOutbreak and https://apnews.com/UnderstandingtheOutbreak___HERE'S WHAT ELSE IS HAPPENING:MELBOURNE, Australia — A COVID-19 outbreak in the north of Melbourne has led health authorities in Australia's Victoria state to hold off on any further easing of restrictions in the beleaguered city.Victoria Premier Daniel Andrews withheld any announcement on an easing on Sunday as the state awaits results on 3,000 people who were tested in the city's north in the past 24 hours.He described it as a "cautious pause" – not a setback – to rule out there wasn't widespread community transmission linked to the cluster.Among the current restrictions are mandatory wearing of masks and no travelling beyond 25 kilometres (15 miles) from home. At the start of the second wave of cases two months ago, Andrews instituted an overnight curfew and shut down most businesses."I know it is frustrating," Andrews said. "I know people are keen to have a long and detailed list of changes to the rules. It is not appropriate for us to do that now."?Victoria reported seven new coronavirus cases on Sunday, with six linked to the latest outbreak, which involves 39 people across 11 households.No additional deaths kept the state toll at 817 and the national toll at 905.___COLOMBO, Sri Lanka — Sri Lankan authorities have terminated a number of passenger trains and widened the curfew as COVID-19 cases related to a new cluster at a garment factory continue to surge.The Railway Department cancelled at least 16 trains — mostly ran through busy office hours — after the number of commuters declined due to the curfew imposed in many parts of the country.More than a dozen villages are isolated in densely populated Western province, which includes capital Colombo.Authorities last week closed the island's main fish market on Colombo's outskirts after 49 traders tested positive for the coronavirus. By Sunday, the number of cases from the fish market went up to nearly 900.Authorities say the outbreak is linked to a cluster in a garment factory early this month, which has grown to 4,052 cases, more than half the country's total of 7,521. During the last 24 hours, 368 new cases have been detected.In a bid to contain the spread, health authorities also closed three fishery harbours and many fish stalls around the country.Several thousand people have been asked to quarantine at home. Schools and key public offices are closed and gatherings banned. The death toll rose to 15 on Saturday.___BOGOTA, Colombia — Colombia reached 1 million confirmed coronavirus cases on Saturday, its health ministry says, becoming the second country in Latin America to report that number in less than a week.The nation of 50 million saw cases peak in August and has seen a decline since but still continues to register around 8,000 new infections a day.Eight countries now have more than 1 million confirmed cases, and three are in Latin America. Argentina hit 1 million confirmed cases on Monday. Brazil ranks third worldwide in the number of virus cases, with more than 5 million, and passed 1 million infections back in June. Peru and Mexico are expected to reach 1 million cases each in the coming weeks.Overall, Latin America continues to register some of the highest caseloads, diagnosing more than 100,000 confirmed infections each day, though the World Health Organization reports that Europe is now seeing even larger numbers as a second virus wave strikes.___LANSING, Mich. — Michigan has reported more than 3,000 new confirmed cases of the coronavirus — the highest daily count yet during the pandemic.The 3,338 new COVID-19 cases reported Saturday by the Michigan Department of Health and Human Services surpassed the state's previous single-day record of 2,030 new cases set on Oct. 15. That earlier record had topped the previous record of 1,953 from early April.The state agency also reported Saturday 35 more deaths from COVID-19, raising Michigan's pandemic toll to 7,182 deaths.Dr. Joneigh Khaldun, Michigan's chief medical executive, said in a statement that it's "now more important than ever that people take this seriously." She urged Michigan residents to wear a face mask every time they are around someone outside of their own household, to practice social distancing and avoid large gatherings.___EL PASO, Texas — The surge in coronavirus in the Texas border city of El Paso continued Saturday with a record 1,216 new cases, nearly 20% of the state's 6,125 new cases, according to city-county health officials.There have been 3,346 cases in the city during the past three days, according to city-county health reports. El Paso has reported 38,554 total cases since the pandemic began in March."Today's spike is part of an unfortunate national surge that we have been planning and preparing for," public health director Angela Mora said in a statement. "Now, we need our community to help us by doing their part and staying home, if and when possible, for the next two weeks in order to stop the rapid the spread of the virus."Gov. Greg Abbott has sent medical equipment and about 500 medical personnel to the region to help fight the virus. There have been more than 858,000 reported cases in Texas and nearly 17,500 deaths, 81 reported Saturday, since the pandemic's start.___COLUMBIA, Tenn. — A Tennessee hospital is suspending all elective procedures requiring an overnight stay due to a surge in patients hospitalized with COVID-19, The Daily Herald of Columbia, Tennessee, reported.As of Friday evening, Columbia's Maury Regional Medical Center was treating 50 COVID-19 inpatients, 20 of whom were in the medical centre's 26-bed intensive care unit. In response, the hospital said Friday it is suspending elective surgical procedures that require an overnight stay for two weeks, beginning on Monday."The time has long passed for our community to take this virus seriously," Alan Watson, CEO of Maury Regional Health, said in a Friday statement. "We are seeing the impact of our community letting down their guard, and we must make every effort to mitigate the spread of this virus."On Thursday, the Tennessee Department of Health reported that statewide hospitalizations had reached a new record of 1,300 patients with COVID-19 and had an ICU bed availability of just 11%.Martin Chaney, Maury Regional's chief medical officer, said small home gatherings have become the emerging threat through which the disease is being spread in the six-county region the medical centre covers."In our homes, we all let our guard down," Chaney said. "You think it is safe to not socially distance, and you take your masks off. That is spreading the disease very rapidly."He said Maury Regional has consistently seen a surge in cases about two weeks after each major holiday."It is so predictable now," Chaney said. "When families travel and get together for holidays, it is a high-risk time for spreading the virus."Tennessee recorded 2,574 new cases of the coronavirus on Saturday and 24 new deaths, bringing the total number of deaths in the state to 3,100.___VATICAN CITY — Pope Francis met with the Spanish prime minister at the Vatican, but neither man wore a mask during the public part of their meeting.That's despite 13 Swiss Guards and someone staying at the same Vatican City guest house where Francis lives recently testing positive for the coronavirus.Prime Minister Pedro Sanchez wore a mask when he arrived in a Vatican courtyard, but everyone sat unmasked immediately before and after his closed-door talks with Francis.Spain this week became the first country in Western Europe with more than 1 million confirmed virus cases.The Vatican says Sanchez also spoke with the Holy See's foreign minister, discussing matters including "the current health emergency, the process of European integration and migration."In his speech, Francis called politics "an act of charity, nobility" and the mission of a politician is to help a nation to progress. The pontiff also says its "very sad" when ideologies drive the destiny of a nation.___PHOENIX — Arizona is experiencing increases in coronavirus cases and the rate of positive test results.The 14-day rolling average of daily confirmed infections rose from 617 on Oct. 9 to 914 on Friday. Meanwhile, the average daily deaths increased from 7.6 to 8.4 and the positive test average went from 6.5% to 8.9%.Rolling averages even out daily spikes and drops.The state Department of Health Services on Saturday reported 890 cases and four additional deaths, increasing the Arizona totals to 236,772 confirmed infections and 5,869 deaths.___OKLAHOMA CITY — Oklahoma has registered more than 1,800 newly confirmed coronavirus cases.The Oklahoma State Department of Health report on Saturday comes one day after Gov. Kevin Stitt extended a state of emergency another 30 days. The health department reported 1,829 new cases for a total of 115,685.There have been 11 more deaths, bringing the death toll to 1,245.The Associated Press
Source: – Yahoo Canada Finance
Virus, economy top concerns as Lithuanians vote in runoff – ABC News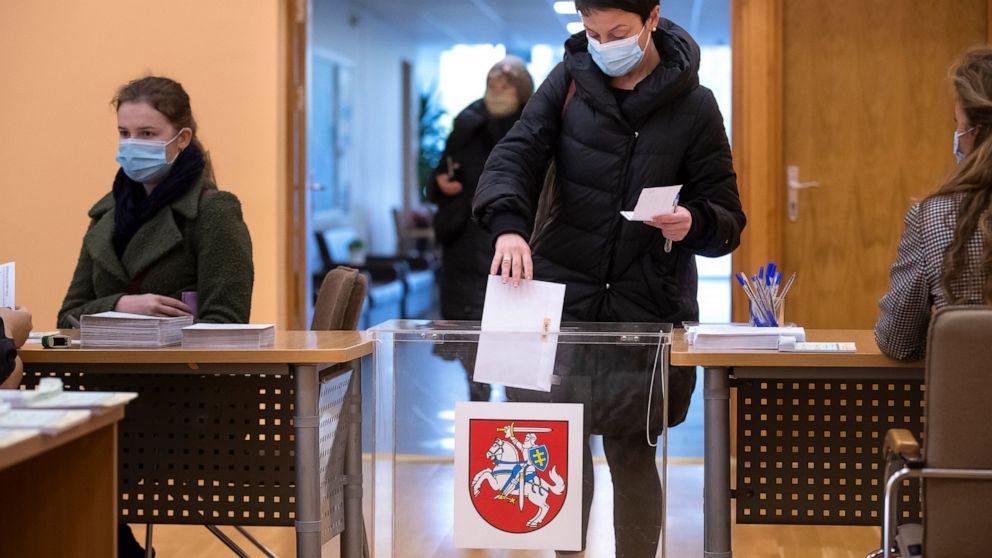 The coronavirus pandemic is the main domestic issue as Lithuania holds a parliamentary runoff election Sunday, and the winner will have to tackle a rapidly deteriorating public health sector and high unemployment
VILNIUS, Lithuania — The coronavirus pandemic is the main domestic issue as Lithuania holds a parliamentary runoff election Sunday, and the winner will have to tackle a rapidly deteriorating public health sector and high unemployment.
The election is widely expected to bring about a change in the southernmost Baltic nation, which has been governed by a center-left coalition for four years. In the first round of this month's voting, three center-right opposition parties finished with a combined lead.
In the second round, 68 of the 141 seats in Lithuania's legislative assembly, the Seimas, are up for grabs. The other seats were allotted after the Oct. 11 first round of voting.
More than 7% of Lithuania's 2.5 million voters have already cast early ballots for the runoff, according to election authorities who set up special drive-in polling stations because of the pandemic.
Lithuania fared comparatively well during the first wave of the pandemic, but like elsewhere in Europe this fall, the nation of 3 million people has reported worrying spikes in recent weeks. Overall, it has seen over 9,100 infections and 126 reported deaths.
After weeks of hesitation, the Lithuanian government imposed a quarantine in 12 of 60 districts that starts on Monday. Opposition lawmakers have criticized the government for not doing enough to stabilize the latest outbreak.
The economic impact of the pandemic has hit Lithuania hard: it's unemployment rate was over 14% in September compared to 9% in February. The outgoing parliament had drafted a 2021 budget with a 4-billion euro ($4.7 billion) deficit.
The election's first round resulted in the conservative Homeland Union party winning 23 seats, or 24.8% of the vote, while the ruling Farmers and Greens party only grabbed 16 seats, or 17.5%.
"If the conservatives are successful on Sunday, they would very likely try to form a new ruling coalition with other two center-right partners — the Freedom Party and the Liberal movement," Vilnius University political scientist Tomas Janeliunas told The Associated Press. "Yet this would be a rather fragile majority."
Some 54 Homeland Union candidates made it into the runoff, while the Farmers and Greens have 32 contenders. Together, the Freedom Party and the Liberal movement have 21 candidates. Two other center-left parties that have crossed the 5% support threshold into parliament could join the Farmers and Greens in a new coalition but they have few candidates in the runoff.
Lithuania, a member of the European Union and NATO, has kept strong democratic traditions and sustainable economic growth since declaring independence from the Soviet Union in 1990. It has also played a major diplomatic role as the protests in Belarus, its southern neighbor, unfold against that nation's authoritarian leader.