New Quantum Algorithms Institute at SFU to position B.C. as world leader in quantum computing – Simon Fraser University News
This October, the provincial government announced it will invest $17 million over the next five years to establish a new Quantum Algorithms Institute hosted at Simon Fraser University's Surrey campus, serving as the core of the city's new innovation corridor.
It is a major advancement for a university already recognized as a global leader in quantum computing—one of the most exciting frontiers in technology.
If quantum computing is still in its infancy, popular understanding of the field is barely at the embryo stage. But that does not stop quantum properties like superposition—the ability of a quantum system to be in more than one state at once—and entanglement—an extremely close relationship between quantum particles—from allowing quantum computers to process a staggering amount of data.
SFU physicist Stephanie Simons, a professor and Canada Research Chair in Quantum Nanoelectronics, heads the university's Silicon Quantum Technology Group. She explains that algorithms are one of the keys to bringing quantum computing into the mainstream.
Q: The new Quantum Algorithms Institute will see SFU collaborate with research universities across B.C. to devise quantum computing software. What makes algorithms such an important aspect of quantum computing?
Algorithms are the basis of software: they are how computers execute a task and solve a problem. And quantum computing requires very specific kinds of algorithms, taking on very particular kinds of problems. The problems that are naturally suited to quantum computing are the ones that need a lot of computational space, but have very succinct answers. A needle-in-a-haystack kind of problem, for instance.
You can do some pen-and-paper work to show that certain quantum algorithms will be exponentially more efficient at accomplishing some tasks than even the best "classical computer." And by classical computer, I mean all current and future computers that rely on classical physics, including even the most powerful modern supercomputers.
Q: How do algorithms fit into the bigger picture of quantum computing at SFU?
There is so much work going on here, starting with hardware. In 2013, SFU set the world's record for the longest-lived quantum bit, or qubit, which is the basic building block underpinning all the quantum hardware that people are trying to develop. That work was led by Emeritus Professor Mike Thewalt. Collaborating with him on that project played a big part in attracting me to SFU. SFU has global prominence in the field of silicon-based qubits, which is the hardware platform that Mike and I are running with—and which are arguably the best qubits in the industry. SFU also has an ion trap quantum computing lab and a cold-atoms quantum computing lab.
There is a sector of people working with existing quantum hardware, too. Various SFU professors have collaborated with Burnaby-based D-Wave Systems, which has an adjunct professor in the Physics Department, Mohammad Amin. They are the first company to create a kind of commercial quantum computer. Other professors collaborate with algorithm-focused 1QBit, another quantum startup in Vancouver. And there are others on the application side, thinking about cryptography and about adapting the quantum algorithms we know now to areas like health care and finance.
And more fundamentally SFU has lots of history in the field of "quantum foundations," improving our understanding of various interpretations of quantum mechanics (this is related to all that stuff about the so-called "multiverse"). It is exciting to be part of this space right now, because there is a lot of cross-pollination.
Q: How does this translate into real-world benefits today?
In analogy to classical computers, we are kind of at the point when the original transistor was built. It has taken 40 years for it to get to the point where we have these supercomputers—smartphones—in our pockets. And the Internet existed for a long time before most people even knew about it, and now none of us can breathe without it. I imagine quantum technologies will likely follow a similar trajectory, but maybe with a more targeted focus.
That said, people working on the pen-and-paper algorithms can already identify areas where we can expect quantum computing to unlock a lot of potential. Finance is one. And cryptography as we know it will be completely different: quantum computers can very efficiently take apart most of our current encryption standards, and they also offer better (physically unhackable!) encryption.
Chemical simulations are another natural application area. Chemicals themselves are quantum objects, and classical techniques of modelling them are inherently bad in some ways. So we will be able to get a much better look at how one molecule interacts with another. I imagine drug development will be a much better process, and so will simulating the behaviour of materials.
Q: It sounds like this dovetails with work that we are doing around the Data for Good campaign.
Absolutely. Any research sector that relies on high-performance computing—directly or indirectly—could potentially benefit. A lot of application areas will probably even have "black box" advantages, where the quantum algorithm to solve a problem somehow works, but we do not exactly know how! We truly do not know yet what the impact will be. It is going to be a lot of fun to see how it shakes out.
See the SFU News story about SFU receiving $17 million to establish the Quantum Algorithms Institute.
OnePlus CEO confirms we're not getting an 8T Pro this year – MobileSyrup
As we inch closer to OnePlus' October 14th event, the company's CEO has clarified that fans should only get excited about the OnePlus 8T because there won't be an 8T Pro.
This isn't a huge surprise since there have been no leaks regarding a higher-level phone.
That said, if you've seen the battery and screen specs that the company has shared plus some of the leaks, you'll know that the 8T is stacking up to be a flagship-level device in its own right.
Last year in Canada, OnePlus only released the 7T in Canada with no 7T pro, so the fact that there's no pro version this year shouldn't rattle Canadians too much.
The 8 Pro is still a good option as well since it also has a 120Hz display and a fairly modern chipset. If the 8T leaks are correct, the 8 Pro will be a bit of a larger phone, so people who like giant phones will likely be happier with the 8 Pro.
Beyond the lack of an 8T Pro, OnePlus also mentioned recently that the 8T is going to come with OxygenOS 11 right out of the box. In the OxygenOS 11 beta for the OnePlus 8 and 8 Pro, there are still a lot of bugs, so hopefully, OnePlus can address these before the 8T ships.
Source: 9to5Google
US judge says Epic was dishonest when it added direct payments to Fortnite – MobileSyrup
A U.S. judge criticized Epic Games for being dishonest during the first court hearing in the ongoing antitrust lawsuit between the Fortnite maker and Apple.
Judge Yvonne Gonzalez Rogers of the United States District Court for the Northern District of California heard arguments from both companies during a three-hour Zoom hearing Monday. Gonzalez Rogers expressed skepticism about Epic's arguments, especially its claim that it didn't pose a security threat to Apple.
According to a report from CNN, the judge said that Epic lied and "that's the security issue." Gonzalez Rogers went on to say that "there are a lot of people in the public who consider [Epic] heroes for what [they] did, but it's still not honest."
Epic has long argued that it was standing up to Apple's "monopoly." The game maker says that Apple's control over iOS and the App Store allows it to force developers into using its payment method and thus hold up monopolistic control over apps.
It all started with a payment system
Back in August, Epic introduced a direct payment method in its popular Fortnite game, which allowed it to bypass Apple's 30 percent App Store fee. Apple charges the fee for any payments that use its in-app payment method, and also restricts developers from using other payment methods with its App Store guidelines.
Because Fortnite's new direct payment directly violated Apple's rules, it kicked the game off the App Store. Epic responded in turn with a lawsuit. It's worth noting similar events took place with Google's Play Store on Android devices. However, a significant difference between the two is that Google allows third-party app stores and the installation of apps from sources outside of the Play Store. As such, Fortnite fans could still get the game on Android by downloading it from other places. Players on iOS can only get the game through the App Store.
After Epic sued Apple, both companies engaged in back-and-forth attacks on each other, ranging from petty to serious. For example, Epic said Apple threatened to terminate its Unreal Engine developer account, which isn't associated with Fortnite. Gonzalez Rogers previously ruled that Apple can't terminate that account, but was free to terminate the developer account Epic used for Fortnite. At the same time, the judge ruled Apple didn't have to return Fortnite to the App Store.
Likewise, Epic also engaged in a public relations campaign positioning itself as the good guy with an ad mimicking Apple's famous '1984' commercial. Epic added a playable character called 'Tart Tycoon' to Fortnite as well. Apple sued Epic seeking damages for harm to its reputation over the campaign. These are just a few examples of the fight between the two companies.
Throughout the lawsuit, Epic petitioned the courts to force Apple to allow Fortnite back on the App Store. That included arguing that the game's removal caused it irreparable harm. Apple responded in turn, saying Epic used the lawsuit to draw attention to the game as interest waned.
Judge feels the antitrust questions deserve a jury
The hearing didn't answer any of the looming questions about the antitrust allegations or whether Apple would have to return Fortnite to the App Store. For the latter, the New York Times reports a decision will arrive in the coming days. I don't expect it to be in Epic's favour, considering Gonzalez Rogers previously ruled Apple didn't have to reinstate Fortnite and seems unconvinced by Epic's arguments.
As for the bigger questions about antitrust, Gonzalez Rogers believes the they are important enough that the case be taken to a jury trial in July 2021.
However, CNN reports that Gonzalez Rogers wasn't persuaded by Epic's argument that Apple's bundled App Store and payment method violate antitrust law. The judge also didn't completely agree that Apple harmed Epic's ability to distribute Fortnite through control of the App Store.
"Walled gardens have existed for decades. Nintendo has had a walled garden. Sony has had a walled garden. Microsoft has had a walled garden. What Apple's doing is not much different… It's hard to ignore the economics of the industry, which is what you're asking me to do," Gonzalez Rogers said.
Epic isn't the only company taking issue with Apple's policies
However, Epic's lawsuit has become something of a rallying cry for many developers who feel they've been wronged by Apple's App Store guidelines. Last week, several companies formed the Coalition for App Fairness, which aims to "defend the fundamental rights of creators to build apps and to do business directly with their customers," according to Epic CEO Tim Sweeney. Along with Epic, the coalition includes Spotify, Tile and Match Group, which owns several dating services including Tinder and Hinge.
Many developers have accused Apple of applying its App Store rules unfairly, especially in the last few months. For example, a group of news publishers sent a letter to Apple seeking a deal that reduces the 30 percent cut the company takes from subscription services. The letter cited a similar deal Apple gave to Amazon, which CEO Tim Cook testified in a congressional hearing was available to any developer that met the criteria. Apple has not shared what those criteria are.
Epic has also pointed out that Apple's in-app payment rules differ from app to app, and listed several other services that aren't forced to use Apple's system. Finally, there was an instance where Apple blocked updates to the WordPress iOS app until the developer added in-app payments. The company later back-pedalled on the move.
Source: CNN, New York Times Via: The Verge
Google announces crackdown on in-app billing, aimed at Netflix and Spotify – Ars Technica
With a lot of focus lately on how smartphone app developers are treated on Apple's and Google's app stores, Google has decided right now is a great time to announce more stringent app store billing rules. A new post from the official Android Developer Blog promises a crackdown on in-app billing that sounds like it's targeted at big streaming services like Netflix and Spotify.
Google's post really beats around the bush trying to sugar-coat this announcement, but it starts off by saying, "We've always required developers who distribute their apps on Play to use Google Play's billing system if they offer in-app purchases of digital goods, and pay a service fee from a percentage of the purchase." This rule has not been enforced, though, and a lot of big developers have just ignored Google's billing requirements. Today, Netflix and Spotify don't use Google's in-app billing and instead kick new accounts out to a Web browser, where the companies can use PayPal or direct credit card processing to dodge Google's 30-percent fees.
"We have clarified the language in our Payments Policy to be more explicit that all developers selling digital goods in their apps are required to use Google Play's billing system," Google continues. "For those who already have an app on Google Play that requires technical work to integrate our billing system, we do not want to unduly disrupt their roadmaps and are giving a year (until September 30, 2021) to complete any needed updates."
That's basically the meat of the blog post: everybody needs to use Google billing by this time next year. A look at the "Payments Policy" shows examples like "subscription services" that offer things like "music" and "video." It also warns readers at the top that "changes are coming to this policy!" and that "any existing app that is currently using an alternative billing system will need to remove it to comply with this update."
Google draws a clear distinction between Android and iOS by pointing out that on Android, developers have a "choice of stores" and that most Android devices ship with multiple app stores. Google mentions twice that "each store is able to decide its own business model and consumer features" with the implication being that if developers want to be on Google Play, which has 2 billion active users, they're going to have to start following the rules or look elsewhere.
Better third-party app store support in Android 12?
One other tidbit in this post is news of an Android 12 feature: "We will be making changes in Android 12 (next year's Android release) to make it even easier for people to use other app stores on their devices while being careful not to compromise the safety measures Android has in place. We are designing all this now and look forward to sharing more in the future!"
Currently, installing a second app store requires a few extra checkboxes, but given that stepping outside of Google's walled garden really does expose users to more threats, the two warning messages don't seem excessive. Google regularly publishes stats comparing the malware rate of Google Play-only devices versus devices that have installed apps from outside the Play Store. While Google Play is by no means perfect, Google is one of the few app store operators big enough to put every app through some kind of vetting process, and as a result, users have been anywhere from 5 to 10 times more likely to get malware outside the Play Store than inside it for the past two years.
The current app store install process is not that arduous. If you're downloading something like F-Droid (an open source app store), first Chrome will give you a warning that this type of file (an APK) can harm your device, which you can click through. If you've never installed an app from the browser before, you'll be forwarded to the device settings so you can flip the "allow installs from source" checkbox for Chrome. Then you can install the app store. Android requires any app that installs apps to be given the "install unknown apps" checkbox, so you'll also need to flip this setting to allow the new app store to install apps.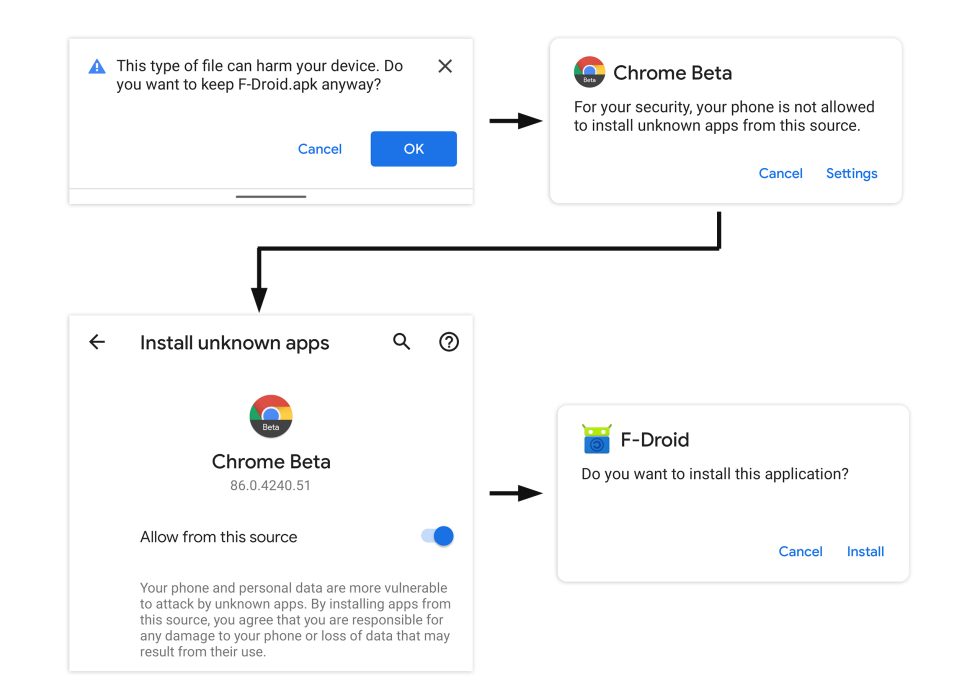 This move to make third-party app stores easier to use makes a bit more sense as a response to Fortnite's developer, Epic, which is currently suing Google over its alternative app store policies. "Directly downloading Fortnite on an Android device can involve a dozen steps, requiring the user to change default settings and bravely click through multiple dire warnings," Epic's antitrust lawsuit reads. "And even if a persistent user manages to install a competing app store, Google prevents such stores from competing on equal footing with the Google Play Store by blocking them from offering basic functions, such as automatic updating of apps in the background."
Like any lawsuit, Epic's filing is a bit blustery. By my count, installing a third-party app store takes five taps, not "a dozen steps." While any pre-installed app store (in the locked-down system partition) can install app updates, Epic is right that user-downloaded app stores can't automatically update apps. Letting downloaded apps install new code in the background without user consent sounds just a little scary, but maybe Google could add a highly privileged "app store" permission for downloaded apps to make companies like Epic happy. Epic also says it doesn't like "dire warnings" attached to these permissions either, though, and correctly informing users of how powerful an app store permission would be would require a pretty scary-sounding warning. Epic was already caught irresponsibly using these powers once, when the Fortnight Installer opened up Samsung devices to a security vulnerability.