New Quantum Algorithms Institute at SFU to position B.C. as world leader in quantum computing – Simon Fraser University News
This October, the provincial government announced it will invest $17 million over the next five years to establish a new Quantum Algorithms Institute hosted at Simon Fraser University's Surrey campus, serving as the core of the city's new innovation corridor.
It is a major advancement for a university already recognized as a global leader in quantum computing—one of the most exciting frontiers in technology.
If quantum computing is still in its infancy, popular understanding of the field is barely at the embryo stage. But that does not stop quantum properties like superposition—the ability of a quantum system to be in more than one state at once—and entanglement—an extremely close relationship between quantum particles—from allowing quantum computers to process a staggering amount of data.
SFU physicist Stephanie Simons, a professor and Canada Research Chair in Quantum Nanoelectronics, heads the university's Silicon Quantum Technology Group. She explains that algorithms are one of the keys to bringing quantum computing into the mainstream.
Q: The new Quantum Algorithms Institute will see SFU collaborate with research universities across B.C. to devise quantum computing software. What makes algorithms such an important aspect of quantum computing?
Algorithms are the basis of software: they are how computers execute a task and solve a problem. And quantum computing requires very specific kinds of algorithms, taking on very particular kinds of problems. The problems that are naturally suited to quantum computing are the ones that need a lot of computational space, but have very succinct answers. A needle-in-a-haystack kind of problem, for instance.
You can do some pen-and-paper work to show that certain quantum algorithms will be exponentially more efficient at accomplishing some tasks than even the best "classical computer." And by classical computer, I mean all current and future computers that rely on classical physics, including even the most powerful modern supercomputers.
Q: How do algorithms fit into the bigger picture of quantum computing at SFU?
There is so much work going on here, starting with hardware. In 2013, SFU set the world's record for the longest-lived quantum bit, or qubit, which is the basic building block underpinning all the quantum hardware that people are trying to develop. That work was led by Emeritus Professor Mike Thewalt. Collaborating with him on that project played a big part in attracting me to SFU. SFU has global prominence in the field of silicon-based qubits, which is the hardware platform that Mike and I are running with—and which are arguably the best qubits in the industry. SFU also has an ion trap quantum computing lab and a cold-atoms quantum computing lab.
There is a sector of people working with existing quantum hardware, too. Various SFU professors have collaborated with Burnaby-based D-Wave Systems, which has an adjunct professor in the Physics Department, Mohammad Amin. They are the first company to create a kind of commercial quantum computer. Other professors collaborate with algorithm-focused 1QBit, another quantum startup in Vancouver. And there are others on the application side, thinking about cryptography and about adapting the quantum algorithms we know now to areas like health care and finance.
And more fundamentally SFU has lots of history in the field of "quantum foundations," improving our understanding of various interpretations of quantum mechanics (this is related to all that stuff about the so-called "multiverse"). It is exciting to be part of this space right now, because there is a lot of cross-pollination.
Q: How does this translate into real-world benefits today?
In analogy to classical computers, we are kind of at the point when the original transistor was built. It has taken 40 years for it to get to the point where we have these supercomputers—smartphones—in our pockets. And the Internet existed for a long time before most people even knew about it, and now none of us can breathe without it. I imagine quantum technologies will likely follow a similar trajectory, but maybe with a more targeted focus.
That said, people working on the pen-and-paper algorithms can already identify areas where we can expect quantum computing to unlock a lot of potential. Finance is one. And cryptography as we know it will be completely different: quantum computers can very efficiently take apart most of our current encryption standards, and they also offer better (physically unhackable!) encryption.
Chemical simulations are another natural application area. Chemicals themselves are quantum objects, and classical techniques of modelling them are inherently bad in some ways. So we will be able to get a much better look at how one molecule interacts with another. I imagine drug development will be a much better process, and so will simulating the behaviour of materials.
Q: It sounds like this dovetails with work that we are doing around the Data for Good campaign.
Absolutely. Any research sector that relies on high-performance computing—directly or indirectly—could potentially benefit. A lot of application areas will probably even have "black box" advantages, where the quantum algorithm to solve a problem somehow works, but we do not exactly know how! We truly do not know yet what the impact will be. It is going to be a lot of fun to see how it shakes out.
See the SFU News story about SFU receiving $17 million to establish the Quantum Algorithms Institute.
AirPods Max: Rumored Spatial Audio Upgrade Isn't Coming, After All – Forbes
A recent rumor suggested that Spatial Audio on AirPods Max and AirPods Pro was about to become available on Netflix. But it now seems that's not the case, which is disappointing.
If you've listened to Apple AirPods Pro or the more recent AirPods Max, you may have marveled at the audio quality Spatial Audio offers. It's a surround-sound effect that works really well.
Part of its success is dynamic head tracking. This means that if you're watching the right content there's a whole extra level of fidelity.
Say you're playing The Mandalorian on your iPad and listening through AirPods Pro. Dynamic head tracking means that even when you turn your head left or right, the software instantly and subtly adjusts the relative volume in each ear so that the audio appears to be locked to the screen.
It's phenomenally effective. My first experience was so realistic that I had to stop to make sure I was really connected by headphone, so perfectly did the sound seem to come from the iPad itself.
So, the prospect that Spatial Audio was coming to Netflix was very welcome, something which was rumored last month. After all, Apple TV+, Amazon Prime Video, Vudu, HBO Go, Hulu and Disney+ were already on board, with selected content.
So, Netflix was easily the biggest beast of the streaming jungle which was missing.
This week, though, Netflix told MacRumors that contrary to previous reports, it is not testing Spatial Audio support. It is testing multi-channel support for built-in speakers, the company said.
This is a shame and although it can change, the fact that Netflix has gone out of its way to say Spatial Audio isn't coming suggests that any change would not happen for a while.
Netflix is such a big player in this world that it doesn't need to follow what others have done, but it would have been great to be able to hear programming with the improved audio Spatial Audio delivers. Of course, if you mostly watch Netflix on a TV or another screen without headphones, then Spatial Audio won't be there anyway and maybe that was part of Netflix's thinking.
Even so, let's hope Netflix changes its mind in time.
Riot unveils Astra, VALORANT's new controller – Dot Esports
Riot Games' latest agent for the tactical shooter VALORANT is on her way.
The developer revealed the agent on Twitter today. Her name is Astra, she originates from Ghana, and she's a new controller agent.
"African Futurism was a huge inspiration for us when it came to designing Astra's thematics," John "Riot MEMEMEMEME" Goscicki, a character producer at Riot, said. "Once that element was brought into her development all the pieces naturally fell in place."
Astra joins Brimstone, Omen, and Viper in the controller category. She's the first controller added to VALORANT since the game released. Duelists Raze, Reyna, Yoru, and sentinel Killjoy were added since the game's release.
Astra's abilities
Before activating the C, Q, and E abilities, you need to hang some of Astra's Stars in the sky with her X ability.
Here are Astra's abilities:
C: Gravity Well
Activates a Star with C to form a Gravity Well. Players in the area are pulled toward the center before it explodes, making all players still trapped inside "fragile."
Q: Nova Pulse
Activates a Star to detonate a Nova Pulse. The Nova Pulse charges briefly then strikes, concussing all players in its area.
E: Nebula
Activates a Star to transform it into a Nebula (smoke).
F: Dissipate
Use F on a Star to Dissipate it, returning the star to your inventory be placed in a new location after a delay.
Dissipate briefly forms a fake smoke (Nebula) at the Star's location before returning.
X: Astral Form, Cosmic Divide
Activate with X to enter Astral Form, where you can place Stars with your primary fire key. Astra will leave her physical body behind in favor of a top-down view of the map. Her physical body will be vulnerable in this form.
When Cosmic Divide is charged, use your secondary fire in Astral Form to begin aiming it, then your primary fire to select two locations. An infinite teleport-esque tunnel connects the two points you select.
---
Make sure to follow us on YouTube for more esports news and analysis.
Samsung Galaxy Xcover 5 gets Bluetooth certified, leaked render reveals rugged design – GSMArena.com news – GSMArena.com
A press render of the Samsung Galaxy Xcover 5 we've been hearing about since late last month has surfaced, revealing its rugged design.
The image was shared by leakster Evan Blass, who claimed the Xcover 5 is not a successor to last year's Xcover Pro, but a follow-up to the Xcover 4s launched back in 2019.
While we are yet to hear anything from Samsung about the Galaxy Xcover 5, the smartphone has moved a step closer to the launch as it bagged Bluetooth SIG certification.
The certifying authority didn't detail the Xcover 5's specs, but it did confirm that it will come with Bluetooth 5.0 and have two models – SM-G525F and SM-G525_DS. The latter is likely a dual-SIM variant, and the former was spotted on Geekbench last month with an Exynos 850 SoC, 4GB RAM, and Android 11.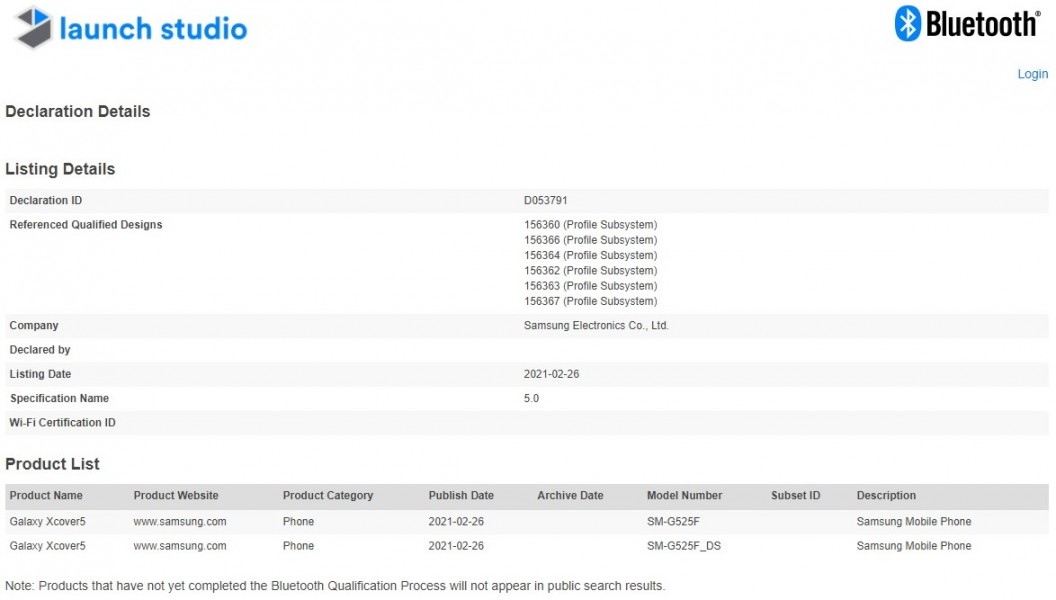 The rest of the rumored specs of Galaxy Xcover 5 include a 5.3″ HD+ LCD, 64GB storage, microSD card slot, and a 3,000 mAh user-replacable battery that will charge through a USB-C port at up to 15W.
The Xcover 5 is said to feature 16MP primary and 5MP selfie cameras, and come with an NFC chip onboard. It will be IP68 dust and water-resistant, carry a MIL-STD-810G certification, and is expected to cost around €300.